New York Fashion Week has a long and storied history that dates back to World War II, when Germany occupied France, and Americans could no longer rely on Parisian designers to determine what was new and next in fashion. The event, originally dubbed "Press Week," gave American designers a chance to step into the global spotlight for the first time. Fast-forward to 2019 and the biannual, Manhattan-based event offers a chance for corporate sponsors to shine, too. Here, we break down six of the best activations from the fall iteration of NYFW, Sept. 6-11.
---
More Fashion Week Coverage:
---
THE GLENLIVET 
The Glenlivet leveraged NYFW to launch a new expression, The Glenlivet 14 Year Old (14YO), with a "Drop Shop" and partnership with designer Prabal Gurung, who co-designed a flask and leather carrying bag that matched the new bottle's purple aesthetic. The Drop Shop came in the form of a sleek, branded Airstream trailer that gave attendees a chance to customize t-shirts and tote bags and get a first look at items from the Gurung partnership at various pop-up events. The pop-ups also offered whiskey education and cocktails made with the 14YO expression, garnished with ice cubes and foam art. But it was the whiskey-infused dessert cart offering purple ice cream and root beer floats that really got attendees buzzing.
Additional components to The Glenlivet's sponsorship included "SoHo Sip and Shop" events open to the public at various luxury retailers, official NYFW Happy Hours featuring 14YO-infused cocktails with unexpected ingredients, social media-driven swag drops powered by Fooji and participation in NYFW: The Talks, a curated conversation around fashion and inclusivity, concluding with a toast of The Glenlivet 14 Year Old to a more diverse and inclusive Fashion Week experience.
If you wanna do #NYFW right, then you gotta check out @TheGlenlivet_US' Drop Shop on 318 Lafayette! This whisky root beer float = ??? #TheGlenlivet pic.twitter.com/X5ahr5VY0F

— Kat Chen | 陈燕情 (@chenyanqing) September 7, 2019
UNIQLO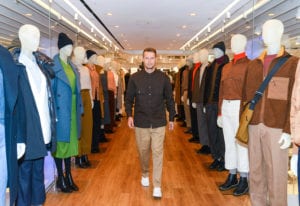 To celebrate the launch of Uniqlo's Fall/Winter 2019 collections and its brand-new print magazine, LifeWear, the brand hosted events on the third floor of its 5th Ave. store that transformed the space into pages from the publication. On Sept. 11, a VIP preview event attended by celebs like Coco Rocha and Sports Illustrated model Nina Agdal featured bites, cocktails, a dj and an exploration of Uniqlo's FW19 collection, including designer collaborations.
On Sept. 12 and 13, the public had a chance to "step" into LifeWear, too. Upon entering the space, they first encountered a life-sized magazine cover surrounded by an array of mannequins organized on colorful, geometric platforms and dressed in Uniqlo's FW19 collections. As they continued on, an army of mannequins lined the walls of the store, creating a "runway" that prompted plenty of photo moments. A branded bar and lounge area completed the setup. Agency: BMF.
Photo courtesy: Madison McGaw/BFA.com
CHEETOS
Cheetos made headlines in September 2017 with its Spotted Cheetah pop-up restaurant featuring Cheetos-infused menu items curated by celebrity chef Anne Burrell, then doubled down on the concept the following fall with a Flamin' Hot Spot pop-up in partnership with celebrity chef Roy Choi. This September, Cheetos built another experience featuring a slate of orange-dusted food and cocktails, but instead of putting all of its effort into culinary, the brand leaned into NYFW with the House of Flamin' Haute Runway Show and Style Bar. That's right, Cheetos put on a high-end fashion show.
Models of all shapes and sizes worked the catwalk with fiery, Cheetos-inspired looks (think: flames, cheetah print, fake orange lashes, Cheetos barrettes and a whole lot of tulle). The event's top show-stopping look, created by renowned fashion designer Ami Goodheart, was a skirt made of Cheetos bags that opened up to reveal a Cheetos-lined interior from top to bottom, accompanied by an intricate headpiece comprised of more skillfully folded Cheetos bags.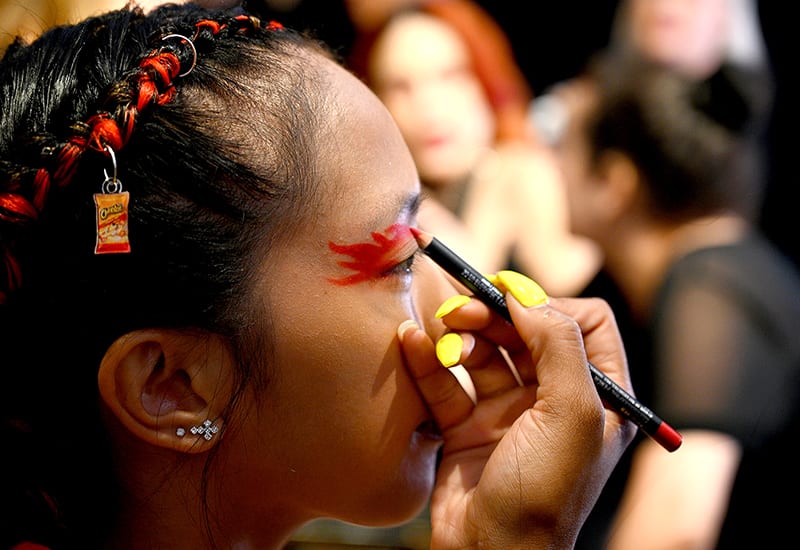 When attendees weren't scoping out runway looks, they could get their own Cheetos-inspired makeover at the Style Bar. For years, fans have shared their "Cheetos looks" on social media, which served as the inspiration behind the House of Flamin' Haute. To bring it to life, the brand teamed up with four Cheetos-loving fashion influencers, who offered brightly-colored braids and cheetah-print hair styles, fiery eye makeup and manicures with select nail "pawlish," all supported by "Lookin' like a snack" messaging.
The "Ap-Paw-Tizers" and beverages on hand will come as no surprise: sushi rolls with a Flamin' Hot Cheetos dusting, Chester's Fire Watermelon, smoked bacon sliders with a Cheeto garnish, Dangerously Cheesy Mac and a Flamin' Hot Sunrise featuring vodka, orange and pineapple juice, grenadine and Sierra Mist.
And then there were the myriad photo ops, including a lip-shaped couch and various neon Cheetos signs and installations, all featuring Flamin' Haute flair. Closing out the first day of the event was a performance by up-and-coming rapper Saweetie. Fan engagement at its finest—nothing cheesy about that. Agencies: The Marketing Arm; Ketchum; Harrison & Shriftman.
Photo courtesy: Getty Images for Frito-Lay
MAYBELLINE
The second iteration of the Maybelline House hit New York Fashion Week Sept. 7-8 in New York's Greenwich Village where media, influencers and consumers were invited to participate in an immersive journey through a space designed to reflect a Manhattan loft. The experience was linear by design, organically pushing attendees from one room to the next while simultaneously allowing for self-guided tours. Mini activations featuring unique product integrations and Instagrammable moments inspired by pop artist Ashley Longshore were at the heart of the experience, giving attendees a chance to try out a broad range of Maybelline's products in photo-worthy settings.
Among the touchpoints: arts and crafts personalization stations curated by Gigi Hadid, foundation-mixing and winged eyeliner tutorials, a wine bar where tattoo artist Léna Mačka "inked" attendees with Maybelline's Tattoo Liner, a chance to put Maybelline's SuperStay Matte Ink Crayon to the test by sipping on coffee drinks and sweet treats from Bluestone Lane, a Fit Me living room area featuring fabric swings and a New York City subway car installation. Agency: Gradient.
SAP
SAP hit New York Fashion Week for a third year in a row, this time with tech-enhanced apparel created in partnership with Anouk Wipprecht and Cirque du Soleil. Together, the team created designs dubbed "Elixir" and "Fragrance" (each collection featured a dress and a suit) which were showcased during a progressive fashion experience that centered on audience interaction and personalization. In a nutshell, the experience began when an attendee interacted with one of the designs being modeled. Through a tablet attached to their arm, the individual participated in a series of questions using Qualtrics management software, and based on their answers, a craft beverage or fragrance was selected for them. And here's where it gets crazy—the designs themselves blended and delivered the personalized beverage or fragrance thanks to the technology embedded within them.
In addition, the Runway by SAP app was incorporated into Badgley Mischka's runway event, allowing attendees to interact and provide real-time feedback during the show, as well as purchase items from the previous season's collection or add current-season items to their wish list. Agencies: Momentum Worldwide; FleishmanHillard.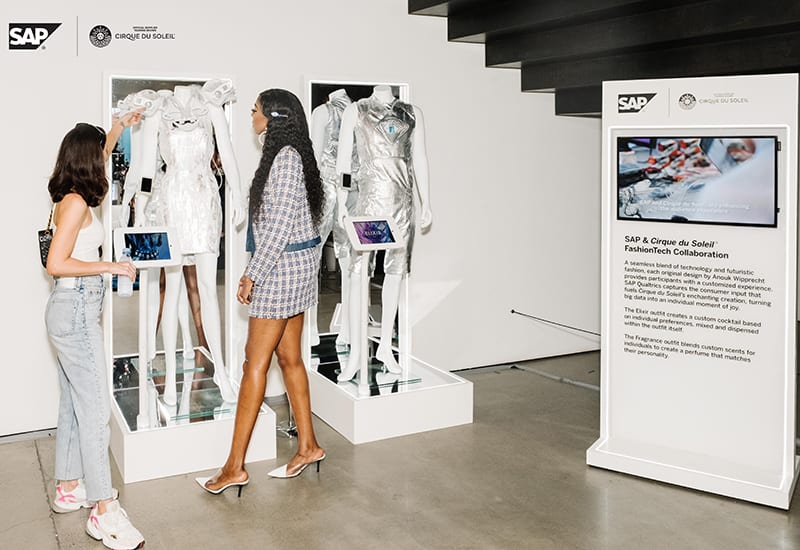 Photo courtesy: Don Stahl
STITCH FIX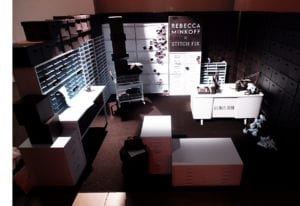 Styling service brand Stitch Fix activated an eye-catching vignette called The Stitch Fix (fe)Mail Room within the Rebecca Minkoff "Working Fashion" New York Fashion Week showcase. The experience introduced a Stich Fix and Minkoff's collaboration that leveraged fit data to create "innovative and inclusive" styles. Models wore pieces from the collection, while ink gun artisans in stylish jumpsuits created personalized branded pouches with empowerment phrases for attendees. Agency: Grow Marketing, San Francisco.
TARGET
New York Fashion Week is notorious for featuring designer collections that bear hefty price tags. Target is recognized for collaborating with high-end designers to offer affordable-yet-fashionable apparel. On Sept. 7, both worlds collided at Target's immersive pop-up, where the brand commemorated two decades of fashion partnerships by unveiling a new anniversary collection featuring 300 reissued items from 20 past collaborations with the likes of Anna Sui, Isaac Mizrahi and Lilly Pulitzer.
More than just a shoppable showroom for the new collection, the pop-up immersed consumers in Target's partnerships via immersive exhibits rife with photo ops. Among touchpoints: a moody, purple exhibit for Sui in which a video of the designer discussing her "Gossip Girl"-themed designs played on loop, a hot-pink "5th Avenue meets Main Street" room dedicated to Mizrahi where a live pianist performed for attendees, and a crew of ribbon performers and dancers dressed in Target's signature red who entertained attendees in the Jason Wu exhibit. Instagrammable? Oh yes. Adding to the buzz were Mizrahi and Tyra Banks, who served as Target's red-carpet hosts for the event. Agencies: David Stark Design and Production; PAPERWork.