From augmented reality-enabled audio journeys to a library of President Donald Trump's tweets to "Project Runway" music videos, we bring you part two in our coverage of SXSW's opening weekend, March 8-10. What stood out: how many scooters cruised the streets of Austin, how many puppies there were to cuddle, how brand ambassadors' passion (or lack thereof) for the job could make or break an experience and how, sometimes, demos aren't always ready for primetime. (More on that a minute.)
Here's the second installment in our on-the-ground SXSW 2018 coverage highlighting brands that prioritized experiential during weekend one at Austin's signature fest. Don't forget to check out part one here.
---
DELL
Dell's experience, which took over The Sunset Room on 3rd St., focused on its commitment to sustainability, small businesses owners, virtual and augmented reality tools and competitive gaming consoles. The venue's exterior, painted in vivid blues, pinks and purples with Dell branding, and a Moon Rover VR experience drew in passersby.
For the VR activation, we mounted a space exploration vehicle and "traversed the moon's cratered surface" for a few minutes through a VR game that asked us to collect moon samples while our seat gyrated and made abrupt twists and turns.
In the next experience, Dell courted small business owners with a contest exclusively for festivalgoers. In a one-minute video recorded within a glass-encased mini office serving as the backdrop, attendees explained how technology has helped propel their small business ideas forward. Prizes included an XPS 13 laptop and a two-month hot desk membership at WeWork.
An eye-catching photo op featuring wings made of recycled Dell machine parts called attention to how the brand has been using nearly 100 million pounds of recycled materials since 2012. On the opposite wall was an art piece made with pollution ink (soot from diesel generators in New Delhi) which Dell uses to print on 125,000 boxes per month in India. A bar served beverages, and lounge furniture and tables provided space for networking. Within that space, a big screen projected panels and talks on AI, animation, VR, sound mixing, and more, as they happened live in an adjacent studio.
Other touchpoints included a Dell Cinema area that featured three floor-to-ceiling pods showcasing the sound, color and streaming capabilities of Dell laptops through nature documentaries. There was also a gaming station featuring the new Legend design for Dell's Alienware product the Area-51m and Dell Precision mobile work stations where attendees could draw freehand onto the screen and interact with a real-life avatar through VR. Rounding out the experience was a VR experience that walked attendees through Dell's commitment to sustainability with three increasingly difficult games. Agency: Lacy Maxwell Experiential, San Francisco.
---
More From SXSW 2019:
---
ACTIVISION BLIZZARD MEDIA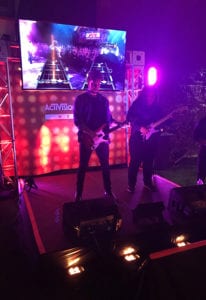 Activision Blizzard Media's SXSW coming out party was a gamer's paradise, and we're not just talking the esports kind. The two-story space on Rainey St., drenched in orange paint and flashy colors, offered Guitar Hero, Skee-Ball, cornhole, ice hockey and competitive esports games the company has in its portfolio.
"We've done a lot of work in terms of games folks are familiar with, so even those that aren't video gamers traditionally could still have a good time, and understand the passion, the fun that comes along with it," says Jonathan Stringfield, vp, global business marketing, measurement and insights at Activision Blizzard Media.
Along with the call-to-action, "Unlock the Gamer Within," Blizzard highlighted its recent acquisition of game publisher King and its portfolio of casual games like Candy Crush, and so many activities in the arcade reflected these new additions. For instance, rock candy and super sweet "Sugar Crush" drinks were served, and attendees shot hoops at a pair of basketball arcade games called "Sweet Swish."
Other games included a Bubble Witch 3-themed claw machine, a photo booth with props for several of the games' well-known characters, and cornhole branded with King's Farm Heroes Saga. Upstairs, attendees could enjoy some of Blizzard's core games and get the traditional console experience. Agency: N/A Collective, New York City.
---
SAP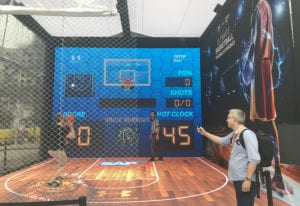 SAP House at Trinity & Second highlighted sports activities powered by SAP technology with partner Under Armour. Activations included an Under Armour LED basketball experience that challenged players to shoot from different spots on the half-court set-up under a shot clock. At the end of the game, the player's "professional stat breakdown" was digitally projected on the wall behind the backboard, including attempts, average points and field goal percentage, which was compared to NBA averages. If an attendee got eight points or more, Under Armour donated a pair of shoes to Girl Scouts of Austin.
Next up was an LED running game to showcase Under Armour's HOVR shoes. After answering a series of questions about running habits, by leaning left or right in front of a responsive screen, attendees set out on a digital run complete with hurdles and obstacles. Simulating the sensor technology embedded in the shoes, enabled by recent SAP acquisition Qualtrics, each jump tracked metrics like pace and distance. There was also a foosball game, where a high-speed camera overhead analyzed ball position and goals in real time to improve play. Personalized statistics were projected on a screen for attendees to view.
Rounding out the experience was a large bar and kitchen area that in the mornings served free Bloody Marys, mimosas, breakfast tacos, tater tots and several styles of eggs benedict. Panels covering sustainability, the future of work, blockchain technology and more took place throughout the weekend. Agencies: Sparks, NoSlate, Masters of Shape, VTPro, Red Velvet.
---
SAMSUNG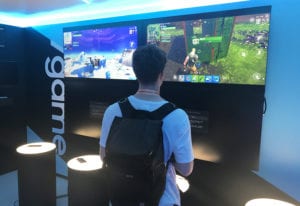 Celebrating the 10-year anniversary of its Galaxy phone and the launch of the new Galaxy S10, Samsung built an "experience tour" of activities highlighting the device's features. The circular build and footprint offered a mirrored entryway that doubled as a photo activation as brand ambassadors snapped pics with a Galaxy S10 and emailed them on the spot.
The first stop along the circular path inside was a portrait studio featuring three different types of the S10's portrait modes. Next, a care station offered device set-up, troubleshooting, education and purchase options. In a nearby lounge space a BA ran an animated demo on an iPad about Samsung's home connectivity system facilitated by its virtual assistant Bixby. In a gaming section, attendees were shown how the new S10 is optimized for mobile gaming.
In the Art of Fitness experience, powered by the Samsung Galaxy Watch Active, we answered questions about musical preference, preferred color and weight. While wearing the smart watch, we were then instructed to perform various physical movements, like jumping jacks, overhead reaches and a few freestyle moves that raised our heartrate. The movements created an abstract video art piece, while tracking steps and calories, that was then emailed to us.
On our way out, we checked out an installation in the center of the build, an AR-connected, purple model of a smart metropolis. Pointing one of several tethered s10's toward the cityscape revealed animated events happening in the city, from a rock concert, to tiny purple cars moving to a boat sailing around a harbor. As we completed activities, ambassadors gave away Samsung sunglasses, beanies and totes.
---
BUMBLE
Bumble's experiential pop-up work and meeting space, the Bumble Hive, landed at Jo's Coffee on 2nd St. for the duration of the festival. Every inch of the space was tricked out in Bumble branding and bright yellows, pinks and blues. Each day, the brand offered free breakfast tacos and complimentary coffee drinks for those who flashed a Bumble profile, tips from Bumble experts on profile improvements and a wide range of panels and activities.
Bumble being a dating app where women make the first move, the platform served up empowerment content, including devoting a day to celebrating female gamers. In partnership with Austin-based gaming media company Rooster Teeth, Bumble activated a live video podcast, a panel and a live stream of gamer Ashley Jenkins playing Horizon Zero Dawn. On International Women's Day, Bumble offered speed mentoring.
The brand also created a BFF day, where attendees made friendship bracelets with their besties, and a family day with face painting, party balloons and networking for parents. Additional events included a dog party with Austin Animal Center, birth chart readings and a day of talks on launching your own business. Agency: Pen+Prue Productions, Austin.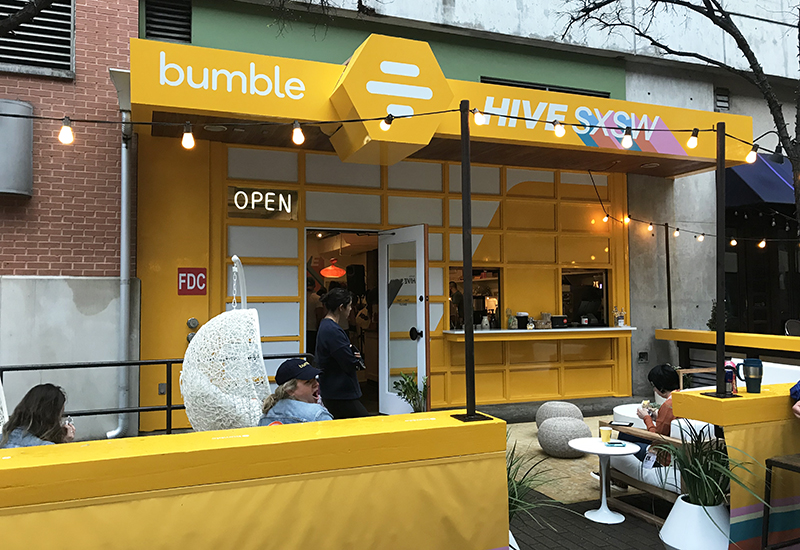 ---
BOSE
Bose's footprint, located in the outdoor space of live music lounge Half-Step on Rainey St., showcased the capabilities of its new augmented reality-enabled wearables, Bose Frames sunglasses and QC35 headphones II, and the first Bose AR-enhanced apps, through a series of demos organized in three themes: travel, activity and entertainment.
Our first assignment was signing a rather detailed release form. But while doing so, we snacked on free mini donuts from Little Lucy's truck, which made the experience a lot sweeter. First up was a demo of the Bose AR Frames using the app Navisens. In pairs of two, attendees took a five-minute, guided stroll down Rainey on either a restaurant tour or a cultural tour while sporting the frames and carrying an iPhone. We opted for the restaurant tour. While staring directly at a chosen establishment, we were instructed to tap the frames twice next to our right ear. That prompted a voice to name the restaurant, tell us whether it was open, and its Yelp rating. It took a few tries to work, since your head must be positioned at the precise spot where Yelp dropped the pin for that restaurant.
Our first thought was, "Can anyone hear that?" Turns out, Bose uses open air technology to channel the sound directly to your ear, allowing you to maintain situational awareness while hearing the information. Other directional apps the event promoted were Bose AR-enabled Otocast (cultural attractions) and Walc (walking directions).
Next up was an activity with a New Balance app. After using the command "ready," we did jumping jacks and side bends while the glasses called out the number of reps. We also tried the frames with app Golfshot, which allows you to look down a golf course and find the green without picking up your phone.
At the entertainment section, we used Bose headphones to choose our own adventure using Audiojack's audio-based movies, or short sound stories without visuals or words. Our head movements served as triggers, each time taking the story in a whole new direction. We found ourselves in a thunder storm, near an ocean and trekking through the woods all in one sitting.
Finally, we tried the game Komrad AR, which called on us to become secret agents in the fight against an evil computer. Head nods and head shakes decided which direction the story took. This experience faced some difficulties with Bluetooth pairing and upairing, but such is the case when you gather 300 pairs of Bluetooth-enabled devices in one small radius. Agencies: Creative, In-house; Logistics: Plaid Pony, Austin.
---
TWITTER
Twitter House parked on Rainey St. again this year to host a series of panels, special events and lounge areas for attendees to enjoy between programming. The theme was its "What's Happening" platform IRL. During the #TwitterIRL panel, two vocal Twitter voices, Marc Cuban and Arlan Hamilton, talked business and technology. Actors Henry Winkler and D'Arcy Carden of HBO's "Barry" led an improv session during #TwitterImprov.
Other programming included watching chess grandmaster and Avast Security Ambassador Garry Kasparov—who's got quite the following on Twitter—take on 10 different players, a cast panel on buzzworthy film "Us" from director Jordan Peele and a @TwitterMusic kickoff for #SXSWMusic. Special events included takeovers for AMC's "Fear the Walking Dead," which gave the house an undead look, and Paramount's "Pet Sematary," which created an eerie graveyard photo op.
The décor featured blue, yellow and white Twitter birds of all sizes, hashtags and @ signs printed on lounge furniture. We also spotted a display of succulents and an Airstream trailer of #Eats like roasted pork sliders and pimento grilled cheese. Attendees played cornhole and ping pong as well. Agency: N/A Collective, New York City.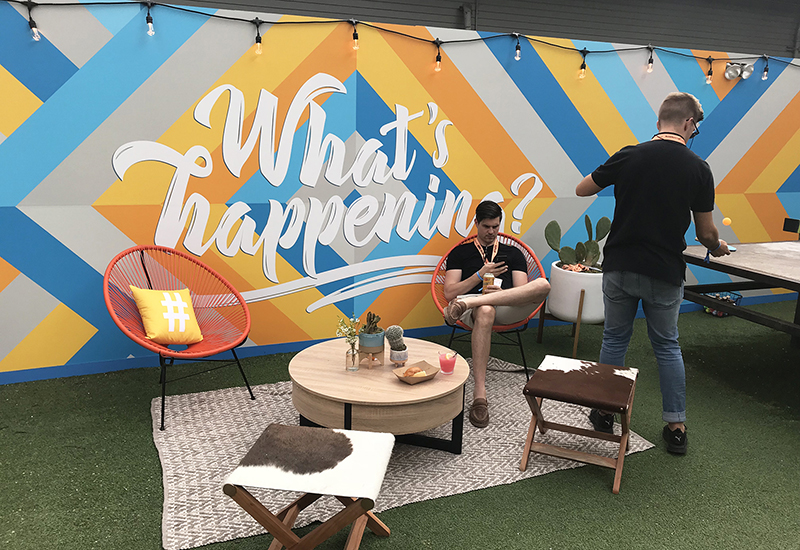 ---
LG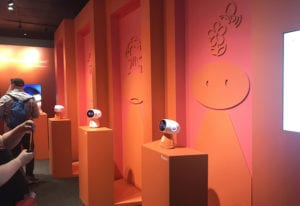 The LG Inspiration Gallery featured a series of concept LG products in a museum-like setting. The CLOi project, robots that portray a range of emotions and perform household tasks through artificial intelligence, was our favorite. At the gallery's start, four small CLOi CareBots sat on the counter. When you patted each one on the head, they expressed either joy, peace, sadness or anger. The grumpy bot emitted fire from its eyes when we touched its head. Cutest. Thing. Ever. For the grand finale, seven CLOi Home bots performed a K-pop number with LG's smart lighting solution Fantastick creating pre-programmed patterns behind them. Adorbs.
Other products on display in the gallery included the SnowWhite ice cream maker, which occupied a wall painted in pink ice cream illustrations and LG HomeBrew, a connected, home brewing craft beer machine. The journey concluded at a bar area where attendees could grab a beverage using their free drink voucher, listen to a dj spin tunes and try out an LG entertainment system with dj effects. The brand was all out of the home brew when we arrived at the bar, but it had more traditional choices on tap to choose from.  Agency: HS Ad, Seoul, Korea.
---
AUDIBLE
Celebrating its first, longform original comedy launching in the Spring, "Heads Will Roll," Audible created a medieval scene of merry at Javelina on the southern end of Rainey St. The 10-episode audio series, created by and starring "Saturday Night Live's" Kate McKinnon and her sister, Emily Lynne, follows evil queen Mortuana (McKinnon) and her sidekick (Lynne) as they try to suppress a peasant rebellion.
The moment we stepped off the street and into the "Night Realm Tavern," actors clad in black and wearing ruffs around their necks welcomed us, gave us two gold tokens for beverages, and pointed us toward a nearby meat merchant hawking giant turkey legs, corn on the cob and mead (fermented honey and water). Inside the bar, gilded medieval-style portraits of recognizable cast members, including Meryl Streep, Peter Dinklage, Tim Gunn and Netflix's "Queer Eye's" Fab Five, adorned the walls.
At the bar, which served themed cocktails, attendees could eavesdrop on a conversation from the series via gold-painted conch shells—or, "shellphones." Just past the bar was a photo op in front of a wall of gold-painted skulls where attendees could listen to more of the series through an iPad and headphones. Outdoors in the seating area, the restrooms were labeled "chamber pots," naturally, and a pillory photo op served as punishment for a number of ridiculous crimes. Agency: Civic Entertainment Group, New York City.
---
COMEDY CENTRAL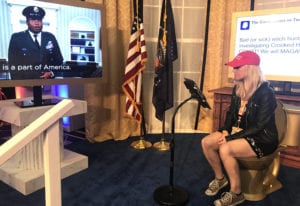 Comedy Central's "The Daily Show with Trevor Noah" brought its Donald J. Trump Presidential Twitter Library to Austin's Driskill Hotel, marking its sixth stop across the country since its New York City debut. The collection aimed to make a mockery of the President's tweeting habits through a huuuuuge dose of satire in true "Daily Show" form. The premise: With most presidents having been honored with a memorial library of historical documents from their terms, "The Daily Show" created a library of the President's tweets instead, organized in categories like "SAD! A Retrospective," "Birther of a Nation," "Trumpstradamus" and "Deleted But Not Forgotten." The latter tweets were presented as quotations on gravestones with roses strewn over them in mourning. Tear.
At the start of the exhibit, a nickname generator created a pejorative moniker, like "Dorky Kevin," that attendees wore as name tags while meandering the tweet library. Highlights of the collection included a video about the "tragic" 11 minutes when Trump's Twitter account went dark on Nov., 2, 2017; a live Twitter feed of the President's account that sounds a siren in real time when the President tweets; and The Commander-in-Tweet photo op, where attendees have 30 seconds to tweet about a crisis while sitting on a gold-plated toilet and wearing a MAGA hat. Agency: Pop2Life, New York City.
---
LAND O'LAKES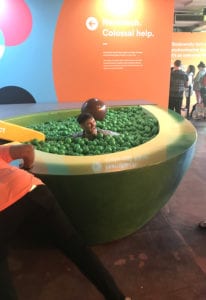 The Copernicus Project activation, presented by Land O'Lakes, consisted of a series of experiences centered around reexamining our assumptions about food systems and how they affect our environment. From the corner of East 5th St. and Trinity, the venue couldn't be missed. Its brightly painted orange exterior and enthusiastic on-the-street staffers beckoned attendees to enter.
Throughout the experience was a web visual motif, a metaphor for the world's complicated, interconnected food system. In a section asking "What's your take on food?" attendees were handed a spool of colored thread, and while pondering questions posed by a BA about the average cost of a meal, gene editing and issues facing the food industry, they wrapped the thread around the peg that represented their answer. While attendees contributed to building this interconnected web, BAs took notes of their answers. Creative data collection, indeed.
A green ball pit shaped like an avocado highlighted the role of nanoparticles, which are used to support plant growth. Attendees were asked to grab a ball and slide down an actual slide into the pit to help the avocado thrive. Other touchpoints included a three-minute immersive experience that explained how our diets are killing biodiversity, and the brand's "snap a pic, send a meal" promotion, which donated a meal to the organization Feeding America every time an attendee posted a pic from the experience with the hashtag #copernicusproject. Agencies: Colle McVoy, Minneapolis, MN; Civic Entertainment Group, New York City.
---
COMCAST NBCU
New to SXSW this year was the Comcast NBCUniversal House, located at the top of Rainey St. at Container Bar. Shipyard containers on top of one another created a seriously industrial vibe. Inside, attendees could film their own music videos with the Bravo "Project Runway" photo experience. Two staffers, one armed with a steadicam and the other coaching us on how to strut our stuff on the runway, guided us through three takes. Props were encouraged, so we grabbed a purple shawl to play with. The result? Simply fabulous.
The brand's Xfinity Gaming Lounge was packed when we checked it out. Gamers were playing Overwatch and Rainbow Six Siege, with the Xfinity-sponsored Evil Geniuses' Rainbow
Six team making an appearance and playing alongside attendees. There was also a two-hour wait for the world of DreamWorks' "How to Train Your Dragon 3" VR experience, to boot.
Fans of "The Office," which airs on NBC's national multicast network COZI TV, could take a seat at lead character Michael Scott's desk for a photo op. Nearby, we discovered yet another set of puppies to play with. This puppy crew was brought out to celebrate NBC and Telemundo stations' fifth annual "Clear the Shelters" nationwide pet adoption campaign and Xfinity film "The Secret Life of Pets 2." These pups got their own live stream, enabled by an Xfinity Home camera, and made visible throughout the House.
Lastly, we grabbed a paint brush and some color to interact with Blueprint's DIY mural, which read "get closer to the creativity." The subscription service offers classes on creative pursuits, ideas for projects and supplies, and was promoting the launch of its new app on March 14. Agency: Civic Entertainment Group, New York City.
---
ADP/WIRED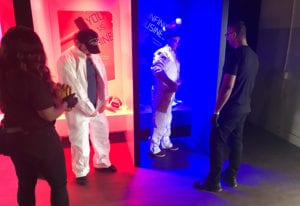 As International Women's Day fell on the first Friday of SXSW, ADP and WIRED magazine invited women to "batter up." Allow us to explain. After entering the activation, we received cards asking us to choose one of four workplace barriers that are standing in our way: glass ceiling, outdated tech, wage inequality or work/life balance. On the flip side of the card, we were asked to write down what we are working for and also leave our social media handle in case we wanted our comments featured in the campaign.
After donning a hazmat suit, helmet and thick yellow work gloves, which were needed for our physical protection while smashing things, BAs offered to take our pic in front of posters themed with overcoming workplace barriers. We were then escorted outdoors where we placed our belongings in a locker and chose our weapon: baseball bat, golf club or steel pipe. We went with the bat.
Once inside the tiny room, we were instructed to focus on a window pane of glass overhead. "Hit the middle square, not the ones on the side," the BA explained. Got it. We noticed with a quick practice swing that we weren't able to wind up too much due to space constraints. (The momentum had to travel upward. But, we're doing this.)
Now, here's the thing. We had to attempt the activation three times, for a total of seven swings, before the glass shattering was captured on camera. For the first two attempts, the clips were too short to capture the crashes. After a sweep-up session, we went for a third attempt and with a fiercer weapon—a steel pipe. It took another two swings and, at last, the third time was a charm. We got our slo-mo video of us breaking the glass ceiling. Good thing, because by that time we were sweating buckets in our hazmat suit. Guess we'll have to work even harder to break that glass ceiling after all. Challenge accepted. Havas Formula, New York City.
Watch: EM Shatters the Glass Ceiling
Featured photo courtesy: Laura Delacruz