C'est fini! The 2019 Cannes Lions International Festival of Creativity is a wrap, and we're back stateside (a lot less sweaty and bit sun-kissed) and eager to share what we saw. A key insight from our three days on-site: High-level meetings and networking often take precedence over experiential activations at this event. So, brands that created experiences went big—in scale, touchpoints and after-dark entertainment. Each was careful not to impede the most important element of décor: the brilliant blue waters and golden sand of the French Riviera. So, grab that glass of rosé—or better yet, its refreshing frozen counterpart, frosé—and check out the brands that impressed us the most at the outset. Be sure to keep a lookout for EM's August issue for more detailed coverage of the festival.
---
You Might Also Like:
---
GOOGLE BEACH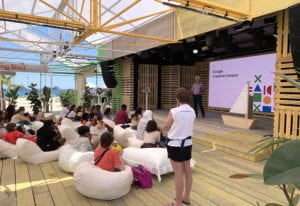 Google Beach, open to consumers as well as badge-holders, didn't skimp on activities for attendees. The first station was Le Scoop, which showcased the Google Translation tool through the Pixel phone. Brand ambassadors helped attendees navigate to the phone's feature, which translates different languages on the spot through scanning text. After using the phone to translate flavors of ice cream, attendees then walked away with their choice of gelato. Other activations included a Google cap-maker, where festivalgoers designed their own Google caps with a Google Doodle of their choosing, a YouTube music smoothie bar, a YouTube augmented reality influencer experience, a Boomerang photo op with a swing, and a "no phone zone" relaxation area with Headspace meditation pods and chair massages. Agency: Set Creative, London.
---
PINTEREST BEACH
Pinterest's activation, the most colorful and playful on the beach, was themed around inspiration. The journey began in Discoveryland, where, after sipping a palate cleanser, attendees explored different sights, smells and sounds, stamping a card along the way with their preferences. Once attendees completed the activities, which included a synth experience and inhaling wafts of various scents, bartenders crafted a cocktail containing ingredients reflecting their choices. Another area was Playland, a color-saturated playground created in collaboration with UK artist Yinka Ilori, featuring a seesaw and spinner beckoning attendees to become children again. Lastly, in Dreamland, attendees laid on hammocks and listened to soothing music while gazing at ribbons overhead, each representing dreams expressed on Pinterest.
---
FACEBOOK BEACH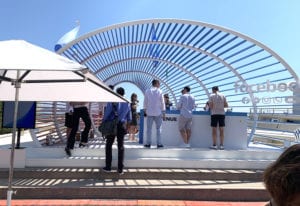 Facebook's beach activation showed how creativity can be expressed across Facebook's platforms. Instagram's touchpoint was a "Where the Rainbow Ends" experience, a nod to Facebook's sponsorship of Glass: The Lion for Change, which celebrates "culture-shifting creativity." Groups of attendees stepped into a room featuring several rainbows and colored light projections and were encouraged to take video, pics and post. Another key theme of the activation was community. A Facebook Community Hub provided a space for networking, and each day different communities that exist on Facebook and Instagram used the space to showcase how they express creativity on the platforms. Nearby, an arts and crafts station gave attendees a chance to be creative the old-fashioned way, with marketers, paints and colored pencils.
The moveable Stories Xperience installation featured a series of vertical, rectangular video screens, each showcasing the work of storytellers on Facebook, Instagram, Messenger and WhatsApp. Facebook hosted talks, panels and classes in an open-air amphitheater dubbed The Agora throughout the activation's run, including tutorials on Messenger's creative features and how to maximize video for Facebook. Other touchpoints included a VR for Good virtual reality area, a gelato cart and an aura portrait experience. Agency: Jack Morton Worldwide, San Francisco and London.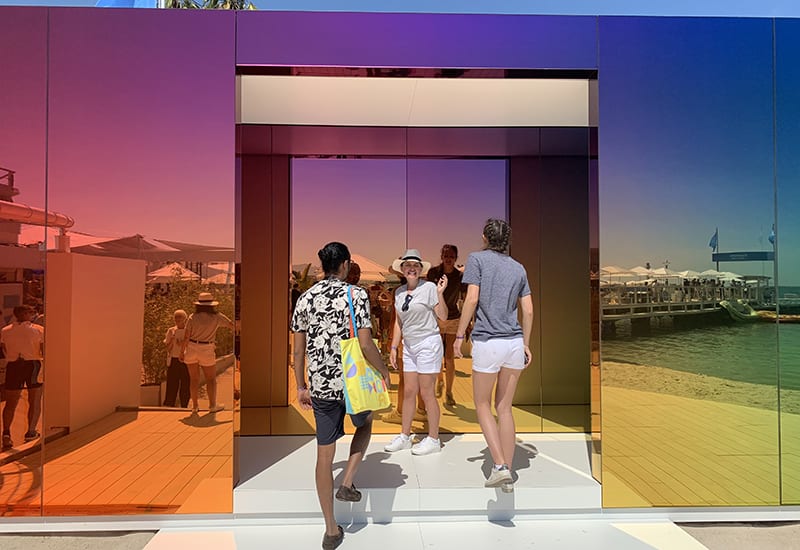 ---
SPOTIFY BEACH
Spotify after dark was home to some of the hottest musical acts at Cannes, from Nas to Bebe Rexha to Ciara. But during the day, the touchpoints at the brand's sprawling beachfront activation pointed to its June marketing campaign touting "What's Next" in Gen Z and millennial trends. A Spotify Lab, with food, air conditioning and a Recharge Bar manned by a renowned juice bartender told the story of the brand's just-released "Culture Next Trends" report, how marketers and advertisers can access the insights and a look at the brand's various ad experiences. In the center of the footprint were several curtained sound booths where attendees could take a break from the festival madness and listen to some tunes on Spotify. Several meeting spaces, each themed with different award-winning campaigns, dotted the beach space. Other touches included a sorbet cart featuring boozy flavors (including beer!), a collection of IPAs to balance rosé domination and, of course, a massive stage for nighttime entertainment. Agency: In-house business marketing team.
---
TWITTER BEACH
Those brands that leaned into experiential typically created two kinds of spaces: one for badge-holders and one for high-level meetings. Twitter used an open-air format for both, with a concentric circle design that matched its logo. For a deep dive into Twitter's Cannes activation, check out our Q&A with Helen Stoddard, Twitter's head of global events.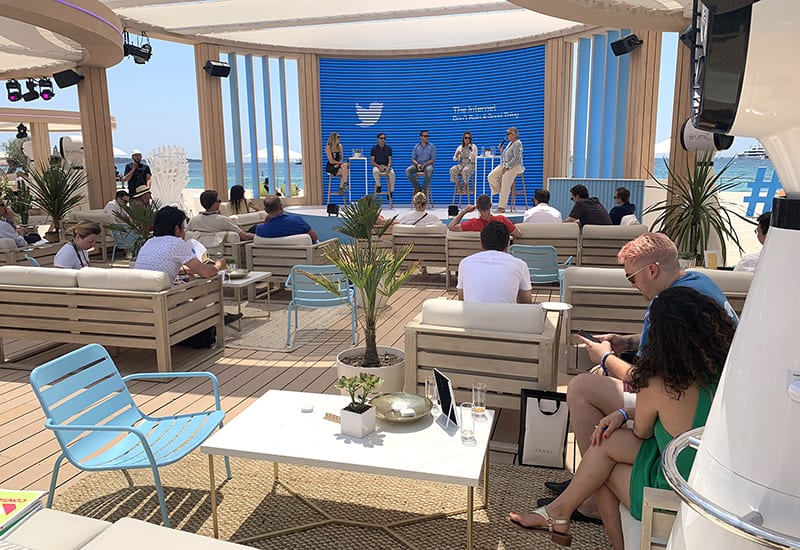 Featured photo courtesy: Howard Sayer Photography