Super Bowl 50 may have taken place, officially, at Levi's Stadium in Santa Clara, but for football fans and brands, San Francisco was ground zero for experiential before the big game. The city played host to a litany of fan experiences from the ticketed NFL Experience at Moscone Center to Super Bowl City, the Super Bowl 50 Host Committee's official free fan village located at the end of Market Street on the Embarcadero. Connecting the two was the 50th Mile, a celebration of Super Bowls of the past with content and photos unlocked using the official Road to 50 app. Slip on your best organic cotton t-shirt and grab a refillable water bottle. The tour begins now.
Pop Culture: PepsiCo Uses its Super Bowl 50 Activations to Tackle New Engagement Strategies
As we approached the lower level food court of the Moscone Center in San Francisco, home to Super Bowl 50's NFL Experience, we suddenly saw the bubbles—lots and lots of bubbles.
They were all coming from the PepsiCo F!ZZ experience. Futuristic and sleek, the pop-up environment—designed by PepsiCo's in-house Design & Innovation division—was used to promote the company's new F!ZZ beverage concept. There was a winding walkway, a dj pumping fresh tunes, an animated emcee busting neon shades and yes, bubbles.
"If Willy Wonka had a soda shop, it would have been F!ZZ," says PepsiCo senior director of marketing Todd Kaplan. Kaplan is energetic. Bubbly, himself. He looks up at the activation. "I mean, look at this!" he says.
That pep in his step goes beyond the colorful soda concoction topped with sprinkles he's sipping from a plastic orb. The F!ZZ experience is just one part of the company's new strategy to change how consumers view and consider its soda and snacks. And just one element of PepsiCo's multifaceted and multi-brand presence at Super Bowl 50, from the NFL Experience to Pier 70's Kola House to the high-profile sponsorship of the Halftime Show. In the modular footprint at Moscone (handled by MKTG, New York City), consumers selected a "base" flavor shot dispensed using PepsiCo's new touchscreen platform Spire.
On offer were three flavors customized for the Super Bowl: Peaches and Screams, Limebacker Blitz and Onside Cake. With spherical plastic cup in hand, they moved to the next station where a Fizzologist added carbonation and foam. Next up, textured toppings—like pop rocks and peach rings. And the final stop, an animated GIF engagement, emailed and printed on the spot. Millennials are at the core of this new strategy, Kaplan says. They are the generation driving trends and growth within the food and beverage landscape.
"You look at soda today and it's in a can, in a bottle, in a cup—and maybe with a couple mixed flavors," Kaplan says. "We're turning soda on its head and creating a new ecosystem for Fizzology, where you can co-create your beverage with us."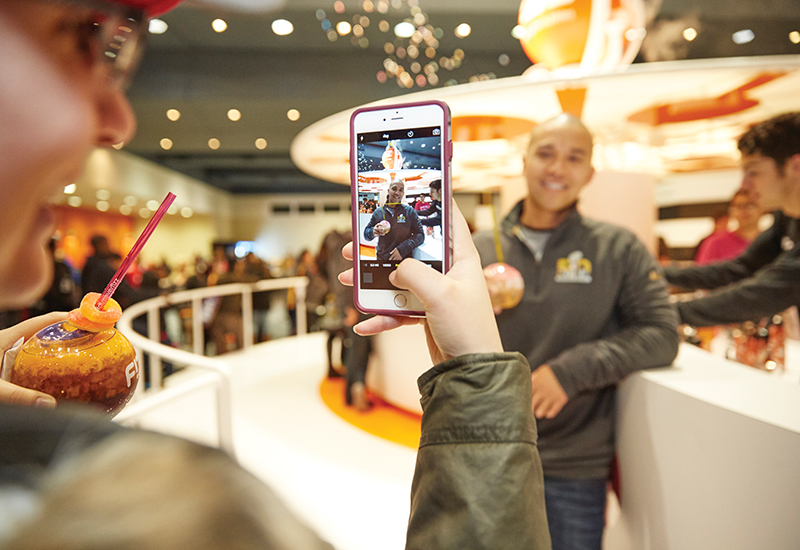 Game Day Plaza
Forty-two miles away on Super Bowl Sunday, PepsiCo turned snacking upside down with the NSPIRE mobile kitchen activated for Super Bowl 50's Game Day Fan Plaza at Levi's Stadium in Santa Clara. The restaurant-quality sampling experience offered dishes made by the company's chefs and inspired by the brand's food and beverage portfolio, like Mountain Dew Zesty Chicken Wings (Fuse, Burlington, VT, handled).
The traveling kitchen is PepsiCo's first corporate-owned food vehicle and underscores the role food service is playing in the company's overall strategy. The 35-foot-long trailer, which launched in 2015 and continues on the road this year, has a stage with a hydraulic awning and lounge. The experience also features Spire, the state-of-the-art beverage dispenser connected to the Cloud that can control thousands of soda and flavor shot combinations, and can be customized by region—flavors and colors inspired by sports teams, local attractions and so on—to complement customized menus depending on the region or event.
"The beauty of digital marketing is there's always a footprint left behind, so we have all the data on the backend. We can learn what drinks were mixed at what [event] and at what time, then learn and apply that data in the future," Kaplan says.
Kola House Pop-Up
Back in the City by the Bay, PepsiCo cracked open a modular, mobile version (handled by Motive, Denver) of the high-end Kola House experiential lounge launching in New York City's Meatpacking District later this spring. Named for the kola nut, which "cola" is made from, the lounge was designed with Lisle Richards and Eric Marx of well-known hospitality group The Metric. Built into the warehouse at Pier 70, the Kola House pop-up—until then, seen only at Milan's Design Week—pushed the boundaries of cola. Swizz Beatz spun tunes, alchemists mixed Pepsi-inspired and infused drinks in a dark, cool, lounge space that had digital artists and other interactives. The pop-up Kola House will hit the road this year and appear at music festivals and other events.
"With Kola House, we want to romanticize what cola is and create an immersive experience that brings it to life," Kaplan says.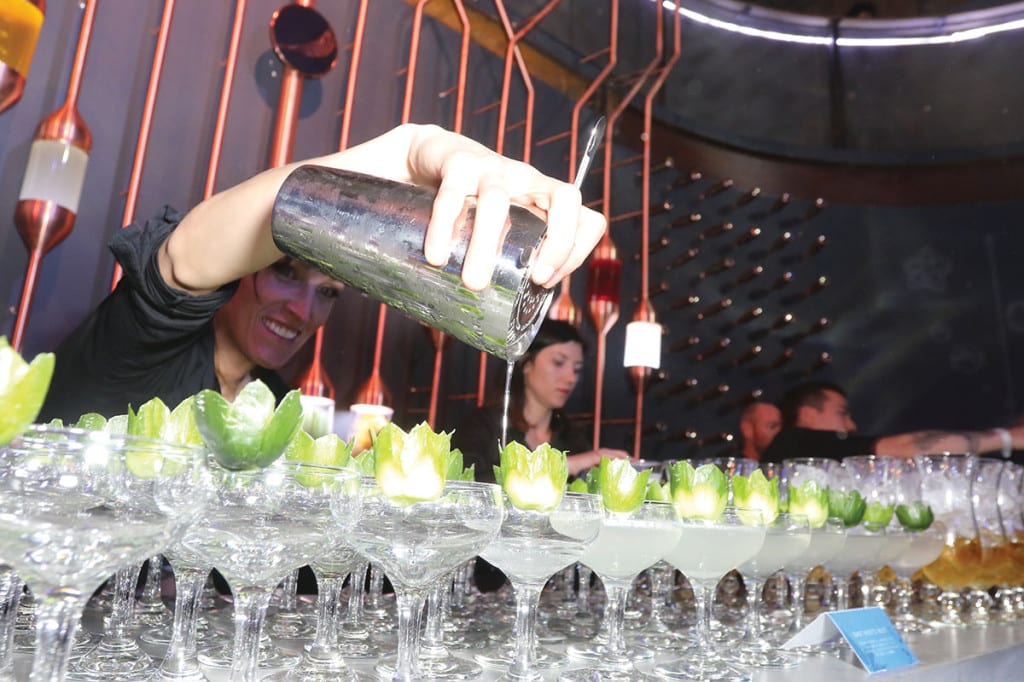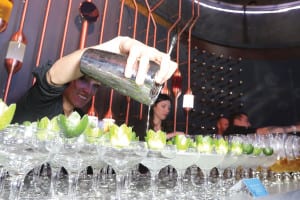 The space was connected to the massive Pier 70 warehouse converted (via Jack Murphy Productions) into a massive three-level concert venue and nightclub for the weekend. Pepsi and fellow NFL sponsor DirecTV essentially shared a sponsorship of the space, activating a cobranded DirecTV and Pepsi Super Thursday Night Dave Matthews concert before Pepsi went solo with a Pepsi Friday Night Live with Pharrell Williams. "We're experimenting as a company that's looking to progress and try new things, especially to keep up with the pace of culture today—F!ZZ is one example; Kola House is another," Kaplan says. From on-the-ground consumer sampling to private VIP environments to the Halftime Show spotlight in front of 112 million viewers, you might say PepsiCo is mixing up the soft drink and snack category.
---
Snack Attack: Inside Two More Pepsi-Owned Activations from Super Bowl 50
Doritos Offers Walking Tacos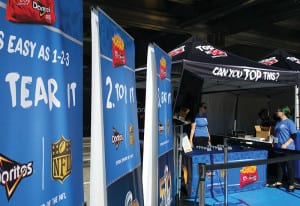 With thousands of people on the move and barely anywhere to sit, the NFL Experience, by definition, creates an "on the go" crowd—perfect conditions for Pepsi-owned Frito-Lay's efforts to get the word out about its new Doritos Top N' Go mobile sampling tour and the expanding Top N' Go line of Doritos. (Consumers open the horizontal packs of Doritos across the top, pour on toppings and eat with a spoon.) When we swung by, brand ambassadors were serving up pulled pork "walking tacos." Signage flanking the area instructed guests to "tear it, top it, eat it." And we did. Agency: Fuse, Burlington, VT.
Mountain Dew Kickstarts NFLX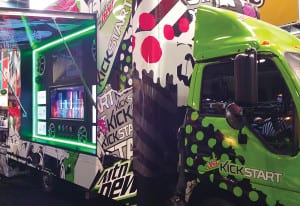 Set up in the South Hall of NFLX was an experience for Kickstart energy drink. On the left side, brand ambassadors poured four flavors of the drink (which combines Dew, juice and caffeine) into sampling cups. Across the middle, a raised stage in front of the fluorescent Kickstart sign offered consumers the chance to play each other on old school magnetic football games while brand ambassadors in referee uniforms called the game. A great reminder that in an age of digital media, a little good old fashioned fun can serve as the ultimate engagement. Agency: Motive, Denver.
Super Bowl City itself was a leaner but "cleaner" experience than previous Super Bowl fan zones. Pop-up tents were outlawed. Activations leveraged sustainable materials. And nary a piece of paper collateral could be found. Metal detectors and bag checks protected the perimeter while armed Homeland Security personnel dotted the interior.
Looking up, and above and beyond all that, you saw the San Francisco Ferry Building tower with its soaring Super Bowl 50 signage on one side, the cityscape with more soaring signage on the other. A gigantic gold "50" installation in the middle of the park anchored the experience. At times, the wait to get inside surpassed an hour. Super Bowl City ran from Jan. 30 to Feb. 7, the longest fan experience for a Super Bowl yet and involved the official partners of the Super Bowl 50 Host Committee.
On Saturday at around 5 p.m., the city shut down entry because the event was over capacity (shoulder-to-shoulder inside, literally). If we could offer one critique to most, but not all, brands on-site at Super Bowl City it would be this: Whatever happened to line engagement? Here, highlights from Justin Herman Plaza on the Embarcadero.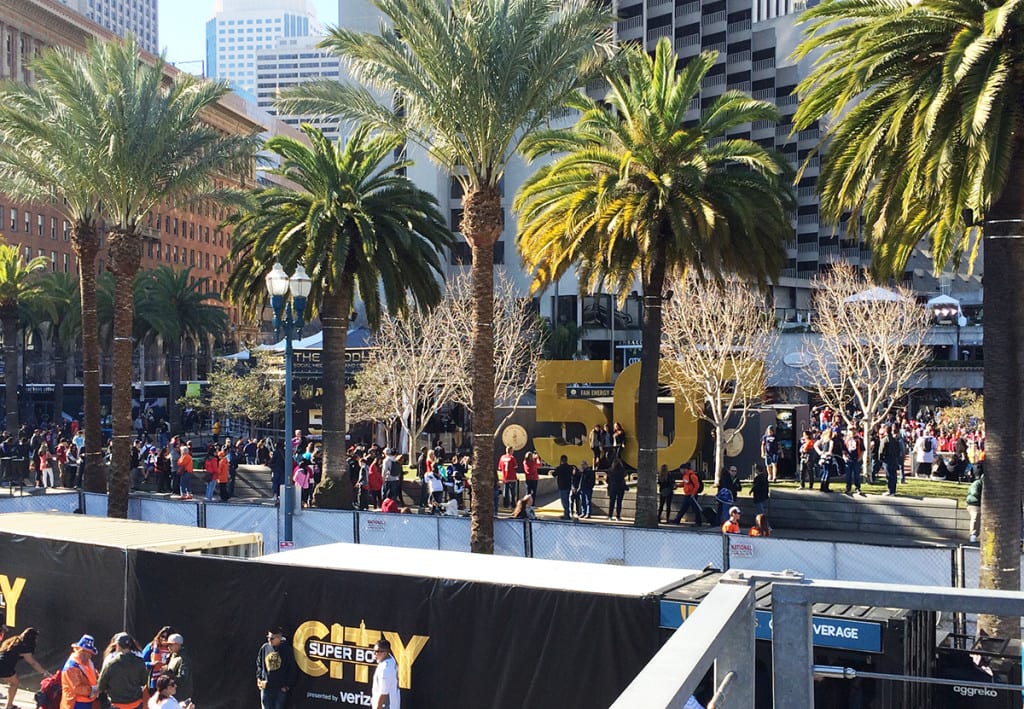 ---
Verizon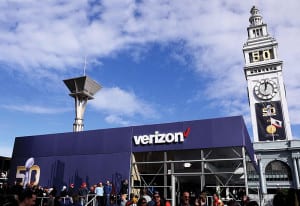 With side-by-side twin brand pavilions set up as a Verizon Access Zone along the Embarcadero, the communication juggernaut effectively flexed its muscles with an experience that was as appealing to the eyes as it was for the thousands of consumers that waited as long as two hours to get into it all.
If you faced the Bay, to your right was the 1,200-square-foot Verizon charging structure tethered to biometrics—consumers' own fingerprints let them open, lock and reopen the charging stations. But to the left was the real action, the 4,000-square-foot anchor structure offering up a handful of carefully choreographed engagements. Reminiscent of the brand's flagship stores being rolled out in key markets, guests entered the clean space (white exhibits, wood floors, plenty of sunlight) and could engage brand ambassadors to learn about Verizon's service offerings, points of difference and new solutions.
It all tied into the brand's new "Better Matters" tag. Getting heavy on-site play was Go90, Verizon's cloud-based entertainment portal (the company calls it "a video streaming app that offers access to live and on demand video wrapped in a social experience"). Consumers could check out the app, ask staffers questions and download it (if they were Verizon subscribers). A few steps from the Go90 display was a Switching Station manned with ambassadors ready to switch consumers to Verizon on the spot (we actually saw some people doing it) and places to sit and try a variety of mobile devices.
"With so many companies competing for consumers' attention, it's go big or go home," says Kristin Rooney, Verizon's director of marketing and sponsorships. "We decided to go big."
There was also a #Minute50 wall—tied to the company's "social first" promotion that served prizes every hour at the 50-minute mark from January 24 through February 7—showcasing the prizes, winners and a countdown clock. The #Minute50 campaign ran nationally and then locally in San Francisco with a variety of prizes, including Super Bowl 50 tickets, NFL merchandise, free data and TVs. A total of 336 rewards were given out. Prizes awarded in San Francisco (using a separate localized #SFMinute50 hashtag) included exclusive experiences with NFL players on site as well as access to NFL events. Local winners received a text to claim their prize at the Verizon Access Zone.
The pièce de résistance? The final engagement, the Game Winner experience—a domed 180-degree theater that placed fans "in the game" for a chance to throw a game-deciding pass. Consumers slipped into football jerseys, had their photos taken, then stepped into the theater where they listened for cues and threw a pass. The photo, audio and video were instantly meshed together—and full video of it all, worthy of an ESPN highlights reel, was texted to the consumer seconds later. One of the best interactives of the weekend. Agency: Momentum Worldwide, New York City.
Chevron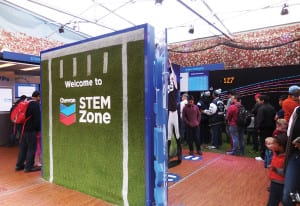 On design and content, Chevron looked good. Maybe it was the glowing marquee-style hashtag sign #STEMMVP, the old football imagery mixed with the new or the fact it offered six different engagements inside that made it worthy of a wait. The brand's two-story-tall structure focused on how STEM (Science, Technology, Engineering and Math) is involved in the evolution of football equipment and stadium design.
Highlights from within: a control panel that let consumers switch through displays showing how broadcast technology has evolved; next to that screen, they could flip through displays to see how television sets have changed over the Super Bowl's 50-year history. And on another screen, they could control a sky cam that zoomed the length of the inside of the booth displaying real-time footage. Two photo activations, one that positioned a consumer's face onto their choice of STEM career professionals, and a photo activation in a locker room where consumers donned gear and typed in their name to personalize a digital locker placard for the photo, gave the experience social media reach. Topping off the experience—a football toss zone that let consumers measure their throw arch. Agency: GMR Marketing, San Francisco.
Taste of Sonoma
Most of us are aware of Napa and Sonoma, but Sonoma County proper wanted to use its presence in Super Bowl City to showcase the nooks and crannies of wine country and to promote the region as an important travel destination in addition to a wine region where you go to day booze. Inside, consumers could step up to one of the wine tasting bars to purchase a flight of wines to taste with an expert (the booth featured more than 60 wineries over the course of the week). After the tasting, you could buy a full glass of wine to enjoy in the outdoor lounge under party lights or elsewhere in Super Bowl City.
An on-site Sonoma concierge, a representative of one of the aforementioned nooks in wine country, could help you book day trips (another authentic touch to this experience—she was no hired brand ambassador). Outside, wood high tops and picnic tables, native greenery and wine barrels pulled the whole experience together. Fun fact: the brand used local builders to construct the bars for the experience, brought in authentic barrels from the region and ferried in the representatives from the county to cut down on CO2 emissions. Agency: GMR Marketing, San Francisco.
Levi's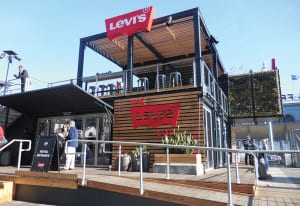 By far the most textural build, Levi's industrial cool two-story booth called Levi's Lot offered a retail store on the ground level featuring merchandise from the brand's limited edition Super Bowl 50 Collection of vintage inspired t-shirts and jackets (also being sold in the flagship retail store on Market Street). Upstairs, the brand had the best view at Super Bowl City with a bar complete with high stools positioned at the edge of the decking and a seating area right next to a living succulent wall.
Seeing as it is a local brand, it was only appropriate that Levi's embraced sustainability and used all reclaimed wood to build the structure as well as reclaimed metal from shipping containers from America's Cup. For this, the brand earned the Best Overall Net Zero Positive Activation by the Super Bowl 50 Host Committee. Levi's also sponsored The City Stage that offered 35 free performances during the week. And if you couldn't score an Uber outside Super Bowl City, Levi's came to the rescue with a fleet of branded pedi-cabs. Fans could get free rides between the Levi's flagship store at 815 Market Street, the NFL Experience store and Super Bowl City. Agencies: MKTG INC, San Francisco; Team Epic, Westport, CT.
Intel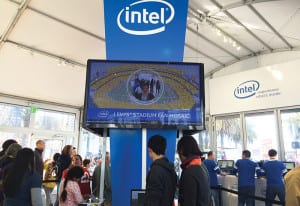 When is the last time you waited in line for more than five hours? For consumers at Intel's booth it was for a 3D-scanned, laser-etched glass cube giveaway personalized with your face using Intel's RealSense Technology, Digital Face Paint and Augmented Reality Video. Boom. We will admit they were pretty sweet. And they came packaged in a satin-lined Intel-blue box. But luckily for consumers, that wasn't the only experience Intel offered inside.
In addition to the cube (GoPros attached to staff let consumers see the action of the cube being made without having to huddle around it. Nice.), consumers stepped up to a photo op powered by Digital Face Paint which super-imposed a graphic onto their face (we went football face for ours). The images, shared via the Road to 50 app, were added to a Levi's Stadium fan digital mosaic displayed during the game. A drone obstacle course let consumers pilot a drone powered by Intel technology in a controlled environment. Watching kids gaze in awe at the flying machine? Hooboy… priceless. Like a few other brands on-site, Intel let consumers bypass the cube line in favor of the other activations, which we liked. Agency: GMR Marketing, San Francisco.
Dignity Health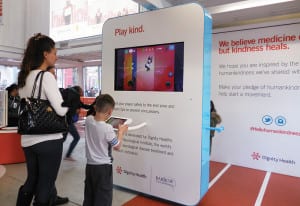 Bright, crisp white with orange accents and positioned right inside the main entrance to SBC at the end of Market Street was Dignity Health's windowed installation reinforcing the company's role as one of the largest healthcare systems in the nation—headquartered in San Francisco. The theme of the booth was #HelloHumanKindness and it offered activations aimed at health and happiness with the goal of launching a movement. Consumers used dry-erase markers to fill in the blanks on statements such as "I Pledge To…" for a photo op.
Other activations included a BarrowBrainball game via an iPad kiosk about concussion prevention, and a locker room setup that let consumers try on football gear to feel the heft per position. Within a seating area in the shape of the brand logo in the center of the activation was signage on common injuries and how they're treated. There was a charging station in one corner of the space outfitted to feel like padded bleachers, and a looping projection wall displayed real-time social posts and photos. The installation played host to members of the San Francisco 49ers, two Gold Rush cheerleaders and mascot Sourdough Sam. Agency: Grow Marketing, San Francisco.
SAP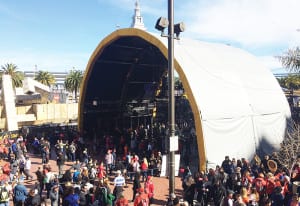 Taking the cake for the most visible activation within Super Bowl City was the Fan Energy Zone powered by SAP. This contributed to the Super Bowl 50 Host Committee's charge to make this the most technologically advanced and digitally connected Super Bowl ever. First up was what we called the archway, a massive three-story structure that housed the "Amp It Up" gesture-controlled experience. On either side under the archway were seven LED screen stations (14 total) that could accommodate seven consumers at a time. On one side, consumers were placed in the middle of a virtual halftime show experience and encouraged to jump and swing their arms in an interactive music and dance game. The other, called Breakaway, let fans practice football moves on the field, from throwing passes to dodging defenders and scoring touchdowns.
In the center, a bicycle station with interactive wired cubes lit up to the pace the consumers pedaled. Beyond the archway was a booth featuring the "Quarterback Challenge." Using an Oculus Rift headset fans plopped down in comfortable seats and entered the world of virtual reality to become an NFL quarterback. This particular experience scored a two-hour wait to play. Agency: GMR Marketing, San Francisco; Gesture, Virtual Reality: Helios Interactive, San Francisco.
Macy's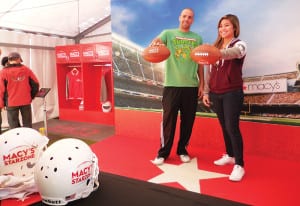 Macy's footprint called the Star Zone was a stone's throw from the Macy's Department store. Inside, Macy's wanted to promote its role in fireworks (on Fourth of July in New York City as well as at Super Bowl City the Friday before the game). Consumers hopped aboard live-wired stationary bikes and raced to get fireworks graphics on the screen in front of them to launch and explode.
On two sides of the booth were red locker room setups where consumers entered their Road to 50 app code into an iPad to see if it unlocked one of the lockers—with a gift card inside. We heard lockers were always unlocked, but the value of the gift cards did vary. The gift cards could only be used during the week of Super Bowl, leading, we imagine, to an uptick in retail sales. The final experience was a GIF booth with a football field backdrop and props like Macy's branded football helmets. Unlike other activations, it seemed consumers could make their way through this experience at a reasonable rate. And if there was anything this crowd was hungry for, it was giveaways (cheap or not) and not hours-long waits to get them. Agency: LeadDog Marketing Group, San Francisco.
CBS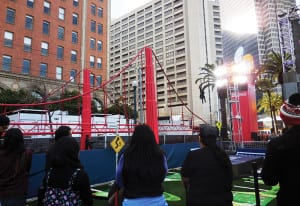 It wouldn't be a fan experience without some kind of extreme activity—like zip lining. CBS's large activation space featured a stage for live broadcasts and a mini turf football field below that acted as a consumer hangout during downtime and additional space for special TV programming, appearances by local entertainment like cheer groups and event integrations (like Marmot's Marmot Super Bowl 50 prediction on Groundhog Day).
The major draw for consumers, however, was definitely that 120-foot-long zip line. Consumers climbed up a tower structure and then launched down the line against a Golden Gate Bridge backdrop. A GoPro attached to the helmet captured the 30-second video for consumers to later view and share.
The brand handled the demand well, setting up a timed registration system with colored wristbands matching the hour you were to get in line for your turn. (Why didn't we see more of that kind of timed interaction elsewhere?) In addition, there was a photo op with an agility course that had consumers running and diving to catch a football. Agency: LeadDog Marketing Group, San Francisco.
Hyundai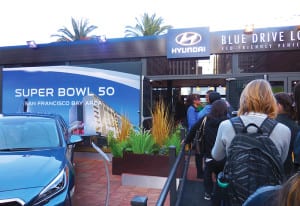 If the flashy Super Bowl 50 Gold Tucson parked outside the structure wasn't enough to draw 'em into Hyundai's booth in Super Bowl City, the free coffee and the most comfortable lounge in Super Bowl City might have. Vehicle displays on either side of the walkway leading into the experience offered eye candy and content while folks waited in line. Inside, consumers walked up to a front desk with a line of tablets to enter to win Super Bowl tickets.
From there, two interactive vehicle displays with product experts gave consumers insight into the brand's fuel-efficient options and specs. Offering a taste of "green" power generation was a Human Powered Selfie station for which consumers walked, ran, danced and jumped in place to generate enough power to get the camera to snap a photo. (The result, we saw, was an exasperatingly fun photo experience and different from traditional smile-and-pose activations).
If that wasn't enough, there was McCafé bar with free coffee and what can only be described as a true living room in the corner with white couches, lamps, décor and a television screen running commercials. It was quite the respite from the controlled chaos outside. Agencies: Advantage International, Norwalk, CT; Photo Activation: Helios Interactive, San Francisco.
About a 20-minute walk south of Super Bowl City Presented by Verizon was the NFL Experience driven by Hyundai at Moscone Center, many-times larger than Super Bowl City (with the same security measures) but due to the timed and ticketed nature of attendance, not as overwhelming. As can be expected, this was a dramatically different kind of fan experience.  Come with us on a walk through highlights from NFLX.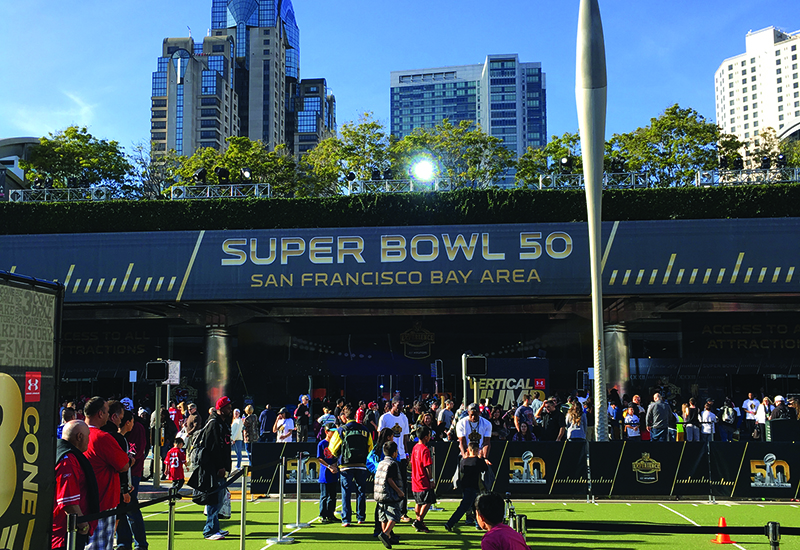 ---
Under Armour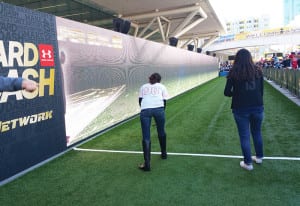 The anchor tenant of the NFL Experience outdoor courtyard (via the closing of Howard Street between Moscone's north and south halls) housed four interactives. The low-tech Three-Cone Drill ("Test your ability to change directions by maneuvering three cones at various yardage!"), a Broad Jump ("Test your lower-body explosion, balance and lower-body strength!") and a Vertical Jump ("Take your position, and find out what the differential between your reach and the flag you hit is, just like at the NFL Scouting Combine!") all pulled crowds. B
ut it was the high-tech 40-Yard Dash that drew the hour-plus lines. Consumers lined up next to 40 yards of LED media walls and raced against their friends and a to-scale video version of NFL players. An emcee got players to talk smack about their opponents and then sent them off racing. Times were posted on a digital scoreboard above a padded end zone that most consumers—including our own associate publisher Jeff Fortmann and new twentysomething account executive Blake Kramer—couldn't resist diving head-first into.
Papa John's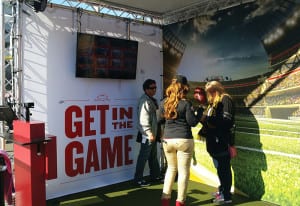 Was it the free pizza that caused those lines? The digital dough throw? The cheerleaders? Yes. Yes. Oh, and yes. Activating its longstanding "Better Ingredients. Better Pizza." campaign in the NFLX courtyard, the pizza chain's footprint boasted five main connections. First, fans stepped into a Get in the Game photo activation in which they held a football up against a Super Bowl backdrop.
From there they could pose against a Levi's Stadium backdrop for a faux pic with JJ Watt and Joe Montana. Next up, a video of them throwing (a plastic) pizza in the air. Then they stepped up to the mobile kitchen and were handed a perfectly piping hot slice of pizza—as objective journalists, we felt it was our duty to check the slice temp (twice). From there they entered another photo activation, this one allowing them to get a photo between standees of Peyton Manning and Papa John's founder John Schnatter. Between the photos, the video, the pizza, the brand ambassadors, some random cheerleaders and an emcee encouraging folks to have fun and snap "pizza selfies" tagged to #upyourgame, the footprint was rockin'. Agency: Momentum Worldwide, Chicago.
Microsoft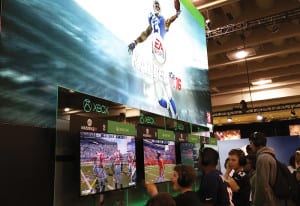 Activating an NFL sponsorship that served up Super Bowl equity across the company, the tech giant created a space that connected consumers with Xbox, Surface and its core operating systems. The sleek black exhibit boasted dark walls, wood displays and uplit kiosks that glowed.
In the middle of the footprint? Surface tablets hailed as "the most productive devices on the planet." On one side? Xbox One demos of—what else—Madden 16. On the other side? More game demos, this time of Forza Motorsport 6. Up in front was a greenscreen photo activation and demonstrations of Microsoft's new and forward-thinking tech offerings, such as its sideline viewing software and HoloLens. Agency: GMR Marketing, San Francisco.
Skittles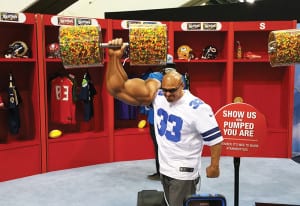 The circular footprint, designed as an homage to a football team locker room, sported mock player lockers/cubbies filled with football gear, some "bedazzled" with Skittles. There were a variety of simple photo ops (huge faux arms holding water jugs filled with Skittles that folks could stand in back of, big tubs of Skittles guests could slide into) peppered throughout the space. A high-tech Skittles mosaic allowed visitors to "become the rainbow" by sitting in front of a mirror and then watching the mirror turn into a mosaic-style selfie composed of the colored candy (consumers entered their phone number to get the image texted to them).
Across the rear of the areas was a row of lockers filled with prizes. What was cool? To get into the line to open the prize lockers, consumers had to tweet using the hashtag #teamskittles. What wasn't so cool? To show proof of the social currency, brand ambassadors asked consumers to manually open up their twitter accounts on their phones and show them. Meh. Agency: Team Epic, Westport, CT.
Snickers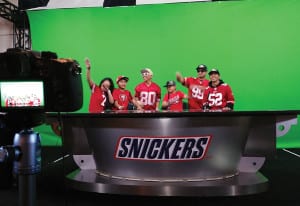 Had lines topping 90 minutes, but consumers didn't mind waiting for a chance to walk into a mock "Total Access" NFL broadcast studio and call the game.
Guests sat at a greenscreen-backed anchor desk and had their smack talk and best play-by-plays captured and then shared—all the while, brand ambassadors sampled piles of Snickers Crispers. Agency: Team Epic, Westport, CT.
Oikos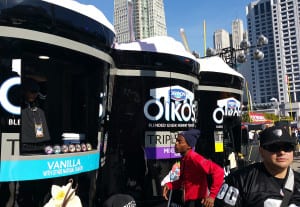 Dannon's official NFL yogurt parked its mobile truck and handed out three flavors (vanilla, mixed berry, lemon) of its Triple Zero SKU (no sugar, no artificial sweeteners, no fat) while staffers reminded folks that "each spoonful of Dannon Oikos Triple Zero combines a full, creamy flavor with the sweetness of Stevia, a zero-calorie sweetener and sugar substitute sourced from the stevia rebaudiana leaf" (yeah, we do dig a nice stevia rebaudiana leaf). The black, glossy mobile unit was designed in the shape of three cups of yogurt, and was a solid eye-catcher. And with the ability to pop open sampling windows from all around the truck, Oikos had some of the most manageable traffic lines at NFLX. Agency: ignition, Atlanta.
Bridgestone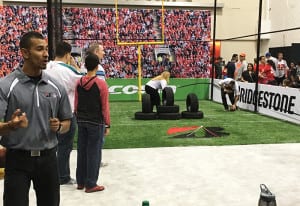 Offered three pigskin-flavored interactions in its Punt, Pass and Kick experience, a replica of the annual nationwide competition for youngsters. Here's how it worked: First folks punted. Then they passed. And, that's right, then they kicked. Field turf and football graphics created a relevant look and feel throughout the engagement. Visitors could also get their photo taken in a life-size picture frame—staffers printed the photo on-site and handed it to guests (with a free t-shirt) as they left. Agency: Marketing Werks, Chicago.
Hyundai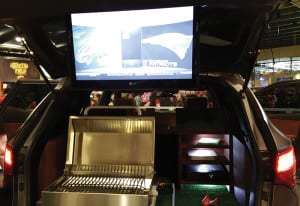 The title sponsor of the NFL Experience was everywhere. Outside, inside, on the left and on the right. There were low-branded football-themed games, mid-branded sports interactives and fully branded footprints—we saw more Hyundais scattered throughout Moscone than candy from the Skittles exhibit. The car company's main NFLX experience featured wood floors, white walls and clean design.
Football videos played on wall monitors throughout the space, a photo activation snapped Super Bowl-flavored pics, player signings took place in the corner (Latavius Murray was there when we visited) and, of course, there were vehicles to sit in and brand ambassadors nearby to talk about the horsepower, fuel efficiency and safety features. Consumers looking to win the 15 pieces of NFL memorabilia hanging on the walls could enter using the Road to 50 mobile app QR code. Agency: Advantage International, Norwalk, CT.
FedEx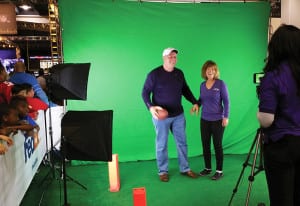 Let us be clear. We love you FedEx, we really do. But guys, you need to refresh your Air & Ground Experience. It's dated, baby, and we think those NFL wall graphics are the same ones we've seen for 10 years. Now that said, we will admit that there's something to not messing with a good thing, as the lines were constant to get into the jump-and-tackle demos, the throwing exercise area was packed—and that hysterical greenscreen dance video interactive that had consumers doing their best shake and bakes even had us giggling. Agency: Team Epic, Westport, CT.
Bose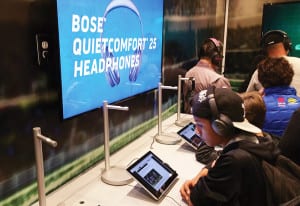 The audio equipment company, clearly mounting an aggressive offensive against the crew over at Beats by Dre, used some Super Bowl rub-off to pump up its brand, reach, exposure and engagement. Across the Bay Area, Bose tied into the 5th Annual NFL Honors evening gala, let celebs create custom NFL headphones at the New Era Lounge and turned Super Bowl tweets into music via bosefantracks.com.
At the NFL Experience, the company coproduced an NFL movie in a cobranded "The Road to Super Bowl, Presented by Bose" theater and used its mobile trailer as the anchor of a South Hall corner exhibit themed around "Football Deserves Bose." There, consumers could use a photo activation kiosk, demo new headphones, check out the Bose QuietComfort product line and learn how Bose has changed the game when it comes to coaching headsets. Agency: Team Epic, Westport, CT.
We Join Budweiser's Top-Performing Retailers and Employees on a Journey to 'Budcatraz'
It doesn't get any more badass than a police escort through the streets of San Francisco during Super Bowl Weekend. But that's exactly what Anheuser-Busch's Budweiser did for top partners and employees on Friday, Feb. 5.
Budcatraz was an evening event closed to media and consumers hosted at Alcatraz Island, a property of the National Park Service, of which Anheuser-Busch is a supporter. The event began at Clift Hotel with a Bud Light welcome reception. Audio of popular music played by a string orchestra filled the room while Anheuser-Busch beers and comfort food hors d'oeuvres were served. The 400 attendees then boarded chartered coach buses for that dramatic ride to the ferry terminal where a boat branded with the "S.S. This Bud's For You" was waiting.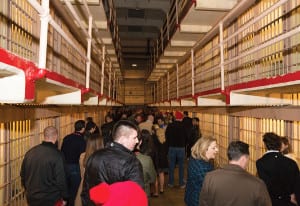 All three floors of the vessel glowed red and featured open bars of Budweiser… and Bud Girls serving more Budweiser. Upon arrival, attendees were handed red Budweiser beanies (it was pretty chilly, and these were pretty clutch) and gathered in groups of 50 to tour the historic site: think dark walkways with glowing red orbs lighting the way and prison cell selfies.
The tour ended in a factory-style industrial event space equipped with more red lighting, tall columns, barbed wire candleholders and buffets of Dim Sum—the perfect salty food for a beverage menu consisting only of Budweiser. After checking out an "immersion zone" and presentation on strategies and positioning for 2016, attendees enjoyed a booming acoustic performance by country singer Randy Houser. The ride back on the ferry featured desserts such as, appropriately, red velvet cake bites, and more Budweiser (so… much… Budweiser). And it was all timed perfectly to coincide with the fireworks over the Bay Bridge at Super Bowl City. The night ended with a bang, and plenty of good vibes for Bud at that. Agency: Fusion, St. Louis.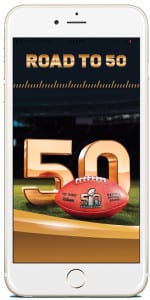 The entire Super Bowl 50 fan experience, from Super Bowl City to the NFL Experience, was tied to a single first-of-its-kind Road to 50 app. Every sponsor activation and partner experience was tied to it—the NFL mandated that all brands use its technology and data platform (via FISH Technologies, Dallas) rather than their own.
The app included interactive maps for navigation, location-based alerts, transportation information, photos and videos. Fans used the app, which upon registering assigned them a seven-digit (QR) code that they used to check into all activations, collect badges and enter to win SB50 tickets.
Uber 
In the city where it's headquartered, Uber, official ride partner of Super Bowl 50, launched a slew of promotions during Super Bowl week from puppy deliveries (for charity) to chicken wing deliveries. But our favorite was when the brand teamed up with Bai beverage for an on-demand flag football game with Joe Montana and Trent Dilfer. By requesting the QB Legends tab in the app, riders earned the chance to be picked up and whisked away straight to the game, held in a top-secret location.  
Bud Light
With "Up for Whatever" officially retired after two years and a new "The Bud Light Party" campaign introduced, the mega-beer activated the big game with a variety of San Fran experiences, from simple concessions at Super Bowl City and the NFL Experiences to a cause-related interactive that raised meal donations to a food shelter in exchange for fans pushing 250-pound blocking sleds. But the big noise came from its Bud Light Block Party over at Union Square, where consumers could engage in a virtual touchdown dance and 3D player photo  interactives, grab some cold BL's—and yes, crush an entire grilled cheese menu inspired by local chefs from all 32 team home cities. The Block Party also featured a branded beer garden, complete with a circular bar at the center, and surrounded by LED programming featuring game footage dating back to the first Super Bowl and all of Bud Light's #myteamcans.  It was a unique space that brought together the game, the brand and the fans over the course of the weekend. Agency: Mosaic, Chicago.
Puppy Bowl 
Animal Planet activated the Puppy Bowl Café in the Ferry Building across the street from Super Bowl City with puppy plays on a faux field replica of the Puppy Bowl Geico stadium. Two-dozen puppies tackled in shifts between 11 a.m. and 8 p.m. each day of the weeklong activation. Gott's Roadside restaurant, where the activation was positioned, got in the game with Puppy Bowl décor and a $1 donation for every "Tailwagger Burger" sold through Super Bowl Sunday.
Mercedes-Benz
The luxury automaker activated its imported Iron Schöckl mountain challenge course outside AT&T stadium in San Francisco, offering a thrilling simulator ride in a real G-Wagon vehicle up and down a steep 43-degree downgrade. The free experience was designed to demonstrate the breaking power and climbing power of the vehicle. Agency: Engine Shop, New York City.
Sports Illustrated
The magazine activated a 1,300-square-foot pop-up experience at Macy's Union Square with partner Edge Shave Gel. The space included live broadcasts, player meet-and-greets, chalk talks and interactive activations including a GIF booth, simulated tailgating experience, a virtual quarterback passing challenge and a gallery of SI covers. 
VISA
The most upgraded hospitality experience of any Super Bowl sponsor this year, the longtime NFL credit card partner stepped it up with a jaw-dropping, tented customer and VIP extravaganza built on the roof of its headquarters. The entire footprint overlooked the bay, the bridge and Super Bowl City. (For a better view of the city, you would have needed to go stand in a cell at Alcatraz.) Visa made its One Market office complex come alive with projection visuals nightly.
The displays featured football-related iconography, historic San Francisco landmarks and a "vision of payment innovation" (Obscura Digital, projection; IMG, activation). Inside, guests could watch the action below as they enjoyed five-star meals, tried on merchandise in a pop-up store, participated in a full 360-degree VR interactive and swung through a photo activation station. With washed-out grey wood floors, floor-to-ceiling windows, modern lounge furniture and all the accoutrements to match, this one was well done. Agency: GMR Marketing.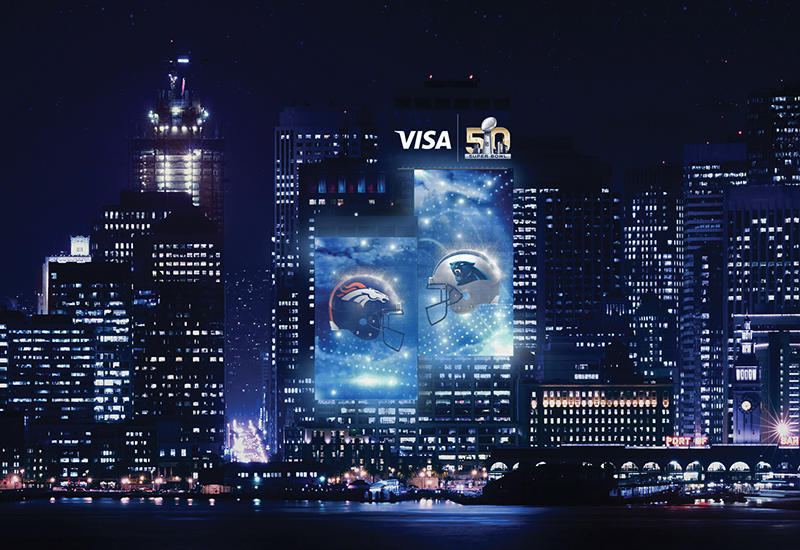 This story appeared in the Feb/March 2016 issue