It is a deceptively peaceful descent from the monorail system into the Las Vegas Convention Center, home of the Consumer Electronics Show, held last month. The mountain ranges that encircle Sin City disappear behind the stories-tall center halls, the wind picks up and you join the masses waiting for your turn to dodge taxis and head toward the columned entrance.
Inside is a hustle that beats rush hour foot traffic at Grand Central Terminal. Industry analysts, exhibitors, journalists and general ticket-holders scurry in all directions preparing to take on the 1.9 million square feet of show floor space that this year hosted 3,500 exhibitors. At this world's largest tradeshow, brands fight for relevance and buzz by creating environments that are worth exploring and spending time in and experiences that are fun or memorable. It is a battle of the brands, of all sizes.
Televisions could bend, were translucent and were the "world's largest." Smartphones and tablets exploded on the floor as did headphones and accessories, and, right behind them, digital health and safety products. Camera brands offered a familiar demand for relevance. The automobile industry made a history-making appearance. Just when you thought technology couldn't seep into just about every corner of life, there was Serta. Brands repositioned themselves and launched campaigns. And Microsoft and HP didn't show up.
The gadgets and gizmos were everywhere. We, however, were on the hunt for great booths. Not necessarily booths that were grandiose—booths that offered a distinctive strategy, a killer overall design concept, unique product interactions and incorporated clever giveaway strategies… not that we didn't play with a gadget or two along the way. Come along as we take you around the show floor, no unfashionable-yet-comfortable shoes required.
Engagement Strategies,­­ Games & Giveaways
American Express OPEN
To promote its OPEN program for business owners, American Express set up a digital memory game where users matched images to text that described the benefits of the program.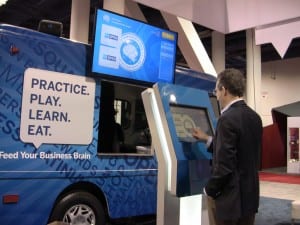 You first sat down at one of two areas equipped with four small game kiosks to practice your timing. To officially play, you stepped up to a main kiosk tablet that was situated in front of a large, branded food truck. Registration included giving your name, email and phone number while a brand ambassador, who served as MC, cheered you on and kept the energy of onlookers up. Mounted on the food truck was a large flat screen where anyone observing could watch the time tick away and see a list of the high scorers. You could play throughout the day and as much as you wanted, but at the end of the day the person with the fastest matching time won an iPad Mini. Just by playing you got a free t-shirt, some popcorn and a cupcake. Hey, we're "open" to free snacks. Design: Momentum, Los Angeles; Build: Czarnowski, Chicago.
The New York Times
One would imagine that it's not easy to immerse people in the world of journalism at a trade show, but The New York Times was able to do just that in a cool way. In addition to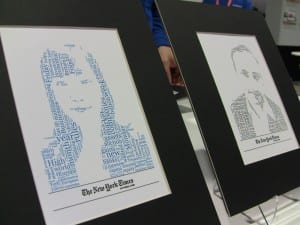 promoting subscriptions and its digital offerings across platforms, the newspaper titan offered an interactive word cloud portrait experience. You walked up to a kiosk manned by a brand ambassador and entered your name and email into an iPad, chose a color scheme and a section of the newspaper. The staff member took your picture with the device and the application automatically pulled words on that topic from real archives of The Times to create a portrait of your face. In just a few minutes, it was printed out and placed in a branded black frame to take home. The goal to do 250 portraits in the first day was exceeded by nearly 50 percent with approximately 400 portraits created. Design/Build: Sparks, Philadelphia.
Trojan
There was one brand that seemed to steal the show in the giveaways department, but not necessarily because there was any strong strategy behind it—Trojan Vibration's giveaway of one of its two, new high-end products. The brand's booth, dubbed the "Pleasure Cart," looked like a hot dog stand and at set intervals throughout each day the two female brand ambassadors handed out the product. All you had to do was get in line—in the very, very long line—have your show access badge scanned, and the product was yours. You can't help but wonder what was going through the mind of the TSA official manning the bag scanner at McCarran Airport's security checkpoint following the show's closure.
Hisense
TV and home electronics and appliances manufacturer Hisense sure made a statement in the space that for many years housed Microsoft's booth. The exhibit played host to dramatic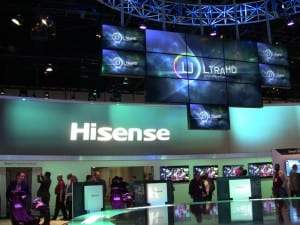 dance performances and had an otherwise striking design. Like many other big-time companies with huge floor spaces and countless product demo areas to visit, you could have easily found yourself wandering about, aimlessly. And many did. But to incentivize a more thorough exploration of the space and corresponding product rooms, brand ambassadors handed out Hisense passport cards that staff members would stamp. If you collected stamps from all six product areas, you could complete the back portion with your name, company and phone number and be entered to win a free 50-inch Hisense LED TV, with winners were announced daily. Design/Build: MC², Las Vegas.
Sharp
To support its message of "Brace Yourself," Sharp devised a giveaway strategy that involved social media, booth time and the outside world. Visitors were encouraged to pick a new piece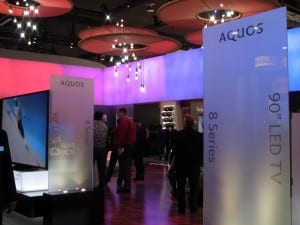 of Sharp technology that they thought would impact the future and Tweet it out using hashtag #SharpCES. They could then visit the booth's social media counter, show the tweet and then receive a free Sharp USB bracelet that came preloaded with behind the scenes footage of a recent Sharp television commercial shoot. By wearing your bracelet over the four days of the show, you had the opportunity to be "spotted" by Sharp staffers and win one of four prizes: two audio systems, a TV and a home theater system. Prizes were doled out each day.
The brand had a strong Facebook presence throughout the show and offered giveaways for people who weren't in attendance. Once a day, the brand hosted a live tweet chat with an influencer who, from 6 to 7 p.m., would reference one of the videos the brand took and posted to Facebook that day. Anyone who answered the question correctly and used the hashtag could be randomly selected to win one of the four prizes each day. The brand also used its Facebook page for a fun photo experience at its booth. It had a frame of its 90-inch television and encouraged visitors to go up and pose behind it for a photo, demonstrating its size compared to the human body. The photos were posted in a Facebook album on the Sharp CES page for the participants to then access and download. Design: Thinc Design, New York City; Build: Elements Exhibits, Las Vegas.
Interactive Exhibit Elements
DTS
You really couldn't miss the DTS booth. The glowing two-story, life-sized dollhouse and bumping music that drew people in helped drive home its newly launched campaign dubbed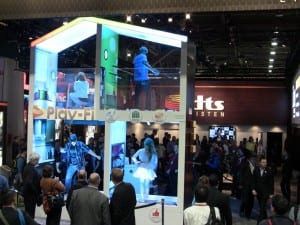 "Sound Changes the Way We See." The dollhouse structure promoted the brand's Play-Fi Live technology, which allows users to control a sound system with their mobile devices via wireless signals, and can send different music to different areas of the house, according to the wishes of the user. The house had professional dancers in each of the four rooms and as attendees stepped up to the touchscreen controller and selected music to send to each room, the dancers would go into action.
Other interactive elements included a HeadphoneX theater showing off the brand's headphones that are the first to have 3D-style surround sound, and sound stations with controls that would gradually overlay and transform a sound theme. A favorite: An image of a child holding her doll with the words "Normal or Paranormal" above. As you moved the dial up and down, the sound went from lullaby to creepy-horror-movie-lullaby. Design: Ignited, Los Angeles; Build: The Scenic Route, Pacoima, CA.
Intel
Adults are like big kids. We want to touch stuff and we want to play, especially at CES. Intel's booth allowed you to do just that. Rising up from the show floor space was a huge silver tree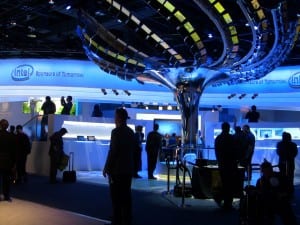 structure with "branches" made from the brand's Ultrabook-tablet hybrid. You could walk up under the tree to a tablet station featuring the product on the screen, move the image with your fingers, twirl it and then fling it off the screen and toward the tree where it shot upward and lit up the structure. Also promoting the Ultrabook-tablet product was an unmanned pinwheel station that drew in the curious and uninhibited. You could blow the pinwheels and a screen above would display the product evolving from Ultrabook to tablet. Design: 2LK Design, Farnham, Surrey, England; Build: The Taylor Group, Boston.
Philips
To bring its new mobile personal emergency response product to life, the Philips Lifeline booth had a custom-designed interactive table featuring an intricate cityscape. Each of the
four touchscreens surrounding the table represented a scenario where the device would come into play. By touching the screen, you would activate a video that was synchronized with a demonstration of colored beacons representing an emergency situation and the emergency response as well as illustrating the technologies the device uses. Design/Build: The Taylor Group, Boston.
Verizon
Verizon's exhibit offered touch-enabled surfaces for visitors to learn about all of the services and product partnerships it offers and is involved in outside of just being a cellular service
provider. A giant screen featured dozens of Verizon topics represented by bright digital cubes in an orb formation—you could touch one of the cubes and a window would appear offering more details or examples. At a touch-enabled table you could pick up a glowing cube inscribed with a topic, place it on the large table surface and underneath, a digital display of subtopics represented by smaller cubes would appear. By touching one of the subtopics, you would get a pop-up window offering, again, more detailed information. As an added bonus, while using the table you could charge your device from several wireless chargers located at one end. How great to live in an era where touching exhibits is not only allowed, it is required. Design/Build: Cultureshop, New York City/Los Angeles.
Visual Design & Draw
Audi
Standing out from other automotive makers as having a booth with the best design and draw was Audi. Dubbed The Black Cube, Audi's booth literally made you see the light—from across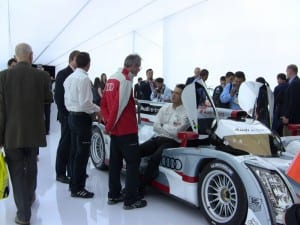 the show floor. The booth structure was encased in black with a tunnel design serving as the main space. The surface of the walls, ceiling and floor were made of bright white, lighted titles. Two hallways on either side led you into dark modules where the brand had light and sound demos as well as demos for its new connect technology complete with a simulator experience. In the main tunnel hall as well as just outside the other end, the brand stationed car models and a racecar to check out. Design: tisch13, Munich; Build: Bathke Geisel Architeketen, Munich.
Samsung
From the grand entrance of bright frames surrounding the brand's new 4K UltraHD TVs, to the pair of two-story screen displays that rose up from the center of the booth, to the mood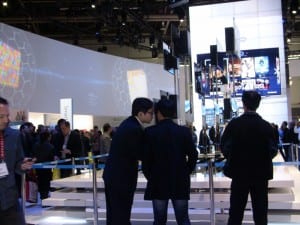 lighting, sounds, white color scheme, distinct and bright product areas off the main experience area and panoramic visual display, Samsung's booth was packed with eye candy. The one main attractor that stopped visitors in their tracks was a structure featuring 10 ultra-thin TVs mounted to tracks that were programmed to "dance" on three choreographed settings. The screens rotated between each other, lined up, moved up and down and then—they twirled. Design: FreeState, London; Build: Czarnowski, Chicago.
LG
Walking up to LG's booth entrance you were immediately immersed in LG's Cinema 3D world experience. This massive curved structure that formed across the entryway to the booth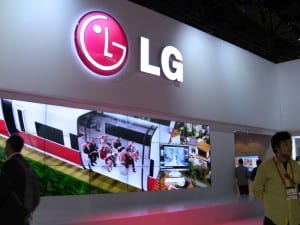 was covered in 150, 50-inch flat screen 3D monitors. 3D glasses were up for grabs so you could enjoy the show. Many people stopped and stared, while others sat down and took in the experience. It was definitely a "wow" moment. On a grand stage inside, the brand at different intervals hosted a fun, choreographed dance show featuring the brand's Home-Bot smart vacuum device. LG made use of every bit of the square footage of its booth space with a wall outside the interior part of the booth showing off some of LG's really cool new technologies, like a virtual fitting room concept. Design/Build: Sparks, Philadelphia.
United HealthCare
Imagine you're strolling through the exhibit hall when all of the sudden you come across a pocket park featuring trees, turf grass, clouds, meandering paths, quaint light posts, a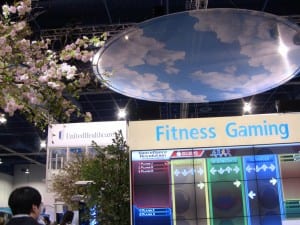 pavilion and brand ambassadors (as well as a few showgoers) hopping around on a giant Dance Dance Revolution setup. United Healthcare and partner Optum created this "wellness park" to show the new products and services that are helping to get people engaged in health using technology. Along the pathway surrounding the booth space were interactive kiosks manned by staff that walked visitors through these services, such as a mobile app that functions as a health cost calculator. There were giveaways, too, including healthy recipe books and water bottles. Design/Build: Innovative Display & Design, Bridgeport, CT.
Product Presentation
Sony
The brand balanced massive design elements (including a panoramic display and starry lighting concept) well with product experiences that felt intimate. Among them, interactive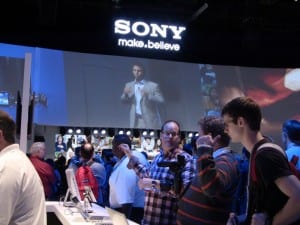 glass pods located inside the entrance to the booth that showcased the brand's new waterproof Xperia Z smartphone. You could push a button and a translucent arm would dunk the phone down into a pool of water. The camera and video demo area featured an intricate nursery room setup with a bright, sunny window across the way. At a small viewing window, you could peer into the room through the products and test out how they produced an even exposure. There was also a cavernous "music lounge" featuring the brand's G-Tank sound system and a crazy laser display. Design/Build: In-house.
Moneual
Moneual, a company offering a variety of high-tech and eco-friendly products for home and office, captured attendees' attention with a display of its café tables designed with a tablet as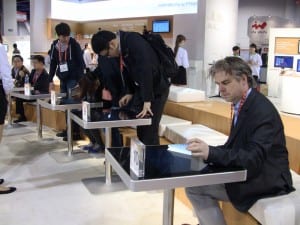 the surface. The tables could revolutionize the restaurant world (and beyond) by allowing a patron to browse a menu, select or see an image of the dish they'd like, call for a waiter or even pay a bill with the swipe of a finger. The brand demonstrated these features by having visitors sit at a table and swipe and choose a complementary beverage that was then prepared on the spot. Design: Codyon Inc., Seoul, Korea; Build: Eidetic Marketing, Los Angeles.
Qualcomm
Qualcomm was able to take the somewhat broad concept of wireless and mobile technology and create real-world experiences for visitors within three distinct zones in its spacious booth. One experience demonstrated how the brand's Vuforia platform enabled art historians at the University of California, San Diego, to create an app that uses image recognition technology to debunk previously held misconceptions about famous artwork. You could hold a tablet loaded with the app up to a replica of Leonardo da Vinci's The Adoration of the Magi and, through Augmented Reality, peel back layers of the painting to reveal original sketches by da Vinci. The brand made a big splash, however, by featuring a specially designed electric Rolls-Royce in its booth equipped with Halo, the brand's wireless charging technology. Design/Build: Freeman, Dallas.
Nikon
There is really no better way to demonstrate why people should continue to use quality cameras instead of their phones than by getting people to look through the lens. Nikon had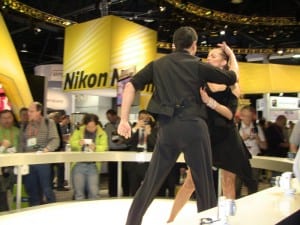 multiple stations where visitors could take in the product and see for themselves the picture quality. One station featured dancers waltzing about, another station featured a platform with long lenses so you could scope out the show floor. There was an elaborate floral display complete with garden gnomes and trinkets allowing users to check out the quality of an up-close shot. Throughout each day professional photographers took to the booth's small stage to talk about and demonstrate the art and craft of photography. But the station that got our attention featured a real-life mad scientist in his lab. While he was mixing potions and bantering about you could take video with the brand's new line of HD video cameras.
Check out our video tour: