The Future of StoryTelling Fest filled the expansive reaches of New York City's Africa Center from Oct. 7-9 with "something between a tech exhibit and a film festival, an amusement park and an arcade." At least that's how FoST Fest founder Charles Melcher described the event. Virtual, augmented and mixed reality experiences, along with demos of eye-tracking software, haptic interfaces and facial recognition were among the technologies set up in a 75,000-square-foot space called the FoST Playground. A VR theater, conversation panels, satellite events across the city and a Community Day rounded out the experience.
But although the technology was prominent, the storytelling was just as important. "We believe strongly in trying to bring the creative people together with the technologists," Melcher says. "VR is just a plastic headset if you don't put something interesting in it. A big part of what we try to do is bring together the people who understand, who create meaningful and passionate and emotive content with the people who understand the hardware and the software and the coding and all the tech."
Melcher, who also is founder and president of Melcher Media, a small independent book packager and publisher in New York City, began pondering this intersection between creativity and technology five years ago, at a time when he realized that the various forms of media were merging into one gigantic field. "The silos that separated us when we were kids—you may have gone into journalism, or you went into film, and I went into publishing—are falling away.  Now, young people are doing all of that every day on their blogs or with their social media feed, and our devices let us create all of these things, then share or publish them," Melcher says.
He went on to create FoST Summit, an annual TED-style confab where new media pioneers network and attend seminars and workshops. This year's inaugural FoST Fest, which included 40 exhibitors in a curated show, grew out of that community. Twenty of the pieces were finalists for the People's Choice awards, which people voted for at fost.org/prize, for a grand prize of $10,000, courtesy of Time Warner.
FoST Fest differs from gatherings such as Sundance, which is focused on film, and Cannes, which is focused on advertising. "We don't have a lens," Melcher says. "Ours is the future of storytelling, and all of that flies—marketing, advertising, live performance and all of the traditional forms, such as film, television, writing and music."
It's still early in the game, Melcher says. "We all know we're in the first 30 seconds of the future of VR and AR, so all of the people here deserve attention for their work, which is beautiful and because it shows intention and where it is all headed."
Among the activations: These Memories Won't Last, which told a powerful story about a man dealing with early onset Alzheimer's. As the story unfolded, it evaporated, just like his memories did. New Dimensions in Testimony featured virtual conversations with an 80-year-old holocaust survivor in the form of an illusory hologram-like figure called a Pepper's Ghost. Famous Deaths enabled attendees to experience the last three minutes of JFK's life in an olfactory and auditory engagement, provided they were willing to slip inside a metal coffin. Agency: BRC Imagination Arts (design).
Here's a rundown of more activations we felt offered inspiration for event marketers and experience builders:
Birdly
I've been to Paris before but never as a bird soaring above the Eiffel Tower. "But I don't want to be a bird," I had told my colleague. Unable to resist, however, I donned the Oculus headset and earphones, lowered my body into the kneepads, strapped my hands into the apparatus and took off, my arm-wings flapping. Paris is one of about 40 virtual landscapes across the globe you can experience in Birdly. It was kinda different, kinda fun, kinda awesome… until I crashed into the French Parliament building. But, hey, I lived to tell about it. –S.O.
Cyrano
To explore scent and storytelling, we climbed into an antique phone booth for "Alex in Wonderland," an animated short film by award-winning director Maya Sanbar. With headphones on and a screen in front of us, the film played and a handheld Cyrano "scent speaker" by Vapor Communications expelled olfactory notes throughout—the scent of roses, grass and other scenery. While we wouldn't call the film memorable, the possibilities surrounding the device were. –R.K.
Easter Rising
This VR history lesson, produced by the BBC, follows the story of 19-year-old Irishman Willie McNeive in his fight against the British in 1916. The story was engaging, and I felt completely immersed in the action as I turned my head from left to right, a totally different experience from watching documentaries on my TV across the room. I just have to get used to wearing that big headset. –S.O.
Job Simulator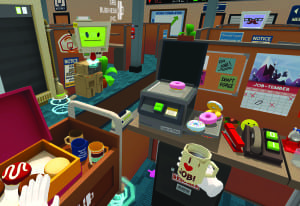 Owlchemy Labs' Job Simulator game, which combined virtual reality and gesture technology, offered a taste of what a virtual exploration of an activation may feel like. But likely, not what it will look like. With headsets on and devices in hand, we were transported to 2050 and a world where robots automate just about everything. The game: to experience what it used to be like to "job." That's right. We were immersed in a virtual office setting and allowed to cut loose. There were donuts to grab, coffee to pour (and spill); computers to toy with. You could grab anything and everything and toss it, fill it, or smash it. And best of all, there was nothing clunky or pixelated about the experience. It was just plain fun—and even more fun watching others do it. –R.K.
Rain Or Shine
This short VR film relates the story of a little girl on a sunny day in London who is followed by a cloud and rain showers every time she puts on her sunglasses. The story is cute enough, reminiscent of Saturday morning cartoons with its colorful animation, but I obviously missed the point. Viewers apparently are supposed to be able to look around and find subplots and surprises taking place within the main story. My bad. I suppose I'll just have to stick with Rocky and Bullwinkle for now. –S.O.