Spring's hottest ticket is about to fringe and flaunt its way into a second weekend. We're talking Coachella Valley Music and Arts Festival, the trendsetting, celebrity hotspot that boasts some pretty epic experiential marketing programs on top of epic performances. Ahead of the Indio, CA festival's second and final weekend, April 19-21, we offer our roundup of the brands that have come out to play in the desert.
Check back for updates, and rock on.
HEINEKEN
A rearranged Coachella landscape teed up a Heineken House revamp this year, the 20th year of the Indio, CA, festival and Heineken's 18th year as the official brew of the massive event. What for the past five years has been an activation footprint with a walled structure and a club atmosphere this year morphed into a retro-inspired open beer garden concept with a striking slanted roof providing coveted shade and the brand's signature performance stage. Agency: Corso, New York City.
Photo courtesy: Jesse Lirola
---
PEET'S COLD BREW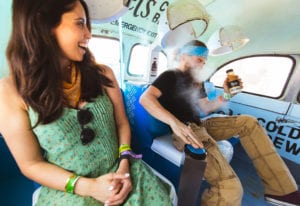 If there's one premium Coachella attendees crave, it's a break from the heat, and Peet's delivered. The brand returned to the festival with its vintage coach bus, this time dubbed the #BetterEnergy Bus, which was parked in the center of the Coachella Camping hub. Outside the vehicle, a shaded lounge, charging stations and cooling misters recharged attendees. Inside, 1950s-style salon chairs with oversized hair dryers blowing cold air offered another escape from the heat. Free cold brew samples were, of course, part of the mix as well.
Inside the festival, attendees could check out the Peet's Cold Brew Tap Room, a unique draft coffee experience usually reserved for beer, with Peet's Baridi Blend Cold Brew and Nitro Cold Brew flowing from a custom tap bar featuring a handcrafted eight-tap system. And, appealing to night owls, Peet's Cold Brew Trikes wheeled around the campgrounds during Coachella's Silent Disco, dishing out samples from 1-3 a.m. to keep the party going. The trikes were also used for "happy hours" during which the brand dished out "sip size" samples, as well as a surprise pair of VIP badge upgrades. Agency: Havas, New York City.
---
AMERICAN EXPRESS LOUNGE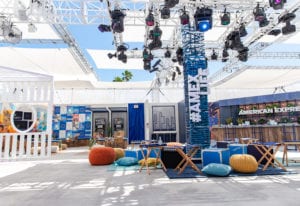 Amex returned to Coachella for a fifth consecutive year with a bundle of cardmember perks, including a lounge and "By Invitation Only" program on-site, and a VIP Platinum House experience at an off-site estate. To access the brand's array of customer benefits, American Express cardholders simply had to enroll their card in the official Coachella app and tap their festival wristband at select locations.
At the Card Member Lounge, green rooms inspired by top artists gave fans a chance to live like their favorite Coachella performers before they hit the stage. Exclusive services including manicures by celebrity nail artist Britney Tokyo, a sneaker care cleaning service by Jason Markk, access to an exclusive piece of Ariana Grande merchandise, lounge seating and a bar were all available. Other cardmember benefits redeemable with the tap of a Coachella wristband included a complimentary ride with a friend on the famous Coachella Ferris wheel, and the option to have their monogram embroidered for free on any one item in the Coachella Boutique or VIP area.
Through the By Invitation Only program, Platinum card and Centurion members could purchase an elevated Coachella experience, which included a VIP pass, admission to the festival's Outstanding in The Field dinner in the Rose Garden, access to the private American Express hospitality suite, a $100 daily food and beverage voucher and complimentary preferred parking. Agency: Momentum Worldwide, New York City.
Photo courtesy: BFA
---
AMERICAN EXPRESS PLATINUM HOUSE
Over at the American Express Platinum House, which popped up at the Avalon Palm Springs, Platinum card and Centurion members, and up to three of their guests, experienced activations from Platinum Collective members, dj sets and complimentary food and drinks. Straying from last year's "Secret Garden" theme, Amex worked with art collaborative and Platinum Collective partner FriendsWithYou to deliver a vibrant inflatable sculpture garden tied to an immersive activation entitled "Follow Me" that tapped into the chromotherapy trend, and starred the organization's new character, Lil Luck, a bunny-like creature that was featured heavily in the event's experience design. Another Collective collaborator, Away co-founder and chief brand officer Jen Rubio, provided a sensorial experience designed to demonstrate how color and new environments can affect how we feel.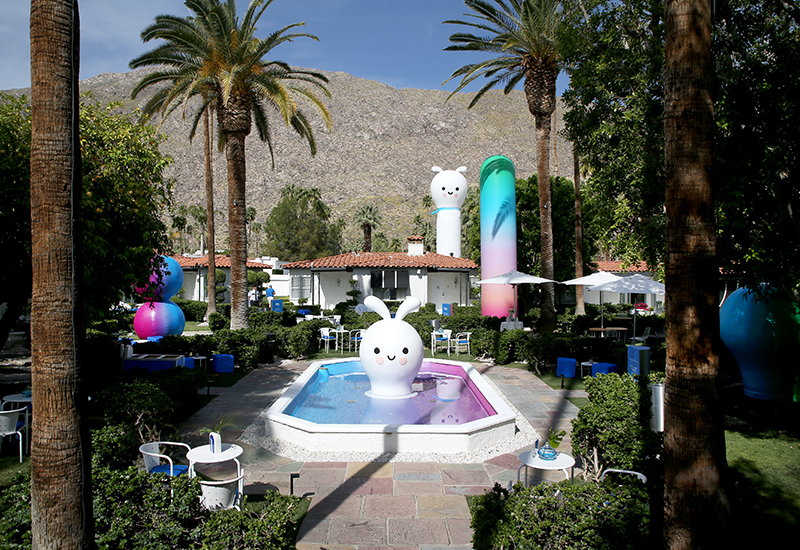 Additional Platinum House touchpoints included live dj sets and performances; curated bites by chef Michael Solomonov, American Express Global Dining Collection partner and chef/owner of Zahav; a bespoke cocktail curated by Jim Meehan, mixologist for American Express's Centurion Lounge network, and a dedicated bungalow for networking and meetings stocked with cold brew stations, DIY business cards and wi-fi printing. Rounding out the experience were scenic runs through downtown Palm Springs with Equinox, as well as the brand's reimagined spa experience, EQX Body Lab, which offered recovery-based services like CBD-targeted massages, cryo-facials and restorative acupuncture. Agency: Momentum Worldwide, New York City.
Photo courtesy: Phillip Faraone/Getty Images for American Express
---
BMW
For the last two years, BMW has leveraged key partnerships and a fleet of its vehicles to document what the "Road to Coachella" looks  like for influencers and musicians. To maintain its festival narrative and build on its legacy at this year's event, the automaker again partnered with influencers and a key artist to deliver Road to Coachella content, but its on-site presence for the first time took the form of a "Pit Stop."
At the heart of the program was Khalid, a Coachella headliner and the biggest musician BMW has worked with to-date. Riding on the success of the April 5 release of his album "Free Spirit," the contemporary soul artist (and BMW driver) helped the brand outfit an assortment of its vehicles to match the aesthetic of the album cover, which features flames and a wolf. The theme of the campaign: youthful joy and freedom.
Watch: Khalid reveals his own Road to Coachella
Ahead of Coachella's opening weekend, BMW's influencer partners, including personalities like Paris Hilton, Laura Marano and Ross Butler, each headed to Palm Springs in a newly decked-out BMW and, of course, documented their journey on social media. Riding on that initial buzz, Khalid then announced his Road to Coachella Pit Stop to fans online.
The Pit Stop, which was located at the BMW of Palm Springs dealership and was open to guests Thursday through Sunday of Coachella's opening weekend, was home to an array of exclusive merchandise, the "Free Spirit" fleet of BMWs and Khalid's own van, also designed to match the artist's album cover. In addition, there was a claw machine that gave fans a chance to snag custom Khalid Road to Coachella bandanas (which could be custom embroidered on-site), food trucks, games, music and, on Saturday—a visit from Khalid himself. Agency: Mirrored Media, Santa Monica, CA.
Photo courtesy: BMW
---
INSTAGRAM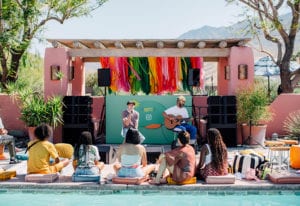 In its first-ever brand house experience, Instagram invited music and culture influencers, artists, talent managers and content creators to Instagram Desert Chill, a photo-worthy scene of eye-popping color located at Pond Estate, 26 miles outside of the Coachella grounds, for the afternoon of Saturday, April 13. The idea was to bring to life what people enjoy most about Instagram, and with Coachella being a major Instagram moment—from the fashion to the musical acts to the all-important squad pics—the brand erected a colorful southwestern scene in which to capture those visuals.
The design motif, curated by artist D'ana Nunez of COVL, with whom the social platform partnered with, was a neon-colored, desert landscape radiating a laid back, '70s-style Palm Springs vibe. The brand constructed playful lounge seating areas, a dj station, a neon palm garden, colorful murals, a pool, a fire pit area and a scent shop for blending oils to create custom fragrances. Entertainment included djs Simi Haze and Siobhan Bell as well as three unplugged acts, Harry Hudson, Snoh Allegra and Omar Apollo.
Naturally, photo moments—both staged and casual—peppered the grounds. A circular fire pit area, filled with brightly-painted plants for a tropical chill vibe, proved the most popular for capturing squad photos. Another dramatic moment was the curtained entrance featuring branded Desert Chill drapes that attendees passed through, as well as a bridge over a pond that led to a small island across from the entryway. Each were surrounded by real cacti and hot pink-colored, cartoonish cutouts.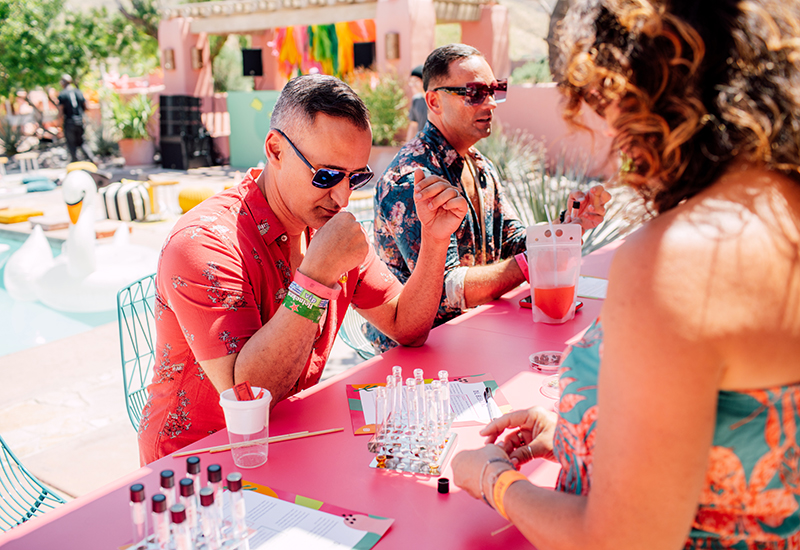 The experiential focal point, however, was the scent shop, where festivalgoers received custom-blended scent variations from Heartbeat Groove Alchemy, professional oil blenders based out of southern California. Attendees chose essential oils from three different scent categories, reflecting a bass note, a middle note and a high note (note the musical theme), which were then blended, sniffed and adjusted to their liking. Guests walked away with a description of what they chose and a 15-milliliter bottle of custom body oil.
F&B elements complementing the overall theme included edible veggie gardens, bottles of wine and champagne surrounded by ice sculptures and decorated with flowers, and a cocktail station that served, among other beverages, fruity, adult "Caprice Sun" drinks in plastic pouches. At the end of the afternoon, attendees took home a festival kit, which included sunscreen, lip balm, a portable phone charger, hand sanitizer, sunglasses, a rain coat, a water pouch, and COVL stickers and bandanas, all in a clear tote bag.
To boot, the brand offered a special takeaway for VIPs: Instagram brand ambassadors, also skilled photographers, took pics of high-profile guests during the event, which Nunez then "doodle bombed" on the spot. Using her iPad, the artist layered her colorful, graphic cartoon style onto the photos, which were then emailed to the VIPs. Agency: Manifold, Portland/San Francisco.
---
HP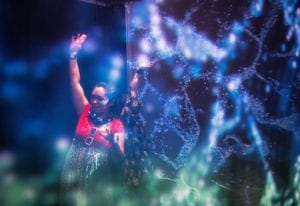 HP brought digital artistry to the festival grounds once again this year with the HP Lounge, the Antarctic dome and a patio area. The HP Lounge theme, "Dreamland," carried through the footprint's activations. First, a colorful neural network design surrounded attendees as they entered the space, providing a visual representation of how technological tools can bring attendees' inner creativity to life. Two activations celebrating HP technology's advancement of creativity were on hand, "Inspired Ink" and "Lucid Dreaming." Attendees designed tote bags by choosing from various ethereal backgrounds, icons and stickers using HP inking and printing technology.
The Lucid Dreaming experience, in collaboration with Artechouse, was an immersive projection room where festivalgoers, after choosing one of three visual patterns, manipulated fluid, image projections with their body movements that were captured by a sensor above. The resulting art piece was a Boomerang, emailed to attendees via the HP ENVY x360 laptop.
HP also brought back its Antarctic dome, this year through a collaboration with electronic music act Rufus du Sol. Using the track "Underwater" as inspiration, digital artists created a film, taken in by attendees through a 360-degree dome theater experience, with visuals alluding to the sensation of being submerged underwater, conveyed through the use of color, vibrations, movement and ambisonic audio.
Adjacent to the HP Lounge was the Dreamland Patio, a shaded area where attendees could relax and contemplate the film, refill water bottles, take pics while seated in giant O-shaped structures and interact with the HP Coachella Wall, which revealed positive digital affirmations to those who approached it with sweeping physical movements. Agency: Infinity Marketing Team, Culver City, CA.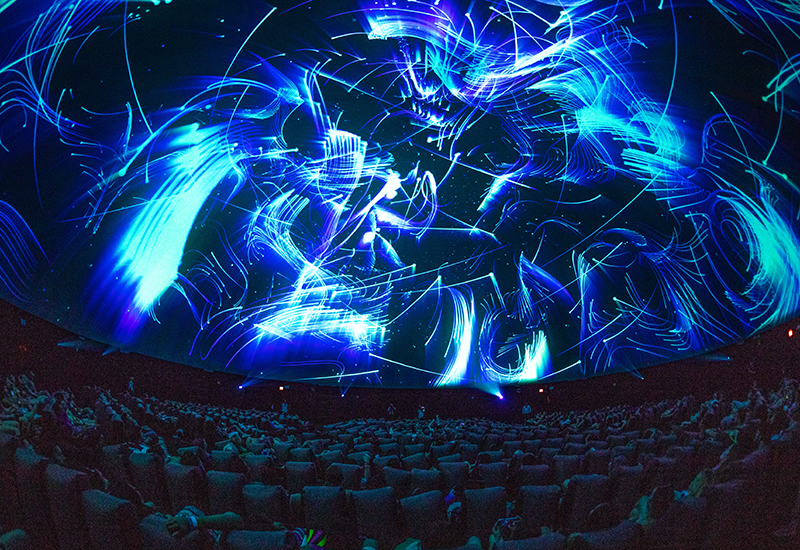 ---
ABSOLUT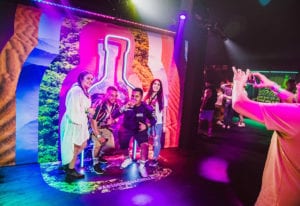 Absolut's tent at Coachella offered festivalgoers dancing, drinks and air conditioning, but it also offered subtle cues that alluded to its new Planet Earth's Favorite Vodka campaign, which officially kicked off on Earth Day, Monday, April 22. Its Coachella experience was the first iteration of the program, which has three areas of focus: People, Planet and Product. Agency: MKG, Los Angeles.
---
PANDORA, T-MOBILE
Pandora and T-Mobile once again joined forces for the fifth installment of the T-Mobile Indio Invasion, Powered by Pandora, an off-site mansion event at the posh Cree Estate. On top of performances by Grammy-nominated electro-funk duo Chromeo, attendees were treated to an array of photo moments, lawn games, hair braiding, bandanna screen-printing and bedazzling stations, and a wishing fountain. With naturally-growing magenta bougainvillea bushes peppering the space, the brands leaned into the floral theme and the natural tie-in with T-Mobile's signature magenta branding. A surprise bubble moment during Chromeo's set rounded out the experience. (Stay tuned for more in-depth coverage.) Agency: NVE Experience Agency, Beverly Hills.
---
MCDONALD'S, PACSUN
The annual Bootsy Bellows Pool Party presented by McDonald's and PacSun overtook the Bootsy Bellows estate and its stunning backdrops for a seventh year, offering bites, swag and photo ops for the broad range of A-list influencers and celebrities who attended. The April 13 event featured dj sets from Devin Lucien, Fred Matters and Siobhan Bell, and live performances by Rich the Kid and Roddy Ricch. When attendees weren't catching a performance or lounging by the pool, they could be found snagging festival-inspired vests and denim jackets at the PacSun gifting lounge, munching on McDonald's McNuggets, fries and limited-edition Minute Maid Blue Raspberry Slushies—all served from the McRig, the brand's 57-foot-long mobile restaurant—and snapping photos in front of the "flavor wave" (an installation of streamers promoting the slushies) or a confetti photo booth bearing McDonald's signature yellow color and the phrase "All the feels." Agency: Narrative, Los Angeles.
Photo courtesy: Mike Nguyen
---
DOLLS KILL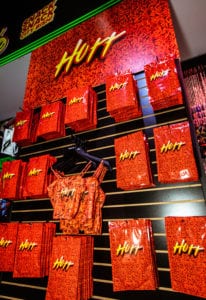 Online fashion brand Dolls Kill set up a 1,200-square-foot "Quickie Mart" retail experience on Highway 111 for festivalgoers to purchase last minute outfits IRL. Billed as a Coachella survival shop, the neon-clad convenience store, formerly an abandoned gas station, offered pieces from its new festival collections from brands like Delia's, Current Mood and Club Exx. The Quickie Mart also featured an exclusive line inspired by convenience store snacks like a Flamin' Hot Cheetos-themed tank and a Lays chips tube top. Spiked frozen drinks were served as well.
Beyond the clothing for sale, the space was an Insta goldmine, with neon signage, wall-to-wall graffiti and even an old car parked outside completely covered in glitter. As a special service to make the experience even more seamless, the shop offered free same-day pickup for orders placed online earlier in the day. Quickie Mart was open for the duration of the fest, 10 a.m. to 10 p.m., April 11-21.
---
MARRIOTT INTERNATIONAL
Marriott Bonvoy, the new name for the travel-focused loyalty program that's replacing Marriott Rewards, The Ritz-Carlton Rewards and Starwood Preferred Guest, once again allowed rewards members to bid for glamping accommodations themed to the company's hotel brands, from a fully-furnished W Yurt to an Aloft Hotels Safari Tent to a four-person Marriott Bonvoy Bungalow—this year's new addition, featuring private butler service and a ready-to-please glam squad and masseuse. Agency: Endeavor Global Marketing.
The brand also popped up a Marriott Bonvoy desert storefront activation as part of its sponsorship of the Interscope Records and Republic Records official parties. The exterior featured palm leaf printed wall paper, a vintage black and white striped tent top, coral-painted hardcover books on floating shelves and framed pictures of well-known Marriott properties. Attendees interacted with the pop-up through a "push for service" button that, when activated, triggered the appearance of a Marriott Bonvoy brand ambassador offering one of two flavors of boozy popsicles. Lucky attendees were given Marriott gift cards through a trapdoor picture frame. Agencies: Universal Music Group Brand Partnerships and NCompass International.
Photo courtesy: Vivien Killilea/Getty Images for Republic Records
---
NYX
As the official cosmetics sponsor of Coachella this year, NYX Professional Makeup created a Glitter Trip experience inspired by its new Glitter Goals collection of lipstick, eyeshadow and eyeliner products. Ahead of the activation, NYX influencers touted the products through glitter-focused festival makeup masterclass videos on the brand's website and elsewhere online. The glitter playground on-site featured an interactive beauty bar and glitter touch-up area, a glitter fountain and an oversized lip and tongue slide. Also on-site doling out tips on creating festival looks was celebrity makeup artist Nam Vo.
Featured photo courtesy: BFA