The 2019 Sundance Film Festival in Park City, Utah, is in full swing, with dozens of brands activating for an audience of filmmakers, industry folk, film enthusiasts and VIPs throughout its Jan. 24 through Feb. 3 run. But while scores of fashion and apparel brands head to Sundance with swag and gear for celebs frequenting gifting lounges (which we're pretty sure were everywhere… #NoInvite), several brands upped the engagement by taking over Park City establishments on Main Street during the fest's busy opening weekend. From showcasing filmmaker tools to hosting cocktail hours to providing heated hideaways away from the cold, these brands went the extra mile to engage with consumers and creatives alike.
---
You May Also Like:
---
ACURA
Whether between films, panels, premiere parties or just looking to warm fingers and toes, consumers were welcomed into the Acura Festival Village, which for its second year took over an entire City Hall parking lot. Now in its ninth year as presenting sponsor, the brand created a consumer-friendly hub featuring complimentary coffee and tea, charging stations, propane heaters, a patio lounge space and a stage for panels and entertainment. Meanwhile, the entire Acura lineup is on display just outside, anchored by its flashy, thermal orange pearl NSX supercar, all accompanied by product specialists beckoning consumers to take a seat.
Once inside, consumers can take a photo amidst a winter wonderland scene with film director props that's then digitally framed with Acura branding and emailed on the spot. Hot beverages from Campos coffee are free, but attendees who register with a brand rep get added perks: a branded water bottle and two free beers, from beverage partner Stella, served from 4 to 6 p.m. every day from a branded airstream trailer located in the patio area. During these "Acura Hours," consumers lounge around fire pits with propane flame heaters and enjoy various programming on stage, from acoustic concerts to film panels. The Village is open to the public from noon to 6 p.m. daily during the festival, with extended hours for special events. Agency: George P. Johnson, New York City.
DELL
Sundance's official technology partner created the Dell Den on Main Street to showcase to professional filmmakers and creators how technology is enabling storytelling through Dell's high-powered processors. Professional monitors, from 49-inch curved displays to 8K screens, showcase work from National Geographic landscape photographers, all edited on Dell Precision Workstations. There's an "Ask the Adobe Expert" area as well, where filmmakers can inquire about editing tips and guidance from specialists. Next to that, other products for professionals, consumers and gamers, including Dell XPS laptops, can be demoed.
The den's winning feature is the Portrait Studio, where consumers have the opportunity to be shot by celebrity photographer Mark Mann during the hours of noon to 4 p.m. Once taken, the photos are placed in a Precision Workstation and edited in After Effects on a Dell Canvas system and then emailed to attendees for social media sharing.
Moving through the footprint, consumers encounter a room adjacent reserved for Dell's 15 panels throughout the festival's opening weekend, which feature a broad range of content—from editing techniques to climate change to diversity and inclusion to sustainability. The latter topic took on increased importance this year with Dell being a sustainability partner of the Sundance Institute. Photo ops made of recycled materials and products made with recycled plastic and thermoplastic carbon fiber, which is easily recyclable, are on display. The giveaway, a recyclable metal straw, also touched on the theme.
Consumers can also demo volumetric video capture in virtual reality, a futuristic filmmaking technique used to create some feature film documentaries. Donning VR goggles and maneuvering a three-dimensional space using a controller, attendees are asked to pick up objects and smash others. A screen captures the 360-degree simulated world attendees are experiencing.
On our way out, we noticed a laptop being showered with water under a display case—one of Dell's rugged systems, used mainly by military personnel and those in professions that operate in harsh environments. The spectacle culminated with a dramatic smashing of a frozen block of ice containing a Dell rugged laptop, filmed by staffers on the sidewalk outside of the den and then pushed through the brand's social channels. Agency: Lacy Maxwell Experiential, San Francisco.
CANON
Canon's invite-only, three-story space welcomes cinematographers and DPs (directors of photography). Designed to highlight Canon's important role in filmmaking, the space features myriad posters shot on Canon cameras, the cameras themselves, and subtle branding touches. After registration on the ground floor, a staircase leads to a refreshment bar and a cozy space for talks from female cinematographers, directors and other creatives. The Canon Creative Studio's main draw is a portrait studio (one of three we spotted at the festival), where cinematographers are offered headshots taken by Canon photographer Michael Ori. Ironically, DPs often lack personal headshots, so to meet that need, Canon created a mini headshot studio to facilitate networking and professional growth. The photos are then airbrushed, retouched, printed on a Canon printer and then delivered digitally to attendees by February 15.
New this year is a section that recreates the exact camera setups from recent movies that were shot on a Canon camera. There's also a "Touch and Try" area where DPs can play with the cameras themselves and chat with a Canon pro. The brand is asking select attendees to give testimonials on why they chose to shoot on a Canon camera, which lenses they used, and other details of interest to creatives. Agency: Sunshine Sachs, New York City.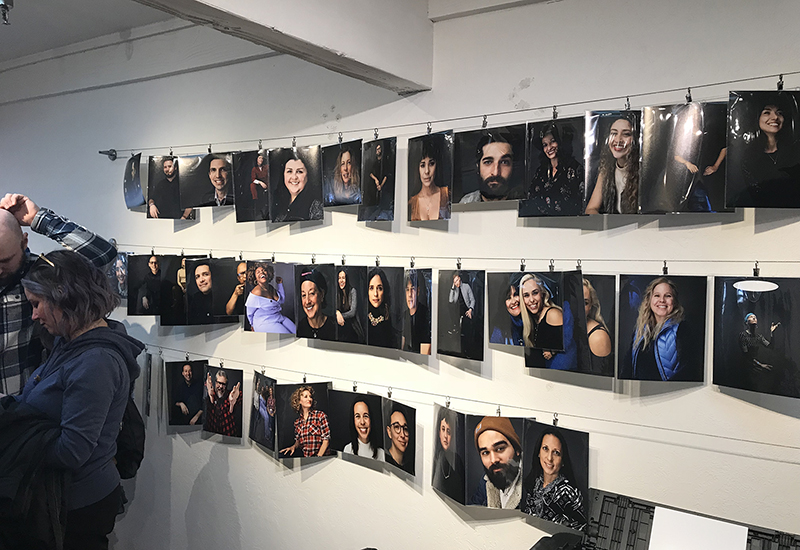 CHASE SAPPHIRE
One of the most decidedly lounge-like spaces is Chase Sapphire on Main, open to the public but offering perks for cardmembers. At registration, we learned that a Sapphire card gets you priority access in box office lines, invites to two parties just for cardmembers and entry (plus one) to a cardmember lounge featuring daily food stations from 11 a.m. to 2 p.m., a coffee bar, a dining concierge to help with Park City restaurant reservations and a wine, beer and whiskey tasting from 3 to 4:30 p.m. daily. Cardmembers can also sign up for two different hour sessions of yoga accompanied by a complimentary juice bar.
Given the massive crowds that descend upon this tiny mountain town, scoring a spot to eat at a Park City restaurant during prime lunch hours is a challenge—which makes the brand's free food offerings for the general public through its Taste of Sapphire program a welcome service. Each day, a free dish from a region in the U.S. is served. We also spotted a cooking demo from Bon Appétit Chef Brad Leone. Other touchpoints include a cardmember education booth, a standalone charging station, shelves of free water bottles, a retail component selling co-branded beanies and scarves by Love Your Melon to benefit pediatric cancer research, and a Boomerang photo op taken in a mini movie theater set-up. Panels featuring film talent and creators ran in the basement below for the first five days of the festival. Agency: Intersport, Chicago.
WELLHAUS
In a Sundance first, Wellhaus by Charlotte's Web presented a CBD (cannabidiol) oil and wellness pop-up space on Main Street featuring CBD sampling and education, a gastropub with CBD-infused food and beverage in partnership with Chris Sayegh, also known as The Herbal Chef, and a ticketed, 10-course CBD-infused fine dining tasting menu also from Sayegh. Founded by the Stanley Brothers (all seven of them), Colorado-based Charlotte's Web produces and distributes hemp-based CBD wellness products. But as with any CBD-oil producers, social media marketing is limited. That's where the education and consumer engagement—facilitated by pop-ups like this one—come into play.
Consumers entering the rustic space are asked to register or check in if they previously RSVP'd. Once inside, attendees are quickly approached by brand reps offering information about the product as well as tastings. We can confirm the oil tastes earthy with a hint of chocolate—deliberately so, in order to connote a definite "herbal" flavor. A massive mural of the seven brothers covers an entire wall, where a handful of panels, including one with the brothers, take place throughout the activation.
We're told that Charlotte's Web's connection to Sundance is the film "Before You Know It," premiering in the dramatic competition. Fun fact: the brand gave CBD oil to the crew, writers and creators of the film during its production as a stress reliever. Expect to see the Wellhaus lounge at additional tentpole events in the future, including SXSW and Coachella, in partnership with Charlotte's Web or another brand in the wellness category. Agency: Axcess Entertainment, Park City, UT.
STELLA
The official beer sponsor of Sundance opened a basement-level lounge to celebrate films and filmmakers moving the industry forward through their dedication to inclusion and gender parity in Hollywood. Through a partnership with Women In Film, the brand honored recipients of the second annual Stella Artois-funded Film Finishing Fund grants and celebrated female filmmakers making waves. Though some events are invite-only, the general public can enter from 11 a.m. to 4 p.m. to explore. Hat's off to Stella for the space's cute design touches, like a "Meet Cute" photo booth (referring to that first encounter between two characters in a movie that leads to a romance), a detached ski lift chair and a concession stand with a s'mores station, a candy bar and four varieties of Stella beverages. Agencies: Mosaic, Chicago (creative, production); PMK•BNC, Los Angeles (p.r.).
Stay tuned for more coverage of Sundance Film Festival at EventMarketer.com