Art, in all of its forms, can be a powerful engagement tool. It evokes emotion, inspires creativity and often educates observers in one way or another. Event marketers have been cleverly incorporating art-based engagements into their events for years, but a recent crop of brands, from hotels to banks, is turning art itself into the experience, rather than treating it as an add-on. Here's a look.
---
More on This Topic:
---
Copley Square Hotel
To celebrate its newly designed meeting space, Art Square, Boston's Copley Square Hotel in June unveiled the pop-up Art Square Gallery, an annex of the meeting space and a place where local artists can showcase their work as part of the brand's summer event series. The gallery is open to hotel patrons and the public at large.
Kicking things off was a solo show dubbed "Ocean Life" by Nedret Andre, whose seagrass-inspired art will be on display through September. Each piece is aimed at raising awareness of how organisms utilize seagrass to survive.
Two events hosted by Andre are also part of the pop-up program. At an event on June 13, Tay Evans, a biologist with the Massachusetts Division of Marine Fisheries and Annisquam River Marine Fisheries Station, discussed the current threat to seagrass and the conservation efforts around it, while Andre discussed how her work conveys the significance of those habitats. Following presentations, attendees enjoyed a light reception.
On July 18, Andre will present a printmaking and painting workshop, along with a presentation by Julie Simpson, coastal aquatic ecologist with the MIT Sea Grant College Program, who will address the importance of the seagrass ecosystem.
Photo courtesy: Nedret Andre
---
Thorne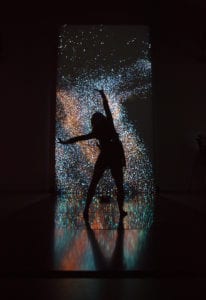 For Thorne, a supplement and at-home health test brand, illustrating to consumers how complex their bodies are is a challenge. To solve for that pain point, the company in June activated a biometric art installation in New York City dubbed "The Frontier Within." The experience was intended to get consumers thinking more about how to keep their bodies properly functioning, and, of course, where supplements might come in handy.
The activation centered on a gigantic screen, which attendees stood in front of while their vitals were measured and ultimately turned into an artful, personalized visual display. As each participant breathed in and out, for instance, the data visualization grew brighter. Attendees also had their heart rates and skin glands monitored, with the on-screen display shifting colors in response. Along the journey, equipped with headphones, they were guided by the voice of a young boy who narrated the experience. Ultimately, the collective data on each individual's vital signs was transformed into a digital art display designed to demonstrate just how complex the human body's systems are. Participants could also create a selfie Boomerang based on their data.
In a nearby room, Thorne rounded out the activation with an artful exhibit of its products and digital displays of the nervous, circulatory and respiratory systems. A digital version of the "Frontier Within" experience is also available for those who missed the live event. Agencies: Droga5, New York City; Marshmallow Laser Feast, London.
---
MGallery
The MGallery Hotel Collection launched a 24-hour interactive art installation in Manhattan on June 3 to drum up organic word-of-mouth buzz surrounding the acquisition of 21c Museum Hotels. Highlighting the "art of the stay," the activation centered on a pop-up hotel room encased in glass that was transformed into a "Masterpiece Suite" by muralist Aaron De La Cruz.
De La Cruz began with the ultimate blank canvas—a stark white hotel room installation, with everything from the bedding and flooring, to the lampshades and walls, to décor elements, painted white from top to bottom. The artist was tasked with blanketing every inch of the room in vibrant color and his signature designs in 24 hours.
As the artist worked his magic, MGallery invited a group of industry VIPs, hand-picked influencers and media to an evening cocktail party to get an exclusive view of the transformation. The event featured an appearance by The Haiku Guys donning luxury pajama sets and whipping up customized poems for attendees on the spot using a vintage typewriter, one of MGallery's brand markers.
Other components of the campaign included mysterious wild postings displayed across 20 locations around New York City in the lead-up to the activation, and a new "Paint Your Passport" package timed to the installation. Partakers will visit all eight 21c Museum Hotels, gaining insider access to one of the largest contemporary art collections in the country. Agency: LFB Media Group, New York City.
Photo courtesy: Sean Smith
---
Citi
In the late '70s, Keith Haring painted an original mural on a New York City wall as a gift to the community, establishing what has come to be known as the Houston Bowery Wall Mural. In June, the proprietors of the wall, Goldman Properties (and its subsidiary, Goldman Global Arts) enlisted Manhattan-based Queen Andrea as the next artist to take over the coveted canvas. Her mural, "Believe," was designed to celebrate the diversity and vibrancy of urban life. The work was completed June 4 and will be on display through September.
This latest Mural Wall installation is presented by Citi as part of its continued relationship with Goldman Global Arts. The partnership includes a design developed by Queen Andrea and curated by Goldman that will adorn 300 Citi Bikes and 25 Citi Bike kiosks across New York through October. Citi also offered 50 limited-edition, artist-signed prints on June 4, following the completion of the mural.
Photo courtesy: Citi