When we think about Pride Month today, visions of parades, rainbows and celebratory events often come to mind. It's hard to believe that just a few decades ago, discrimination against the LGBTQ community was rampant and police raids at LGBTQ hangouts were widespread.
But in June of 1969, when New York City police raided the Stonewall Inn, one of the only gay bars and safe havens for the community at the time, the incident inspired a seismic shift. Bar patrons and neighboring residents took to the streets for nearly a week, rioting, clashing with law enforcement and effectively catalyzing the modern gay rights movement in the U.S., and the world.
It's no wonder, then, that this past June, as the world commemorated the 50th anniversary of the Stonewall Riots, brands came out in force to show their support for the LGBTQ community and its supporters. And we're not just talking about the companies that slap a rainbow on their storefronts or merchandise and call it a day (does having a rainbow-colored Listerine bottle really support gay rights?). Nope, we're talking about the brands that took action, took a stand and, in many cases, put their money where their mouth is by donating to LGBTQ charities.
Take Tinder, which erected a rainbow slide in New York City, upon which each of the slide's 30 feet represented a state that does not currently have non-discriminatory LGBTQ laws in place. For each person who rode the slide, Tinder donated $10 toward the Human Rights Campaign (HRC). Or Stoli, which activated a multi-city bartending competition open to the public to honor the legacy of LGBTQ bartenders and gay bars as safe spaces and social centers, and donated $10,000 to the winner's LGBTQ charity of choice.
Indeed, there was no shortage of meaningful LGBTQ experiences during this year's Pride Month, so buckle up. It's about to get fierce. –K.S.
---
You Might Also Like:
---
BIG GAY ICE CREAM
Big Gay Ice Cream, which started out with a single food truck in New York City, perfectly timed the launch of its West Coast presence with its Big Gay Tattoo Shoppe experience in Venice Beach, CA, an area that boasts a large LGBTQ population. There, brand ambassadors rocking a '70s vibe donned fanny packs and branded t-shirts, and served as human ads, engaging consumers with mobile billboards strapped to their backs. As the ambassadors spun around on classic roller skates (Venice Beach was dubbed "the roller skating capital of the world" in 1979), they offered custom temporary tattoos featuring Big Gay Ice Cream imagery, including its signature cone and unicorn mascot. The brand also activated at the San Diego Pride Parade in July.
Roller skates, ice cream and unicorns… What more do you need? (Agency: Match Marketing Group, Norwalk, CT) –K.S.
---
JETBLUE
JetBlue often transforms its terminal at New York's JFK International Airport into a live experience for customers and Pride Month was no exception. During the week of June 10, the brand teamed up with "RuPaul's Drag Race" for a terminal takeover fit for a (drag) queen. Customers passing through T5 could check out iconic photos, costumes, show-related vignettes, Instagram-worthy photo ops and classic RuPaul quotes from the VH1 series. The takeover also gave travelers an opportunity to touch up their runway (a very different kind of runway) looks at a hair and makeup station, and send heartfelt pride messages on special postcards.
As part of the "Drag Race" partnership, JetBlue also designed a show-inspired plane, taking RuPaul's "Shantay, you stay," catchphrase and dubbing the new aircraft "Shantay Blue Stay." Nice. –K.S.
---
H&M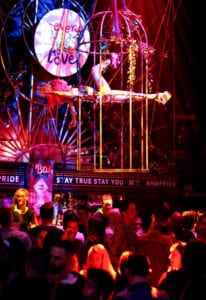 H&M held an event to commemorate Pride Month and celebrate its "Stay True Stay You" campaign, in which 10 percent of the global sales from a Pride-themed collection supports the work of the United Nations' Free and Equal campaign. Held at House of Yes, a funky nightclub venue in Bushwick, Brooklyn, the event drew key influencers and members of the LGBTQ community.
Eventgoers posed in front of several curated New York, Pride-themed moments. A bodega flower shop paid homage to New York City corner stores with buckets of bright, colorful flowers and posters of talent featured in H&M's campaign. A makeup artist offered to glam up attendees before they posed with a giant disco bear at a "Flair You Wear" station, decorated in metallic curtains and rainbow disco balls. At a New York newsstand photo op, rainbow pop socks, flip flops, hand fans, "Stay True Stay You" chocolate bars and custom magazines were offered up as swag.
Performances throughout the evening from silk aerialists, cage dancers, DJ Mazurbate and Plastique Tiara from "RuPaul's Drag Race," who did a q&a session with the crowd, added a mega dose of loud and proud to the event. H&M also joined the official WorldPride Parade with a photo activation and a "Stay True Stay You" ice cream truck (Agency: MKG, New York). –K.H.
---
HYATT
Hyatt, a platinum sponsor of WorldPride 2019 in Manhattan, encouraged guests to be their most authentic selves during Pride Month and beyond with a host of festivities across New York City, as well as dining and entertainment experiences globally. The brand also offered a variety of food and beverage specials across its properties, each benefitting an LGBTQ charity.
In New York, Hyatt's Andaz 5th Avenue property for the month of June was equipped with a collection of books written by notable LGBTQ authors and featured an art installation depicting a scene from the NYC Pride Parade that paid homage to the Stonewall Inn. Park Hyatt New York presented an art installation entitled SOURCE: PRIDE by pop culture artist Keith Haring, whose career grew from New York City's 1980s street culture. The artwork will be on display through Sept. 3.
Outside of New York, Hyatt's Thompson Playa del Carmen property held Pride festivities on June 15 that featured drink specials and live music by the pool by day. At night, the party moved to the rooftop for more drink specials and a live set from DJ Edgar Velazques. Meanwhile, Andaz Amsterdam Prinsengracht will collaborate with Winq magazine to deliver a Rainbow Breakfast experience on Aug. 3 where the bubbly will flow (with an added splash of color), a breakfast buffet will be served and surprise entertainment acts are slated to appear. There were also Urban Decay makeovers and champagne offered June 8 at Andaz Vienna Am Belvedere, a Pride "Kick-off" event June 28 at Thompson Seattle with djs, drag queens, drink specials and a charitable component, and a Pride Brunch Party on June 30 at Motif Seattle located directly along the city's Pride Parade route. –K.S.
---
LULULEMON
Lululemon asked its employees to reflect on the 50th anniversary of Pride using the thoughtfulness and pause yoga inspires as a catalyst. The result from this platform, which the brand named Proud & Present, was a series of intimate video clips and portraits that the brand shared on its Instagram account and then brought to life as an installation in New York City's Hudson River Park during a special yoga practice.
The yoga session was attended by 500 members of the LGBTQ community and took place on June 22 on the Hudson Yards Pier in partnership with The Trevor Project. During the event, the installation featuring the reflections of the Lululemon employees and ambassadors was unveiled at the park. Visitors were able to read the quotes from the campaign and then enter an inner circle of the structure, which was lined with mirrors, effectively creating a personal moment of reflection for the attendee (Agency: MKG, New York). –K.H.
---
MACY'S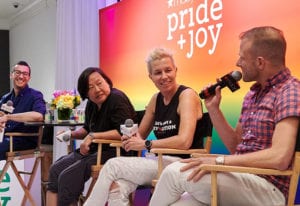 In addition to serving as a platinum sponsor of WorldPride and participating in 23 other Pride parades across the country, Macy's hosted an array of in-store experiences that entailed appearances by local djs, renowned chefs, celebrities, charitable efforts, drag performers and LGBTQ influencers.
At Macy's Herald Square flagship store in Manhattan, the brand displayed four unique murals created by renowned local and international artists as part of the WorldPride Mural Project. The murals were unveiled on June 6 and were available for viewing through June 30. On June 22, families were invited to attend Drag Queen Story Hour, and on June 23, at a Drag Brunch event at the brand's in-store restaurant, Stella 34, consumers enjoyed food and drinks, drag performances featuring "RuPaul's Drag Race" finalist Peppermint, an interactive photobooth and glam stations. Proceeds from the event's pre-paid reservations were donated to The Trevor Project, a long-standing LGBTQ nonprofit.
Finally, in collaboration with New York City Comptroller Scott M. Stringer and The MEN Event, Macy's held an "over-the-top" Pride celebration to commemorate LGBTQ trailblazers with a Changemakers event featuring entertainment, food and drinks, giveaways and a chance for attendees to rub shoulders with the honorees. –K.S.
---
MINOR LEAGUE BASEBALL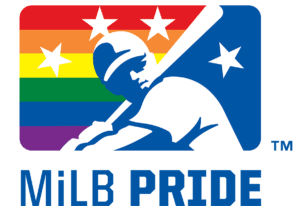 Minor League Baseball (MiLB) on June 3 launched MiLB Pride, the largest documented Pride celebration in professional sports, as part of the organization's diversity and inclusion initiative. The national platform involves teams forming partnerships with more than 150 local LGBTQ organizations across the country.
Through the program, nearly 70 MiLB teams will host Pride-related events over the regular season, including educational workshops, networking opportunities and social events, all designed to connect with the LGBTQ community and foster a welcoming environment for LGBTQ fans, employees and partners in MiLB ballparks. –K.S.
---
SMIRNOFF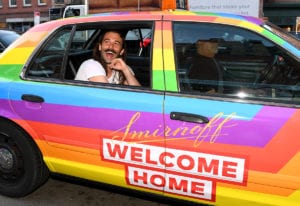 Smirnoff held a "House of Pride" event in downtown Manhattan with six Instagram-worthy spaces and a "Welcome Home" theme, a nod to the brand's campaign supporting the LGBTQ community members and allies traveling to New York City for Pride celebrations. Hosted by "Queer Eye's" Jonathan Van Ness, who arrived on the scene in a rainbow-painted taxi, the event footprint spanned a sidewalk on Canal Street where passersby could peek at the colorfully-dressed drag queens and soak in the rainbow rooms.
In the event's red room, labeled the "boudoir," a bed was set up vertically against one wall so that when photos were taken, attendees appeared to be snuggled up in bed. The orange space was kitchen-themed. Cute pots and pans hung behind a counter that offered light bites, and a lemonade vodka drink was served. Yellow was home to a vanity, where Van Ness later gave one lucky raffle winner a makeover fit for a queen. A closet of boas and glittered capes were props for photo ops in the meantime.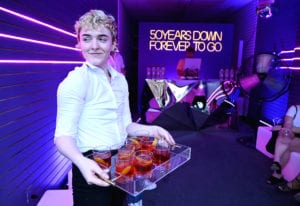 The green nook offered up a "gay garden with swings" and a neon sign, ideal for a Boomerang. The blue area, labeled "The Home Bar," served up cocktails from different corners of the world, complete with a map on one wall indicating where the drinks originated. The bar featured a row of Smirnoff bottles from the campaign—six versions featuring the word "welcome" in different languages in place of the brand logo. Lastly, purple was home to the living room, a dance floor that invited attendees to celebrate 50 years of progress and the future of the movement. Fittingly, a neon sign above the dj read "50 Years Down, Forever to Go." (Agency: The Fader, New York City.) –K.H.
Photo courtesy: Dave Kotinsky/Getty Images for Smirnoff
---
STOLI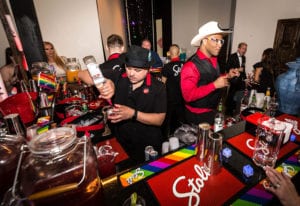 The Stoli Key West Cocktail Classic bartending competition marked its 6th year with a nationwide event series celebrating the legacy of LGBTQ bartenders and gay bars as safe spaces and social centers for the LGBTQ community. The Cocktail Classic this year entailed 14 cities in the U.S. and Canada, sampling engagements, entertainment, competitions, celebrity appearances, a charitable component and a whole lot of positive vibes. This year's theme: "Visibility: Making it Loud and Clear."
The competition kicked off over the winter in Dallas, followed by one to two competitions per week in various cities before culminating in the Pride Week Finale celebration in Key West, FL, from June 4-10. At each event, fans had an opportunity to participate in blind samplings, vote for their favorite cocktails and bartenders, snag giveaways, play trivia and rub shoulders with celebrities and influencers.
The contests themselves were spectacles in their own right, with a variety of co-hosts and a panel of celebrity judges taking the stage in addition to bartenders. Fifty percent of scores were based on the competitors' hand-crafted cocktail; the other half were based on the bartender's ability to artistically showcase this year's visibility theme. Judges also factored in the competitors' creativity and knowledge. All 14 regional winners were flown to Key West for the Pride Week Finale, a whirlwind of parties, dinners and entertainment in addition to two elimination events.
"It's important to celebrate and educate about gay bars as the original community centers and safe spaces," says Patrik Gallineaux, national LGBT ambassador at Stoli. "And it's incredibly relevant right now as we are celebrating the 50th anniversary of the Stonewall uprising. Of course, back then, there was still fear of oppression and police raids… So, we're reminding people at every event what Stonewall was and why we celebrate it, while uplifting our bartenders" (Agency: SoHo Experiential, New York City). –K.S.
---
TINDER
A 30-foot-tall rainbow Tinder Pride slide popped up in New York City's Flatiron district on Monday, June 24. Approximately 1,500 consumers and a host of LGBTQ influencers slid down the rainbow that day, assisted by brand ambassadors who helped take pics for riders. The slide was open to anyone above the height of 42-inches (for safety purposes), and required only a signed release form to ride.
But it wasn't just for fun. Tinder incorporated a cause marketing message into the activation focused on supporting the Equality Act and the Human Rights Campaign (HRC), the civil rights organization that has been instrumental in getting the bill passed through the House of Representatives. Each of the slide's 30 feet represented a state that does not currently have the non-discriminatory laws in place. And for each person who rode the slide, Tinder donated $10 toward the HRC, making the brand's donation to the cause nearly $15,000. The event was promoted through an in-app PSA, earned media and social media.
In the area surrounding the slide, the brand posted signs and banners that educated consumers about the Equality Act and listed the 30 states that do not have laws that protect the LGBTQ community. The phrase "Slide into your Senators' DMs" on one side of the slide encouraged attendees to email their senators (as did Tinder reps) and voice support for the Equality Act. The brand also ran an in-app PSA urging its users to go to HRC.org's toolkit and take action. Post-ride, consumers visited a swag booth to choose from fanny packs, rainbow visors, flame sunglasses and PopSockets (Agency: N/A Collective, New York City). –K.H.
Featured photo courtesy: BFA