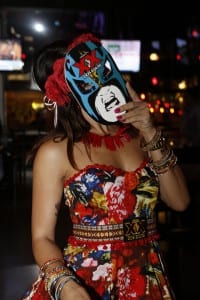 If you were bummed out that Cinco de Mayo fell on a Tuesday this year, you weren't alone. So was Dos Equis, the Mexican beer brand, which got a jump on the celebration with Dos De Mayo, a campaign that not only offered a play on words but a two-pronged experiential approach that involved on-premise flash sampling and event sponsorship activations.
Flash sampling events took place at on-premise accounts in 12 markets leading up to Dos De Mayo and in some cases all the way to Cinco de Mayo itself. Brand ambassadors dressed in colorful, flowery attire and mariachi musicians set the scene, along with a selfie stick activation and props that consumers used for picture taking and posting onto their social media sites.
Event sponsorship activations continued the traditional Mexican theme with bright colors, streaming banners and a piñata-inspired GIF photo op at Fiesta Old Town in San Diego and Psych Fest/Levitation in Austin, TX. An activation for San Diego's Flambeau parade, which is that city's version of Mardi Gras, incorporated a Mexican version of bingo called Loteria; and at the Shaky Knees Festival in Atlanta, the brand added a double-decker stage for better views of the musical performances.
"Kicking off Dos Equis' most critical selling period, our multi-faceted Dos De Mayo program put a twist on the Cinco de Mayo holiday this year with multiple target-relevant national events happening on that day," says Ryan Thompson, brand director at Dos Equis. Agency: Mirrorball, New York City.