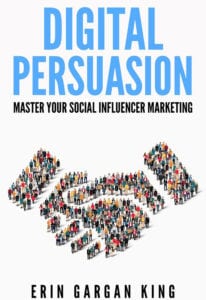 Event marketers often find themselves "checking the box" on social media and amplification, rather than elevating this important piece of the program with a strategic mindset. In a digital world that's noisier than ever, and with the next generation of consumer and attendee savvier and more skeptical than ever, marketing teams must shift away from box-checking and instead be laser-focused on trendspotting and trendsetting.
Erin Gargan King is the founder and CEO of Socialite Agency. An entrepreneur, she sold her first two companies, Jump Digital Media and PMS.com (featured in Forbes), before the age of 30. She speaks all over the world, helping sales, marketing and events professionals attract attention, increase influence and harness the power of digital persuasion. She counts among her clients ABC/Disney, Siemens, Visa and the Oscars.
King is the author of the No. 1 Amazon bestselling book, "Digital Persuasion: Sell Smarter in the Modern Marketplace." Her new book, "Digital Persuasion: Master Your Social Influencer Marketing," is on track to be published this summer. Here, she talks about what inspired her follow-up, and offers insights on the latest trends in social media and developing a stronger digital influence in 2019.
Q: Erin, it's a new year. We're coming to the end of the first quarter. What's on your mind, and on your clients' minds, in executing effective social and digital strategies this year?
A: When it comes to strategic social, relevancy has finally overtaken reach on how we are thinking about campaigns and concepts. In the past, oftentimes brands tended to rely too heavily on how many followers an influencer or brand has, or how many impressions a digital campaign might garner. This type of metric is a relic from the old days of television. I remember when I first started my career 15 years ago selling TV advertising, we would rely so heavily on the reach to try and explain to clients how many people might have possibly seen a spot air. Now, smart marketers are ditching this obsession with maximum reach and moving towards a much wiser goal of maximum relevancy. Measuring things like cost per engagement is a better way to answer questions around campaign resonance, influencer/brand fit, and if you are tapping into emotional issues that are driving real dialogue across the social web, like Gillette recently did.
Q: Influencers have been a hot topic the past couple of years with the FTC's crackdown on those not disclosing their paid partnerships properly. Your new book tackles this space. What drove you to write it, and what's the biggest challenge for marketers in the influencer space?
A: Every event social strategy I have directed for the last five years has been built with influencers as the foundation. Our first question has never been "What story should we try and tell at this event?" but instead, "Who can we partner with to tell the story of this event/brand/product/initiative better than we can?" For an event to use social effectively, it starts not with platforms and promotion but with people. I push brands to identify and amplify the employee, customer and industry thought leaders that can tell an authentic narrative people actually trust and listen to! I decided to write the book because there is such an imbalance of resources in this space right now—plenty of content to help influencers, but not as much to support brands. There is a shocking lack of transparency in the IM space right now with agencies sometimes having only slightly more experience managing collaborations as the brands. Many creators are still using artificial influence and charging exorbitant fees in shallow, transactional brand relationships. Brands are left in the dark around what a successful collaboration should look like. I found myself being asked the same questions on panels and at events around what makes a successful influencer/brand partnership and so decided it was time to create a guide to help brands make better choices within this rapidly growing Wild West space.
Q: Did you catch one or both of the Fyre Festival documentaries? What do you think the event industry is learning from that tale about social media marketing?
A: Yes, I saw both and have personal relationships with several of the people interviewed in both of the documentaries. In my opinion, the takeaway for the event industry should not be on the fraudulent nature of the event organizer, or how millennials are so quick to follow fame and fun at any price without due diligence, or how much people paid to access an epic party that didn't happen. The takeaway for the event industry should be this: a brilliantly executed, compelling narrative was shared by a social influencer army, in a perfectly timed reveal campaign, and that resulted in a completely sold out first-year event. If you are leaning on excuses as to why you are struggling to get butts in seats—look no further than how the Fyre Festival story might have ended had the event organizers hired the right professionals with enough to lead time to actually execute the festival. Their entire promotional launch strategy was social-first. They didn't send direct mail pieces or place ads or try to create urgency with shouty marketing copy. They tapped into real emotion and partnered with voices that mattered to tell their story on their behalf.
If you can put your emotions on pause regarding the poor people who were scammed, and all of the horrible things that went wrong from a logistics management perspective, and focus solely on the pre-event influencer marketing success side of the story, there is a clear strategy you can learn from for your next event. Who are the Kendall Jenners and Bella Hadids of your event? Are you drawing attendees in by allowing them to experience a taste of the journey your event will take them on? Or just telling them to hurry up and register? Are you thinking big enough (within fiscally responsible LEGAL reason) to ignite maximum social buzz around your next event? Are you thinking social-first when it comes to content development and creator distribution, or is it still the last line item on your budget sheet? Are you thinking beyond trying to bring everyone over to the social channels you own and instead leveraging channels where your potential attendees already are?
---
"If you are leaning on excuses as to why you are struggling to get butts in seats—look no further than how the Fyre Festival story might have ended had the event organizers hired the right professionals with enough to lead time to actually execute the festival."
---
Q: What trends should marketing teams be thinking about this year in the world of digital marketing communications?
A: Thinking beyond mega social media personalities and focusing on how to partner with nano influencers, micro influencers, employee and customer creators, and others that have the trust of your most valuable customers. B2B, in particular, should think seriously about stepping up their efforts in this area to identify better ways to forge deeper, long-term partnerships with the creators that truly sway popular opinion in their space.
Q: Are there any new game-changing strategies across the platforms you're seeing, or want to see companies test?
A: The number of companies that slack on IM due diligence is staggering. I talk to many influencers who say they have seen brands hire influencers based on reach alone without even investigating to see what percentage of those followers is real. Run profiles of potential influencers through HypeAuditor, scroll through the comments and look for lots of generic comments. Click to see who their followers actually are! Do they look like other influencers or fake profiles? If you don't take the time to detect artificial influence before investing in a campaign, you can't really be upset when you don't experience the result you were looking for.
Q: Turning back to your book: What's one of the top revelations you had in writing it? What can readers expect to take away from it?
A: One of the biggest revelations is the masses are now the media in a way we have never seen before. (Sorry to say that in a media publication!) Everyone with a smartphone has both publishing capabilities and distribution power. The traditional marketing paradigm has truly been inverted, with people's digital behavior making or breaking product or event success at scale. Readers can expect to find a step by step guide on how to develop a strategy that you can actually measure, how to find, approach, partner, and most importantly—measure your social influencer marketing efforts. In the book, I share first-hand experiences managing influencer marketing campaigns, plus dozens of insights from interviewing some of social media's biggest agencies and creators.
---
Look out for Erin Gargan King's new book, "Digital Persuasion: Master Your Social Influencer Marketing," this summer, available in bookstores and on Amazon. For more information on Erin, visit eringarganking.com.