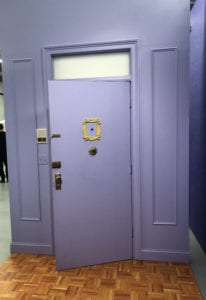 It's been a quarter of a century since the world was first introduced to the "Friends" gang, but for millennials who grew up alongside Rachel, Joey, Chandler, Monica, Phoebe and Ross, it seems like only yesterday that the beloved sitcom first graced TV screens. It's no surprise, then, that when a 25th anniversary "Friends" fan experience in New York City was announced, we set down our oversized coffee mugs and tore through the Big Apple to be the first in line (to anyone who crossed our paths during that time—sorry, not sorry).
TV show pop-ups, including those dedicated to "Friends," are nothing new. But when we heard that Warner Bros. and event agency Superfly teamed up on this particular effort, we decided it was worth a visit—and boy, were we right. The experience, open Sept. 7 through Oct. 6, is brimming with iconic set recreations, authentic props and expertly curated vignettes that transport superfans and casual viewers alike directly into the world of the 20-something Manhattanites. Did we hardcore fangirl while touring the pop-up? Yes. Did we refuse to leave before getting the perfect photo on the famous orange couch? Yes. Do we regret any of this behavior? Not in the slightest. Now, come along as we pivot through the "Friends" universe.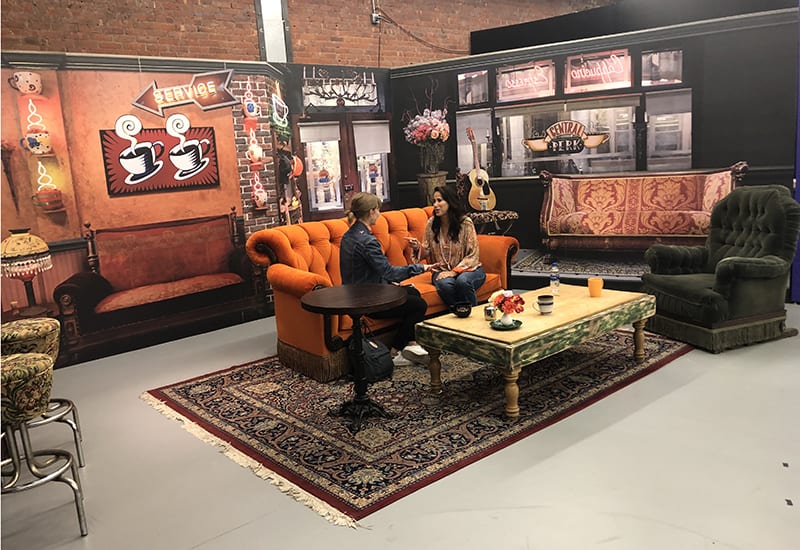 ---
You Might Also Like:
---
OPENING SCENES
When the journey began, we were first met with a wall-sized graphic of the gang from an early episode of the series, a design element that is woven throughout the space, depicting moments from popular episodes. Nearby, a sign read, "You're Among Friends," accompanied by a short blurb recapping the series and welcoming fans to the experience. And then, it was off to the races. It's worth mentioning that we attended the pop-up on media day, meaning we had more time and space to roam than the average fan, but we would have happily paid the $29.50 price tag and battled the masses if media passes weren't an option.
One of the first things we snapped a photo of was a "Friends-isms" wall featuring iconic phrases from the show in bold colors and fonts, with a quick description of who said what and why. Among the lingo on display: "We Were on a Break," "Unagi" and "This is all a Moo Point." Then it was over to a recreation of the scene from the show's opening credits. The space features a faux fountain with lighting effects that make it appear as if there is real water floating at its base, two orange couches set up for photo ops (the extra couch allows for more attendees to snap pics before moving on) and an array of colorful umbrellas. It's a superfan's dream. We could almost hear The Rembrandts crooning "I'll Be There for You" while exploring the area and leveraging the self-service photo kiosk to capture the perfect Insta shot.
VIGNETTES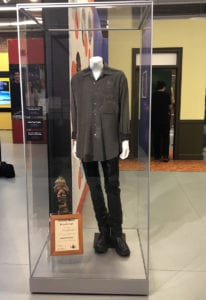 Next, we entered the central part of the experience, where vignettes dedicated to each of the six characters are on display, along with exhibits detailing key relationships from the show, set recreations, cheeky messaging, and myriad props, each bearing a placard noting the season and episode it appeared in. And at the risk of sounding cliché… all of it is incredibly authentic. Case in point: the mannequins representing each character appear to have similar body types to the individuals they're portraying, and are dressed in real costumes from the show. Accompanying each vignette is a sign that reads, "The One About…" with the character's name, photo and description (the official title of each episode from the series begins with "The One About…").
As for the props on display, we could write a whole separate story on how significant they are to legitimizing the pop-up experience. And we're not just talking about replica artwork from the girls' apartment or Joey's oversized entertainment center (although both can be found there). We're talking about all the little details that a casual viewer might not recognize off-hand, but mean everything to superfans. There's the Gellar Cup trophy featuring a Troll doll and Ross and Monica's names, the cracked seashell lamp that Rachel "accidentally" broke, the Best Supporting Actress Soapie Award that Joey stole and even Phoebe's full-sized dollhouse. Then there are the props that even diehard "Friends" fans like ourselves never knew were real. Among them: Rachel's epic letter to Ross ("Eighteen pages! Front and back!"), the VHS cover from Phoebe's twin sister's X-rated film and Ross's self-written, childhood comic book, "Science Boy."
PHOTO OPS
Of course, for most attendees, the pop-up is as much about enjoying the live experience as it is driving FOMO (and "likes") among friends, so photo ops abound. Attendees can peek into or out of Monica and Rachel's apartment (the setup features the exterior of their door and hallway, as well as the interior of the door and inner-apartment—including the famous yellow frame that outlines the door's peephole); sit on another replica orange couch inside a recreated Central Perk set; pretend to move Ross's couch through a narrow stairwell, recreating the "Pivot!" scene from the series; and toss on a faux turkey head. (Pro Tip: This experience was built for social sharing, but selfies don't capture all of its killer details, so if you were lucky enough to score tickets to the sold-out pop-up, try to align your time slot with a buddy's.)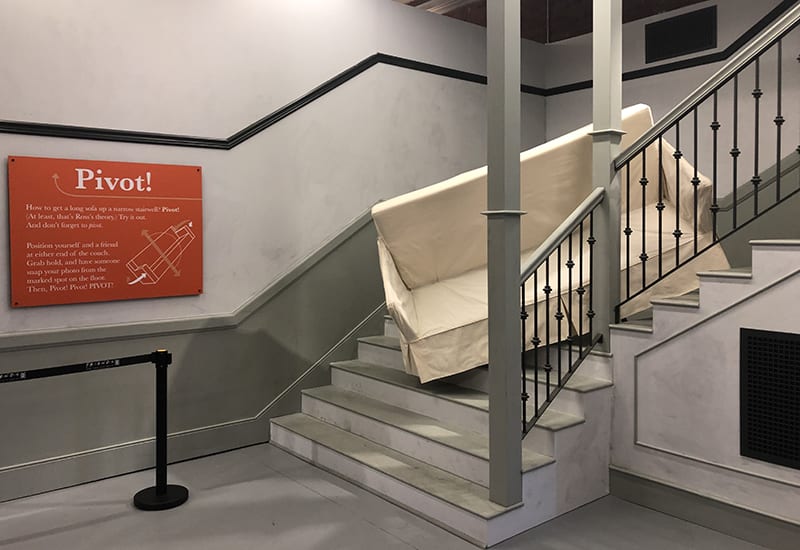 There are also two impressive recreations of Joey and Chandler's apartment. The main set showcases the interior of the apartment and includes the guys' recliners, foosball table, wall décor, entertainment center and yes, even Joey's ridiculous statue of a ceramic greyhound. In another area, the interior of the guys' apartment door, complete with a Magna Doodle, can be found.
In addition, a headless mannequin installation showcases the episode in which Joey trolls Chandler by putting on his entire wardrobe ("Could I BE wearing any more clothes?"). A small pedestal behind the installation allows for attendees to step up to the proper height and stick their heads out, thereby "becoming" Joey for the photo op.
BRAND INTEGRATIONS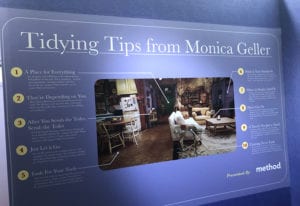 Playful messaging coating the walls is also part of the experience. A "Who's Dated Who?" timeline, "Tidying Tips from Monica Gellar" and a "Menagerie" wall bearing paintings of animals that appeared in the series are among the highlights. Additional touchpoints include a display case of mannequin heads exhibiting Rachel's hairstyles through the years, a series of framed TV screens playing "Friends" episodes that were relevant to the pop-up sprinkled throughout the footprint and, in our case, a Rachel lookalike roaming the space carrying an empty coffee carafe. Brand integrations included a display of Monica's cleaning products provided by Method and "How to Protect Your Couch While Pivoting" messaging from State Farm. In addition, the pop-up's public opening on Sept. 7 was dedicated exclusively to AT&T customers who had a chance to get complimentary tickets through the AT&T THANKS appreciation program.
As if all of the above isn't enough to make "Friends" fans say, "Oh. My. Gawd.," the pop-up experience also features a fully functioning coffeehouse (dubbed "Central Perk," obviously) and a giant retail store selling merchandise that ranges from apparel to mugs to series-themed Alex and Ani bracelets. The café wasn't opened while we were on-site, but the aptly-named menu items didn't disappoint—fans can get a taste of Rachel's Oops I Dropped the Cheesecake, Ross's Mini Blueberry Bribe Muffin Basket, Chandler's Licked Banana Nut Muffin and "Friends"-branded donuts, among the array of food options. In hindsight, it's probably best that the coffeehouse was closed during our visit, because just like Joey, EM Doesn't. Share. Food.
There's no question that "Friends" has stood the test of time, and thoughtful fan experiences like this one prove that it's not about cashing in on a commodity—it's about connecting with fans by rekindling their passion. And that's what this biz is all about. Wah-pah!
More Scenes from the "Friends" Anniversary Pop-up: