The Winter Olympics are a smaller affair than the Summer Olympics and their voluminous VIP and hospitality experiences. At the PyeongChang 2018 Olympic Winter Games, Feb. 9-25, in South Korea, brands focused heavily on the fans and athletes with experiences that touched every region of the country, from a military base to the coast to the capital. Read on for a taste of the gold-medal action.
MCDONALD'S
McDonald's created an eye-catching design moment in Olympic Park for fans with its pop-up restaurant in the shape of a hamburger meal, including a soda cup, hamburger and French fries. The 1,500-square-foot structure accommodated 160 seats. The brand also activated a 1,000-square-foot pop-up restaurant in Olympic Village, providing free meals for the athletes from across the globe. During the Olympics, McDonald's recorded 200,000 visits to both restaurants. The most popular menu item? The Big Mac.
COCA-COLA
Longtime Olympic sponsor Coca-Cola kicked off its experiences surrounding the Games with the Olympic Torch Relay. The 101-day tour visited every nook and cranny of South Korea, from the Jeju Islands to the Korean Demilitarized Zone, reaching consumers with visually-stunning parades.
For the main events, Coca-Cola created brand experiences in three strategic zones. First, with a four-story building takeover near the campus of the University of Seoul. There, the brand engaged its teen target and created a commanding presence by transforming the façade to make it look like one of Coke's famous vending machines. Each floor offered photo ops and an education on all things Olympic Games. On the ground level, consumers learned about Coke's relationships with the Olympics (since 1928, the longest running sponsor), and how the relationship has evolved over the different iterations of the Games. On the next few levels, consumers learned about all different Olympic sports and took part in corresponding photo ops, like snapping a photo with friends and having the image printed out on a custom label for a Coca-Cola bottle. Woven throughout the experience was a tie-in to the Play a Coke app, where consumers took part in different calls to action to redeem points for exclusive merchandise.
Over at Olympic Park in PyeongChang, Coca-Cola turned its attention to families attending the Games and activated a vending machine where consumers could insert large branded gold coins to receive dispensed giveaways, like a commemorative slim can with the Coca-Cola polar bear icon holding the Olympic Torch. The Coke polar bears visited the site at different times for photo ops, and brand ambassadors doled out prizes in exchange for social posts by consumers. Coke also activated a Pin Trading Center for the widely popular pin exchanges tied to the Games. For this, the brand created 30 pins and invited 40-plus international pin traders who've traded with the brand over the years.
Finally, over at the Medals Plaza in PyeongChang, large visual cubes offered a variety of different photo ops with Coke branding. The polar bears also made special appearances there—more warm and fuzzy photo ops for the fans. Agency: Havas Sports & Entertainment.
HERSHEY'S
Athletes weren't the only ones getting a taste of gold during the Olympic and Paralympic Winter Games. Hershey's, an official sponsor of Team USA, helped athletes and fans "Taste the Gold," with a real-time marketing campaign that gave away 100,000 coupons valid for a Hershey's Gold bar, the newest flavor from the brand in more than 20 years, each time Team USA took the top of the podium. Campaign spokesperson Apolo Ohno, who stars in the brand's Games Time ad campaign, appeared on NBC's "The Today Show" to promote the campaign, which continues through the Paralympic Games. The brand also created content with gold medal winners from Team USA that was published on nbcolympics.com and on Hershey's social channels. And, as a presenting sponsor of Team USA WinterFest, Hershey's made a stop at Seoul's Yongsan Garrison military base, home to nearly 6,200 active-duty military members and more than 10,000 family members, where consumers made s'mores, sampled Hershey's Gold bars and cheered on Team USA. Agencies: Crispin Porter + Bogusky, GMR Marketing; Ketchum, UM, TPN.
Thank you, @TeamUSA, for an amazing #WinterOlympics! #TasteTheGold #HersheysGold pic.twitter.com/PA6389Hkd7

— HERSHEY'S (@Hersheys) February 25, 2018
CANADIAN TIRE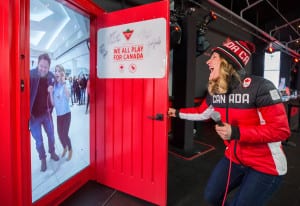 Canadian Olympic and Paralympic athletes had plenty of fan support on the ground in PyeongChang, but many of their closest friends and family were cheering from back home. So to give the competitors, along with their friends, family and a few lucky fans in the Great White North, a platform for interaction, Canadian Tire literally opened the door to real-time communication.
Reviving its Red Door live streaming experience from the 2016 Olympic Summer Games in Rio, the brand stationed one of its life-sized, freestanding doors in the Canada Olympic House in South Korea, while a companion door traveled to 10 different locations in Canada. Thanks to streaming technology, a custom algorithm and an enormous screen, the door allowed a host of athletes from the Olympic House to see and speak to friends back home in real time.
But it was the athletes this time, rather than the fans, that had to guess who was on the other side of each Red Door exchange, adding an element of surprise and delight to the experience. As a result, the brand was able to coordinate some meaningful moments. From connecting curlers Kaitlyn Lawes and John Morristo's family and friends at Lawes' home curling club in Winnipeg, to uniting snowboarder Mark McMorris with friends at a Canada Snowboard viewing party in Vancouver, Canadian Tire linked the athletes with their biggest supporters while helping to spread the spirit of the Games back home. Agency: Wondermakr, Toronto.
SAMSUNG
One of several domestic brands sponsoring the Games, Samsung delivered a series of interactive, tech-centric experiences to fans across PyeongChang, Gangneung and the Incheon International Airport. Serving as Worldwide Olympic Partner in the Wireless Communications and Computing Equipment category, the brand encouraged consumers to "Do What You Can't" through hands-on engagements at each of nine Samsung Olympic Showcases.
Each touchpoint was designed to showcase Samsung's brand history and heritage, or its partnership with the Olympic Games. Like virtual reality experiences powered by the Galaxy Note8 that allowed fans to virtually hit the slopes in snowboarding and skeleton simulations. There was also the "Mission to Space VR: A Moon for All Mankind" experience created by Samsung, which took participants on a full space mission, including trying on the training suits and helmets, and allowing them to feel lunar gravity with every step.
The brand also demonstrated the more playful side of technology through a Portrait Pool experience that allowed fans to turn their selfies into painted characters for social sharing, and an S Pen Gallery where they could create their own portraits using a Galaxy Note8 and an S Pen (a stylus) as a paintbrush. And a dedicated Kids Lounge gave youngsters the opportunity to play with and explore Samsung products through hands-on experiences.
Other highlights included athlete appearances, a futuristic IoT demo powered by Samsung's mobile technology, an exhibit illustrating the brand's history, and lifestyle programs activated in lounges and at the Café, where food and beverages were available for purchase using points fans had acquired during the interactive experiences.
UNITED STATES OLYMPIC COMMITTEE 
The United States Olympic Committee began ramping up support for American competitors and the Olympic and Paralympic Games well before athletes touched down in South Korea. The organization kicked off its Team USA WinterFest program in New York City exactly 100 days out from the start of the Games. Presented by Hershey's, the fan experience traveled to 13 markets across the United States—and made a special stop in the South Korean capital of Seoul—to drum up excitement for Team USA.
In addition to meet-and-greets with U.S. Olympic and Paralympic athletes and 2018 hopefuls, fans could enjoy free S'mores from the Hershey's S'moresmobile, experience what it's like to sit inside an Olympic bobsled through a Boomerang photo engagement, enjoy music and entertainment experiences from artists like Good Charlotte and Sleeping with Sirens and virtually slide down the slopes in a Samsung-powered skeleton VR experience.
Fans could also check out the Team USA social truck, which featured various stations offering everything from a Team USA Athlete Snapchat Face Swap engagement to a digital message board where fans could send "good luck" messages to athletes on the ground in PyeongChang. A Team USA Curling Challenge presented by OREO, which included a chance to win a trip for two to Park City, UT, rounded out the engagements.
All in all, WinterFest featured 12 cities, 75+ athletes, eight music acts, six Team USA sport activations and 5,000 giveaways—pure gold. Agency: Wasserman, New York City.
PROCTER & GAMBLE 
P&G provided a "home away from home" for more than 2,500 athletes, coaches, family and friends from around the globe through their hospitality venue, the P&G Family Home. Located within Nations Village, the Family Home served as a destination for athletes and their families to celebrate, relax and cheer on their team. In addition, the Family Home hosted exclusive spaces for global media and influencer activity. Athletes interacted with P&G brands during "Beauty & Grooming" touch-ups, content capture opportunities with top influencers, and interviews with global media.
In advance of the Games, P&G unveiled "Love Over Bias," the latest iteration of its "Thank You, Mom" campaign. The film reflects struggles with prejudices that real athletes have encountered, and "celebrates mom's role as her child's first and greatest advocate, the one who sees her child's potential regardless of how others see them." As a continuation of this campaign, during the Games, P&G hosted a panel of decorated female Olympians, who discussed their own journeys to the global stage. The discussion, moderated by Michelle Kwan, Olympic medalist and world champion and the most decorated U.S. figure skater, included the role of their moms, mentorship and support from other women, as well as their hopes for what the current global movement for gender equality will mean for future generations of female athletes.