Using an entire city as a branded backdrop, Airbnb and Civic Entertainment Group push the boundaries of b-to-b events—forever
Rewind with us for a moment. 
It was 2014, and Airbnb ceo Brian Chesky's online hospitality and accommodation marketplace was going from white-hot to supernova—amid a business footprint operating in 32,000 cities (190 countries) around the world, one of Corporate America's most aggressive hiring initiatives and a recent record-shattering $10 billion valuation. All of it was unprecedented for a company about to turn seven years old.
While the business was getting shifted into overdrive, so was the brand. Chesky hired Coca-Cola vp-marketing and design Jonathan Mildenhall as cmo, and together they began building a new marketing blueprint that would not only keep up with the brand's hyperspeed momentum—but accelerate it. The plans called for additional (and more integrated) investments into traditional above-the-line advertising, direct-response efforts, social media engagement—and, naturally, experiential marketing.
Airbnb thrives on two audiences: hosts who open their homes to the world, and guests who pay to stay in them. A new branding campaign launched under a fresh "Belong Anywhere" tagline was designed to inspire and educate the growing legion of global guests. But like so many power brands looking to generate both supply and demand, the company aspired to more deeply connect with the hosts that created the very inventory those guests purchased.
And so, in an interesting experiment—and with an experiential twist—the company (with New York City-based experiential agency Civic Entertainment Group) issued an invite to hosts around the world to become Airbnb's guests in its hometown of San Francisco, at a three-day event called Airbnb Open. "This event will empower successful hosting with a program that educates, inspires and celebrates our hosts" read the online invite from company head of global hospitality and strategy Chip Conley.
Held at the Bay Area's waterfront Fort Mason Center Nov. 21-23, the 2014 Airbnb Open was a rather traditional b-to-b event, programmed with keynotes, peer-to-peer workshops (hosts shared tips and recommendations with each other), sessions with Airbnb managers providing best practices and insights on new products, excursion dinners held in Airbnb employee homes and a Host Awards gala "recognizing hosts that go above and beyond." (There was also a tour of Airbnb's corporate headquarters and a closing picnic.) More than 1,500 hosts from 40 countries paid to attend. They left educated about using the platform and inspired to become better and more frequent hosts.
The Airbnb marketing team was stunned by the sold-out turnout and themselves inspired—to do it again. A second event was planned as Airbnb Open was redesigned into a campus-style experience for 2015. A year later, the event invaded Paris' Grande Halle in Parc de la Villette Nov. 12-14. Attendance quadrupled, as more than 5,000 hosts from around the world signed up. It was the largest gathering in Airbnb history.
The three-day agenda was supersized from the first incarnation with more speakers, more sessions and more training on the company's evolving portfolio of features and functions. "Airbnb's mission isn't your house. It's hosts. It's you," Chesky told the crowd on the first morning.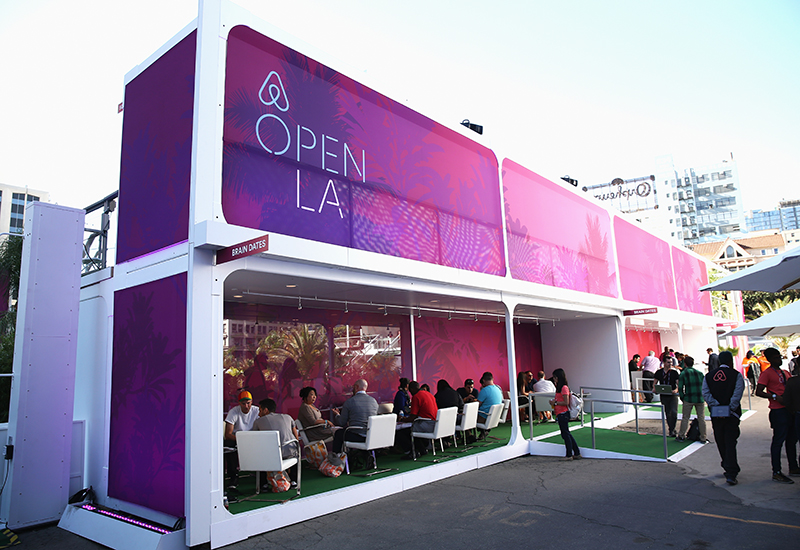 New elements included panels, employee-led workshops and a fleet of "excursions" in which French Airbnb hosts provided groups of attendees with hyper-local city tours and exclusive activities spanning underground tours of the Eiffel Tower and beekeeping on a Parisian  rooftop. After all, the Airbnb brand was all about unlocking the potential of travel and discovery, so the event itself was designed to unlock experiences as well.
Attendees were again provided with equal parts information and inspiration. The first day (Thursday) served up everything from sessions on the company's Business Travel Ready program to conversations about a new Smart Pricing endeavor and mobile platform improvements. On opening night, more than 200 dinners were staged across Parisian host homes and restaurants, an incredible local experience fueled by face-to-face connections, all under the halo of the Airbnb brand. The following morning (Friday), things moved back to the 19th Arrondissement campus with more presentations from company innovators as well as peer-to-peer sessions, workshops on becoming "superhosts"  and content ranging from hosting during the World Cup to empowering women in hospitality and travel. Friday night was themed around Neighborhood Guide explorations; attendees were given recommendations on areas to explore around Paris and access to additional exclusive excursions.
---
"We wanted to create different paths for attendees and different points of experience. Since our attendees are not traditional event attendees, we realized we had to stop looking at our event traditionally."

---
That night, everything changed. In Paris and around the world. At 9:16 p.m., ISIS suicide bombers struck outside a football match in the first of several coordinated terrorist shootings and bombings across Paris at cafés and restaurants that culminated with a hostage standoff at a concert theater. When it was over, 130 people were dead (89 at the theater) and 368 more were injured in the deadliest attack on France since World War II.
It was a night that will forever be remembered as a clear and present portrait of the new world we live in, a scary reminder of the fragility of life and the true power of the human spirit. But Nov. 13, 2015, also served as a wake-up call to experiential marketers around the world who quickly came to the gut-wrenching realization that there was, and probably never would be, a force field of absolute safety for live events—that no event could truly escape every possible risk and that attendee safety must become the highest priority for brands, the marketers that unite under them and the agencies that serve them.
Minutes after the attack, Airbnb cancelled the final day of Open. An initial external email communicated the cancellation and asked attendees to confirm (by responding to the email or using the event app) they were safe. Airbnb internal staffers moved quickly to track down all 1,000 company employees that were in Paris for the event. Chesky himself sent a message the next morning asking attendees to communicate through a Community Center online message board. A new #AOHelp hashtag was issued for anyone in trouble or needing a place to stay.
"We had attendees travel to the event from around the world, so we didn't want them to feel isolated and alone in a city they may not have been familiar with," says Shannon Jones, vp and longtime global program lead on Airbnb Open at Civic Entertainment Group. "So we set up a quasi-help center in our catering tents and put the call out that if anybody didn't feel safe that they could come to us. It was an around-the-clock mission to make sure everyone was OK."
To say it was hardly the ending Airbnb had envisioned for its largest experiential property to date would have been a gross understatement. And, to be honest, weaker marketers would have abandoned the event—even event marketing­—altogether. But the vision of Airbnb to unite people and experiences was unbreakable. And so, with undeterred focus and an even more vigilant vision to connect with its community, the company's marketing team regrouped, retrenched and recommitted to Airbnb Open. "The attacks in Paris were violent and shocking for attendees," says Airbnb Open manager Clément Marcelet. "We knew it was not something anyone would forget. So we knew we would need to design a new, stronger experience that reconnected with them."
A NEW VISION
Planning for 2016 began immediately and intensified quickly, with a new, elevated vision to take what had been a campus event and reimagine it as, in their words, a "must-attend cultural event."
"We wanted to step away from the traditional event format and plenary content," says Marcelet. "We wanted to create different paths for attendees and different points of experience. Since our attendees are not traditional event attendees, we realized we had to stop looking at our event traditionally."
A month after leaving Paris (December 2015), the team was already touring venues in downtown Los Angeles. "We knew we wanted to up the ante in a significant way," says Jones. "But downtown Los Angeles presented new challenges—at a certain scale, events are limited to rather cookie-cutter options. We wanted to update the experience into more of an urban campus, using the downtown streets of L.A. as a backdrop. So we began exploring not producing the event at The Shrine [Auditorium] or another single venue that would hold everybody in one place. And we began rethinking the event format—we may have tens of thousands of attendees coming, but maybe they didn't necessarily have to be in the same place at the same time under one roof."
The team spent five months working on a new concept. In May 2016, they returned to Los Angeles for a full-day work session with Chesky, the rest of the Airbnb cofounders, Mildenhall and Conley. "We were walking them through the programming options and venues," says Jones. "But they stopped us—and told us to go bigger. It was the moment we knew that Airbnb Open was about to get taken to a new level. We went back to the drawing board again."
Every element of Airbnb Open was reshaped, reformatted and reconcepted—into a global festival that would merge and blur the line between traditional event types and redefine how b-to-b events could be produced as more b-to-c-like experiences. Inspired by the storytelling of The Sundance Film Festival, the world-class innovations of TED and the awe of Burning Man, Airbnb curated an "annual festival of travel and hospitality" that it hoped would become that must-attend cultural event. Part developer's conference, part user group, part internal event, part consumer activation, part street fair, part influencer event—the genius of what Airbnb Open became was that by definition, it could not be defined in traditional event marketing vernacular.
Not only was Airbnb Open reimagined. So was the audience it targeted. The event was, for the first time, opened to the other half of Airbnb's business ecosystem: guests. Recognizing that hosts and guests can learn a lot from one another—and today's guests can very likely become tomorrow's hosts—the event became a true incubator for face-to-face learning. "Originally this event was about being a host," says Marcelet. "But it became apparent that we needed to include the entire community if we wanted to create a complete brand experience."
The event was also to be used for the unveiling of Airbnb Trips, which expanded the company's offerings out of physical homes and into the infinite realm of "experiences." The revolutionary Trips could allow pro surfers to offer lessons on the beach, street vendors to give cooking classes, musicians to lend out instruments—now consumers would be able to make the entire trip as customized and relevant as the place they stayed in. "Trips would completely revolutionize Airbnb as a business as well as what it would mean to be a host," says Jones. "Until that point, being a host meant you would invite somebody into your home. But with Trips, anyone with a passion could share their experience."
More than 20,000 people from 100 countries immediately signed up. Taking place Nov. 17-19, Airbnb Open 2016 turned an entire downtown into a connected brand experience—using the sum of Los Angeles' parts as something greater than any single venue could ever provide.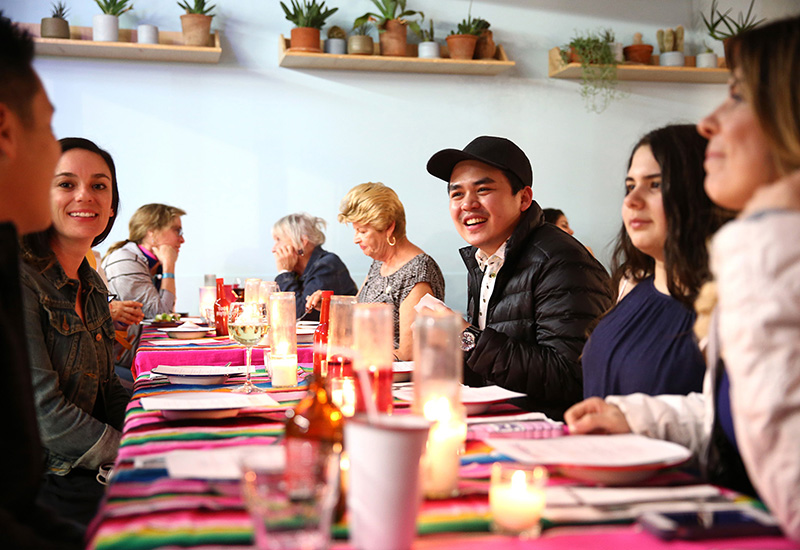 The festival came to life across a whopping 17 primary venues and dozens of others in downtown L.A. Over three days, there were 55 sessions featuring Airbnb experts and third-party thought-leaders (including actors such as Ashton Kutcher, Gwyneth Paltrow, Elizabeth Gilbert; former attorney general Eric Holder; and restaurateur Danny Meyer) held in five theaters including The Orpheum, The Globe and The Palace. Keynotes and panels focused on such topics as how to be a successful "hostrepreneur," discovering passion through innovation and creativity, inspirational travel adventures from around the globe, providing extraordinary hospitality, improving the guest experience—plus new offerings from Airbnb.
There were also organic dialogues featuring intimate employee-led chats and structured host-to-host sessions, with seven downtown bars and restaurants converted into Conversation Spaces—themed idea exchanges at which Airbnb experts and hosts themselves presented to attendees on a range of topics including making Airbnb listings stand out, creating five-star experiences, building local communities and making the most of new Airbnb tools and features. "Hosts love to share their experiences," says Civic Entertainment Group experiential marketing manager Andrew Yoo.
Two parking lots were turned into a pair of massive activation meccas. One was labeled The Oasis and served as a branded area for activities, hospitality, event support services and ingenious Brain Date one-on-one meetups (attendees used a matchmaking app to schedule discussions with each other). The other was designed as The Valley, used for check-in and as an entertainment and activity space programmed with 13 daytime music acts as well as a Shop Small street fair (boasting 19 local merchants) and evening activities.
There were also more than 150 hyperlocal citywide excursions and meetups never scaled to this level by an event. L.A. Airbnb hosts and restaurants across the city opened their homes and doors for explorations and neighborhood tours (Thursday) as well as community dinners (Friday). And there were special events, including the Saturday night Bélo Awards, which recognized the best and brightest from the Airbnb community, produced at The Orpheum Theater and hosted by late-night host James Corden.
---
"It became apparent that we needed to include the entire community if we wanted to create a complete brand experience."

---
Throughout it all, content machines were in full gear, with Airbnb capturing content and redistributing it online, live-streaming the opening Trips unveil and activating social media like a ninja. The best part? The attendees themselves became the ultimate global content translators, beaming key insights, ideas and learnings back to the 100-plus countries they came from.
Want more? The venues were designed as "flexible" spaces, changed out throughout the festival. The historic theaters that hosted keynotes and panels by day transformed at night into entertainment experiences spanning movie screenings, cabaret theater and dj activations. The streets of Broadway, Spring and Main were taken over by hosts, guests, magicians, dancers, singers, painters, roller bladers, hula hoopers, jugglers and more (Civic was assisted by Venice, CA-based Authentic Agency). Saturday night featured an outdoor concert by Maroon 5 and a surprise encore by Lady Gaga in The Oasis.
And we're not done yet. More than 40 blue-chip brands came on board as partners, amplifying the experience and deepening engagement. Presenting sponsor American Express created the Shop Small bazaar, title sponsored an evening Open Spotlight event and offered perks and exclusive access for cardmembers. Anheuser-Busch activated an on-site Biergarten for Stella Artois. Mattress etailer Casper allowed attendees to book naps in two pop-up Snooze Rooms. Delta Air Lines offered travel discounts for attendees and set up a lounge.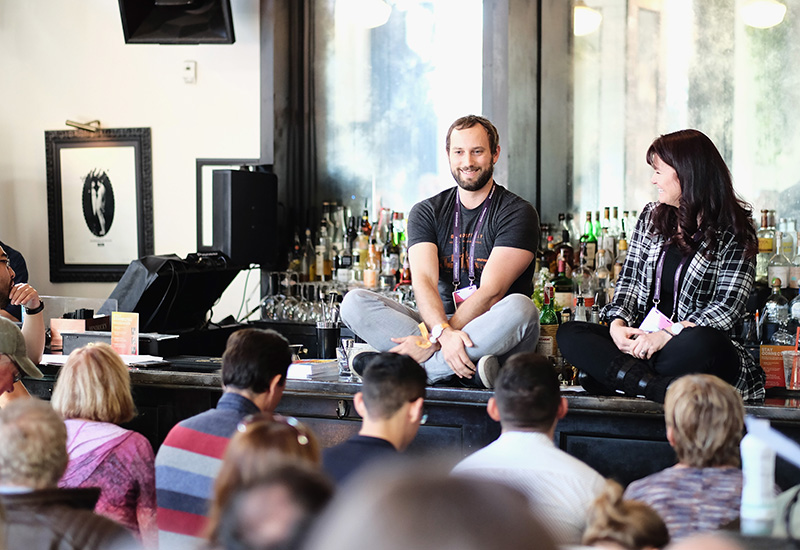 Diageo attached to the Bélo Awards with mixologists shaking signature craft cocktails and gifting efforts. JUST water sampled aqua, Nest showed off its wireless solutions and dozens of others set up experiences that only added to the magic. Each partner designed a relevant space that not only tied in with their brand but also provided relevant content to the attendees—SONOS, for example, provided insights on how hosts should teach guests to use their home audio system.
Morrre? You got it. Even Airbnb's own internal units were integrated into the event. Department heads spoke on stage and in workshops. The Customer Service team was scattered throughout the festival to answer any and every question from hosts and guests. The Brand Marketing team camped out at one of the bars to collect stories from hosts to be utilized as content in the future.
The Photo team gave photography consultations, the Product team collected feedback from attendees, the Mobilization and Policy teams educated attendees on how to get more involved in their markets.
The Global Communications team hosted more than 150 media outlets from all over the world, complete with a dedicated Press Hub. The Trips team set up to educate interested attendees on the new offering, provide examples of experiences currently offered on the platform and discuss how to become an experience host.
We're almost done. From point to point, from person to person, from experience to experience, it was a fully connected engagement from top to bottom, left to right, start to finish—inside to outside. The magic of Airbnb Open was its ability to educate and inspire both buyers and sellers simultaneously using a format that changed in real-time, a narrative that turned the platform's biggest users into the event's most powerful instructors and an entire city as a branded backdrop.
OPEN HOUSE
Attendance quadrupled and the business spiked. Host and guest sentiment blew through the 92 percent mark. Not only did content from Airbnb Open get amplified by 29 million views, but an additional two million hosts and 70,000 guests watched the stream of the opening keynote live. Earned impressions hit 80 million and more than 2,000 media hits were generated. Using the event as a launch platform for Trips catapulted the new offering into the mainstream like no above-the-line effort could—as attendees became early adopters and live content sharing platforms.
"Every moment mattered. Every touchpoint had to tie back to the ethos of the brand and build intimacy and connection whether somebody was on-site or online, all in the midst of 100 things going on," says Jones.
The 40-plus sponsors connected individually and as a collective with attendees. And at the end of the day, purchase funnel metrics all spiked—awareness, usage, propensity to book and buy. The brand and the business both grew. And the boundaries of experiential marketing were merged and blurred—forever. "On the last night, it brought a tear to my eye," says Marcelet. And to ours. Well done.
See also:
• Special Report: The 2017 Ex Awards
This story appeared in the May 2017 issue