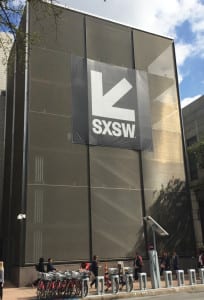 Austin has never been your average metropolis, but there's something special about the city this time of year. Maybe it's the band dressed like cats playing on the corner of 6th and San Jacinto. Maybe it's the number of people rocking violet hair without batting an eyelash. But mostly, it's the convergence of talented creatives from all over the world for the South by Southwest Conference & Festivals (this year March 10-19) that makes Austin in March more extraordinary than any other time of year.
We were lucky enough to get a taste of that SXSW flair at the Interactive portion of this year's event (March 10-14) when brands of all stripes came out to play. And much like the festival itself aims to be, the time we spent scouting out activations was a lesson in discovery. With no designated SXSW sponsorship zone, stumbling into brands in downtown Austin was the only way to find them. The savvy brands broadcast their presence loud and clear—and the one's that didn't were promptly left in the dust.
We couldn't hit every last activation, but the ones we attended offered a glimpse of what's down the line for experiential in the weeks and months ahead. So grab a taco and lace up your most comfortable pair of shoes as we take you, in no particular order, through our favorite South by experiences. It's about to get weird.
IBM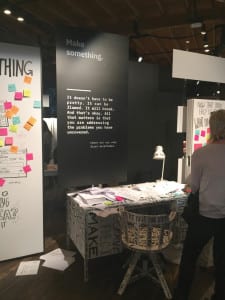 Even festivalgoers stumbling through killer hangovers couldn't miss IBM's larger-than-life activation at Brazos Hall, which featured enormous block letters that read, "IBM is Making" on the façade of the building. The first floor "Makers' Garage" was a Watson-fueled experience that centered on how the brand is improving essential aspects of life through its technology with themed zones like "IBM is making our world more engaging" featuring heat-mapping and augmented reality, and "IBM is making our world more secure," which offered a tablet engagement that educated attendees on how to protect their data.
Personalized engagements were also an important part of the mix. Like the opportunity to build and take home a TJ Bot, a programmable cardboard robot powered by Watson, or a beer tasting experience in which Watson used answers to questions like "What is your favorite dessert?" to provide insight on attendees' preferred beer flavor profiles.
Other noteworthy touchpoints included an empathy map comprised of sticky notes that demonstrated how we relate to teachers, a rooftop lounge featuring drinks, a dj and live tapings of the brand's "IBM Ask" and "THINK" podcast series and hands-on demos of Watson Beat technology, which uses cognitive tech to compose and alter music. Myriad screens mixed with tactile experiences created a smart mix of engagements and got us thinking about how IBM was making a big impression on attendees. We just hope they give us an event map next time. Agency: George P. Johnson, New York City.
Dell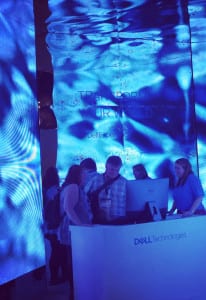 At first glance, the Dell Experience, held near the Austin Convention Center at Sunset Lounge, looked to be little more than an outdoor hang space with a stage—but that was not nearly the case. Outside, attendees chilled on lounge chairs in a true festival-style setting complete with turf grass, branded building blocks to play with and a bar. Nearby, transparent towers filled with plastic bottles and a photo engagement featuring internal computer parts that created the outline of the state of Texas helped tout Dell's recycling program, one of the largest in the world. A few steps over we got a look at a luxurious RV that offered cushy seating and a virtual reality experience, and the outdoor stage, which played host to multiple artist performances and tech panels, including one led by Adrian Grenier of "Entourage" fame, throughout the week. And as title sponsor of KGSR's annual SXSW Live Broadcast, the brand even brought a live radio show to the scene.
Inside, Dell technologies came to life in various experience zones. The brand's Canvas touch screen device, which serves as a second screen of sorts for artists, was the star of the show. In two separate areas, Dell reps used supersized screens to illustrate how the Canvas's tools can help transform images, immersing attendees in images of swirling landscapes and dizzying abstract designs. Nearby, sketch artist @thetoonman also leveraged the Canvas to create caricatures of attendees.
The (semi) soundproof Audiophile Room, where attendees could learn about Dell's sound technology, also caught our attention thanks to the mysterious black curtain that separated it from the rest of the space. And of course the indoor bar was the perfect place to take it all in, along with a free drink, courtesy of the brand. Agency: Lacy Maxwell, San Francisco.
Sony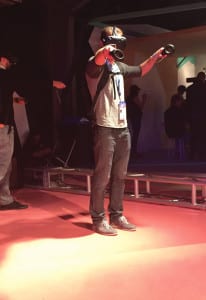 Sony's "WOW Factory" sure wasn't a misnomer. The brand's tech-fueled activation, located in a warehouse space just outside the convention center, offered a glimpse of the future with out-of-this-world prototypes and other cutting edge technologies and interactive elements. For instance, attendees who tried out Sony's full-body Synesthesia Suit could feel the vibration of 26 "actuators" synching with game play and music as they played Rez Infinite on PlayStation in front of crowds of curious onlookers.
Virtual and mixed reality also dominated the activation. The multisensory Gold Rush VR experience, created in partnership with Hashilus, allowed four people equipped with goggles and backpack PCs to roam around the room in a mission to discover gold. A mixed reality, multi-person cave experience used Sony's ultra short throw projectors to immerse attendees in games without the use of goggles. And our favorite, the Superception engagement, which more or less functioned like a game of VR tag in which players sporting VR goggles could see not only their own vantage point, but that of the other players as well. Badass.
Other highlights included the "Spider-Man: Homecoming" climbing challenge which featured Sony's projection mapping technology and had attendees literally scaling walls; a music visualizer and cyber gym that offered a sense of immersion without requiring participants to wear a headset; and the Resident Evil: The Final Chapter-Road to Raccoon City experience in which participants equipped with tech-infused vests engaged with Sony's haptic technology by shooting 3D zombies. If only there were more time to take a deep dive into some of these wild technologies. Agency: Hakuhodo Kettle, Tokyo.
Twitter
The Twitter House, which took over a bar on Rainey St. served as a physical manifestation of the brand's "what's happening" platform, right down to a TV studio located in the interior of the footprint where live artist and VIP interviews were held. The space featured cozy, living room-style lounge areas where attendees could catch up on social media, a custom SXSW screen-printing station that also offered free emoji pins (including Austin-inspired symbols like tacos and longhorns), a photo op, a food truck featuring southern-style bites and plenty of drinks.
In addition, for each of the five nights the brand occupied the space, an overarching theme set the scene. On Monday, for instance, when "The Bachelor" season finale (a major trending topic on Twitter during the season) was slated to air, the brand hosted a panel with the original stars of the show—and even delivered a rose (a key part of the show) to each person in the audience. Say it with us—awww. Agency: NA Collective, New York City.
CLIF Bar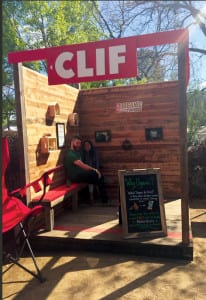 The CLIF Bar Bash, presented in partnership with PledgeMusic and NoiseTrade, offered live performances that ranged from intimate acoustic sets on the front porch of Rainey St.'s Blackheart Bar, to full-scale shows on the venue's outdoor stage. Operating under a sustainability theme, the brand offered attendees a chance to pick up an exclusive record on-site. Each track was hand-selected by CLIF Bar and featured artists committed to sustainability. The part we liked best: instead of cutting the singles on vinyl, brand partner Mobile Vinyl Recorders cut them directly on disposable plastic picnic plates on-site. Designated recycling containers for CLIF bar wrappers and a rustic outdoor viewing station where attendees could catch a short "Organic for Good" video about the brand's commitment to organic farming rounded out the theme.
We think a few more engagements would have really kicked the activation into high gear, but the brand may have had its hands full offering free rides to festivalgoers in electric carts dubbed CLIF Blues Mobiles throughout the week. Agency: Anthemic Agency, Los Angeles.
TNT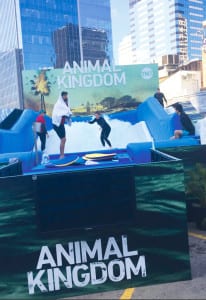 Even if you somehow missed attendees literally surfing in downtown Austin, the buzz surrounding TNT's "Animal Kingdom" activation couldn't be missed. The brand's pop-up beach, dedicated to the hit drama, brought the show's SoCal setting to life with palm trees, beach umbrellas and surf boards. The highlight, of course, was the Flowrider wave simulator that had festivalgoers riding the surf in front of a massive "Animal Kingdom" backdrop. The brand even set up bleachers across from the spectacle to give attendees a prime view of the action (which, if we're being honest, mostly consisted of face-plants).
For those who could pull themselves away from the wave simulator, there was a beer garden sponsored by Eater, a Mighty Cone food truck, lawn games, live graffiti, a photo op and an opportunity to snag hand-painted shoes. Agencies: Civic Entertainment Group; Production Glue, both of New York City.
Twix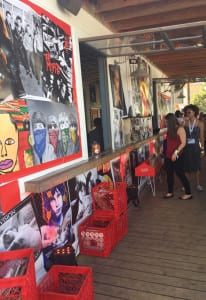 In true Twix fashion, the brand split a bar on Rainey St. into two branded areas: the #LeftTwix and the #RightTwix, which mirrored one another in terms of engagement, but helped highlight the brand's "pick a side" messaging. Posters of classic albums plastered the walls on either side, along with bins of old records lining the floor (sadly, they were all props and couldn't be purchased). Attendees who participated in a VR experience on either side of the footprint, or a GIF engagement in the back, could win a VIP trip to Bahidora, Mexico by posting a photo of the experience on social using either #LeftTwix or #RightTwix and #TWIXSweeps.
Giant bowls of mini Twix bars (quite possibly our favorite part of any activation), lounge areas, "We All Win With Twix" pins and, of course, a number of live performances, were also on hand. And then there was the interior of the bar that served as a VIP-only spot (read: a charging station and some booze), which gave us a chuckle when the very stern bouncer wouldn't let us in. Agency: COLLiDE, Austin.
SoundCloud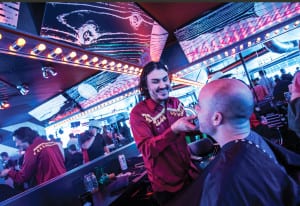 Off the beaten path and not an official SXSW sponsor, SoundCloud still snagged our attention thanks to three nights of quirky events that aimed to promote its SoundCloud Go service to both festivalgoers and locals. On the first night, the brand took over Frank's Coin Laundry—the first time the business had been used as an activation venue—offering high-energy performances and using washing machines as beverage coolers. Attendees rocked out atop the appliances, got their drink on and picked up a copy of SoundCloud's Stream magazine.
We were on-site for the brand's second event, which took place at Birds Barbershop on South Congress Ave. When bands weren't rocking the indoor stage, attendees were jamming to the dj's beats, getting free haircuts or beard trims (and a branded comb, to boot) or gawking at the SoundCloud Go-branded El Camino parked out front, which turned heads all around Austin throughout the week. The brand's third and biggest event was held at Mexitas Cantina where top talent and, rumor has it, someone in an inflatable T-Rex costume cooling off attendees with a water gun, capped off the brand's SXSW presence. Agency: NA Collective, New York City.
Amazon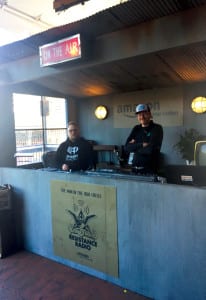 Amazon Prime Video's Resistance Radio events at Austin's famed Market & Tap Room were all hush-hush inside to maintain a clandestine, underground vibe, but attendees couldn't keep quiet about the activations after getting a chance to experience them. Every day from 10 a.m. to 4 p.m., SXSW badge holders were invited to sign up for an RFID-enabled wristband and step back in time to WWII to experience the world of "The Man in the High Castle" in a vintage diner setting where complimentary breakfast was served each morning.
But the experience went far beyond a free meal. At a series of checkpoints, like an old phone booth or a seemingly ordinary bookshelf that opened to reveal a secret passage, attendees could scan their wristbands and answer questions related to Amazon's programming on a tablet. In exchange for making it through all five checkpoints, participants received a free drink ticket.
In addition to the gamification element, the activation offered plenty of other touchpoints to explore. Like the first public display of an Amazon Prime drone; a "General Store" where water bottles, t-shirts and bags were being screen-printed with the Resistance Radio logo; a lounge area where unreleased episodes of original Amazon programs were being streamed; or on the rooftop where bands played, drinks flowed and a hashtag printer pulled #ResistanceRadio photos from social media.
And finally, on each night of the four-day activation, from 8 p.m. to 2 a.m., the brand promoted one of its original programs—"Long Strange Trip," "American Playboy," "Patriot" and "The Man in the High Castle"—immersing attendees in the time and setting of each show. All in all, one of our favorites, and a hard brand play to, ahem, resist. Agency: NVE: The Experience Agency, Los Angeles.
YouTube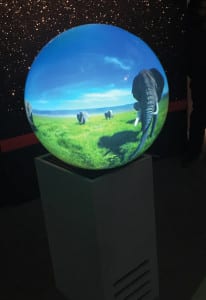 The Google-owned video-sharing site had a multi-faceted presence at SXSW, and we hit the play button at YouTube Corner on 5th St, where the brand aimed to show attendees why YouTube is "where the world comes to watch." The activation offered both a GIF engagement and a standard photo op with the option to print the image. Both experiences took place inside replica production studios, complete with illuminated "On Air" signs above the doors. Attendees could also participate in a Google Daydream VR demo, grab a coffee from the on-site café, speak with brand specialists and pore over mesmerizing 360-degree video globes created by one of the brand's tech partners.
The footprint was strategically covered in YouTube's signature red from head to toe and a futuristic vibe spoke to the platform's nature as an innovator, but all in all, the activation seemed somewhat disjointed. From what we saw, the touchpoints were engaging enough, but the overall message of the experience was, more or less, lost on us. Agency: MAS, Brooklyn, NY.
Intel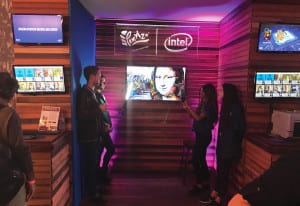 As a technology company activating at an interactive festival, Intel did what it does best by transforming Lucille's Patio Lounge on Rainey St. into the Intel AI Lounge. In an effort to debunk myths about artificial intelligence taking over the world and other negative concepts associated with the technology, Intel operated under an "AI For Good" theme. The brand illustrated how its AI collaborations are helping to overcome challenges in medical research, human safety and more.
Even in the rain, attendees lined up to check out demos on products like Object Identification, a webcam that detects 20-plus objects and draws boxes around them. They could also turn their photos into works of art at an engagement featuring PIKAZO, a universal art machine that uses neural-style transfer algorithms, Intel Xeon processing and machine learning to paint any image in the style of any other. And of course panel discussions that shed light on AI, along with evening concerts, were all part of the mix. Not a bad way for Intel to reach its millennial target—and build buzz around its debut at SXSW. Agency: Infinity Marketing Team, Culver City, CA.
National Geographic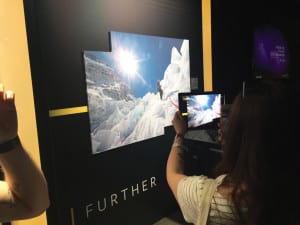 One of our favorite experiences at this year's SXSW, Nat Geo's Further Base Camp on 6th St. was a hub of activity featuring brain-boosting activities and other quirky engagements aimed at promoting the brand's forthcoming TV series "GENIUS," based on the life of Albert Einstein. In addition to plenty of free Einstein-themed cocktails to get the brain flowing, the activation turned heads with an Einstein's Chalkboard experience in which a robotic arm turned attendees' Twitter photos into portraits on a chalkboard using only Einstein's words, symbols and algorithms to form the image.
Meanwhile, an augmented reality experience with the Microsoft HoloLens brought the Theory of Relativity to life, an interactive National Geographic photo gallery illustrated the awe of nature, bands performed, a series of panels addressed topics like cyber-terror and a photo engagement entered participants into a sweepstakes to win a 10-day National Geographic expedition for two to the Galapagos Islands. Whew. Being a genius is exhausting. Agency: Civic Entertainment Group, New York City.
Showtime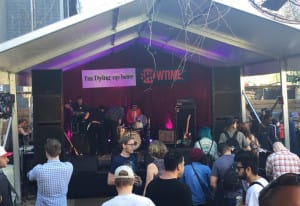 The Showtime House, located at Clive's Bar, promoted the network's reboot of "Twin Peaks" and touted original programming like "I'm Dying Up Here" with series-inspired events. Although the lines were a little long for fairly simple activations, we discovered that the experiences were ultimately worth the wait.
Ahead of the premiere of "I'm Dying Up Here," a show about comedians in Los Angeles, Showtime offered a photo engagement that turned attendees themselves into stand-up comics. Equipped with a green screen and a classic microphone, attendees posed as comedians and, after sharing the experience on social media, received free swag like t-shirts and backpacks. Charging stations, live performances, clips from the show and drinks were also on hand.
The brand also promoted "Twin Peaks" with the pop-up Double R Diner, which offered coffee, cocktails and a "Twin Peaks"-inspired doughnut by Austin's Voodoo Doughnut. Actor Kyle MacLachlan, the star from the original show and the reboot, also appeared on opening night, and a GIF engagement let attendees share the experience across social media. Agency: COLLiDE, Austin.
Google Fiber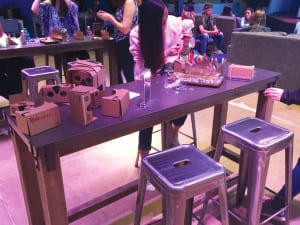 Google Fiber teamed up with Warner Bros. for a "Wonder Woman"-themed activation that touted the upcoming film while showcasing Google's products and services inside a spacious venue on Colorado St. Covered with Wonder Woman art at every turn, the activation also featured DIY stations where attendees could decorate Google Cardboards, Google Daydream VR demos, stylish lounge areas, snacks and even face painters. But the highlight was "The Art of Wonder" experience. The brand collaborated with VR artists Wesley Allsbrook and Elizabeth Edwards, who on a large stage at the back of the space created artwork inspired by the "Wonder Woman" film using the Google Tilt Brush, a tool that allows the user to paint in a 3D space via virtual reality. Attendees followed along on a massive screen as the artists worked their magic.
It seems that with two behemoth brands working in tandem, the activation should have had a bit more to offer, but attendees seemed happy watching the Tilt engagement and catching up on some R&R. Handled in-house.
Netflix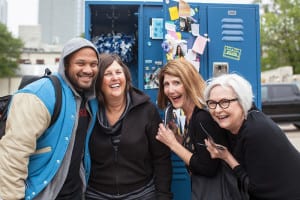 The entertainment brand busted out some nostalgia marketing to promote its new original series "13 Reasons Why" about a high school girl who commits suicide and leaves 13 cassette tapes containing the "reasons why" for her classmates to decipher. In a brilliant move, Netflix recreated the activation at different locations throughout downtown Austin, ensuring plenty of attendees would stumble upon the experience at some point or another.
The activation centered on a group of school lockers filled with books, sports equipment and other typical teen props belonging to characters from the show. The idea was to have attendees choose a locker and let them listen to an accompanying message on a real portable cassette player (think: Walkmans), and thereby pique their interest in the show by offering snippets of the storyline. A simple but compelling experience that, while fun, probably made the modern attendee very grateful for smartphones and wireless earbuds. Agency: Allied Experiential, New York City.
Pinterest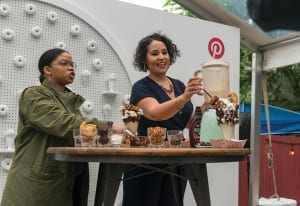 Bloodies and BBQ were reason enough to stop by the Pinterest House, which took over Lustre Pearl on Rainey St., but it was the brand's new visual discovery technology, Lens, that got attendees buzzing. Armed with the Lens feature, available in the newest version of the Pinterest app, attendees pointed their phones at various objects displayed throughout the footprint (socks, bicycles and alarm clocks among them) then tapped to discover pins related to the object. They could even search for ideas using images from their phones.
When participants weren't hunting for new wardrobe or recipe ideas, they could chat with Pinterest staffers about the brand's future plans, check out the "#Foodporn or Bust" panel or engage with influencers like Alejandra Ramos, a food blogger who led the "Sweetstorm" diversity talk while attendees munched on emoji-themed doughnuts and other sweet treats. And then there were the little details, like the on-site ATM vestibule, which the brand wrapped in lyrics from a long lost Ol' Dirty Bastard Song: "Baby, I got your money/Don't you worry." Nice touch. Agency: Sparks, Philadelphia.
Hulu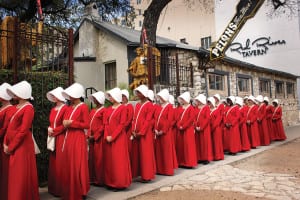 We all know Austin is weird, but Hulu's "The Handmaid's Tale" stunt, which has since gone viral, upped the ante. The brand unleashed 30 actresses trained to play the role of Gilead-era handmaids all over Austin. The women silently moved through the city, giving onlookers a sense of what it was like to be a woman of that age, stripped of their rights and forced to bear children or work in labor camps. Hulu even worked with "The Handmaid's Tale" costume designer Ane Crabtree to create exact replicas of the costumes in the series.
The coolest (and eeriest) part of the stunt came in the form of temporary tattoos, which the handmaids distributed to people who engaged them on the street. The tattoos featured the phrase "Nolite te bastardes carborundorum," an inside reference to the show that represents resistance against the Gilead government. Shiver. Agency: LeadDog Marketing Group, New York City.
Toyota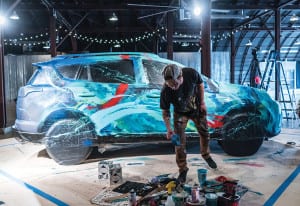 The Fader Fort, a home base of sorts for SXSW music fans and artists alike, returned to the festival for a 16th year in 2017 as an intimate, invite-only experience. Toyota served as a primary sponsor, activating two separate footprints—one at the event's wristband pickup at Fair Market, and another at the Fort itself.
The Fair Market activation featured a live art installation by local artist David "MEGGS" Hooke, who created a custom mural on a Toyota RAV4 throughout the week. Attendees were invited to sign and write where they'd like to travel on the installation's platform to help underscore the vehicle's "Know the Unknown" messaging.
At Fader Fort, the Infinity Room and the Unknown Room offered attendees experiences designed for social sharing and personalization. The Infinity Room (which we also happened to experience at scale inside the convention center) featured an infinity mirror photo booth at the back of a RAV4 where attendees created a GIF to share on social. The Unknown Room contained two stations where participants could create personalized swag, like a toiletry bag with their own custom-designed patch, and an enamel pin with custom engraving. Agency: Anthemic Agency, Los Angeles.
This story appeared in the April 2017 issue