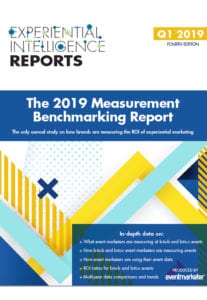 There are some notable shifts in how marketers are approaching measurement this year. According to findings from the 2019 Measurement Benchmarking Report, consumer marketers are relying more on at-event data collected by staff using tablets with registration software than they did last year. The results show 61 percent of consumer marketers will use these at-event methods, compared to 53 percent last year. In contrast, last year, consumer marketers (60 percent) said they'd primarily rely on pre- and post-event attendee satisfaction surveys for this data.
Another shift pops up in top metrics marketers are relying on. While in 2018 and 2017 b-to-b marketers were relying most on leads generated from an experience (70 percent), this year, 67 percent of b-to-b marketers say ROI is a top metric, followed closely by total number of visitors/throughput at 63 percent. "This change suggests business-to-business event marketers are analyzing their leads more effectively over time to gauge a more accurate ROI assessment," the study finds. For consumer marketers, throughput remains a top metric (81 percent), followed by ROI (67 percent).
---
You Might Also Like:
---
The most important social media metric for consumer marketers continues to be shares, with 72 percent of marketers reporting they will take into account number of shares in 2019. The same goes for b-to-b marketers—50 percent say they'll rely on shares. But the next metric after shares shines a spotlight on what might be marketers' favorite platform right now. The next metric consumer marketers will look at in 2019 are Instagram posts about their events, followed by Facebook Likes. This differs from 2018, when marketers relied most on Facebook Likes, after shares.
The study, conducted in Q1 this year and circulated among leading event marketing executives, was published as part of EM's quarterly Experiential Intelligence Reports. It covers what event marketers are measuring in consumer and b-to-b events, how they're measuring, how they're using the data, the types of events they're activating and multi-year comparisons and trends. It's available with a premium subscription to EM. For more information, click here.