Sports fans are hungry for experiences beyond linear TV, and so are advertisers. To engage viewers and give IZOD a boost beyond the traditional media program for football, CBS Experiences created a live fan experience surrounding CBS Sports HQ, the network's digital sports platform on CBS Interactive. The day-long event, dubbed the CBS Sports HQ House presented by IZOD, was held at the Georgia Theatre in Athens in conjunction with the Notre Dame vs. University of Georgia primetime football matchup. It included Q&As with former football players, activations, food and drinks, a viewing party, and live music.
"CBS Experiences was established in early last year to create a platform for building experiential activations around our 200 brands across CBS, Showtime and Simon & Schuster," says David Paschkes, executive vp, managing director, at CBS Experiences. "This is about us going beyond linear and creating a holistic approach with a pre-, during- and post-event strategy surrounding media plans, sponsorship and consumer ticketing."
---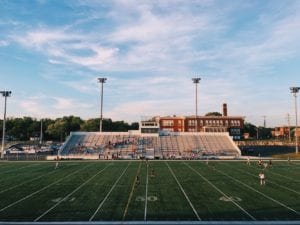 You Might Also Like:
---
For the event, the Georgia Theatre was rebranded with CBS and IZOD logos and transformed into a multi-level fan experience with activities running all day and into the night. It kicked off with a VIP brunch and moved into an "Ask Me Anything" session featuring former NFL and college football players Terrell Davis, Knowshon Moreno, Ricky Watters, Tony Rice and Kevin Butler. The space featured theater seating, a stage with a commentary desk, and camera crews broadcasting the footage. Later, the space transitioned into the CBS Sports HQ live desk, featuring more expert commentary from Davis, Moreno, Watters, Rice and Butler, as well as alumni players Gary Danielson and Jon Stinchcomb. The group ran pregame commentary on the Auburn vs. Texas game that afternoon, and, later that evening, Notre Dame vs. Georgia.
Other activities on-site included an IZOD green-screen video op, where fans could test their skills at being a sideline reporter. Afterward, they received a link of the video footage with a football field in action superimposed behind them to share on social media. IZOD also activated a hashtag mosaic, which pulled in tagged fan photos from all over the country. A live painter, sponsored by Jersey Mike's, created artwork related to Athens and the primetime game.
Up on the rooftop, consumers could spread out and take part in tailgate games like giant Jenga and a high-stakes corn hole tournament, where they could go head-to-head with football pros all day. Jersey Mike's supplied sandwiches and other fare, and Athens-based craft beer brand and sponsor Creature Comforts served up libations. A giant projection screen displayed the big game for the live viewing party that night. The evening wrapped with a post-game concert by indie rock band Futurebirds.
"It's always better to fish where the fish are, and when you have college towns like Athens, or Tuscaloosa, or Baton Rouge, these are incredible environments where fans are looking for what's next and how they can express their fandom beyond the traditional tailgate experience and going to the game," Paschkes says. "The fact that we are the national broadcaster of these games gives us the right to do it with authority. This will become our version of ESPN's College GameDay franchise."
CBS Sports HQ House presented by IZOD sold out the day before the event with 3,000 RSVPs and approximately 2,000 total attendees. Based on surveys, 92 percent of attendees said they left with a more positive opinion of CBS Sports HQ. Agency: MKTG, New York City.