Fall is in full swing, but as an event marketer, you're already on to the next season. Whether you're planning to activate in a traditional cold-weather market this winter or preparing contingency plans for unexpected weather patterns, we've compiled four tips for pulling off successful cold-weather outdoor activations to help you embrace the next season's bounty—from the snow, to the holidays, to the sports. Bundle up.
Make every moment warm.
Tapping into Canada's basketball hype, its fastest-growing sport, KFC embraced Toronto's cold weather with the KFCourt, the first-ever winterized basketball court, crafted with a special nonslip fabric and coated with an extra layer of nonslip paint. The winter-friendly monthlong installation was located beneath one of the country's busiest highways at The Bentway and was open rain, snow or shine, seven days a week, right in the middle of the 2022-2023 NBA season.
Participants received a pre-warmed basketball and hit the court to play games and brush up on their skills. True to the brand, the KFCourt "hoops" were playable NBA regulation-size replicas of KFC's iconic chicken buckets. Attendees could also purchase limited-edition No. 11 puffer jerseys—a nod to KFC's famous blend of 11 herbs and spices. When fans weren't shooting hoops, they were invited to indulge in samples on select days and snag an Uber Eats promo code for a future order. Agencies: Narrative (production, creative); 10West (fabrication). –K.S.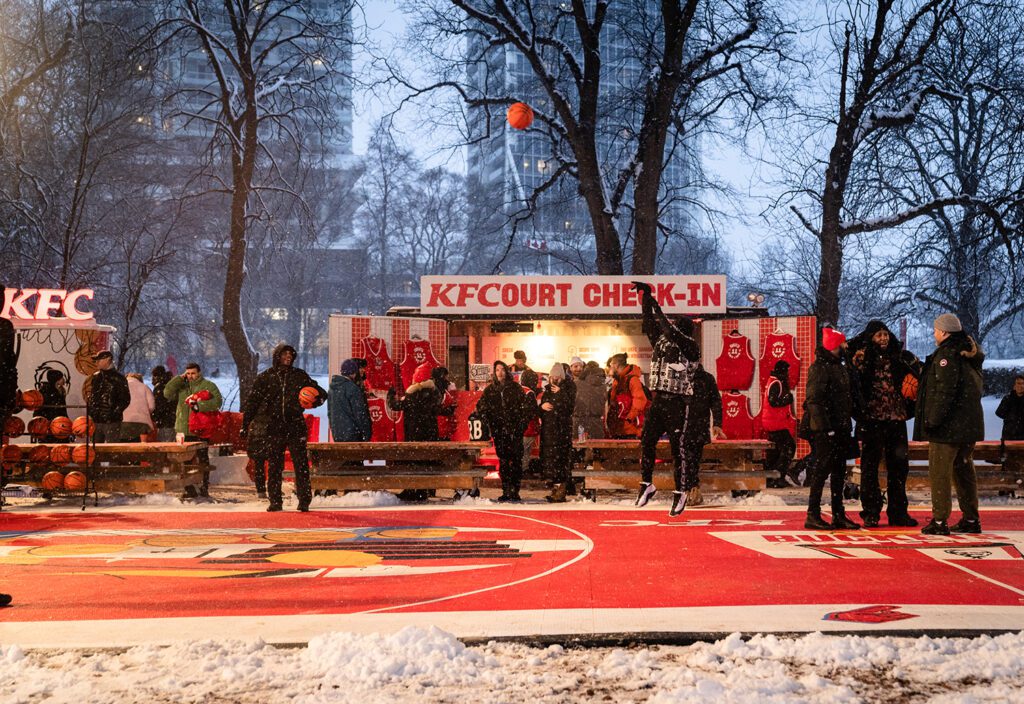 ---
More on Cold-weather Outdoor Activations:
---
Theme the activation to the setting.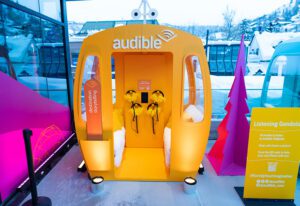 At the 2023 Sundance Film Festival—held across venues in Park City, UT, Salt Lake City and the Sundance Mountain Resort—several sponsors activated ski-, snow- and mountain-themed lounges, lodges and celebrations. The Audible Listening Lodge, for example, featured show-stopping "Listening Gondola" installations where Sundance participants could tune in to a curated selection of content across three themes: well-being, music and, naturally, storytelling. A cozy outdoor lounge area offered fireplaces, a heated yurt and treats such as free hot and cold beverages, empanadas and s'mores. Agency: Civic Entertainment Group.
The après-ski vibes were strong at the White Claw Shore Club, a premium lounge space where invited guests could "grab a While Claw and chill" while catching music performances and enjoying detailed mountain murals by local artist Joseph Toney. Rounding out the touchpoints were a beanie customization station and a chance to win exclusive giveaways. Partners: G7 Entertainment Marketing; VCCP. –K.S.
Meet consumers on the slopes.
Subaru reimagined its WinterFest platform as a music and mountain lifestyle adventure tour featuring small, curated and high-touch experiences under the umbrella of its large presence at eight resorts across the country. WinterFest returned to the slopes in 2022 after a two-year hiatus to meet the pent-up consumer demand for outdoor recreation, maximize the winter experience for brand devotees and evoke an "emotional connection" with 25- to 34-year-old outdoor adventure seekers.
At the heart of the tour—which this year hit ski resorts in Vermont, Colorado, Utah, California and Oregon—is a showcase of the Subaru Wilderness family of vehicles, and the experience includes music, F&B, giveaways, gear demos, the Solo Stove hangout zone and even special appearances by avalanche rescue dogs. Sustainability is a big component of WinterFest, with Terracycle on-site to help collect snack wrappers, plastic packaging, coffee cups and coffee lids, and hot drinks served in Klean Kanteens instead of single-use cups. Agency: Powdr.
Leverage the cold as a testing ground.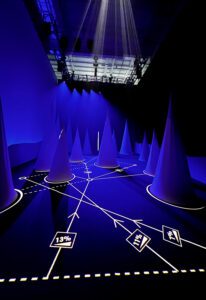 Last October, Canadian outdoor apparel company Arc'teryx brought the multisensory wonders of the northern coastal mountains to New York City through its "For the Love of Winter" immersive experience. While the leaves were just changing colors in the city, the snowy spirit of the great outdoors came to life in a six-room indoor activation through projections, soundscapes, lighting and weather effects replicating the rush of standing at the top of a mountain.
From stunning peaks to sunsets and après-ski, the event was designed to appeal to outdoor enthusiasts, as well as those who have never ventured to a summit, potentially encouraging a future adventure. Arc'teryx's experience digitally transported participants to various environments simulating a three-day journey through coastal mountains.
From the lobby, attendees boarded a shuttle where they were introduced to the landscape but then exited to begin a treacherous journey through extreme weather conditions, including heavy fog and a whiteout to capture the essence of the alpine. Eventually, guests made their way to a ridge where they enjoyed breathtaking views. The experience ended at a chilly lake area, and Arc'teryx's latest product line was waiting, with specialists on hand to assist with the parkas, jackets and hoodies on display. More than 1,500 attendees experienced Arc'teryx's mountainous adventure, which sold out all of its time slots. Agencies: ASTOUND Group (fabrication and production); Moment Factory (creative direction and experience design).
Featured photo credit: Moment Factory