More often than not, technology and experiential marketing are partners in crime, working hand-in-hand to personalize engagement, alleviate pain points, deliver moments of surprise and delight and create a more seamless attendee experience overall. New tools and implementation tactics seem to pop up every other day, and while not all of them are viable options, the following five case studies offer evidence that the right strategy executed at the right time can yield powerful results. Take a look.
Mercedes-Benz and Mixed Reality
Things got electric during the College Football Playoff Semifinal at The Peach Bowl in December thanks to Mercedes' mixed reality activation. Designed to engage viewers at home and in-stadium, the spectacle encompassed a lightning "storm" erupting from Mercedes-Benz Stadium's overhead halo board, followed by a technology-powered race between four of the brand's electric vehicles. The cars zoomed around the stadium on a looping track before disappearing back into the halo board, which displayed a larger-than-life version of Mercedes' logo. (Agencies: Merkley+Partners; Disney Advertising; The Famous Group)

---
Technology Strategies You Might Like:
---
AT&T, Avatars and Gaming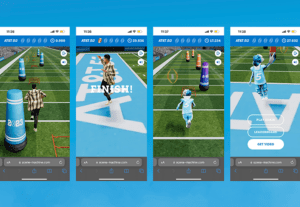 AT&T is unwavering in its efforts to showcase the power of its 5G network, and its latest push included an array of 5G-powered experiences throughout this year's College Football Playoff (CFP) National Championship Weekend, Jan. 6-9, in Los Angeles. As an official CFP sponsor for the last nine years, AT&T upped the ante in 2023 with a tech blitz executed across a variety of sponsored events and experiences. A highlight was the 360-degree XR scanning tech the brand brought to its sponsored Fan Bowl, a 4,000-square-foot activation zone. There, AT&T gave fans a chance to be digitally scanned, which yielded a personalized avatar that they could then use to compete in a custom-built video game that had them racing down a football field in a series of challenges. And for fans unable to make it to the event, the brand created a mobile version of the experience. (Agencies: Wasserman; Groove Jones, XR scanning)
Photo credit: AT&T
Disney and Holographic Projections
What better way to promote a highly anticipated, immersive film like "Avatar: The Way of the Water" than by leveraging a massive and unexpected stage? Such was the case for Disney, which unveiled the film trailer through a holographic projection experience in Niagara Falls State Park, just in front of the falls. The 60-foot-wide projections offered never-before-seen imagery from the movie with the help of 4K projectors and a lighting truss holding a 60-foot by 30-foot translucent screen. When an image was projected onto it, the translucent material reflected the light, thereby creating the hologram effect. And if that weren't enough of a sight to behold, the projections were supported by 600 drones flying over the falls that were programmed to display "Avatar" iconography. Each drone was equipped with LED lights that changed colors as they animated the film imagery and logo. (Agencies: National Experiential, activation and drone show; Groove Jones, holographic projections)

QC Termemilano and an Immersive Storm Spa
The all-encompassing "storm spa" that Italian resort brand QC Termemilano, which is renowned for its themed spas, has crafted is the definition of "immersion." Are we suggesting that you trap your attendees inside a tempest? Not quite. While consumers seem to be divided on whether the "wellness" experience is relaxing or terrifying, it could offer lessons in multisensory marketing and a/v tactics. With a constant downpour and intermittent bouts of a/v-fueled thunder and lightning, the storm spa places participants right in the action for what is billed as a therapeutic experience.
Pantone and an AI 'Oracle'
Among the hijinks we got ourselves into during Miami Art Week was a vibrant activation by Pantone dubbed the "Magentaverse," which enveloped visitors in the brand's 2023 Color of the Year, Viva Magenta. With a smart mix of art and technology, the exhibit offered plenty of intriguing touchpoints. A memorable one for us was an interactive AI chatbot of sorts, dubbed Urban Oracle, which participants could ask questions by typing them into a wall-mounted screen. And get this: The text triggered a light installation within the room that reacted to text. But the Oracle's answers were not what you might expect. The AI responded based on its programming, which centered on modern media, and the language that comes with it. When we asked what the meaning of life was, for instance, the AI answered: "Is life a story? Is life a story 'bout the lives of thugs?" Maybe, Urban Oracle, just maybe. (Agency: Ultravioletto, Urban Oracle)