Comic-Con International: San Diego has come a long way since its humble beginnings in 1970, evolving from a small comic book convention to the ultimate destination for pop culture superfans—and the brands vying for their attention. From immersive exhibits within the San Diego Convention Center, to free outdoor activations available to badge-holders and the public alike, the experiences brands deliver at the annual event get bigger and brighter each year. Read on for a look at the top activations from SDCC 2019, and don't forget your cape.
---
More on This Topic:
---
CBS ALL ACCESS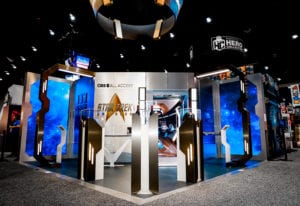 While many brands offered up activations to both badge-holders and the public at large just outside of the convention center, streaming service CBS All Access opted to place its efforts in an immersive booth experience within the venue. To promote its new and returning "Star Trek" series offerings, the brand built a Star Trek Universe Transporter Experience within a 20-foot by 20-foot booth space brimming with "Trek"-themed touchpoints.
Throughout the weekend, the Transporter Experience carried fans to distant lands aboard a custom recruitment ship inspired by the U.S.S. Discovery from the series. "Recruits" entered the activation in small groups, learned about transporter technology then participated in the experience, which was recorded and sent to them for social sharing.
Attendees could also explore booth touchpoints like exclusive series memorabilia, prop displays, Easter eggs, appearances by Sir Patrick Stewart and "Star Trek: Discovery" cast members and, wait for it… wine. Why? The storyline behind CBS All Access' forthcoming series, "Star Trek: Picard," centers on Capt. Jean-Luc Picard's family vineyard, Chateau Picard. As it turns out, a real vineyard of the same name has existed for some time, so the estate teamed up with Wines that Rock to deliver a "Star Trek"-themed Chateau Picard wine that attendees could check out. Live long and prosper, indeed. Agency: The Visionary Group, Torrance, CA.
Photo courtesy: Tiffanie Chow
FOX
Comic-Con itself is a superfan playground, but Fox took the concept to the next level with its inaugural Fan Fair. The 24,000-square-foot experience was just what it sounds like—a carnival-themed activation rife with games, prizes and sweet treats. Touchpoints included free rides on a 70-foot-tall Ferris wheel overlooking the San Diego skyline, branded rides promoting "The Simpsons," "Bob's Burgers," "Family Guy" and "Bless the Harts," carnival games like a water gun shoot-out and oversized corn hole, free ice cream and shareable augmented reality experiences including exclusive Snapchat filters. Fans could also snag limited-edition items like buttons and posters throughout the weekend. Agency: Creative Riff, New York City.
The Bob's Burgers team is really bacon the most of their #FOXSDCC experience! ? #SDCC19 pic.twitter.com/dF0tMErp2i

— Bob's Burgers (@BobsBurgersFOX) July 20, 2019
EPIX
Epix teased its original series, "Pennyworth," which centers on Batman's future butler, Alfred Pennyworth, ahead of its debut on July 28 with a dynamic activation set in the underworld of 1960s London. The experience first tasked participants with determining the correct password to enter the Velvet Rope, an upscale London lounge. Once inside, fans encountered cabaret and drag performances, black jack tables, cocktails, live actors, music, an eerie poetry reading during which the secret "Raven Society" tried to recruit new members and an uber-creepy torture dungeon that turned out to be a popular photo op. Agency: CSM, New York City.
NBC
Riding on the heels of its award-winning activation for "The Good Place" at SDCC 2018, NBC returned to the event with free series-themed fan experiences tied to "Brooklyn Nine-Nine," "Superstore" and, once again, "The Good Place."
The Brooklyn Nine-Nine Experience transported fans to an authentic replica of the 99th precinct, where they were recruited to join the force. Participants were split into teams of investigators who attempted to solve puzzles to win prizes (which sounds strikingly similar to an escape room), and everyone got a peek at some exclusive content.
Taking over a restaurant inside the Hard Rock Hotel, NBC created the Interdimensional Hole of Pancakes (IHOP) from "The Good Place." There, fans could enjoy a themed F&B experience, intermittently interrupted by bursts of light and wall projections, reminding them that they were in an alternate universe.
To promote "Superstore," NBC took over the lobby of the Hard Rock Hotel and transformed it into the Cloud 9 store from the series. The experience offered exclusive content, an "employee of the month" photo op and checkout counters featuring branded giveaways. Throughout the footprint, faux products from other popular NBC series, like "The Office," could be explored. Agency: Giant Spoon, New York City.
NICKELODEON
Celebrating the 20th anniversary of "SpongeBob SquarePants," Nickelodeon erected a larger-than-life booth experience within the convention center that replicated SpongeBob's hometown, Bikini Bottom. There, fans could check out life-sized replicas of The Krusty Krab restaurant, The Chum Bucket and Mrs. Puff's Boating School. Engagements included a burger-building contest featuring a leader board, a custom photo op, a sneak peek at an upcoming sneaker collaboration with Nike and a chance to purchase exclusive merchandise including t-shirts, socks, toys and even a '90s-era fanny pack. Agency: Viacom Velocity, New York City.

HBO
HBO's "Watchmen" is based on a 1959 graphic novel about nuclear physicist Jon Osterman, whose exposure to radioactivity transformed him into a "super-being" known as Dr. Manhattan. To tease the premier of its forthcoming series, the network gave fans the chance to transform themselves into Dr. Manhattan via augmented reality.
Blue augmented reality booths were placed across San Diego's Gaslamp Quarter, inviting fans to participate in the solo, two-minute experience. Before entering the booth, participants registered their name and email on an iPad, which fed their information through to the booth. When they stepped inside, a narrator offered a brief history of Dr. Manhattan, directed them to stand in a specific location to align with a large screen, then offered a countdown to their AR-fueled transformation. At the end of the experience, fans received their personal AR transformation via email. Agencies: Campfire, New York City (creative); The Mill, London (production).
When they said they could transform me into Dr Manhattan, I was hoping to keep the weight OFF #WatchmenHBO #SDCC @watchmen pic.twitter.com/U2WPAZWaII

— Darren Scott (@darren_scott) August 1, 2019
AMAZON PRIME VIDEO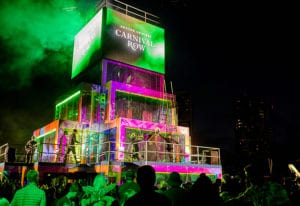 Never one to disappoint at fan conventions, Amazon Prime Video was back at it at SDCC with a 60,000-square-foot experience featuring themed activations promoting two of its new series, "The Boys" and "Carnival Row," and the fourth season of "The Expanse." Fans were invited to enlist in a UN peacekeeping mission inside a spaceship, cover up a superhero crime scene and indulge in a cabaret-themed "Forbidden Lounge" experience, among the series-themed touchpoints (there was also a controversial appearance from San Diego Mayor Kevin Faulconer at the "Carnival Row" experience). The focal point of the footprint was a glowing 40-foot tower that showcased a rotation of live performances and series content. And fans couldn't get enough of the action—wait times to enter the Amazon Prime Video Experience reached nearly three hours, with 3,000 people passing through the space each day.
If that weren't enough to satiate fans, Amazon additionally hosted a series-themed party each night. On July 18, the brand promoted "The Expanse" with cosmic cocktails and eats, a silent disco and cast member appearances. On July 19, cast members and the creators of "The Boys" joined fans for a two-episode sneak preview of the series. Fans also received foam middle finger props (a reference to the show's consistent use of a certain four-letter word). And on July 20, actors Orlando Bloom and Cara Delevingne, who play the lead characters in "Carnival Row," attended a screening party, where they appeared in cosplay and engaged fans. There were also drinks and a live dj.
In addition to the activations and parties, fans could cool offer under a tented awning and enjoy beverages and bites, including burgers from Carl's Jr., and check out the Cosplay Photography Corner where a lifestyle photographer was on hand taking professional portraits, which were offered as digital takeaways (nice). Agency: Tool of North America, Santa Monica, CA.
Featured photo courtesy: Fox