Inside three brand programs that captured the nuances of Gen Y
Clear as day, I remember sitting in sixth-grade English watching the teacher scrawl some kind of code across the blackboard with the image of a spider web drawn next to it. "It's called the World Wide Web," she said. In the years that followed, the convergence of technology and access—to information, other people, the world—happened so quickly and so seamlessly, it all became a big blur. You see, I'm a millennial, and by popular definition, I'm also a hyper-influencer and consummate narcissist who communicates via status updates, and has, by the time you've finished this sentence, snapped three or four selfies. Or have I?
Marketers are on to this enticing target (also known as Gen Y) with eagle eyes, as are researchers and writers, some of whom have recycled a few tried and true generational sentiments with buzz words like "entitlement" and "slacker." All of them are trying to home in on what exactly to expect from a generation that is just so connected. At 80-million strong, the millennial demographic is larger than the baby boomer generation, and spans ages 20 to 35, meaning two things: it's prime-time for these up-and-coming digital-savvy spenders, and, it's going to be easy for brands to miss the mark based on broad generalizations.
Here, we take a look at three brands whose programs capture some of the nuances of this demo, including venerable retailer Macy's full-on millennial mission; Just For Men, who's eyeing 20-somethings; and Hyundai, who's steadily building brand affinity among soon-to-be car buyers.
Hyundai
Automotive brands are poised to pounce on millennial car buyers who, while still outnumbered by car-buying Baby Boomers, today represent 40 percent of the nation's potential car buying population, according to "Gen Y in the Driver's Seat," a study by consulting firm Deloitte. The key word here is "potential," because people under 30 are buying cars at a slower rate than at almost any other time in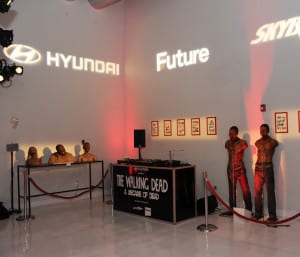 history, says David Matathia, director-marketing communications at Hyundai. Hyundai has decided to patiently wait it out with them, but be visible where it counts in the meantime.
Through an integrated partnership with AMC's "The Walking Dead" franchise, the brand positioned itself in front of this demographic both on- and off-screen. On-screen, fans of the series were familiar with the kiwi green Hyundai Tucson the characters in the series used for travel, escape and supplies-gathering missions amid a zombie apocalypse. Off-screen, the brand brought Comic-Con activations to life, including an entire event program called "The Walking Dead: A Decade of Dead," which honored the franchise through an activation at the Javits Center, a pop-up gallery and a documentary film project.
"When we first got involved with the show, we realized it was probably going to be a Gen Y male-skewing property, and that this was going to be an opportunity for us to make a good brand impression with these guys early on, so when, and if, the time came that they were ready to jump into the car market, that this could potentially put us up on the list by showing them that we shared a passion with them," Matathia says. "Obviously since then the audience has exploded, but that really is still the sweet spot."
At New York Comic-Con, Hyundai activated a two-story booth designed to look like a post-apocalyptic farmhouse. Inside, a special-effects makeup artist "zombified" attendees, who then took part in an interactive photo activation featuring the latest Hyundai Santa Fe Survival Machine (the brand has built several custom models). The machine's design was based off of a winning consumer-created machine configured on Hyundai's Chop Shop app, which allowed consumers to build their own version of a survival machine complete with tons of accessories, from weapons to armory (Future US, San Francisco, handled).
---
QUALITY, NOT QUANTITY: "The takeaway for brands is that the key to using social media effectively with this generation takes a lot more prowess than simply posting marketing messages or launching clever promotions. It needs to start with an understanding that the power of the platform doesn't radiate from what brands say about themselves, but what millennials say about brands to one another." —Concentric Marketing, "Everything you thought you knew about millennials might not be true," August 2013
---
A short walk from the convention center, at Pillar37, a gallery showcased original drawings and illustrations as well as artifacts and life-size displays of characters from the show. Each day visitors took home a different limited edition print signed by "The Walking Dead" comic illustrator Charlie Adlard. To boost media attention for the program, Hyundai and "The Walking Dead" comic writer and show creator Robert Kirkman (of Skybound comics) collaborated on a 20-minute documentary chronicling the evolution of the franchise. VIP guests and celebrities were invited to a special premiere at the gallery, where a 15-minute Q&A followed.
"This VIP experience was another way to continue this story and create another great piece of content and sort of look behind the curtain a little bit on how things came to be," Matathia says. "It's just another great extension and a way to fully surround this fan and this passion with our brand and the franchise."
Just For Men
There was a time when men weren't that comfortable discussing vanity and when Just For Men even sported the line "It looks so natural, no one can tell." Recently, however, Just For Men began targeting millennial guys because of research that showed most men tend to develop greys in facial hair younger than they do with the hair on their head. The brand knew that to reach this demographic, it needed to be digitally engaged through social media, something it hadn't really jumped into. Would men be comfortable having the fact that they "like" Just For Men appear in newsfeeds and profiles?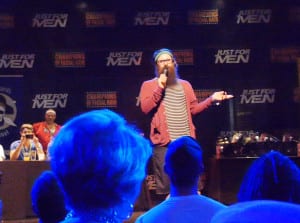 "My first instinct was they're not going to 'like' us," says Elisa Golim, marketing assistant for Just For Men at Combe International. "I was skeptical, but then suddenly we got more than 100,000 'likes' in just a week."
And it wasn't just millennial guys; it was their wives and girlfriends, too. In the world of social sharing, what might have one day been considered taboo is now just good social newsfeed fodder.
To promote the sponsorship and continue to boost the brand's social media presence, Just For Men signed on as title sponsor of the National Beard & Mustache Championship at the House of Blues in New Orleans. Hundreds of contestants with all kinds of beards, mustaches, goatees and muttonchops competed for prizes in 18 categories. To strike the right tone with millennials on social media, Just For Men partnered with Social Media Link of New York City to engage 2,000 members from its Smiley360 consumer advocacy database in the months leading up to the event. These influencers were charged with testing and talking about the product on their networks and encouraging friends to enter a Just For Men Facebook contest by uploading images to the hashtag #FacialHairChamp. The winner received special recognition at the championships. Throughout the day of the actual event, Just For Men hosted a live "Tweet Fest" with scavenger-hunt style photo upload requests and posted questions via Twitter.
The digital efforts combined generated close to 2,500 social posts and a 15 percent increase in share of voice for the brand. "This program was a fun way to lose the stigma and fear of grey hairs, to salute men with facial hair and the fact they make life interesting, and to let them know we're here to help," Golim says.
Macy's
Macy's estimates that millennials spend more than $65 billion on the kind of merchandise it sells. Recognizing this business potential, the brand launched a "strategic approach" which, in addition to experiential marketing efforts, included creating a new "open-concept" office space in NewYork City for an internal millennial team to work in, and bringing in 13 new millennial brands and expanding 11 existing millennial brands in stores. The retailer launched mBlog, featuring expert bloggers that highlight fashion advice and events to millennials.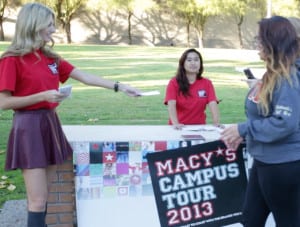 Macy's also added partnerships with hit television series such as ABC Family's "Pretty Little Liars," and has aligned with music acts through Macy's iHeartRadio Rising Star competition, in addition to curating live style-setter events, such as Teen Vogue's Back-to-School Saturday. Needless to say, this retailer's been busy.
It has been a commonly held belief that college-age millennials are brand agnostic and just want to live, and shop, online. But new research by CPG firm Concentric Marketing says brand loyalty "seems to be alive and well among college students," with nearly half reporting they stick to brands that they know and trust. And while millennials research purchases to death online, they still value live shopping experiences.
Macy's, through its College Campus Invasion program tackled these behaviors head on. Managed and promoted by paid student brand ambassadors, the Campus Invasion tour tapped into the power of peer influence and word-of-mouth. This mobile pop-up experience traveled in a custom-fabricated gooseneck trailer and branded tent. On-site, consumers could check out new season style lines (including a trailer entirely devoted to denim), and learn more about Macy's mobile app and digital offerings through iPads and extra-large touchscreens. Other experiences included a photo share with branded digital framing, after which consumers were invited to spin for various gift cards (Fluent Group, Boston, handled).
"Part of being relevant to the millennial consumer is being where they are with content that is interesting and engaging," says Holly Thomas, vp-national media relations and cause marketing. "Knowing that it isn't always easy for college students to find their way to our stores… we decided to bring some of the fashion and excitement from our stores directly to them."
The Macy's mobile app is part of a larger effort to engage millennials with new ways to shop.
And if there's one thing that's certain about a millennial: the way to their heart requires multiple routes—including the World Wide Web.
*This article was originally published in 2014 and is updated periodically
See also:
• Why Spotify's Weekly Election Events Registered With Millennials
• B-to-B Events: Six Ways to Engage Millenials
• Millennials: PCMA Connects With a New Generation of Attendees