Recognizing the best use of design, social media and event technology to enhance live experiences
Hey Hollywood, you've got some competition.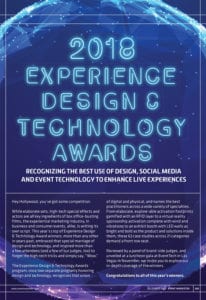 While elaborate sets, high-tech special effects and actors are all key ingredients of box office-busting films, the experiential marketing industry, in business and consumer events, alike, is writing its own script. This year's crop of Experience Design & Technology Award winners, more than any other in years past, embraced that special marriage of design and technology, and inspired more than a few attendees (and a few of our judges, too) to forget the high-tech tricks and simply say, "Wow."
The Experience Design & Technology Awards program, once two separate programs honoring design and technology, recognizes that union of digital and physical, and names the best practitioners across a wide variety of specialties. From elaborate, explore-able activation footprints gamified with an RFID layer to a virtual reality sponsorship activation complete with wind and vibrations to an exhibit booth with LED walls as bright and bold as the product and solutions inside them, these 63 case studies across 21 categories demand a front row seat.
Reviewed by a panel of brand-side judges, and unveiled at a luncheon gala at EventTech in Las Vegas in November, we invite you to explore our in-depth coverage of the winners.
Congratulations to all of this year's winners.