Last year may have marked the post-pandemic return of Coachella, but 2023 signaled its renaissance. Throngs of creators and music fans—and the brands hoping to engage with them—flooded the festival grounds at the Empire Polo Club in Indio, CA, during both weekends of the 22nd annual Coachella Valley Music and Arts Festival, April 14-16 and 21-23, effectively kicking off the summer festival season with a bang. While there were widespread reports of technical sound difficulties and a general consensus that the event has reached influencer overload, sponsors were largely able to bypass the gripes and deliver memorable experiences for the trendy young consumers in attendance, which this year totaled roughly 250,000 over both weekends.
Across the bougainvillea-filled festival property, and several off-site luxury estates, Coachella 2023 brands offered striking photo and video moments, lavish sampling spaces, art installations, curated culinary activations and cutting-edge technology experiences, all designed to cut through the clutter and inspire social amplification. The majority of activations took place on-site, but a handful of brands also crafted programming to connect with fans at home (look no further than Coachella Island in Fortnite, which allowed players to virtually experience the festival, or the return of Absolut.Land). Now, ready to see how sponsors struck a chord? Let's raise the curtain.
---
More Festival Coverage:
---
ADIDAS
When the news arrived that Bad Bunny would be the first solo Latin artist to headline Coachella, adidas teamed up with the rapper to develop a "Campus" experience inside a spring-inspired activation space where it launched the Campus Wild Moss sneaker, a new collab from the brand and Bad Bunny. The pop-up greenhouse was covered in more than 50,000 flowers, while a giant Bad Bunny logo served as the venue entrance, providing plenty of fuel for photo moments. Festivalgoers who made it inside the space had first dibs on purchasing a pair of Wild Moss kicks before the general public. To boot, those lucky enough to have spotted adidas' roving, moss-covered truck before the official start of Coachella had the chance to snag one of the first of 50 early-release pairs. (Agency: Corso Marketing Group)
ADIDAS X COACHELLA 🐰🎡🔥 pic.twitter.com/yM6cKNkhd0

— ❀ BadBunnyTour ❀ (@tourbadbunny) April 11, 2023
---
AMERICAN EXPRESS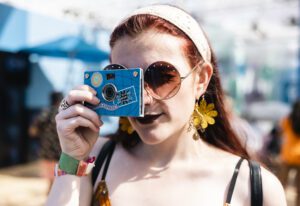 Tailoring benefits to meet the needs of Gen Zers is at the top of American Express's priority list, with Gen Z and millennials accounting for 60 percent of new cardmember applications in 2022. So to satisfy Gen Z's penchant for experiences that revive past trends, the brand welcomed festivalgoers inside a "newstalgic" activation space built to cater to the demo's desire for authentic points of nostalgia. The Y2K-inspired "emporium" and photo lab invited festivalgoers to rent or buy an eco-friendly digital point-and-shoot camera from Paper Shoot, and snap and share vintage-style photos. As a bonus, Amex cardmembers had the option to print their photos onto a limited-edition Coachella tote bag to take home as a custom souvenir.
To continue its tradition of partnering with headliners, Amex also teamed up with BLACKPINK to offer cardmembers exclusive artist merch not sold anywhere else on the festival grounds. Plus, within the official BLACKPINK merch tent on both Saturdays of the festival, customers enjoyed their own fast lane to gain quick access to the goods and received a complimentary gift when they made a purchase with their Amex card.
Additional access and benefits for American Express cardmembers included complimentary bracelets made by small-business partner Little Words Project for Platinum customers; access to fast-tracked lines at the main merchandised tents during merch happy hours; a free ride on the iconic Coachella Ferris wheel; and, for the first time ever, the opportunity to purchase official Coachella merchandise at the Kimpton Hotel before and after the festival. (Agency: Momentum Worldwide)
Photo credit: AP Images for American Express
---
APEROL SPRITZ
Festivalgoers were invited to "join the vibe" at the Aperol Spritz Piazza, a vibrant, Italian-inspired oasis that marked Aperol's experiential debut at Coachella and the launch of a summer-long festival activation circuit. Among orange-drenched touchpoints were myriad photo ops, like a glowing, neon sunbeam vignette; an Aperol Tram installation designed to resemble a modern Italian city streetcar; a kiosk where attendees could test their knowledge of Italy and Aperol via a digital trivia game; an interactive photo moment in the "Orange Photo Dome" featuring a slow-motion camera; and brand ambassadors on hand to educate consumers on the nuances of creating the perfect Aperol Spritz cocktail. (Agency: Swell)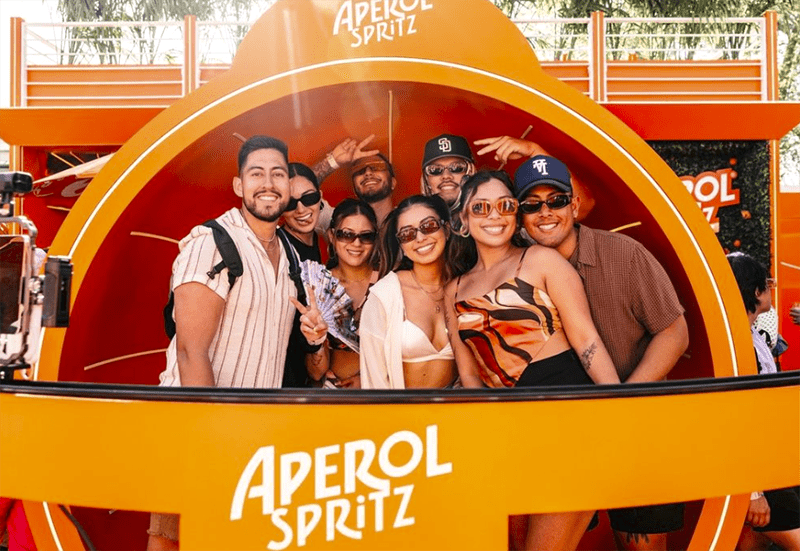 Photo credit: Aperol
---
CLINIQUE
For the first time, Clinique activated in Coachella Valley with its Hydration House, open April 14-16, to keep festivalgoers' skin moisturized under the blazing sun. Kicking off Clinique's "Protect your Glow" campaign, which highlights the brand's Moisture Surge products, the outdoor pop-up included a pool party, skincare-inspired installations, photo ops, a glow bar and dj beats by Coco & Breezy, DJ Tay James and Brittany Sky.
Attendees entered the activation through silver beads hanging from a branded archway and picked up specially designed reusable metal water bottles, towels and tote bags. A customization station allowed attendees to add two icon designs to their bottle along with their initials. A fruit-infused water bar with five options, from grapefruit to rose water, kept attendees hydrated, and they could get their makeup touched up by Clinique professionals before posing with art installations, featuring peach and silver stacked spheres and hanging mirrored letters: "This place about to glow." Moisture Surge samples were placed all around the activation in giant tubs and at the bar to promote reapplication of SPF.
Clinique also served as the exclusive skincare sponsor for the Day Club Palm Springs pool party series during both weekends of Coachella. The ticketed event featured a moisture bar, gifting stations and photo moments.
---
COCA-COLA
Coca-Cola was the master behind Coachella's first-ever 360-degree performance featuring a virtual pop star, Yameii Online. In a soundproof space, attendees explored the futuristic experience across high-res LED screens that invited them to step into Coke's world of "Real Magic." Before entering, festivalgoers scanned their phones at a dedicated NFC-enabled podium to receive the URL for the AR-powered experience on their smartphones. Once inside, a brief tutorial appeared on their phones and prepared them for the start of the performance. Then, when the music video began, users point their phones at various AR markers, which included watching Yameii Online characters and 3D Coca-Cola branding elements come to life. Before exiting the experience, the LED screens displayed a custom Coca-Cola x Yameii Online step-and-repeat to keep the groove going. (Agencies: VIRTUE, lead agency; Tool, creative production; Niantic 8th Wall, WebAR technology)
Video credit: Coca-Cola
---
CAP'N CRUNCH
Cap'n Crunch cruised into Coachella on April 15 to celebrate his 60th birthday with a quirky birthday bash at the Lone Palm Pool at Margaritaville Resort Palm Springs. Fans over the age of 21 were invited to dig into a "Crunch-centric" menu that encompassed everything from breakfast corndogs to Cap'n Crunch-encrusted chicken and waffles, all curated by event host, musician and actress Reneé Rapp, who also performed at the event. Opening up for Rapp was DJ PEE .WEE (a.k.a. Anderson .Paak) who played a nostalgic, all-vinyl set aboard the "Shipwrecked Stage," which was modeled after the Cap'n's own S.S. Guppy. Attendees also had a chance to sip drinks at the Galley Bar, update their outfits in a "customization cabana," have their faces painted, partake in photo ops and games, enjoy experiential art installations and peruse merchandise released exclusively for the brand's 60th anniversary. The Cap'n himself, of course, also made an appearance.
View this post on Instagram
---
EVIAN
With temperatures reaching the low-90s across both weekends, festivalgoers were encouraged to stay hydrated, particularly by evian, which introduced Club Hydration at TAO Desert Nights, an after-hours invite-only party. The mountain-themed activation focused on the brand's first non-flavored sparkling carbonated natural spring water, transporting attendees to the French Alps through a pop-up bar that highlighted evian water's natural minerals from Alpine glacier rocks. The entire footprint was surrounded by blue-toned walls cut out into mountain ranges outlined in pink neon lights.
Inside, circular ottomans covered in sequined pillows and white bar tables lit from within were available for attendees to gather around while enjoying signature cocktails crafted with Sparkling carbonated water, including the Alpine Spritz and Peaks Paloma. The bar's mountain peak backdrop featured shelves of shiny evian bottles and the centerpiece evian Club Hydration logo in blue neon lights. Attendees could take home Club Hydration-branded pink bandanas as they departed the space. (Agencies: HUNTER; All Valley Yacht Club)
Photo credit: Madison Voelkel
---
KETEL ONE
Ketel One Botanical invoked the warm summer days and "spritz season" ahead at its private Spritz Oasis event on April 15 in Palm Springs, where attendees could lounge, listen to a dj spin tunes and indulge in cocktails inspired by the brand's three varietals, Peach & Orange Blossom, Grapefruit & Rose and Cucumber & Mint, which were also promoted via colorful kiosks.
In addition to the VIPs in attendance were a sweepstakes winner and three friends, whom Ketel One provided with an over-the-top "homestay" inside the eight-bedroom, six-bathroom residence, as well as round trip air travel and VIP Coachella tickets. The "spritzified" house offered everything the guests might need along their festival journey, like transportation to and from the event all weekend and in-house offerings from brands like Drybar and Vacation. Meanwhile, the estate was theirs for the taking, whether it be swimming in the grotto-style saltwater pool, chipping away at the putting green or whipping up a meal in the custom outdoor kitchen.
For sweepstakes entrants who didn't score the grand prize, Ketel One Botanical dished out $200 gift cards to 25 first-prize winners redeemable for an upcoming event or concert of their choosing. Meanwhile, 50 second-prize winners received a Ketel One Botanical Spritz festival kit that featured items like a portable outdoor speaker, acrylic glassware and ice molds. (Agency: Bullfrog + Baum)
Photo credit: Presley Ann/Getty Images for Ketel One
---
KIM CRAWFORD
Kim Crawford, the Official Wine of Coachella, invited festivalgoers to relax in its Wine Down Oasis, where greenery and elegant pops of gold set the scene. The experience included a bar serving different varietals, a fill-in-the-blank installation that invited attendees to share answers to prompts like "_____ made today amazing," photo backdrops, a photo booth and "Amazingly You" messaging. (Agency: VIBRANT Marketing)
---
LOVE BEAUTY AND PLANET
Unilever's vegan haircare brand, Love Beauty and Planet (LBP), provided a much-needed service for consumers battling the desert heat: scented misting tents stationed at luxury venues The Saguaro Palm Springs, Margaritaville Resort and Renaissance Esmeralda Resort & Spa from April 14-16. Throughout the weekend, the brand provided shuttle service between the hotels and the festival grounds inside branded party buses brimming with flowers. Accordingly, the tents were designed as sensorial touch-up stations for festivalgoers awaiting transportation. Each tent pumped out a scent derived from the natural ingredients in LBP's signature scent collections—Coconut Water & Mimosa Flower, Murumuru Butter & Rose and Vegan Keratin & Sun-Kissed Mandarin—and featured a design aesthetic to match.
In addition to cooling off and freshening up, attendees could grab goodies to stay fresh throughout the festival, like scrunchies, branded fanny packs, Liquid I.V. packets, hand fans and, naturally, shampoo and conditioner samples. And for influencers staying at one of the three resorts, LBP arranged room drops of curated gift bags packed with eco-friendly items including beauty samples, custom-embroidered bathrobes, makeup kits and reusable water bottles. (Agencies: MKG, lead agency; Edelman)
Photo credit: Love Beauty and Planet
---
NEON CARNIVAL
Although not officially affiliated with the broader event, the annual Neon Carnival mini-festival consistently attracts major sponsor activations, and Coachella 2023 was no different. The invite-only event for celebrity A-listers, hosted this year on April 15, was presented by Levi's, which brought in its famous branded Ferris wheel, and Don Julio, which mixed cocktails inside an Airstream "speakeasy." Meanwhile, Liquid I.V. brought a bumper car installation, and Smirnoff served up carnival-style games, a ball pit and neon-lit fridges filled with cans of Smirnoff ICE Neon Lemonades. Sponsors including Topo Chico, Path Water and Ghost Energy also brought experiential touchpoints to the event. (Neon Carnival Agencies: Bolthouse Productions; Best Events)
View this post on Instagram
---
NEUTROGENA
Neutrogena made a splash during its debut as Coachella's Official Skin and Sun Care sponsor with branded sunscreen dispensers sprinkled across the festival property that ultimately distributed more than 1,700 fluid ounces of sunscreen in the first weekend alone. Beyond the dispensers, Neutrogena activated a three-pronged Skin's Vital Experience designed to educate consumers on protecting their skin in harsh outdoor environments, like the one Coachella takes place in.
Attendees explored three sensory-driven zones: Dynamic Barrier, to experience the skin's first line of defense; Cellular Activity, to experience the skin's electrical currents and natural energy; and Inner Core, to boost the skin's vitals using Neutrogena's array of products. Every touchpoint was crafted to reinforce the brand's "point of difference" and demonstrate how its products make a difference at outdoor events like Coachella. (Agency: Jack Morton Worldwide)
Photo credit: Francis Specker/AP Images for Neutrogena
---
NYLON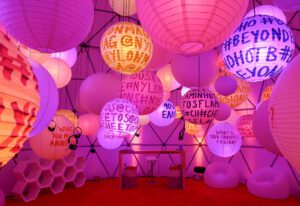 Celebrities invaded the galactic-themed NYLON House, presented by Samsung Galaxy, on April 14, kicking off the first day of Coachella. Alessandra Ambrosio, Jaden Smith, Yara Shahidi, Teyana Taylor and Bella Thorne were among the invited guests who danced under the desert's night sky to beats from well-known and up-and-coming djs, including a headlining set with Alesso, sponsored by Patrón, as well as a set with Carlita who was joined by Diplo.
In addition to creating an upbeat music atmosphere, NYLON House was designed as an extraterrestrial planet of pop culture with art installations and experiences promoting freedom and expression. NYLON House featured individual activations that spotlighted its partners Göt2b, SHEGLAM, Mugler and Toyota, with the new Prius on display out front.
Göt2b refreshed hair looks inside a domed galactic-glam styling bar decked out in jewel-toned tinsel fringe, disco balls and neon signs. Participants could sit at one of several mirror stations set up around a circular island that was equipped with plenty of hair sprays, styling gels, hair clips and hair dye samples. SHEGLAM was also on-site to help attendees amp up or touch up their festival makeup inside a separate rainbow-themed dome. The ceiling was completely covered by psychedelic-patterned balloons, and the floor was made up of a grid of brightly lit multicolor 3D squares. Festivalgoers could sample lip, eye and face products displayed on a round glass table at the center of the space.
Mugler introduced partygoers to its new Angel Elixir fragrance at its open-air footprint with two stations to try the perfume. Two lit tunnels on both ends of the space offered a cool mirrored photo op. Performers in front of the activation kept attendees entertained with twirling tricks and dancing. An installation by Media Pollution brought the Samsung Galaxy S23 Ultra to life, with an opportunity to test out "nightography." Lastly, NYLON collaborated with P.E Nation on a sweatshirt party favor for attendees, and a special PATRÓN EL ALTO-branded VIP area offered tables for purchase.
Photo credit: Shutterstock for BDG
---
POSTMATES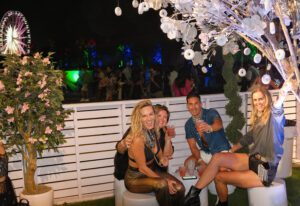 For its third year partnering with Coachella, food delivery service Postmates turned up the heat with a garden-inspired footprint themed around its chief offering: tasty treats. Across both weekends of the festival, April 14-16 and 21-23, the Postmates ReTreat served as the first branded, open-air experience to be featured within the event's VIP area. The space featured premium culinary items for purchase, a luxe dining area and lounge, a complimentary hydration station and, of course, plenty of photo moments, including a "donut tree." Read the full activation recap here. (Agencies: Dorothy, experiential; Parker|Phoenix, p.r.)
Photo credit: Postmates
---
SAINT JAMES ICED TEA
Revolve Festival, the annual mini-festival and influencer playground put on by fashion retailer Revolve, returned for its sixth year during Coachella's first weekend for two days of entertainment, beauty and lifestyle experiences, as well as performances from popular djs and artists. Serving as one of the event's official brand sponsors, Saint James Iced Tea set up a hydration and wellness garden lounge station for attendees to cool off, recharge and taste the brand's line of organic ready-to-drink teas. The beverage company incorporated the signature striped design from its drink packaging into the space and brought in several floral arrangements and mushroom props to create a photo backdrop. Saint James Iced Tea also sought to share its sustainability messaging and partnered with influencers: Alesia Carter, Ludi Delfino and Clinton Moxam.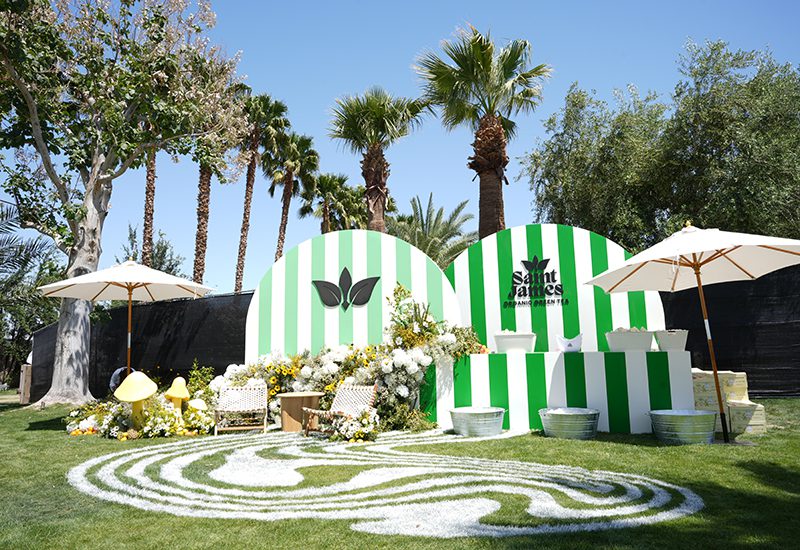 Photo credit: Gonzalo Marroquin/Getty Images for REVOLVE
---
TAO GROUP HOSPITALITY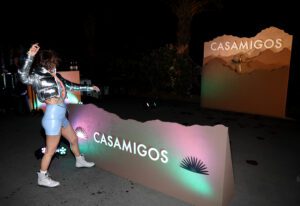 The exclusive annual TAO Desert Nights event, presented this year on April 14 by pre-roll cannabis brand Jeeter, took place at the ritzy Zenyara estate, just a few miles from the Empire Polo Club. In addition to dj sets and artist performances, the affair included a range of brand experiences. Among them: an after-hours glam bar and photo booth activation from Urban Outfitters and FujiFilm; curated late-night snack stations from Kraft Heinz brands and Philadelphia; a photo-worthy bar, logo installation and custom cocktails from Casamigos; and a Red Bull skydiving team stunt that saw two brand partners take the plunge, then skim across the water and onto the shores at Zenyara.
As lead sponsor, Jeeter had a significant experiential presence. The brand aimed to transport attendees to a "higher" place inspired by Ancient Egypt, and offered boat tours on the property's interior lagoon and a "Pyramids of Jeeter" lounge where consumers could light up. The brand additionally executed a dazzling, 500-drone light show in the sky. (Agency: Corso Marketing Group)
Photo credit: Jerritt Clark/Getty Images for Casamigos
---
YOUTUBE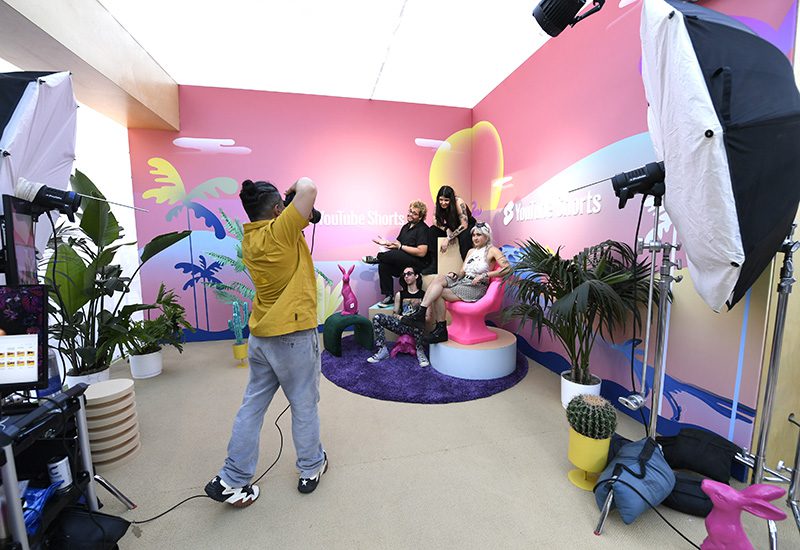 As the exclusive livestream partner for Coachella across both weekends, YouTube hosted three studio setups for content creation under its YouTube Shorts brand. Artists, creators and influencers used the activation as a stage to create Coachella-themed content, incorporating its desert color schemes of sunset pinks, purples, midnight blues and yellows. Each studio was decorated to serve as a backdrop, and the sets were built to be mobile and customizable with modular backgrounds and interchangeable props to create vibrant vignettes. (Agency: MAS)
Photo credit: Timothy Norris/Getty Images for YouTube
---
THE ZOE REPORT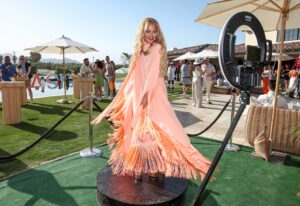 Back for its seventh year, The Zoe Report's ZOEasis hosted a midday desert oasis celebration on April 15 to engage festivalgoers with style, beauty and wellness content and brands. Of course, founder Rachel Zoe was in attendance, along with artists, models and influencers who were invited to enjoy an exclusive set by dj Pamela Tick, take photos by a giant ombre ZOEasis free-standing letter sign in front of palm trees and clear blue water, and try products from Sephora, European Wax Center, Cotton, GXVE Beauty and The Kacey Welch Method.
At Sephora's "Spritz on a Vibe Shift" perfume activation, attendees could discover the color of their aura and test a variety of scents displayed on a large white table adorned with reflecting gold surfaces and crystal blocks and spheres. Once participants found their fragrance, they'd mist it onto a friendship bracelet, each embroidered with words like "harmony," "love," "create" and "fearless." They could then take the bracelet to the poet on hand to inspire a custom poem written in real time.
European Wax Center's brow party brought a team of experts to style attendees' brows from a selection of elevated, pearl or galactic brows—looks that fit right into the Coachella scene. After styling, participants took selfies in front of mirrors with "Looking Good" or "Nice Brows" text across the top and the space's pink metallic puffy backdrop.
Participants had the chance to step into Rachel Zoe's Cotton Closet and explore festival-ready cotton looks that were all shoppable within The Festival Cotton Shop on TheZoeReport.com. Through a partnership with Rachel Miriam, attendees could customize the closet's limited-edition cotton t-shirts provided by Bella + Canvas with phrases, initials or words. They also came away with a cotton gift bag full of accessories from Rachel Zoe's subscription service CURATEUR.
Photo credit: Shutterstock for BDG
Featured photo credit: Dan Steinberg/AP Images for American Express