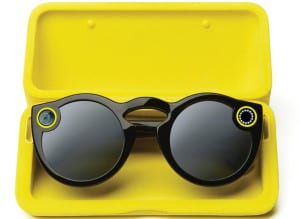 If experiential marketing is about creating lasting memories, then Spectacles are the modern event marketer's new best friend. The smart glasses, released last fall, were developed by Snap (formerly Snapchat) for Android and iOS devices to give Snapchat users new ways to capture and share content on the popular social media platform. Designed to look like a colorful pair of shades, each device is equipped with a camera featuring a 115-degree wide-angle lens that allows its wearer to create circular video that mimics how the human eye views its environment. Unique user-generated content? Check.
Unlike other wearables, learning how to use Spectacles is, well, a snap. The wearer simply presses a button on the temple of the glasses and a 10-second video is automatically recorded (users can tap the same button two or three times to record 20- or 30-second snaps). Users with Android phones can sync the footage to the Snapchat app over Wi-Fi, while snaps recorded with iPhones will transfer through the Spectacles' Bluetooth connection or Wi-Fi. In either case, the user doesn't have to worry about losing data, as the devices store up to 10 videos at a time. Footage for the day is gathered into a Snapchat Story, which can be exported by individual snaps, or as a whole.
Scoring a pair of Spectacles is a little trickier. Limited quantities are available online. However, those who want to snag a pair in person will have to track down one of the brand's Snapbots, bright yellow vending machines that travel to locations across the United States and Europe (we just spotted one at the Grove in L.A. this June).
Priced at $130 a pop, the devices offer brands a fairly inexpensive way to leverage hot technology at their events without breaking the bank. Syfy, for one, was an early adopter of Spectacles, incorporating the glasses into its Hall of Magicians activation, a 20,000-square-foot experience that ran earlier this year in Brooklyn, NY, and was designed to promote the second season of its hit series "The Magicians" (Mash Studio, Brooklyn, NY, handled).
"The Spectacles were just a perfect and easy way for our guests to be able to document their experience in the Hall, which was a very sensory, visually driven experience," says Colleen Mohan, svp-brand marketing for Syfy at NBC Universal. "They didn't have to think about pulling out their phone; they just wore the glasses."
With more and more brands jumping on the Spectacles bandwagon, it may only be a matter of time before the devices become a permanent part of the event marketer's toolkit. Here's a look at three tips for implementing the hip wearables at your next event.
1. TELL A GREAT STORY
Unlike camera phones, Spectacles' distinctive first person point of view gives viewers a sense of presence in the scene, making the content more compelling, approachable and, if done right, memorable—key components of great storytelling. Equip your attendees with Spectacles and let them spread the word by broadcasting personalized versions of the experience. Bonus: When viewed in the Snapchat app, Spectacles footage lets the viewer rotate their phone while retaining the same image, regardless of the phone's orientation. That means the full range of the circular lens—and the experience—is captured.
Another critical thing to remember? Show your hands. It may sound silly, but in order to differentiate standard camera phone content from Spectacles' footage, showing your hands on the screen is key to capturing that unique, first-person point of view.
2. LET THE INFLUENCERS PLAY
Several companies have let their event influencers run wild with Spectacles, offering digital fans exclusive content and access to their favorite celebrities, and giving the brand a little more bang for its tastemaker buck. Toyota took the approach in February at its "The Night That Flows" influencer event. The brand equipped 100 key lifestyle and media influencers with Spectacles, who then sported the devices inside the Toyota C-HR, offering fans a rare view from the driver's seat of the new vehicle.
Syfy also leveraged the tactic for its Hall of Magicians activation, loaning out Spectacles to influencers in addition to regular guests. "Even all of our talent put on the Spectacles and had so much fun with them," says Mohan. "You can look straight forward. You can roll your head up and down. I think the experimentation of everything and what you can capture is really fun to watch."
3. FOCUS ON THE PHYSICAL 
Spectacles don't just offer a fun way to capture digital content; they provide an opportunity to enhance the on-site experience, too. Like candy brand Trolli's "Beardsketball" activation, which targeted tech-savvy Gen Z consumers (Periscope, Minneapolis, MN, handled). The experience gave hoops fans a chance to shoot towards a digital backdrop featuring NBA star James Harden's famous beard. Spectacles created an additional layer of engagement.
"The focus and the spotlight is all on that one fan while they're interacting and having their moment," says Jill Manchester, svp-brand and marketing strategy at Ferrara Candy Co. "Then we allow them to capture that on Spectacles."
With virtually no learning curve and plenty of room for creativity, Spectacles have significant potential in the event space, says Syfy's Mohan. "It was just so seamless and simple. As we know, in the event business, simple always works."
See also:
• Six Tips for Making Event Content More Instagrammable
This story appeared in the July 2017 issue