From permits to sampling regulations, four tips for making your beach event a shore thing
Ahhh… beach season. After a particularly harsh winter, it's finally time to start arranging for a little fun in the sun. But like any live experience, event marketers can't rely on surrounding scenery to deliver an impactful event. When it comes to beach sampling activations—from permit requirements, to location logistics, to efficiently distributing products—there's no shortage of moving parts to be prepared for. Planning early is paramount and determining which location makes the most sense requires an acute understanding of market nuances. To get a better handle on what it takes to build a successful beach experience in the U.S., we asked industry pros to weigh in on how brands can best connect with consumers while soaking up some rays.
1. Follow the Rules
Regardless of which beach a brand chooses to activate on, obtaining the appropriate permits and understanding how to play by the rules is critical. Regulations can range from the prohibition of glass containers, to the exclusion of products that compete with area businesses, to policies aimed at protecting wildlife. And if you're planning on creating a physical structure to highlight your staging area, chances are you'll need certified engineering plans stamped for that particular state, along with a state-licensed vendor to complete the build.
The entities that institute these regulations also vary by location and may include the state, county, town, beach, police department or all of the above. And beware of the nomenclature: Permits for sampling activity may fall under a variety of names such as a temporary sampling, solicitor's permit, peddler's permit, special event or event permit.
Waste management may also be a concern. Ideally, samples are consumable immediately and do not generate waste. If that's not the case, plan to remove and dispose of any sample packaging before the product even reaches the consumer to ensure adherence to sanitation regulations.
2. Time Your Engagement 
Choosing the best location for the activation is also crucial—and a lot trickier than you might think. Some beaches prohibit sampling altogether, while others allow brands to activate solely on piers or boardwalks but not on the beach itself. In any case, it's crucial to choose a site where you will have the ability to create meaningful conversations with consumers without being intrusive.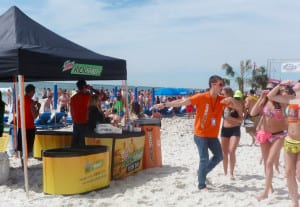 It's important to recognize that most consumers go to the beach to relax and won't appreciate being marketed to when they're lying down catching some rays or taking a dip in the ocean. Catching them en route to or from another location, such as a nearby restaurant, is the perfect opportunity to approach beachgoers in a neutral setting.
"We want to be able to engage [consumers] as they're either coming to the beach from the restrooms or one of the local establishments," says Brian Gass, partner at Sandbox Marketing. "That's really what we look for—that launch pad for the touchpoint. If you don't have that, it just doesn't make any sense."
Once the staging area is established, it's important to make the most of your consumer engagement. People at the beach are there for recreation, meaning they have disposable time. Take advantage of it by thinking about ways to increase your dwell time with them.
3. Consider a Sponsorship
If you run into a roadblock with your activation—such as a beach that only allows sampling for special events—another viable option is tapping into a more established live event. There may be fewer opportunities to incorporate on-site branding, but large-scale events already have the necessary permits, and a hefty built-in audience to boot.
Although Jason Colvin, senior manager-venues and sponsorships at RedPeg Marketing,  advises doing research on the cost benefit of linking to a larger event as well as the demographic that will be in attendance before committing, the strategy is likely to eliminate a number of organizational hurdles.
4. Go Where the Kids Go
Whether you're planning to create a beach sampling activation in the summer, on spring break or anywhere in between, following consumer trends will often lead to the most popular beach destinations—and the biggest crowds.
"We follow the trends of the students," says Richard Tarzian, president and ceo of spring break specialists, The Passion Group. "So if they were to wake up tomorrow morning and decide there's no reason to be in Ft. Lauderdale or Panama City Beach or South Padre [Island], and they plant a new flag in a new city, we look to create venue relationships based on where those trends go. We base it on the students' behavior patterns."
While the most popular U.S. beaches shift from year to year, experts say there are a handful of locations that frequently lead the pack. Those destinations include Huntington Beach, CA; Manhattan Beach, CA; Venice Beach, CA; South Beach, FL; Miami Beach, FL; Asbury Park, NJ; Jones Beach, NY and Myrtle Beach, VA. According to a 2012 study of the most crowded U.S. beaches conducted by the U.S. Life Saving Association, Coney Island, NY; Newport Beach, CA and Daytona Beach, FL are also frontrunners.
Ultimately, beach sampling has the potential to be a fun and cost effective way to reach the masses. With a lot of planning and a little luck, brands have the opportunity to provide consumers with a seamless live experience. Just remember to play by the rules—and don't forget the sunscreen.

*This article was originally published in 2015 and is updated periodically
See also:
• Three Tips for Executing Beach Activations
• Nine Ways to Make Your Sampling Strategy Sizzle
• Trolli Sweetens Spring Break on the Weirdly Slothsome Slurpee Truck Tour
This story appeared in the August 2015 issue