How Booze Brands are Raising the Bar Amid a Cluttered Category
When it comes to rockin' events, it's hard to get more creative than alcoholic beverage activations. The category is a competitive one, with beer brands, distilled spirits and wineries all chasing after that elusive and fickle millennial target that everyone is pursuing. As a result, booze-inspired events have to be special to get their attention. Following is a taste of the tactics used by the best alcohol brands of the bunch, from industry giants Budweiser and Jack Daniel's to craft beer brands and liquor producers, to bring new drinkers into the fold and retain their loyal fans.
1. The Speakeasy
The speakeasy has appealed to alcohol aficionados since the prohibition era, when hidden bars behind unmarked doors in back alleys offered a way to circumvent the dry laws governing its consumption to a select, invited few. Now, speakeasies are popping up at event activations where their aura of mystery and appeal, and free booze, is a turn-on for attendees. The concept is a natural tie-in for liquor brands such as Dos Equis, which recently took the speakeasy to a whole new level.
The Mexican beer brand is perhaps best known for its Most Interesting Man and the masquerade parties it has activated in the fall for the past four years. Last year's masquerade, however, featured a Little Speakeasy that transported attendees to a world populated with little people. In contrast to the masquerade ballroom, everything in the Little Speakeasy was scaled at 7/12th its original size, including a mini-bar and mini-furniture, right down to the seven-ounce mini bottles of Dos Equis that were served. People had to hunch down to make it into the space, which was guarded by a seven-foot-tall bouncer at the door. Once inside, people could dance with a little person under a mini-chandelier or listen to music played on the mini-piano. The Little Speakeasy was part of a strategy to create different "nooks" within the masquerade where people could roam and experience the brand on their own (Agency: Mirrorball, New York City).
2. Culinary Creations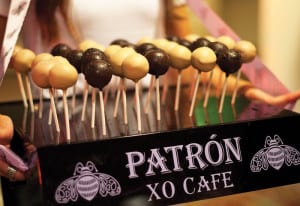 Patrón has raised the bar when it comes to sampling events. In addition to cocktails made from its ultra premium tequila, it tantalizes taste buds with Patrón-infused truffles, Mocha Patrón XO Café Macaroons and other luscious baked goods. "We like to surprise and delight with unique combinations that people wouldn't ordinarily experience," says Pam Dzierzanowski, vp-event marketing at Patrón Spirits. Dzierzanowski has worked with a chocolatier to create new concoctions, and people line up to experience its Muddle Your Mojito stations, where they pick fresh fruit from a tray, then muddle it, which means "smash" in liquor lingo, one-on-one with a bartender. Besides the mojito, participants get to take home the muddler, custom-engraved with whatever they would like.
3. Sensory Experiences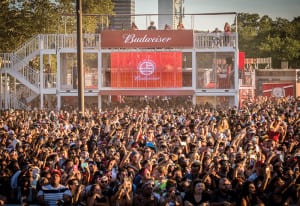 Budweiser's Made in America festival in Philadelphia involved all five senses. First, there was the hip-hop and indie rock emanating from the concert stage (music is a key part of Budweiser's brand DNA and a passion point for its fans). But in the fourth iteration of the festival, the 48-foot Budweiser Brewmaster Tour trailer engaged the fans' other four senses as Budweiser brewmasters took them step-by step through the 30-day brewing process. Guests got to see, touch and smell the hops, barley, yeast and rice, then "feel" the brewery environment during the aging and finishing stages in a temperature-controlled cool room. The experience ended with a cold, refreshing taste of Bud in custom BMIA Philly cups, straight from a scaled-down finishing tank (Agencies: Cornerstone and Anamoly, both New York City; Big Shoulders, Chicago; FreemanXP, Dallas).
4. Local Flavor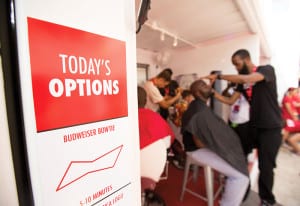 Although music is the biggest draw at its Made in America festival, Budweiser realizes that people attend for more than the tunes. "They go for the overall experience and to create memories with their friends," says Brian Perkins, vp at Budweiser. Several local touches incorporated into the on-site Budweiser Signature Room helped the brand deliver on that goal. Main Street Music, a local Philly vinyl shop, sold carefully curated vinyl records to attendees. Locally based barbershop Hand of Precision provided fresh cuts, shaves and bow-tie designs. Other activities included a tattoo parlor, where attendees received temporary gold- and red-hued Bud Flash Tats, and two original Tapper arcade machines where consumers could test out their bartending skills. Each player had to serve eager, thirsty patrons before their patience expired. A large chalkboard paint wall kept track of the day's high scores.
5. Retro Cool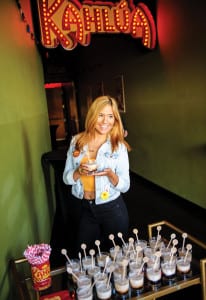 Kahlua's Cult Film Nights are a way to introduce its rum to 25- to 35-year-old consumers who drink to connect, relax and unwind with friends. For one month, the brand invited groups of 100 to 150 of these consumers to movie nights held at small, two- or three-screen movie theaters where it showed cult films that tied in with the location, such as "Talledega Nights" in Nashville and "Fargo" in Minneapolis. "These cult films have stood the test of time, and we wanted to showcase Kahlua as a classic companion to these classic films," says Ashley Schachner, director of events and sponsorships for spirits marketing at Pernod-Ricard, which owns the brand. Screenings also took place in Denver, Washington, D.C. and Seattle.
The evening kicked off with an hour of classic cocktails such as the Kahlua Espresso Martini, the Mind Eraser and the Black Russian and a Build Your Own White Russian Bar where attendees could create their own drink. Screenings began with a video on how to make a White Russian and a four-minute '70s-inspired film called "The White Russian" starring Jeff Bridges. During the feature movie, brand ambassadors distributed more White Russian cocktails, Mind Erasers and snacks such as popcorn, French fries and Kahlua-infused cupcakes and brownies (Agency: Legacy Marketing Partners, Chicago).
6. Arts and Craftsmanship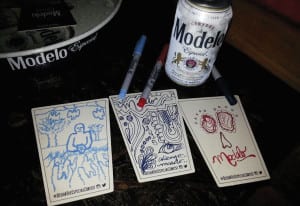 Mexican beer brand Modelo Especial for the past three years has partnered with artists to create glassware that reflects its heritage of craftsmanship and artisanal qualities. Recently it took the effort up a notch—combining on-premise sampling with a program that had bar-goers sketching glassware designs on coasters, and along the way, driving brand awareness and trial. The artwork was used to inspire an artist who created four designs for the glassware collection. "We created a program that helps consumers learn a little more about the brand and gives them a bit more of a consumer experience," says Raul Ruiz, senior brand manager at Modelo Especial.
Dubbed the "Modelo Especial Real, Authentic Craftsman" contest, the eight-week program took place at 96 bar events in nine markets (Boston, Chicago, Dallas, Houston, Los Angeles, Miami, New York City, San Antonio and San Francisco). At the events, brand specialists engaged and educated consumers and provided samples and a Modelo Especial glass as a takeaway. Attendees were encouraged to create new designs on Modelo-branded coasters that were uploaded to the contest site or to Instagram and Twitter via #designtheespecialcontest and displayed at the venue (Agency: Legacy Marketing Partners, Chicago).
7. Outdoor Adventure
Colorado craft beer brand Upslope literally sent beer fans up a Rocky Mountain Trail as part of a strategy to release its limited edition Oktoberfest Lager. The effort also aligned with its campaign hashtag, #apreseverything, which positions the brand as an after-adventure cold beer reward. The one-day activation, called Backcountry Tap Room, took place at the end of the High Lonesome Trail just outside of Winter Park, CO, and featured food, fun, music and beer.
Upslope teased the campaign on Facebook and Instagram, informing people in snippets that its "newest beer is coming to an outdoor location near you," then "free beer with a 2.3-mile string attached," all with the idea to get people to make a day of hiking through the woods with friends, family, even the dog, to reach a backcountry oasis with a rustic bar, stumps to sit on, outdoor games, additional trails and free beer.
"We did this to bring awareness to the fact that we are the 'apres everything beer," says Katie Hill, marketing manager at Upslope. "We want to be that beer that you reach for after these activities and adventures" (Agencies: Match Marketing Group, Victors & Spoils, both Boulder, CO).
8. Theatrical Engagement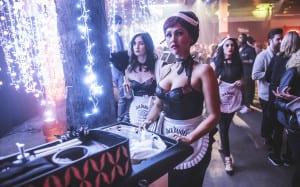 Jack Daniel's, the world's best-selling whiskey brand launched Motel No. 7, a pop-up experience that in addition to music, local lifestyle and an immersive brand experience, leveraged a theatrical engagement that began the moment attendees checked into the "motel," which was created out of a mammoth warehouse in Brooklyn, NY. The world of Motel No. 7, with its uniformed bellhops and leather-clad housekeepers offered more than 25 photo shareable engagements. Jake the Janitor, closeted in his supply room, had guests pull up a cot and join in games with luggage from the lost and found. Swimsuit-clad Pool Sweethearts beckoned guests to take a dip or lounge poolside with a cocktail. Guests could spin the style wheel in the Rock Salon for a makeover, while the Royal Suite offered a glitzy take on the photo op, with participants reclining on white shag carpeting against a backdrop of gold records. There was a game room and a Motel Chapel, where a few guests tied the knot Vegas-style with rocker Andrew W.K. officiating as "Elvis" looked on.
Jake the Janitor and Dani the Maid provided motel highlights and pre-promotion posts on Twitter and Instagram (@JaketheJanitor, @DanitheMaid) and interacted with followers via social listening and surprise and delight tactics. Their conversations helped build the motel narrative and drove the brand's social reach before, during and after the activation (Agency: Mirrorball, New York City).
9. In Da Club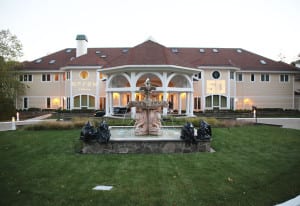 Rapper 50 Cent's former mansion in Farmington, CT, was the setting for an In Da Club incentive event for 200 on-premise reps and distributors of EFFEN vodka who succeeded in increasing the brand's distribution in urban markets where 50 Cent has a large fan base. Their reward? A lavish evening in a premium atmosphere that made the attendees feel like VIPs.
The mansion was transformed into a "high roller" Las Vegas casino, right down to the high-end casino game tables for roulette, blackjack and craps, in addition to specialty EFFEN vodka cocktails with branded poker chips inside the ice cubes. The night was capped with a private performance from 50 Cent himself (Agency: LimeGreen Moroch, Chicago). 

*This article was originally published in 2016 and is updated periodically
See also:
• Tales of the Cocktail Draws Spirits Industry Insiders
• Taking a Tonic Journey With Bombay Sapphire
• Liquor Sampling Tips From the Pros at Patron
This story appeared in the Feb/March 2016 issue