When it comes to country music, it just doesn't get much bigger than CMA Fest. It's been called the Super Bowl of country music and compared to Mardi Gras. However you describe it, for four days in June, CMA's hometown of Nashville becomes a country music mecca—a place where fans get their cowboy on as they jam to tunes emanating from stages spread out in parks, along the Riverfront, the central Music City Stage and, of course, every little bar in town.
But besides the music, CMA Fest offers corporate sponsors a chance to connect with an audience that in many respects shatters the stereotype of the country music fan. Sure, these folks are known for their truck drivin' and work hard, play hard persona. Their music is rooted in that reality. But just like everything else, the demographic has evolved, becoming increasingly urban and diverse, a mix of young and old, male and female, with millennials comprising an estimated 35 percent of the group. On top of that, many of the artists themselves, like Garth Brooks and Taylor Swift, have strong crossover appeal.
So, this year, EM slipped on its Durangos and headed on down to Nashville to soak it all in. We found a friendly crowd engaging in sponsor activations as varied as the fans themselves. From the air-conditioned respite of the Xfinity Fan Fair X, located in the expansive 35,000-square-foot Music City Center, to the hustle and bustle of the four-block area of Broadway called The Buckle, on down to the stages along the Cumberland River, the experience did not disappoint.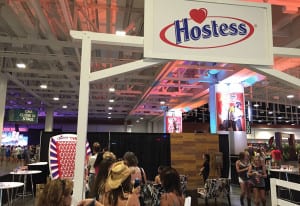 We began our day along with the fans streaming in to Fan Fair X.Our first stop: Hostess, where its Nashville Chic-themed booth caught our eye, along with the chocolate peanut butter-filled Twinkies that launched there and hit retail shelves at the end of June. The new flavor's packaging features an image of Brad Paisley's latest album, a Sweet Summer Playlist available on Spotify via a code inside the box and a sweepstakes to win a VIP trip to the 51st annual CMA Awards show in the fall. Guests lined up for their chance to play Twinko, a Hostess version of the popular game, to win a snack, then head over to a photo booth and a selfie with Twinkie the Kid (Agency: Destination Musick City, Nashville).
Across the way, Hallmark was promoting a new line of musical Anthem song cards, which are sold at Hallmark Gold Crown stores, and summer programming for the Hallmark Channel. We spoke with artist Zach Newton, designer of the cards, which feature several of the artists performing at CMA Fest, including Lady Antebellum. Newton was painting a mural on-site that was inspired by the cards. The booth, designed with homey backyard barbecue touches, also featured fun gifts and collectibles such as this year's Hallmark Keepsake ornament, a guitar that plays "Santa Claus is Coming to Town" by Lonestar. And, of course, there was a photo op for social sharing (Agency: In-house).
We couldn't resist the M&M's A Million Thank Yous booth, where fans wrote postcards and recorded messages of gratitude at a video kiosk to send to the troops. The activation tied to the origins of the brand in 1941, when M&M's was created to send World War II soldiers a sweet treat that, with its hard, candy-coated shell, could withstand the warm climates. The campaign, which also is taking place at Walmart and other retailers through July, encourages fans to use the hashtag #SayThanksWithM on social media. Fans wrote more than 10,000 postcards and M&M's gave out more than 20,000 samples (Agency: RSM, Charlotte, NC).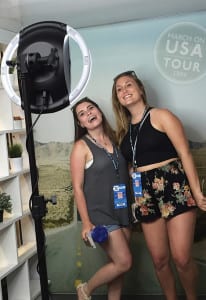 DSW's March On tour made a stop at Fan Fair X as part of a cross-country road trip. The tour, which launched at Hang Out Fest and continued through Summerfest in Milwaukee, featured a different brand sold in its stores at each stop. Here, the mini pop-up showcased a curated collection of styles by influencer Olivia Culpo. Fans took gif photos for social sharing and made bracelets using beads and metal pressed on-site with custom stamps. For Maria Wollenberg, senior specialist p.r. and partnerships at DSW, the activation also was a chance to connect with customers. "We're learning about what the customers like, things they would like to see at DSW, things they love about it, and then they get a little takeaway," she said (Agency: Activate, Ferndale, MI).
At the other end of the center we found Fan Fair X's title sponsor Xfinity and its X1 Challenge Program, which demos its X1 tv and wi-fi service and, in some instances, compares it to other services in the local area, so attendees can see for themselves how much faster and easier it is to find a show. "There are a lot of intangibles, so we like people to be able to see it and play with it," Kaitlyn McCauley, manager-marketing acquisition, at Xfinity, told us. "It makes a big difference."
In The Buckle on historic Broadway in the city, fans demoed music and entertainment on the X1 platform, tested their knowledge of country music trivia and spun a wheel to win festival-friendly prizes such as fans, power banks, clear cinch bags and sunglasses (Agency: GMR Marketing, New Berlin, WI).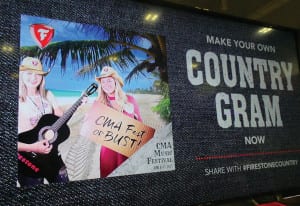 Firestone's Destination Country activation at Fan Fair X engaged attendees at the intersection of one of their deepest passion points—trucks and country music. Fans posed for a "CountryGram" to share using #Firestone Country, choosing from five different road terrains for the photo backdrop and themed props such as a guitar case, Firestone cowboy hat and signs with fun messages. They could get temporary Firestone airbrush tattoos in designs such as a muddy monster truck or a sparkly, silver Firestone guitar. Firestone's BIGFOOT monster truck and driver Rodney Tweedy were on-site for photo ops and Q&A sessions, and each day up-and-coming artists stopped by for autographs and photo sessions. Topping it all off—nine new Firestone passenger and truck tires on-site and the chance to register for a $70 rebate toward their purchase (Agencies: On-site activation, Marketing Werks, Chicago; Sponsorship, Atticus Brand Partners, Brentwood, TN).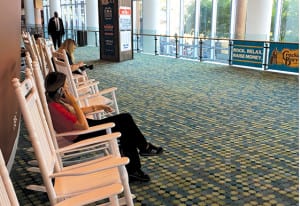 Cracker Barrel, a new CMA Fest partner, sponsored the CMA Music Festival's Country Roads Stage at the Ascend Amphitheater and throughout the festival displayed 644 of its iconic white rockers (the same number as its nationwide store count), giving fans the chance to rest and benefit the CMA Foundation, a non-profit that supports music education. The deal? If festivalgoers collectively rock at least 150,000 times, Cracker Barrel will make a $15,000 donation to the organization. Fans could follow the progress at CBRockathon.com (Agency: FlyteVu, Nashville).
Additional activations filled the Music Center, but we wanted to check out Chevrolet, the official vehicle of CMA Fest, which sponsored stages at Walk of Fame Park and along the Riverfront. Its Recharge Lounge at Walk of Fame Park gave attendees some much-needed shade and hair stylings, along with the chance to linger around the many Chevy vehicles on display. Both locations featured a Kick Your Boots Up engagement where fans could try out the new lift and lower tailgate on the Chevy Equinox. A screen at the back of the vehicle randomly awarded prizes to those who tried it out. And both sites offered current Chevy owners the chance to bask in the shade of an additional outdoor lounge area.
The automaker also sponsored Catch A Chevy, a fleet of 20 new Equinoxes that transported attendees around town. And a Best Seats in the House activation awarded upgraded seats to fans in Nissan Stadium who tweeted or posted to #ChevyCMA (Agency: Jack Morton Worldwide, New York City).
From there it was on to The Buckle, where the first thing we saw was GEICO's large blue-tented set-up. Fans could play GEICO-branded pinball and karaoke on-board the GEICO bus. Off-the-bus activities included a Guess the Gecko game to win a $500 prize, a Roll the Dice engagement and, since it was Stanley Cup finals weekend, a photo op in the GEICO hockey penalty box. This is also one of the only bus events with a giant LED screen to play GEICO commercials. It also showed live video from within the footprint (Agency: RedPeg Marketing, Alexandria, VA).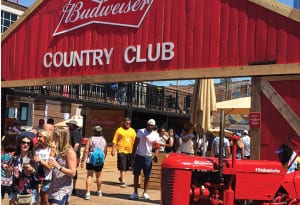 There was a lot going on along The Buckle, but two standouts caught our eye. The Budweiser Country Club presented a fun environment for fans to hang out at picnic tables, play a little corn hole, hear some tunes and maybe even catch surprise meet-and-greets with Thomas Rhett and Canaan Smith. The lines were long for custom leather-branded koozies, bandanas and flash tats, as brand ambassadors glammed up the gals, and even the occasional guy.
Bud also sponsored the Forever Country Stage where, along with the performances, fans could enjoy the Budweiser and Hot Chicken area, which featured two local food trucks in a green space near the stage, along with a Budweiser Country Club activation and photo experience, corn hole and more picnic tables. Besides an additional presence at Fan Fair X, the brand also partnered with Universal Music and UMG Nashville to create an enclosed 360-degree dome where top-tier artists performed throughout the week, along with live streaming of concerts (Agency: Engine Shop, New York City).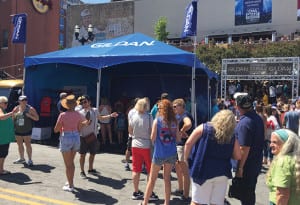 Gildan sponsored the Gildan Hard Rock Stage with free daily concerts by up-and-coming artists. In a 20-by-20 "Merch" tent, attendees played shuffleboard to win Gildan socks, underwear or t-shirts, then had them screen printed on-site. The Stage Tent offered a photo op with drums, a guitar and microphone that created a three-second gif video for social sharing. Gildan also sponsored a prize wheel in Fan Fair X. In all, the brand gave away upwards of 8,000 premiums over the four days.
Alas, before we knew it, our day at CMA Fest had come to a close. We hopped in a cab driven by a good ol' country boy named Hollywood and his sidekick Scott, and before we knew it, we were back in New York City, and a whole other kind of reality.
See also:
• Photo Tour: CMA Music Fest's Coolest Partner Activations
• CMA Fest: Four Ways Chevy Connected With Festivalgoers
• Country Music Events: How Big Brands are Building Loyalty
This story appeared in the July 2017 issue