San Diego Comic-Con was poised for a banner year in 2023, but when Hollywood writers and actors launched the SAG-AFTRA strike, the fate of the 53-year-old fan convention was in question. Industry giants Marvel and DC Comics didn't show up, there wasn't enough talent for the event's myriad panels, and brands that typically build large-scale activations, like HBO and Netflix, were absent—but none of it stopped superfans from showing up en masse in their best cosplay. Approximately 150,000 people were in attendance at the mega fan-con, this year July 20-23, and brands from Hulu to Universal to NBC were waiting just outside the convention center to plunge them into the content, characters and worlds they love the most (even the elevators were immersive). Here's what went down on the ground.
ADULT SWIM
The fan-favorite Adult Swim on the Green festival returned to Comic-Con after a year off, and the long-running event was as jam-packed with activations and programming as ever. The fest this year was headlined by comedian Eric André and rapper and filmmaker Flying Lotus and included a slate of performances by comics and musicians throughout the weekend, including Tyler Bates and Joanne Higginbottom performing with a live orchestra for "The Genndy Tartakovsky Musical Experience."
Attendees engaged with meet-and-greets, trivia, prizes, games like mini golf and Skee-Ball, screening events, a timed "Trash Grab" challenge, and Adult Swim's famous bucking hot dog. Plus, for anime fans, a "Toonami on the Green" event featured the latest anime news, surprise guests and rare reveals.
Adult Swim was joined by sponsors including Pop-Tarts and Hint Water, both of which activated on-site. Fans could get their fill at The Toasting Room: A Pop-Tarts Dining Experience, which entailed a three-course prix fixe menu featuring popular Pop-Tarts flavors, and also snag custom brand swag. Meanwhile, Hint made a spectacle in San Diego's Gaslamp Quarter with its pink hearse cruising around and dishing out free Hint Water to promote the season two premiere of animated comedy series "Teenage Euthanasia." The brand also provided festivalgoers with a hydration station filled with fruit-infused Hint+ Vitamin. (Agency: GDX Studios.)
Photo credit: GDX Studios
---
From the Comic-Con Archives:
---
AMC
If creepy character encounters are your thing, the Anne Rice's Immortal Universe: The Street of Immortality activation hosted by AMC was the place to be. The experience was based on the network's "Anne Rice's Immortal Universe," a series of adaptations of the author's Vampire Chronicles collection that's set in early 1900s New Orleans. The outdoor activation invited fans to go back in time with a walk through an intricate, old-timey NOLA street filled with roaming actors portraying various townspeople and interacting with fans. (Agencies: 3CS; Campfire.)
Photo credit: Spearhead Media
AUDIBLE
Speaking of creepy, Audible returned to SDCC to drum up buzz for the second season of its original audio series, Impact Winter. At an immersive, post-apocalyptic event for VIPs and press, attendees dined on fare dubbed "The Feast," while a cast of vampires lurked around the space, and audio effects added drama. Hanging bags of "blood" and a sword photo op enhanced the eerie atmosphere. (Agency: Civic Entertainment Group.)
Photo credit: Presley Ann/Getty Images for Audible
FANDOM
Entertainment and gaming fan platform Fandom hosted its sixth annual Comic-Con party, this year presented by Paramount+ and Electronic Arts (EA), at FLOAT at the Hard Rock Hotel. A "Fan Central" zone was teeming with activations dedicated to some of pop culture's top IPs, and nods to the forthcoming release of EA's Immortals of Aveum game. Engagements included interactive photo booths, an exclusive gaming activation and giveaways, along with appearances by djs and K-Pop band NCT DOJAEJUNG, who delivered the first-ever K-pop performance hosted during San Diego Comic-Con. More than 1,000 fans, industry partners, press and influencers in attendance ultimately helped Fandom earn 30 million social impressions and 78,000 social mentions of #FANDOMPARTY.
FX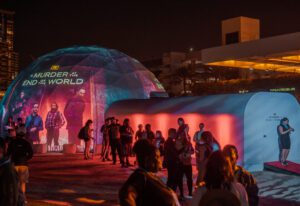 FX Networks once again took over a sprawling outdoor footprint on the lawn at Hilton San Diego Bayfront and transformed it into a playground of large-scale installations dedicated to its most popular shows. Over four days and two evenings, fans were invited to explore the #FXSDCC activation and capture content across every touchpoint.
To promote "Shōgun," among activities, FX hosted Samurai performances, showcased an augmented reality koi pond and leveraged strategic experience design elements to envelop attendees in the show's historic setting during Japan's Edo period. In a vastly different environment dedicated to "A Murder at the End of the World," fans boarded a billionaire's private plane, participated in a smartphone-powered murder mystery and unlocked exclusive content along the journey.
"AHS" franchise superfans abound, and those at SDCC were likely not disappointed by FX's deeply unsettling "Wicked Wellness San Diego" clinic. Disturbing nurses, wellness shots and a one-on-one consultation with an eccentric "healer" were all part of the mix. Rounding out FX's presence was a recreation of Laszlo's garden from "What We Do in the Shadows," offering much-needed shade (we all know vampires can't survive in the sun), popsicles, sunscreen and myriad photo moments. (Agency: Creative Riff.)
Photo credit: Spearhead Media
HULU
With a newly-launched sub-brand for anime fans, Animayhem, Hulu headed to Comic-Con with an Animayhem activation that drove home how adult animations and anime series currently streaming on Hulu are now all in one place. Interactive engagements dedicated to a variety of those shows were on hand, from "Family Guy's" 360-degree time travel photo booth to "American Dad's" mirror-lined "Hall of Infinite Rogers" to a replica of Jesse's room from "Solar Opposites" filled with Easter eggs to a large-scale "Bob's Burgers" restaurant counter photo op that also included the delivery of complimentary Bob's Burgers and Fries to participants at random times throughout each day.
Among other touchpoints were a central photo activation dubbed The 2nd Dimension that served as a "portal" photo op featuring large cutouts of popular animated characters being sucked into another world, and the Animayhem Living Room, where fans could plop down on the famous couches from "The Simpsons" and "Family Guy" and watch clips and episodes from their favorite series on a giant "2D" tv set. And a "Planet Express HQ" installation for "Futurama" encompassed an interior brimming with set pieces, characters, swag and photo ops, including the infamous HQ conference table and control panel, Nibbler's litter box, a massive Slurm photo moment and more. The exterior was positioned as the place where the Planet Express ship crashed down, "sending packages flying"—a clever backstory for a merch station. (Agencies: 3CS; Campfire.)
Photo credit: Stas Lipovetskiy
Hulu could also be found at an activation further off-site promoting the third season of "Only Murders in the Building." Fans could test their detective skills for a chance to interact with a vending machine that dispensed a range of prizes, like products from Selena Gomez's Rare Beauty makeup line. (Agency: Be The Machine.)
View this post on Instagram
NBC
Visitors of NBC's activation were tasked with the mission of "leaping" into the worlds of the network's hit shows. At the brand's Quantum Leap HQ, (which touted season two of the network's reboot of the "Quantum Leap" sci-fi series), fans were told that timelines were in disarray and Ziggy's main frame was hit with a virus, and asked to "stabilize the timelines" in groups to buy the Quantum team time as they eliminated the infection. Additional engagements included auditions for "The Voice," an installation of "Chucky" dolls that had attendees scanning bar codes for prizes, a "Law and Order" crime scene and various interactive touch screens. The HQ was also home to screenings and exclusive content sneak peeks that were open to badgeholders only. (Agency: Giant Spoon.)
Photo credit: David Yeh/NBC
UNIVERSAL
Universal Products & Experiences opened the gates and invited pre-registered attendees to "Step Into Jurassic Park" (a standby line was also available) with a meticulously detailed environment that brought fans' favorite sites and scenes from the original film, which turned 30 this year, to life. Among them: The park entrance gates, an archaeological dig site, an egg incubator and amber display, and the kitchen raptor chase. Oh, and that T-rex toilet scene? Also on tap. There were additionally "Easter dino eggs," like a Barbasol can, as well as realistic foliage, authentic film signage and even the classic "When Dinosaurs Ruled the Earth" banner. Upon exiting the main footprint, participants were led into an outdoor space where they could grab Jurassic World Dino Chicken Nuggets and explore a Visitor's Center where merchandise displayed with QR codes was available for online purchase via Amazon. (Agency: NVE Experience Agency.)
Photo credit: Miranda McDonald