REPORTER'S GUIDE
TO THE GALAXY
Superfans reunite at San Diego Comic-Con's IRL event,
as activating brands pack in the value-adds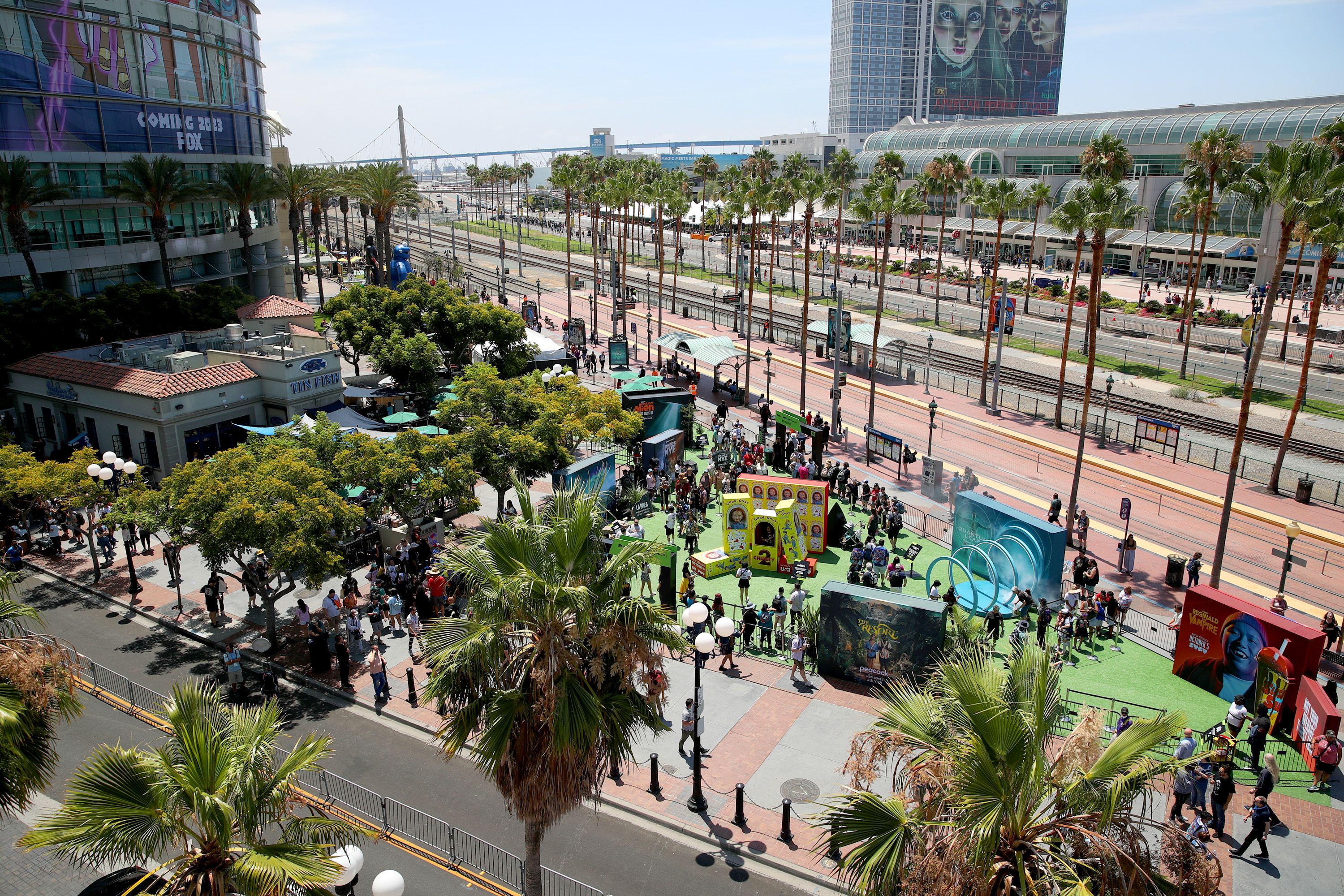 When Comic-Con's grand return to in-person was announced, EM immediately booked a flight to San Diego to get a temperature reading on the state of the industry. And after three days on the ground at the pop culture tentpole, we reached a forecast: Post-pandemic experiential is comin' in hot.
After a three-year hiatus, superfans attending the 52-year-old event, this year July 21-24, came prepared to unleash their pent-up desire to connect with the communities and content they love. And entertainment brands descended on the city like someone had illuminated the Bat-Signal to fan those flames.
In a typical year, roughly 130,000 people show up at SDCC to attend panels on their favorite movies, shows, comic books and video games. And while "Con" veterans tell us it was a decidedly smaller affair this year, you'd hardly know it walking the streets of the city. Perhaps that's because badge-holders aren't the only ones traveling to San Diego during the event.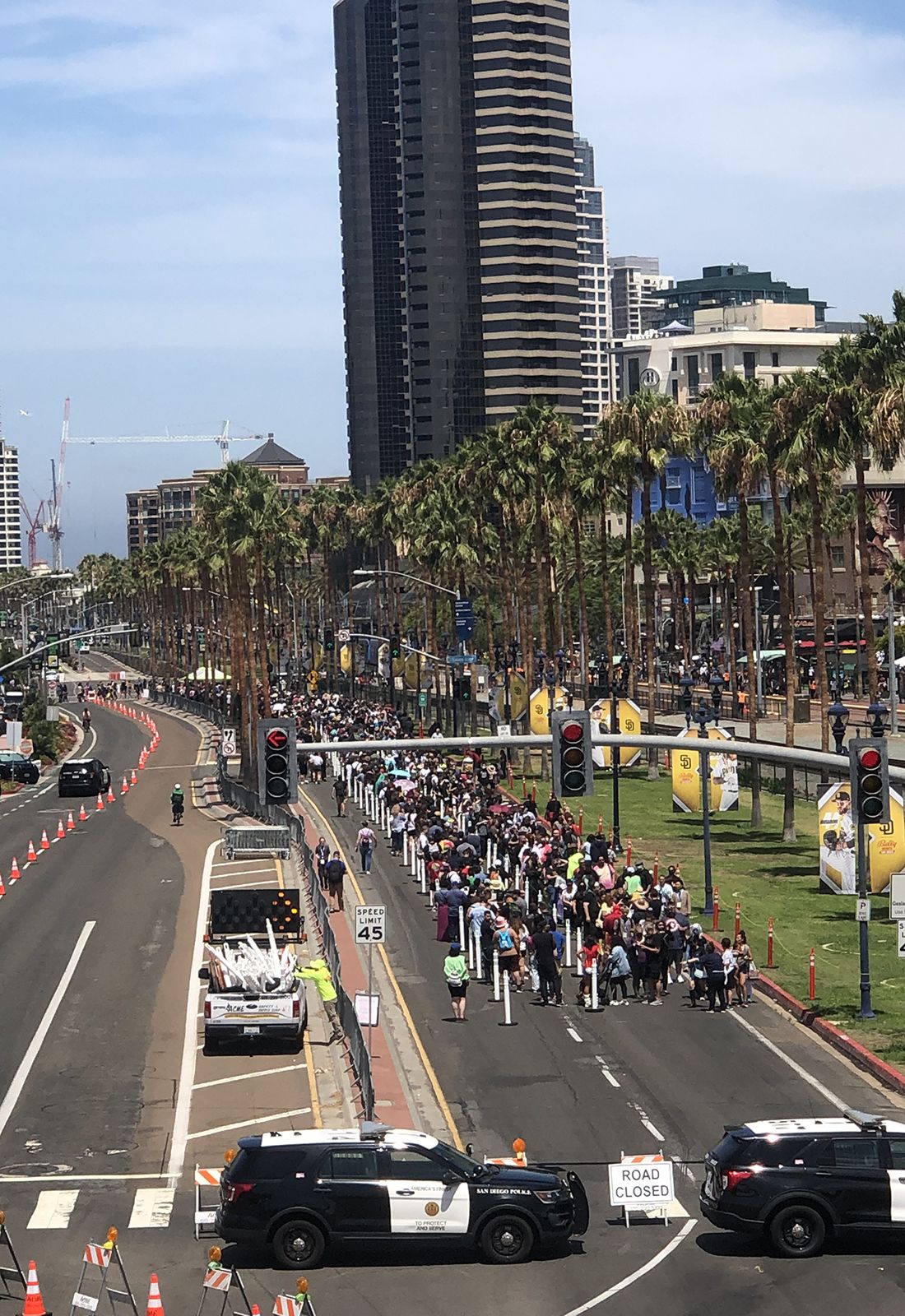 In recent years, free brand activations taking place outside the convention center have enticed fans just as much as the traditional ticketed event, something we noted while attending in 2018. The increasingly popular tactic ensures that at an event like SDCC, which has a certain air of exclusivity, brands can expand their reach beyond panels and make all fans feel included. And since this year's badges technically sold out pre-COVID in 2019, the only way for non-ticketholders to get in on the action was through brand experiences activating across the Gaslamp Quarter. (Check out the top five consumer trends we spotted on the ground here.)
In our first spin around the city, it seemed that there were just as many companies activating in 2022 as in 2018. After a walk through the Interactive Zone at Petco Park, however, we realized that wasn't the case. There were still a few noteworthy brand experiences to engage with, including from Nintendo and CBS, but it just wasn't the buzzing atmosphere we'd previously experienced.
Fortunately, several brands activating outside of the Interactive Zone made up for the loss, showing up and showing out with their experiential A-games. In fact, we hatched dragon eggs, had our personal and work lives "severed," sipped Dragon Brew and danced in a vampire night club—and that was just in the first 24 hours. Between the budget-busting activations and the sidewalks filled with superfans rocking full-length cosplay in the sizzling July heat, we found that the core of the Comic-Con experience had remained intact.
So, who won the battle of the brands, you ask? Slip on your superhero cape and take a tour, in alphabetical order, of the brands that served up the most engaging Comic-Con experiences—no badge required.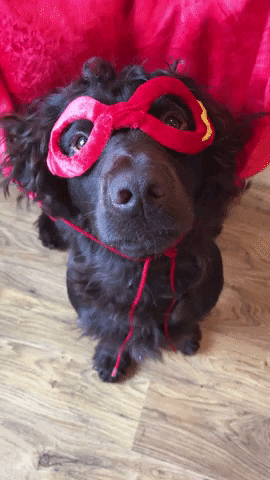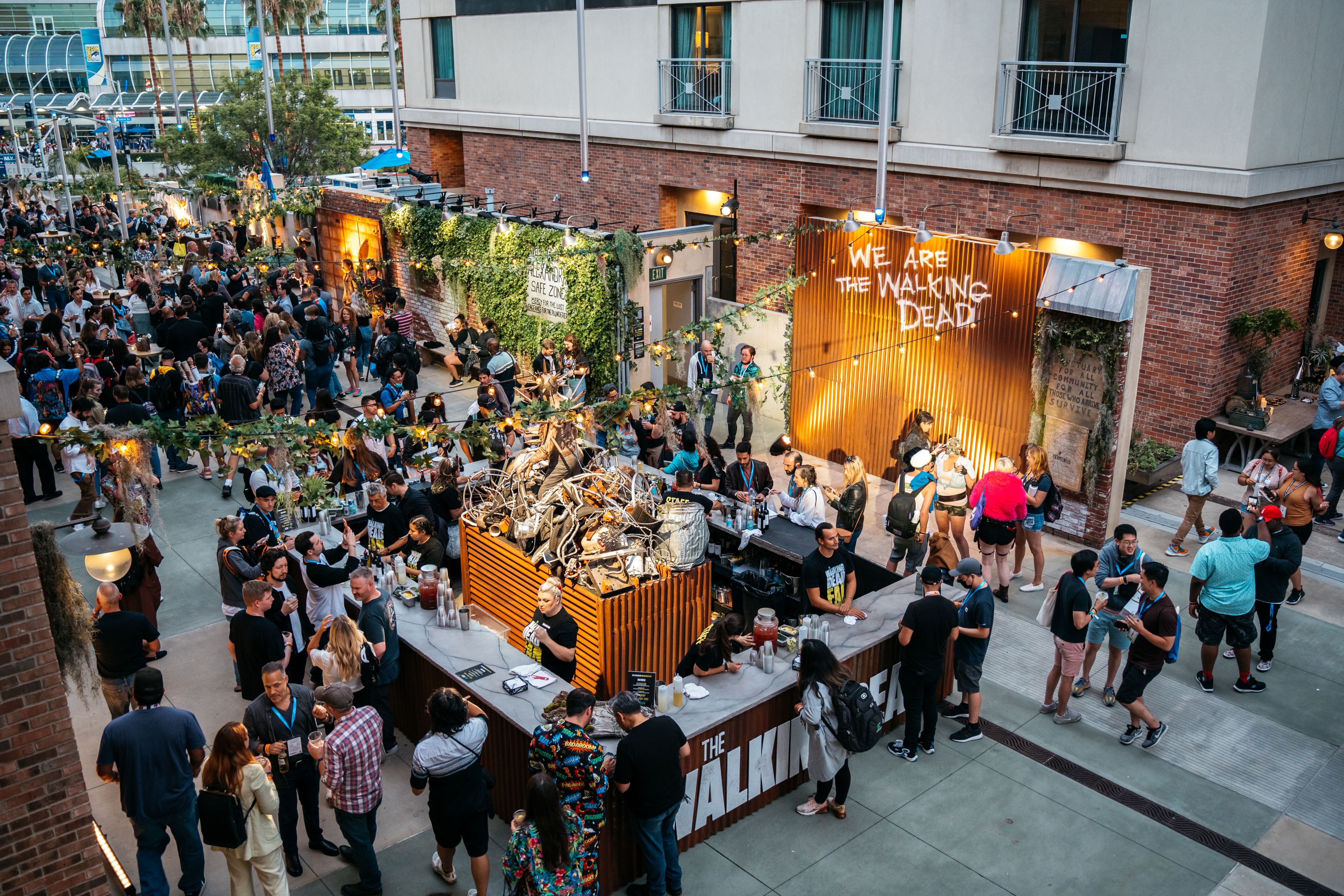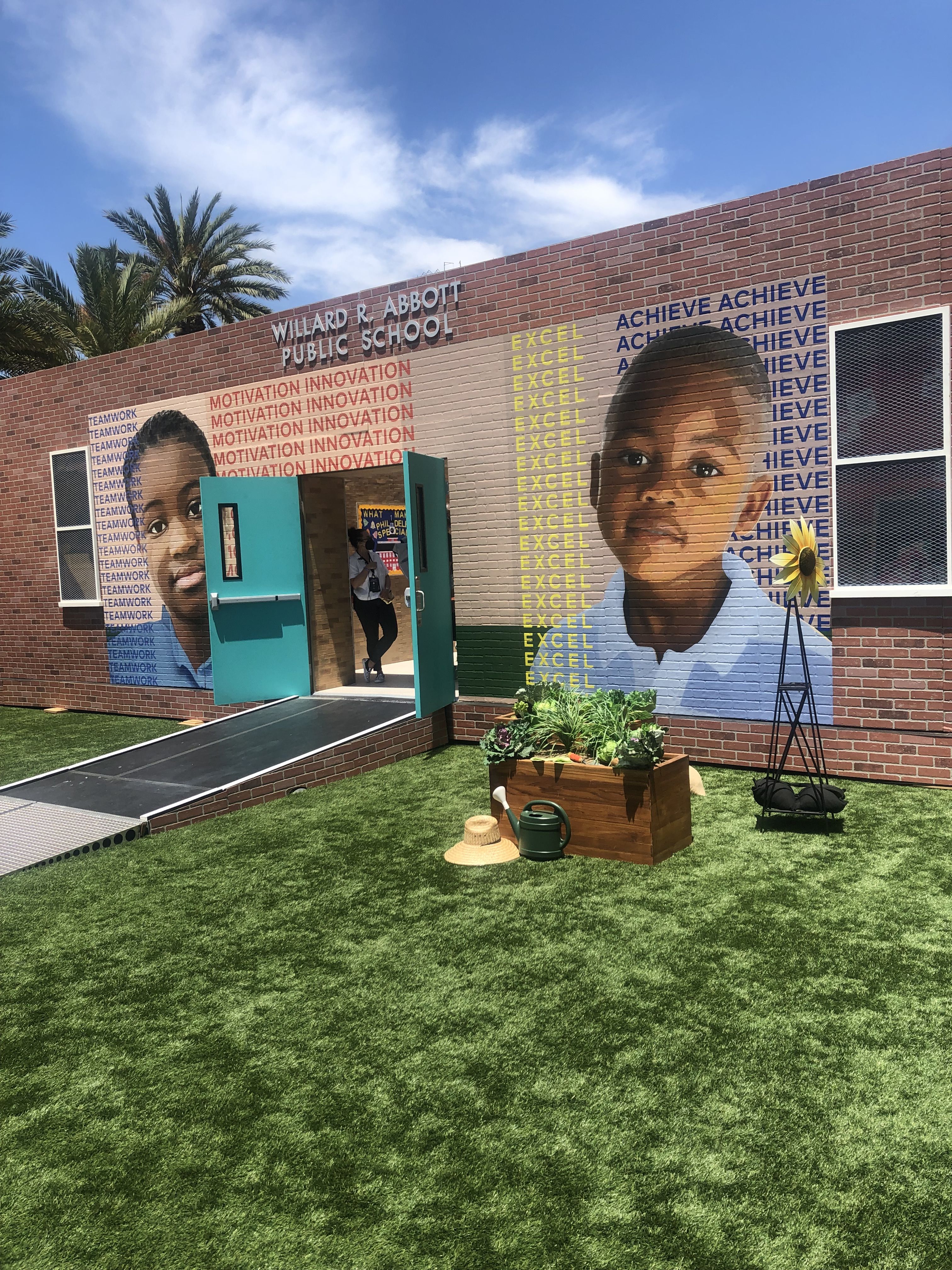 We went back to school to walk the halls of "Abbott Elementary" at a "New Teacher DisOrientation" fan experience produced by Disney-owned ABC, which had a constant stream of attendees lining up to participate, ourselves included. While waiting, we noticed small details that enhanced the experience, like the intermittent sound of recess bells, a "Welcome Teachers" letter board and a mini school garden.
Upon entering the experience in a small group, we were welcomed to orientation and led through a series of rooms, each brimming with Easter eggs, nods to "Abbott Elementary" characters and a few irreverent touchpoints that were right on-brand, like a Wi-Fi password written on the whiteboard in Principal Ava's office that read: "BadBitchesOnly."
The first phase of the activation included a hallway filled with detailed student lockers to explore, original fan art on display submitted via the official "Abbott Elementary" Fan Art Contest and a mysterious door adorned with plaques of various Boyz II Men lyrics (the series takes place in the band's hometown of Philly—we laughed pretty hard at this one) that was equipped with a lever and buttons that fans were encouraged to play around with. Word has it that those who cracked the code earned a special surprise, but alas, our crew couldn't hack it.
Next, we explored Principal Ava's office, snapped pics in front of a branded backdrop and had our staff photo taken, which yielded a physical credential to take home. Then it was on to Janine's classroom, a large, open-air footprint featuring kids' artwork, a chalkboard, motivational posters, books, games, globes—you name it. The setup also included school desks topped with tablets, where we were encouraged to sit down and take a personality quiz to discover which "Abbott Elementary" character we most resembled. We then received a sticker with a cartoon image of the character, which a BA placed on a complimentary water bottle at the close of the experience.
The classroom additionally offered a cause marketing moment, with a corner dedicated to helping real teachers in need through curated Scholastic
ClassroomsCount wish lists. One wall featured a colorful display of QR codes linking to the wish lists, while an adjacent "Send Love" wall invited attendees to write encouraging words to a curated list of teachers on postcards, which the brand took care of mailing.
The final leg of the experience took place in a school gym environment that included a basketball court installation, risers and a large screen playing episodes from the series. Here, we encountered the impressive "Abbott Step" dance squad, who practiced their moves and interacted with attendees. The team put on formal dance performances at various intervals each day, intriguing more than a few Con-goers who could hear the choreographed stomps from outside the footprint.
We ultimately graduated with an Abbott Step duffle bag, water bottle, custom pins… and some of that bad bitch energy. (Agency: Creative Riff.)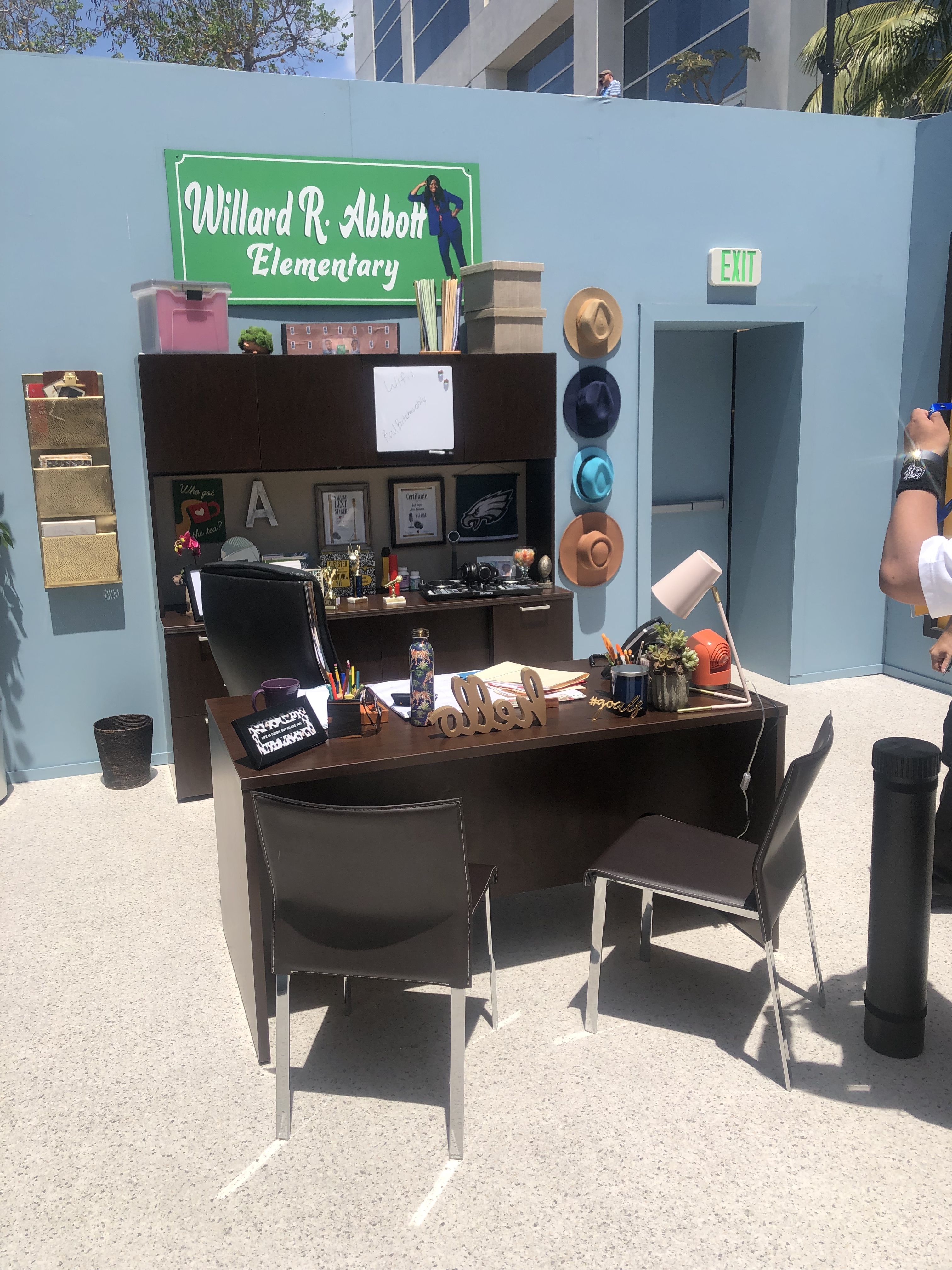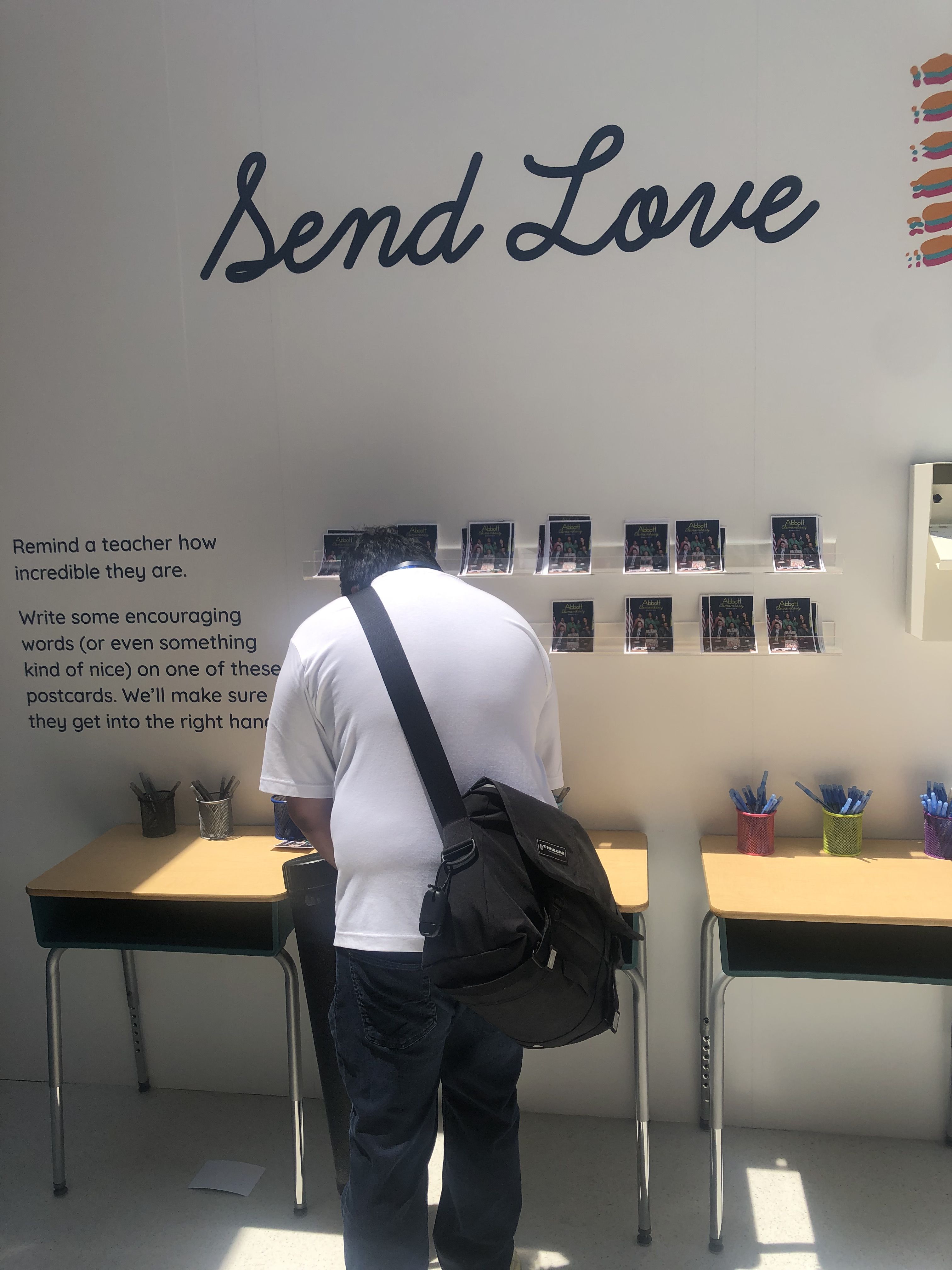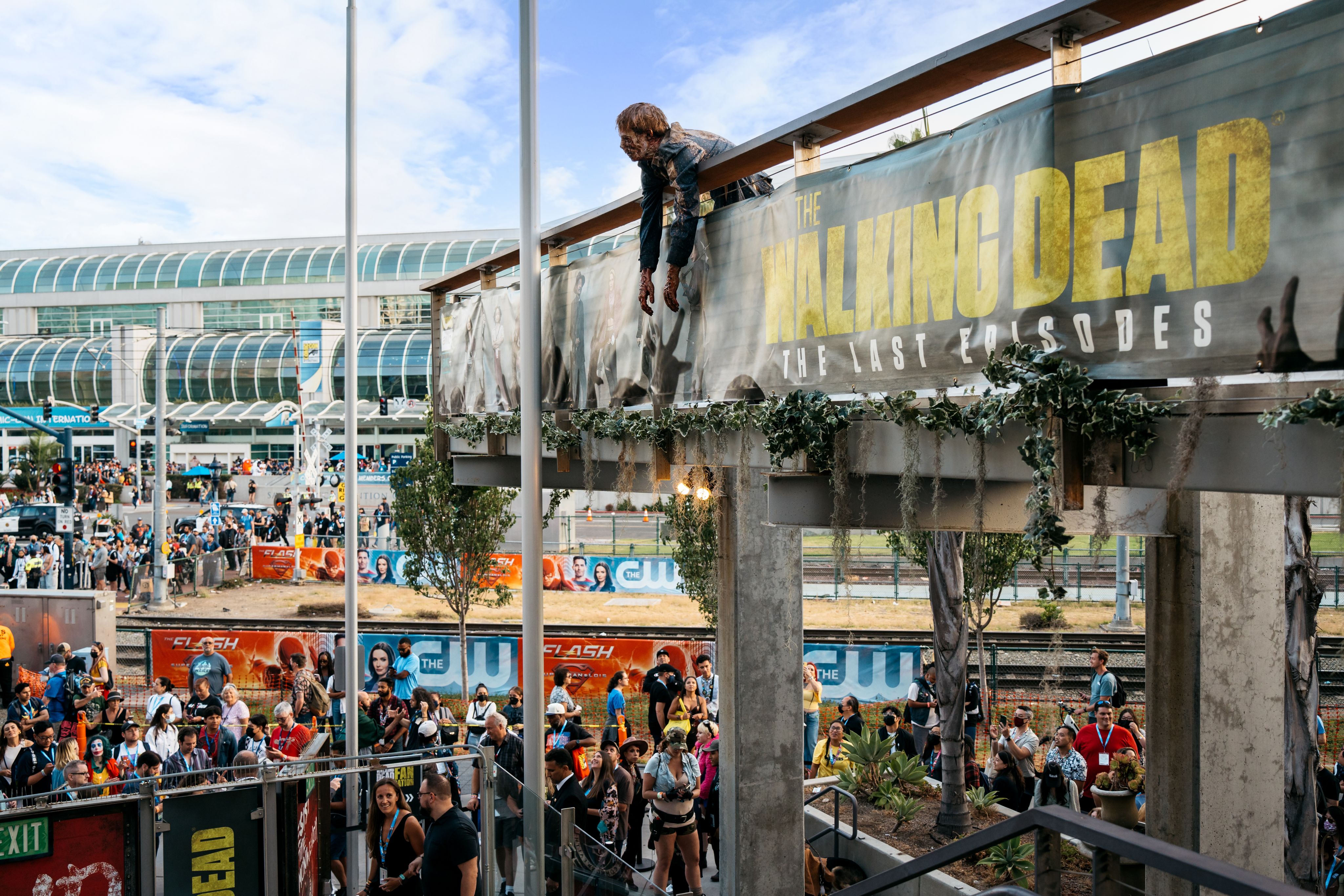 After more than a decade, AMC's record-smashing series "The Walking Dead" will air its final season this fall. So to mark the milestone and reward viewers for their loyalty, the network hosted the ultimate fan celebration on the Skylight Terrace of the San Diego Gaslamp Hotel. According to the brand, it was a sort of tribute to Comic-Con attendees, who have served as some of the show's most fervent fans from the very beginning. We couldn't make it to the sold-out evening affair, but were fortunate enough to get a tour of the space as it was being transformed. And it was killer (we can sense your eyes rolling from here).
Fans had a number of ways to celebrate the series, both on the terrace for the main event, and in an adjoining indoor space, each offering displays of iconic set pieces and vignettes from all 11 seasons of the show. The interior area had a sleek, chill vibe featuring museum-like showcases of series props, including Negan's bat, Daryl's crossbow and an ultra-creepy model of a "walker" rising from the ground. It was also a space where fans could have a seat and view a custom content reel throughout which "The Walking Dead" cast told heartfelt anecdotes.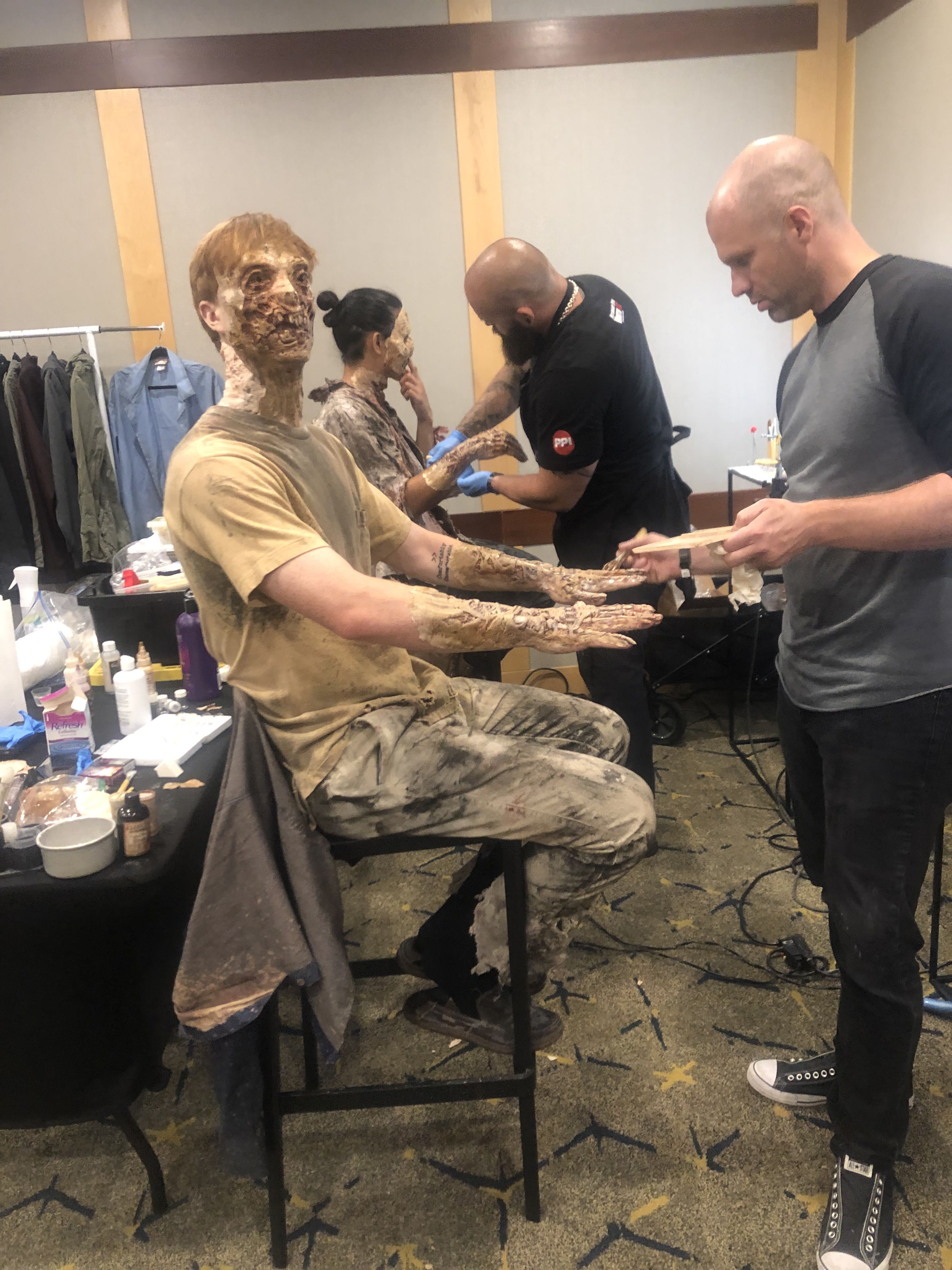 You might say the terrace celebration had a different energy, which can mostly be attributed to the live "walkers" in full makeup and costume who hung over an elevated catwalk to greet attendees, roamed the party, crawled through a caged gate on-site and interacted with fans. (We got a peek behind the scenes at the artistry required to create the show's zombie look, and it was something to behold.) There was also an airbrush makeup station that transformed fans into walkers themselves.
Additional touchpoints included a central bar containing a series-inspired installation; themed food and beverages, including "Taste of Tradition" ice cream flavors; posters with custom art designed for Comic-Con; a t-shirt printing station; exclusive swag and appearances and remarks by popular cast members, including fan favorite Norman Reedus, made from the dj balcony.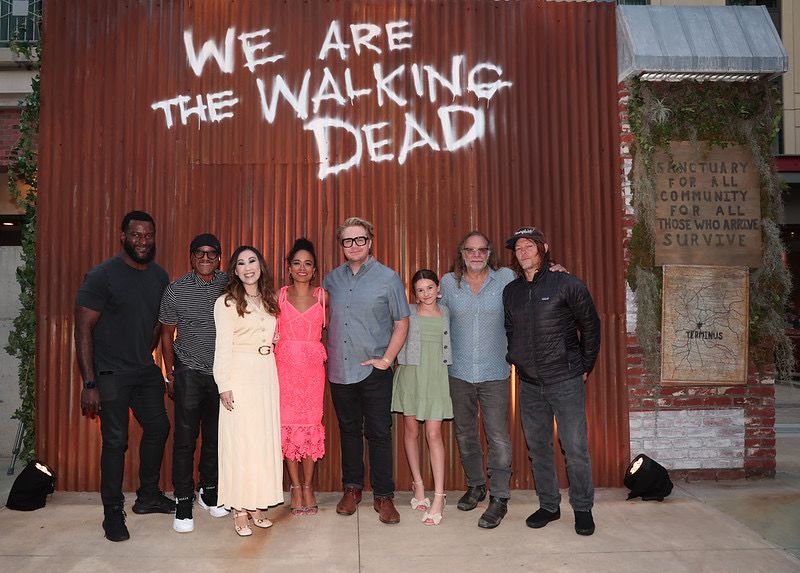 A detail we loved: Among rare swag attendees scored on-site were exclusive commemorative enamel pins, illustrating just how well AMC knows the Comic-Con audience. When the convention was established, attendees traded paper comic books, but the tradition has since transformed into pin-swapping, and with "The Walking Dead" making its final appearance this year, those pins were Comic-Con gold.
"'The Walking Dead' has been a staple at Comic-Con, and this year for the series finale, AMC knew emotions would run high as we reunited after a two-year hiatus," said Lauren Collins, head of AMC's promotional campaign at Comic-Con. "We designed the 'TWD' fan celebration as the ultimate thank you to the loyal fans who've been filling Hall H and supporting the show since the beginning. Comic-Con audiences—especially this summer—deserved an event created just for them." (Agencies: 3CS; Campfire)
Photo credit: Spearhead Media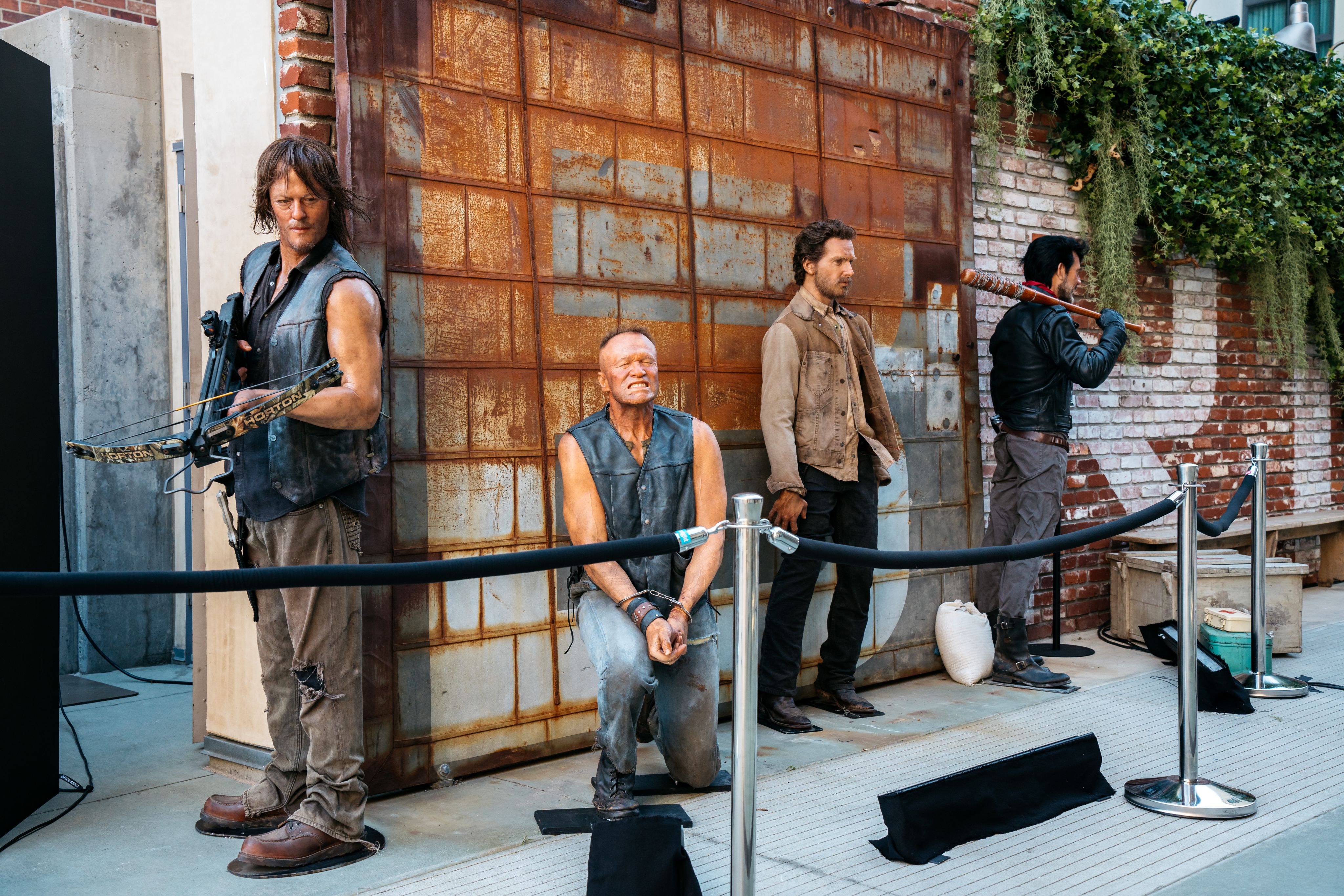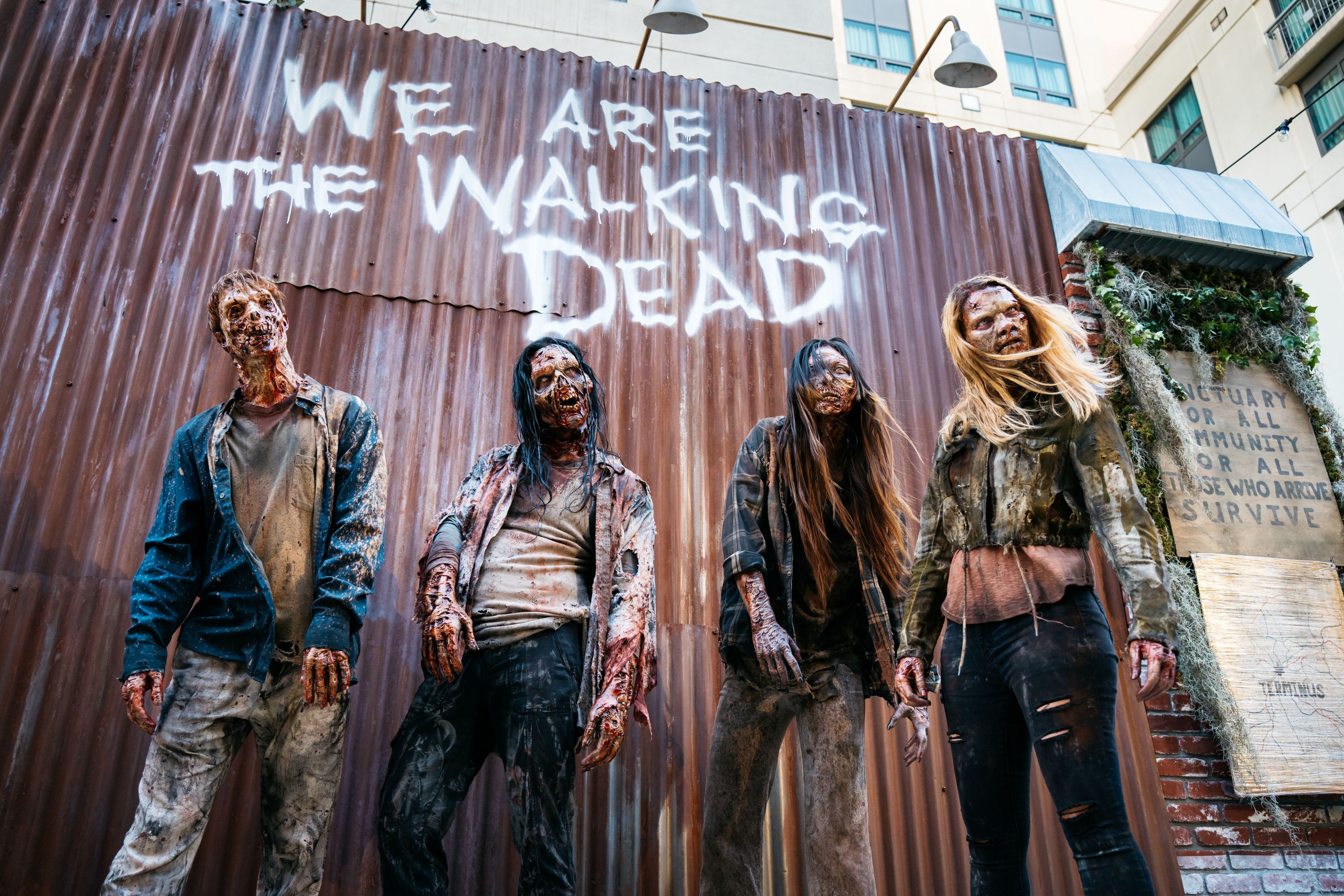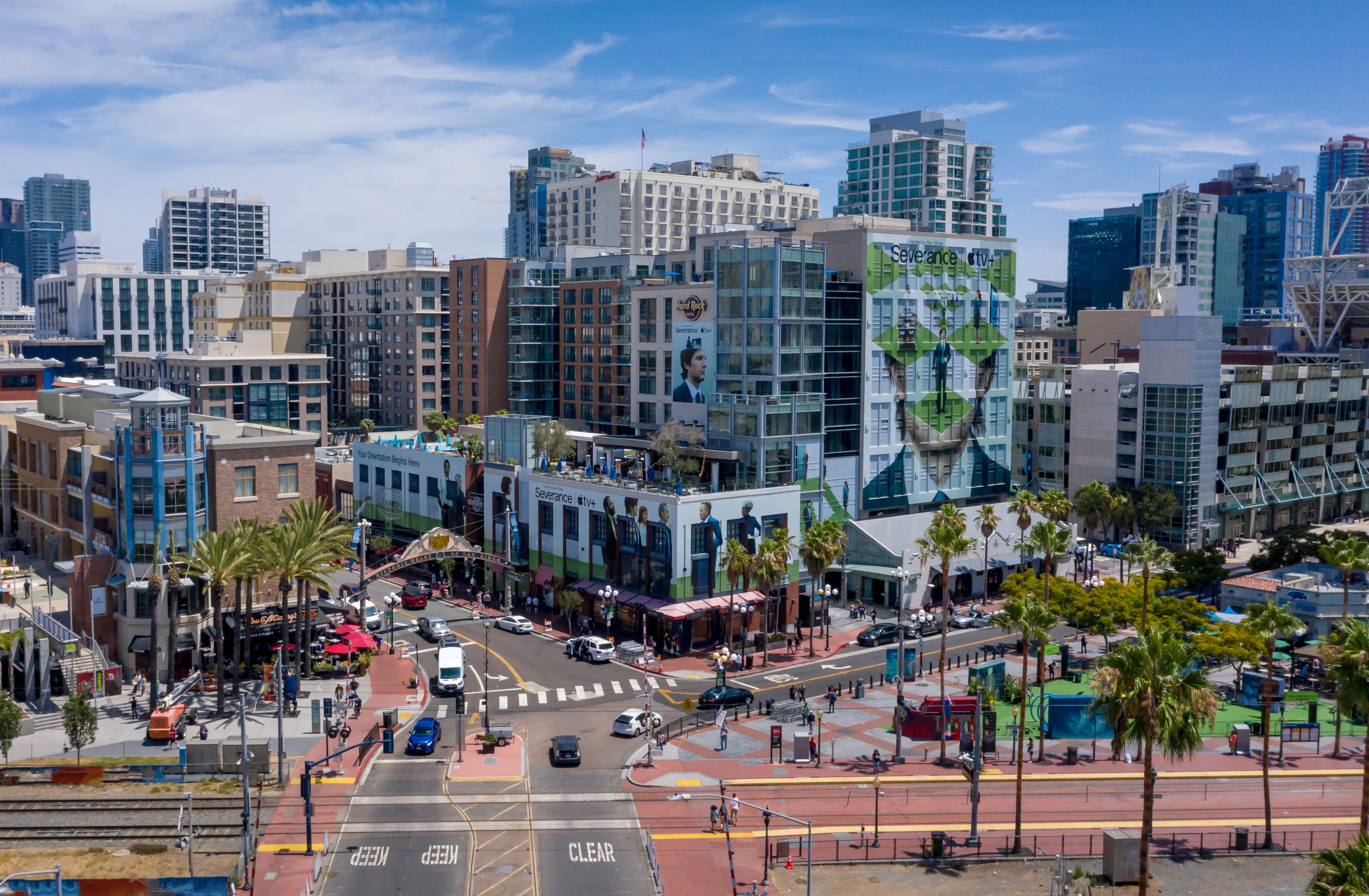 You couldn't miss the colossal Hard Rock Hotel building-wrap promoting Apple TV+'s original series "Severance" if you tried, but the activation that took place inside packed just as big of a punch. This is where we had our work lives and personal lives detached, and completed our employee orientation on the "severed floor" at Lumon Industries. Many hallmarks of the series' first season were part of the experience, and it added up to one of our favorite activations at SDCC.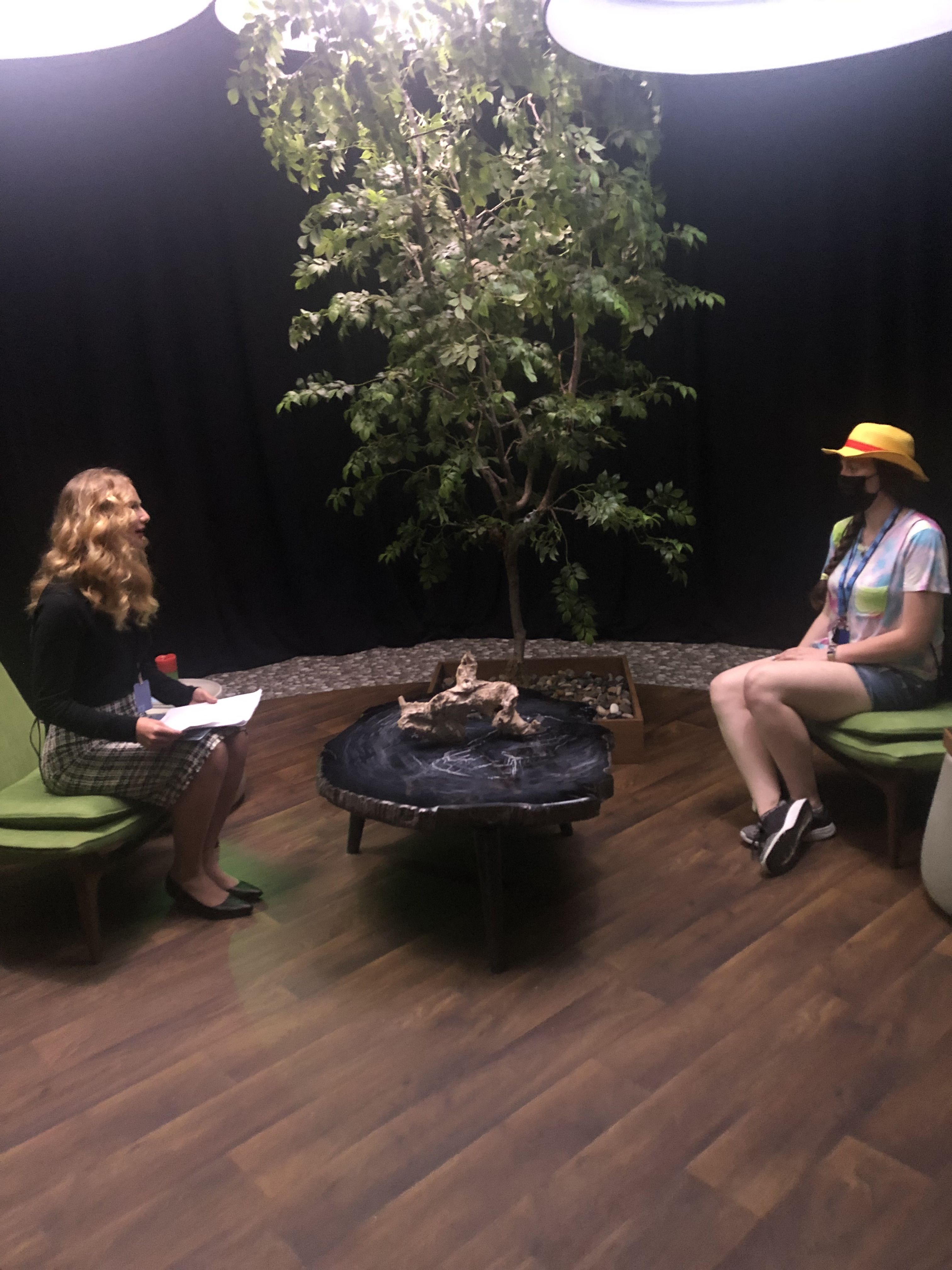 The experience began in the orientation room, an exact replica of the one in the series, where an actor set us up with our new work names and employee badges, then headed up to the severed floor by elevator. From there, we toured a series of rooms, led by a talented team of actors. Among touchpoints: An archival department where Lumon's vast array of artwork was being maintained (here, we scored a finger trap for attempting to answer an actor's question, a detail from the series); a dark room displaying oversized images of employees' smiles; and an impressive recreation of the Wellness Room, where a live actor offered facts about an attendee in our group's "outie," aka the person she is outside of the office, and reprimanded anyone for laughing at the exchange. To boot, one person in our group received a special badge to enter the break room, but it remains a mystery to us.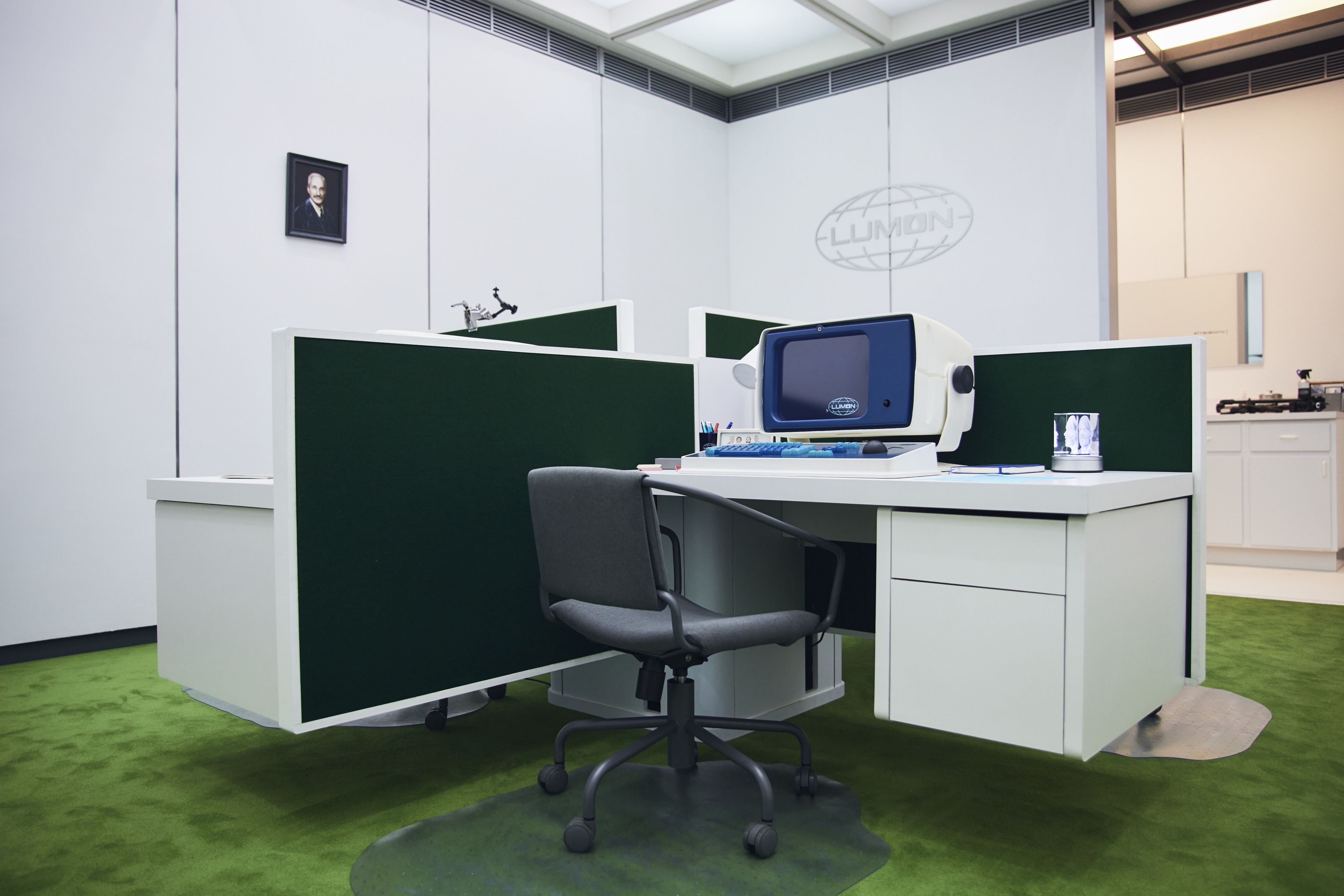 Finally, we reached a meticulously designed cubicle office setting, complete with the precise keyboards, computer mice, monitors, and even a 3D photo, seen on the show. Here, we snagged a branded carton of pretzels from a vending machine, searched the computers for series clues, interacted with a team of actors and, ultimately, participated in a spirited group dance break.
We left with two official Lumon badges, an enamel Lumon logo pin, the employee handbook, which we're told includes Easter eggs; a group photo and a keen interest in binge-watching the show. (Agency: GDX Studios, building wrap)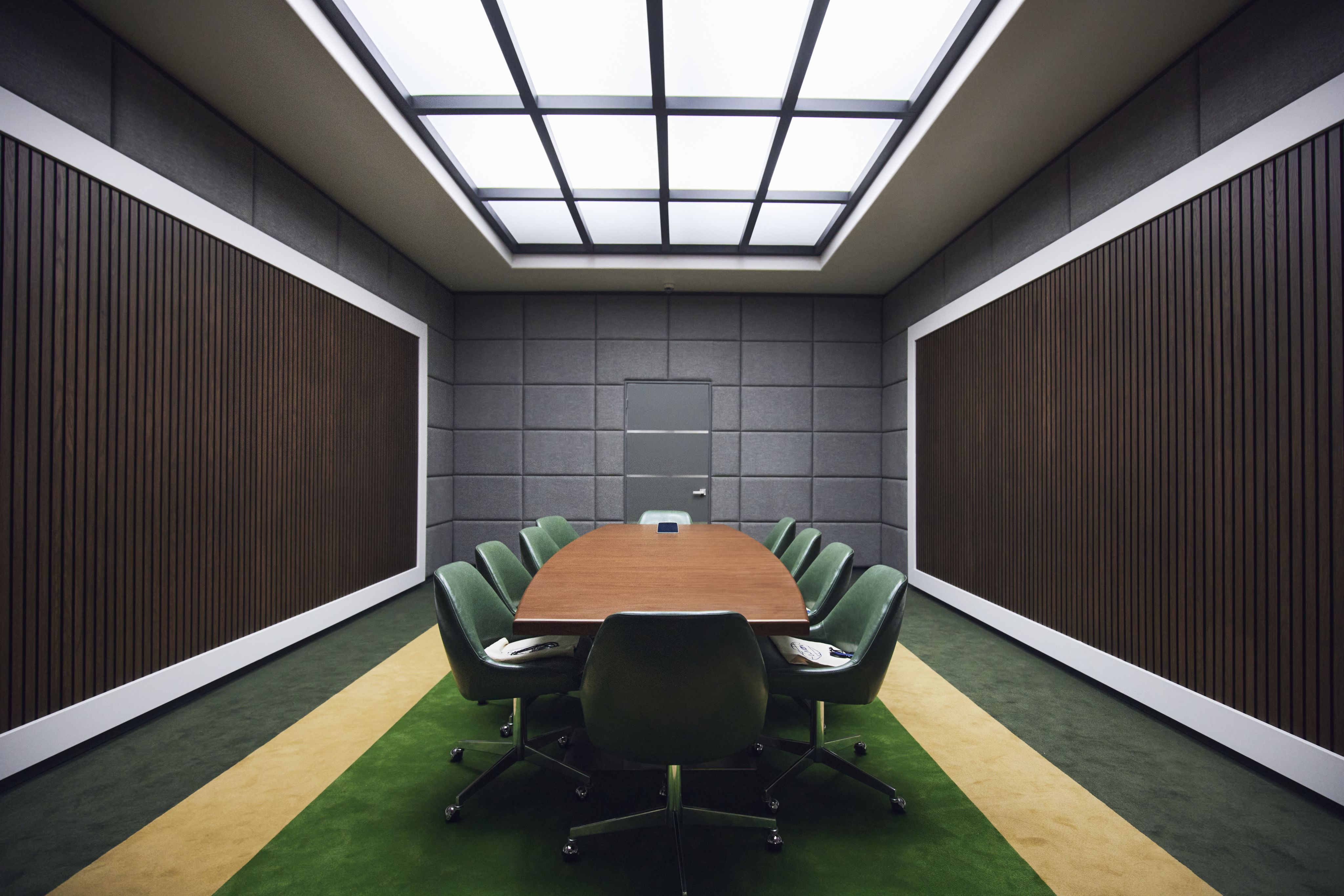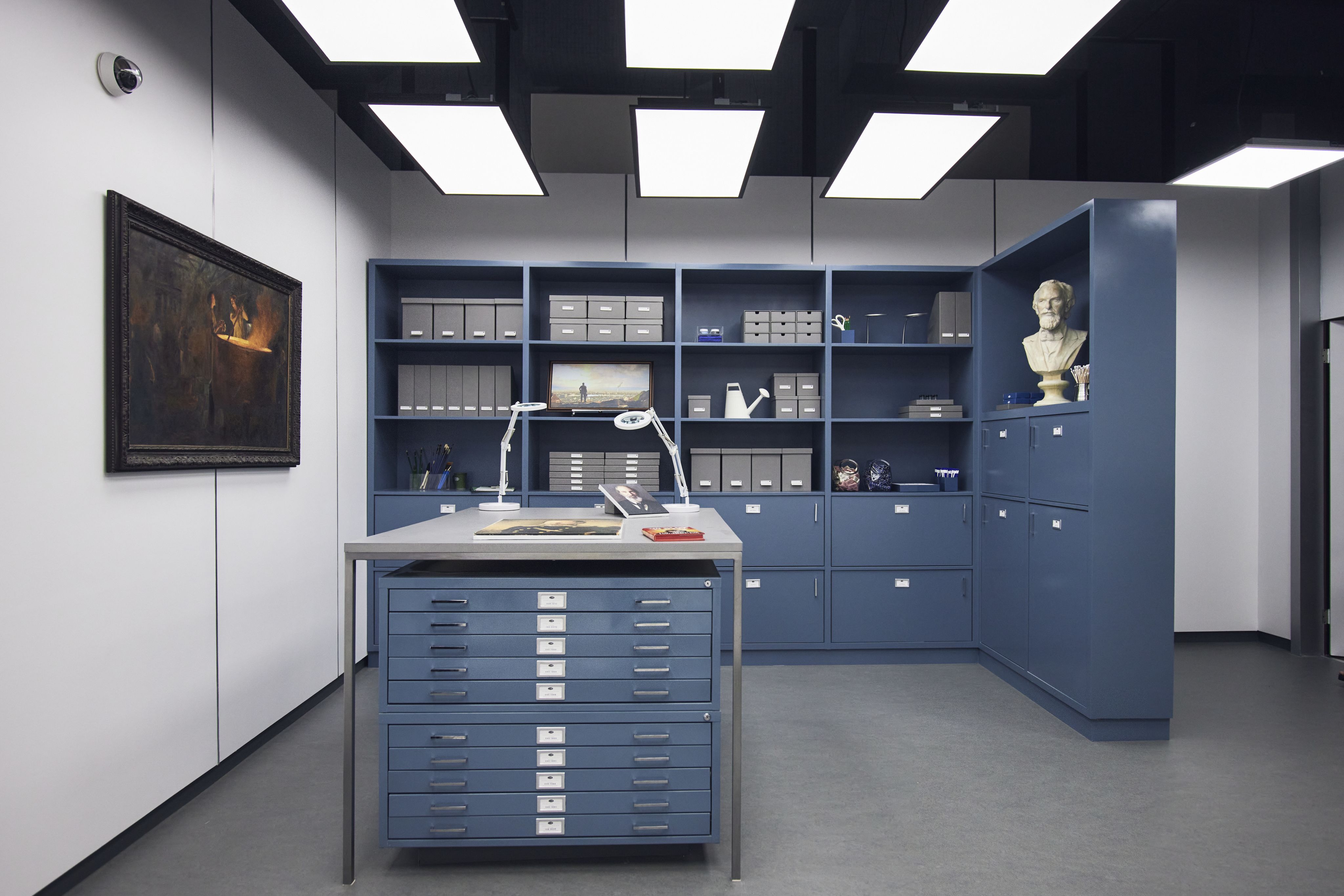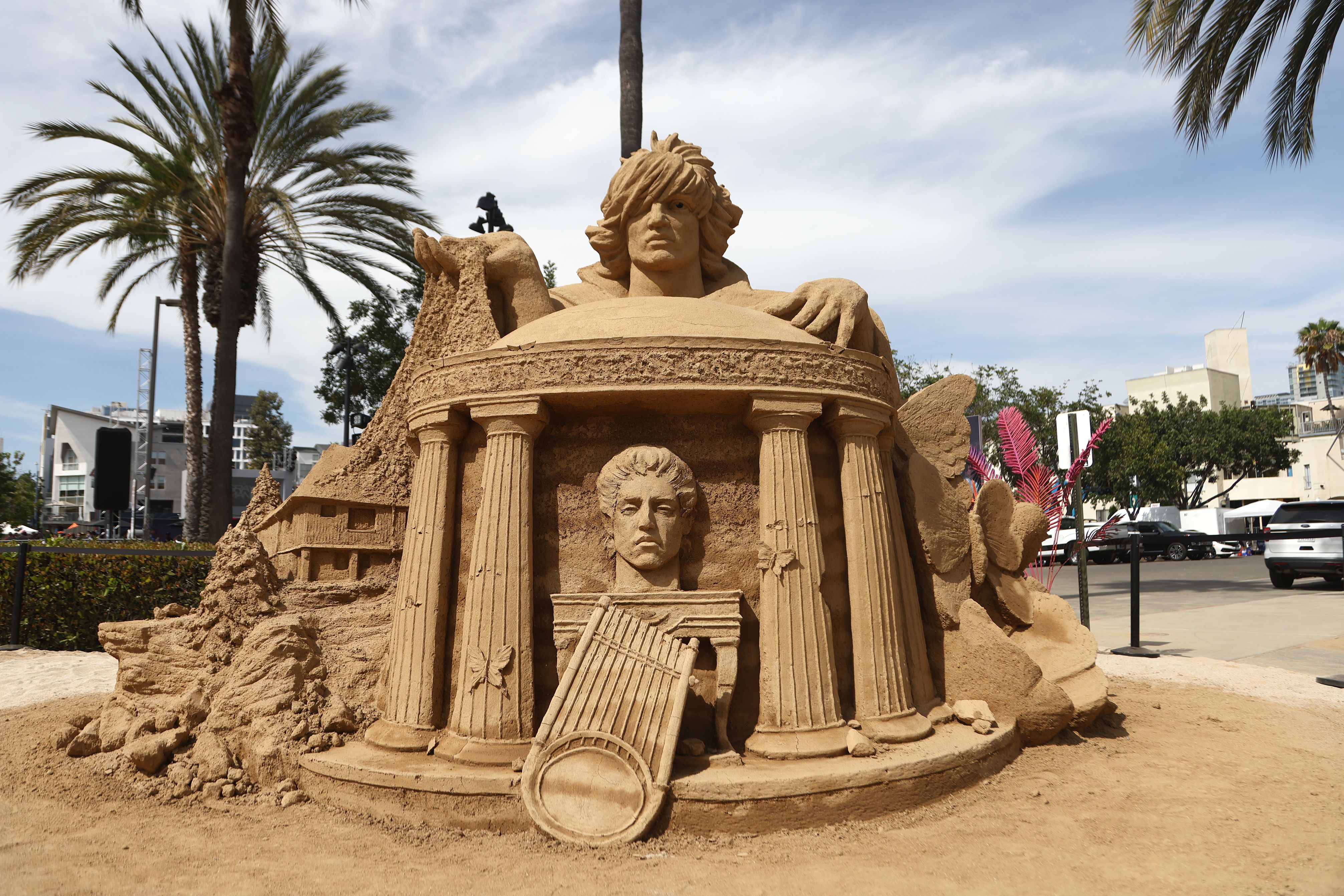 We dipped our toes in the sand at The Audible Beach, where an international team of artists from the Sand Sculpture Company had crafted gigantic, themed sand sculptures that took a full week to build and required 150 tons of impacted sand. The brand leveraged the installations and accompanying audio clips to tout its Originals programming, including Impact Winter, Moriarty: The Devil's Game and, naturally, The Sandman, an audio adaptation of the Neil Gaiman comic book. It was a popular photo op, not to mention a great place to rest our aching backs on beach chairs under the shade of a sweet, sweet umbrella. (Agency: Civic Entertainment Group)
Photo credit: Tommaso Boddi/Getty Images for Audible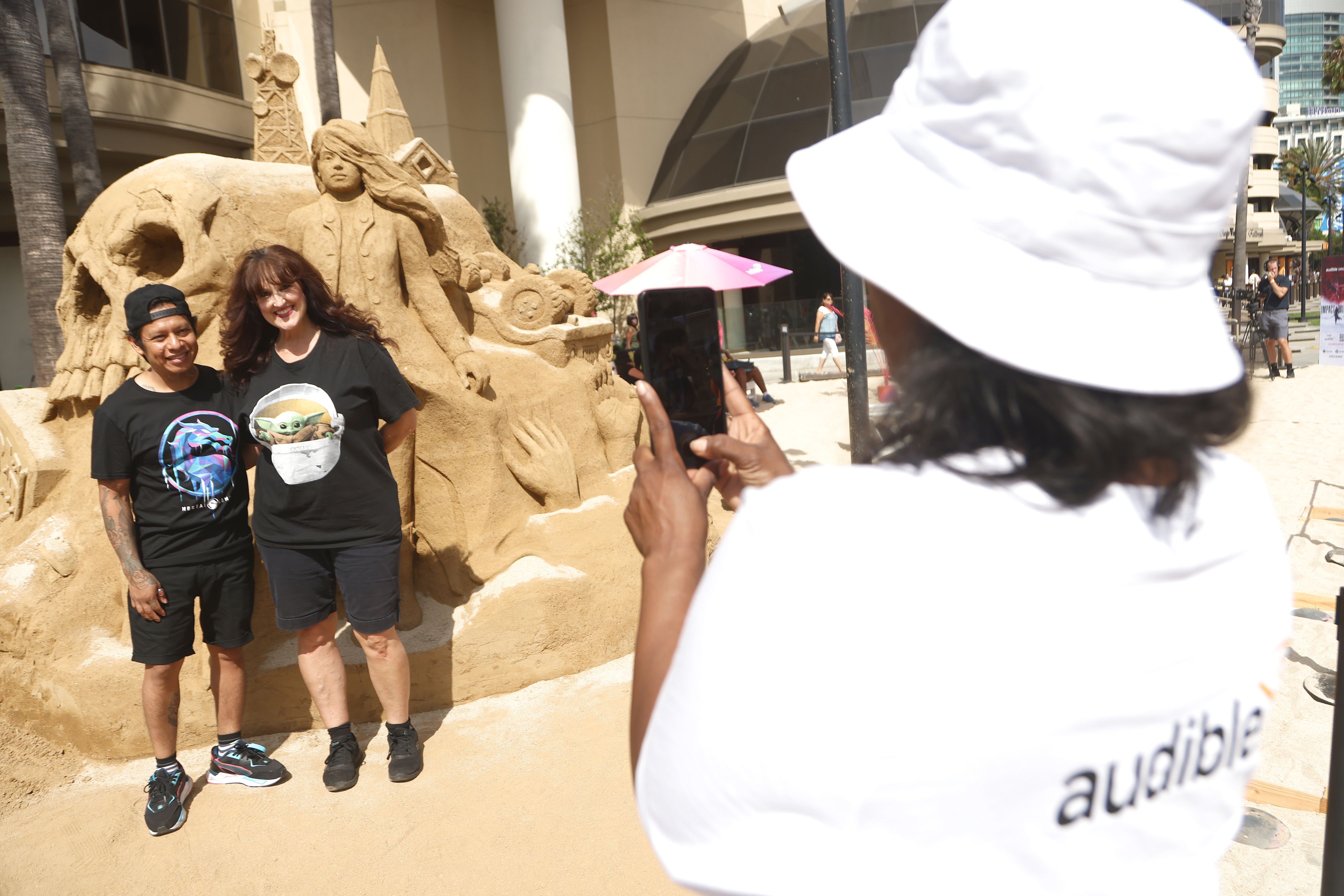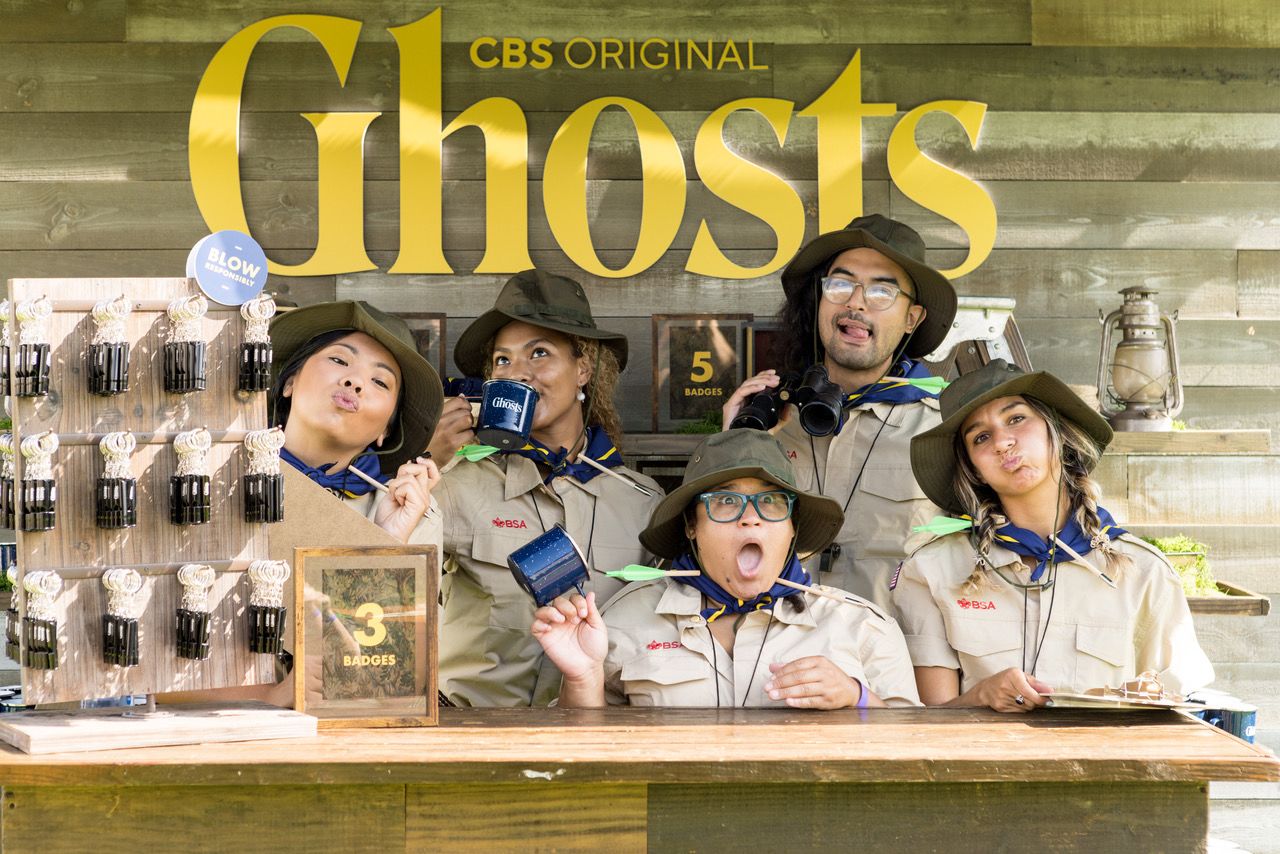 As part of its Summer of Ghosts campaign, CBS transformed a space inside the Interactive Zone into an amusing, campsite-themed Pinecone Trooper Pete's Friend Zone activation that touted its hit comedy "Ghosts." Across various touchpoints, fans could connect with the "afterlife" by participating in immersive tarot card, palm and crystal readings within tents and teepees brimming with props, like ornate picture frames showcasing the series' main characters.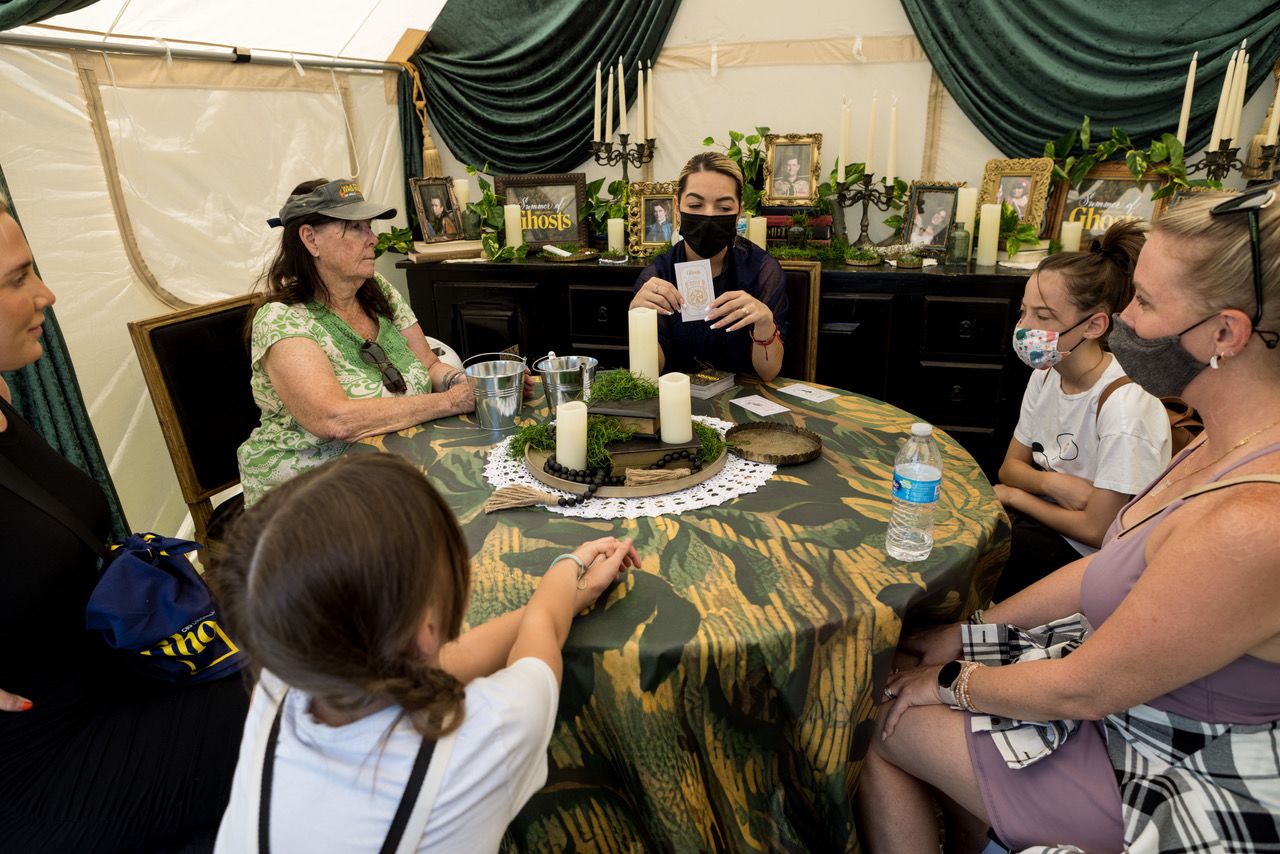 Con-goers could also take aim at the "scare-free" archery zone (where we failed miserably but had a blast), stop at a refreshment station, snap photos of camping-themed installations, earn badges to swap for brand swag and pose for an official GIF taken on a vintage couch, which showed "Ghosts" characters interacting with one another behind the fan in the final product. What we loved: The little details that fans would instantly recognize, like brand ambassadors roaming the space with arrows through their necks, a nod to the archery accident that led to Trooper Pete's death. (Agency: BMF)
Photo credit: Beyond the Light/Jun Mapue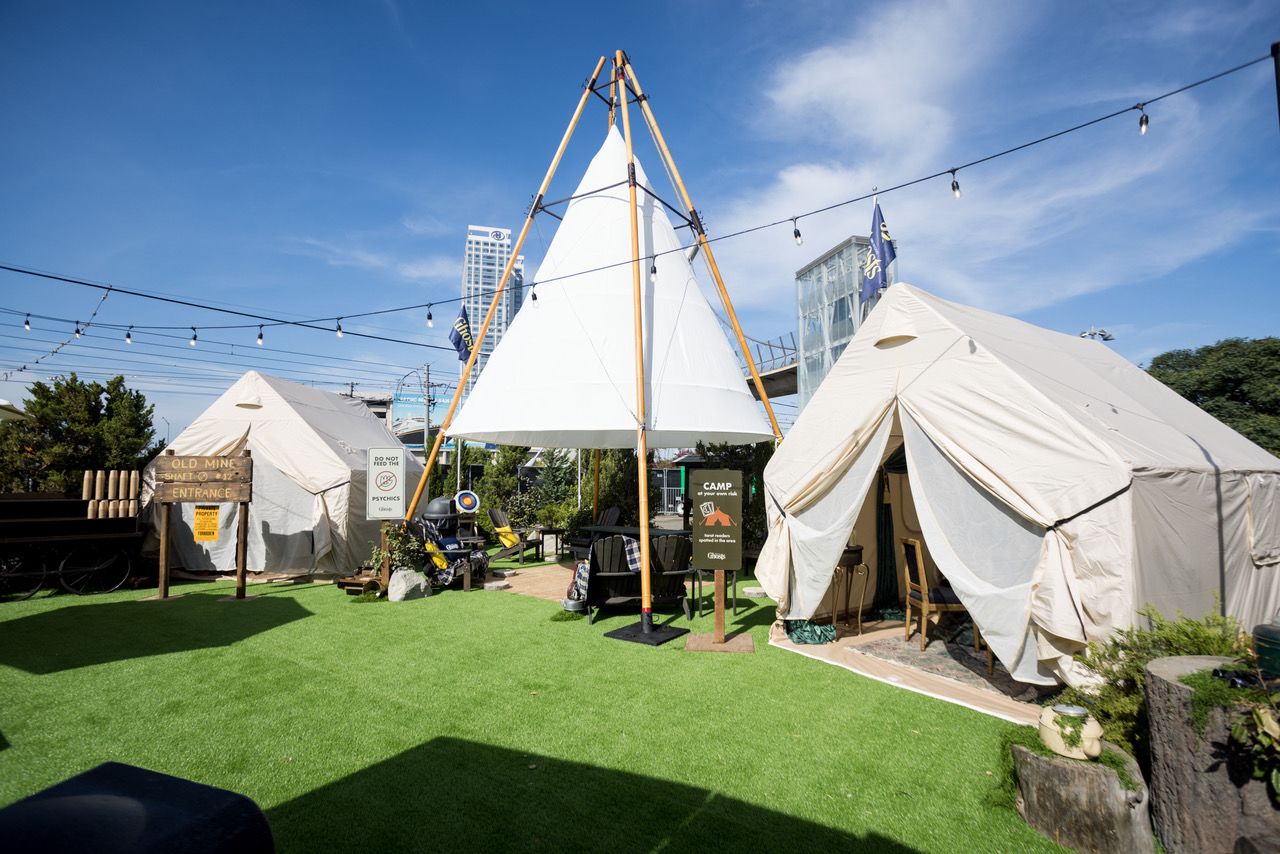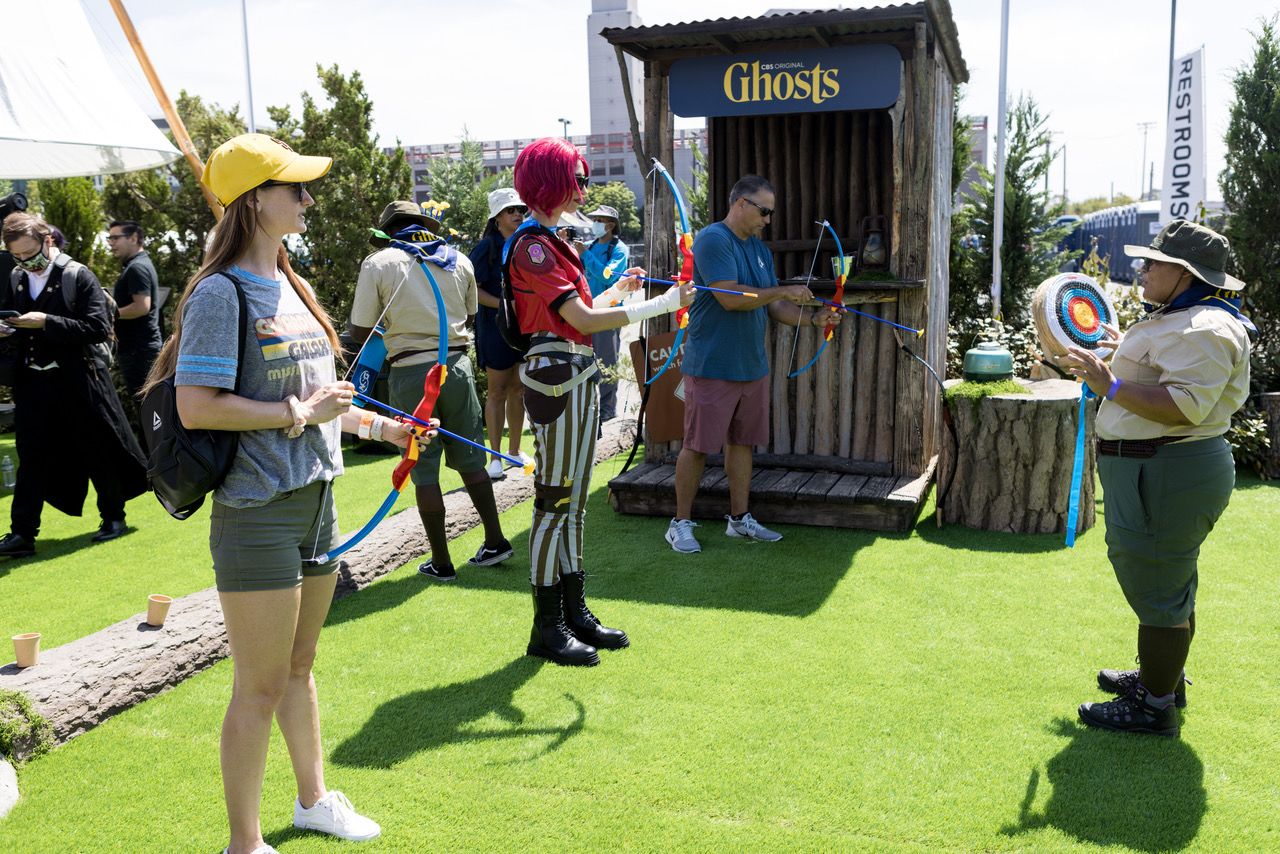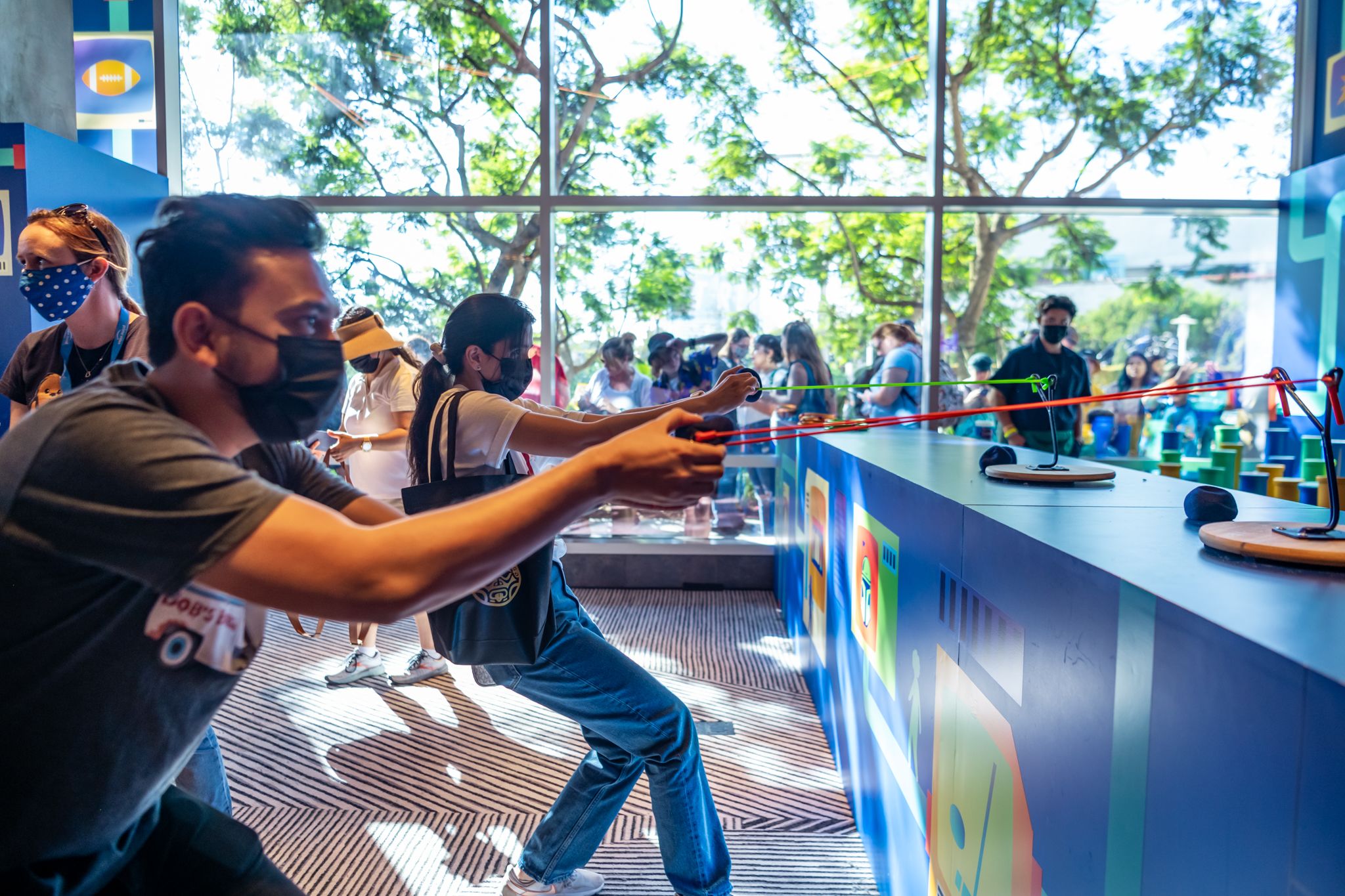 The Disney Bundle platform, which includes Disney+, Hulu and ESPN+, marked its Comic-Con debut this year with the "Bundleworks Factory" experience hosted at a colorful indoor workshop that powered the fictitious "Bundletown." The goal, of course, was to highlight the benefits of subscribing to, and particularly bundling, the streaming services. Disney made it happen with a playground of carnival games aimed at driving awareness and education, while delivering some old-school fun. It was a welcome reprieve.
Throughout the experience, attendees were invited to participate in hands-on activities, like following a golf ball through a "production pipeline" installation based on which of the Disney services they already subscribed to, playing a branded version of Plinko and testing their accuracy with a ring toss. Based on their skills, fans earned a certain number of Bundlebucks rewards in the form of raffle tickets after completing each game. The tickets could later be traded in for swag related to each of the Disney Bundle services at the Prize Wall (we snagged a "The Orville" mug with our bucks, in addition to a complimentary metal lunch box). Participants were invited to finish their "shift" in the Break Room with an ice-cold slushie topped with candy. (Agency: Creative Riff)
Photo credit: Creative Riff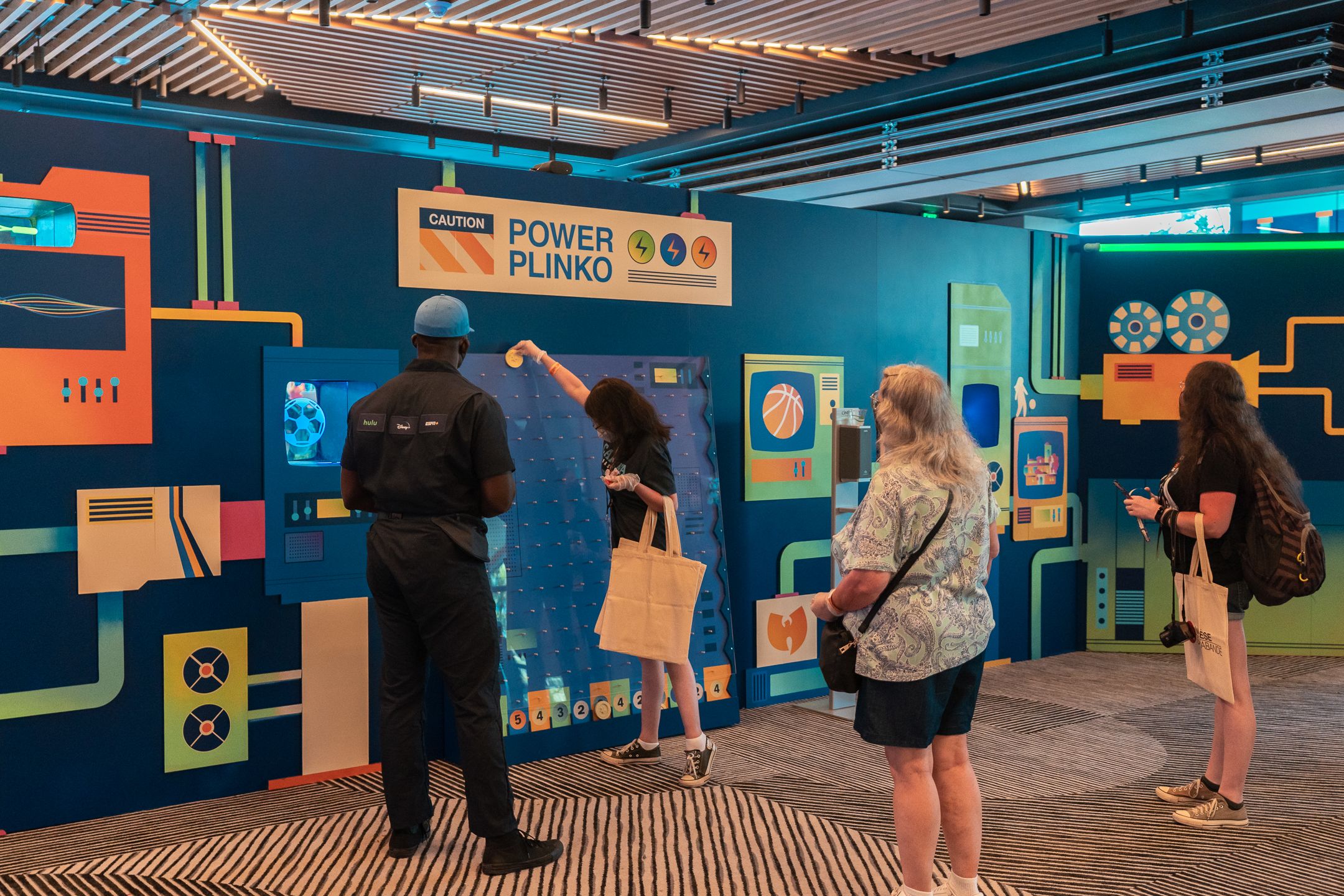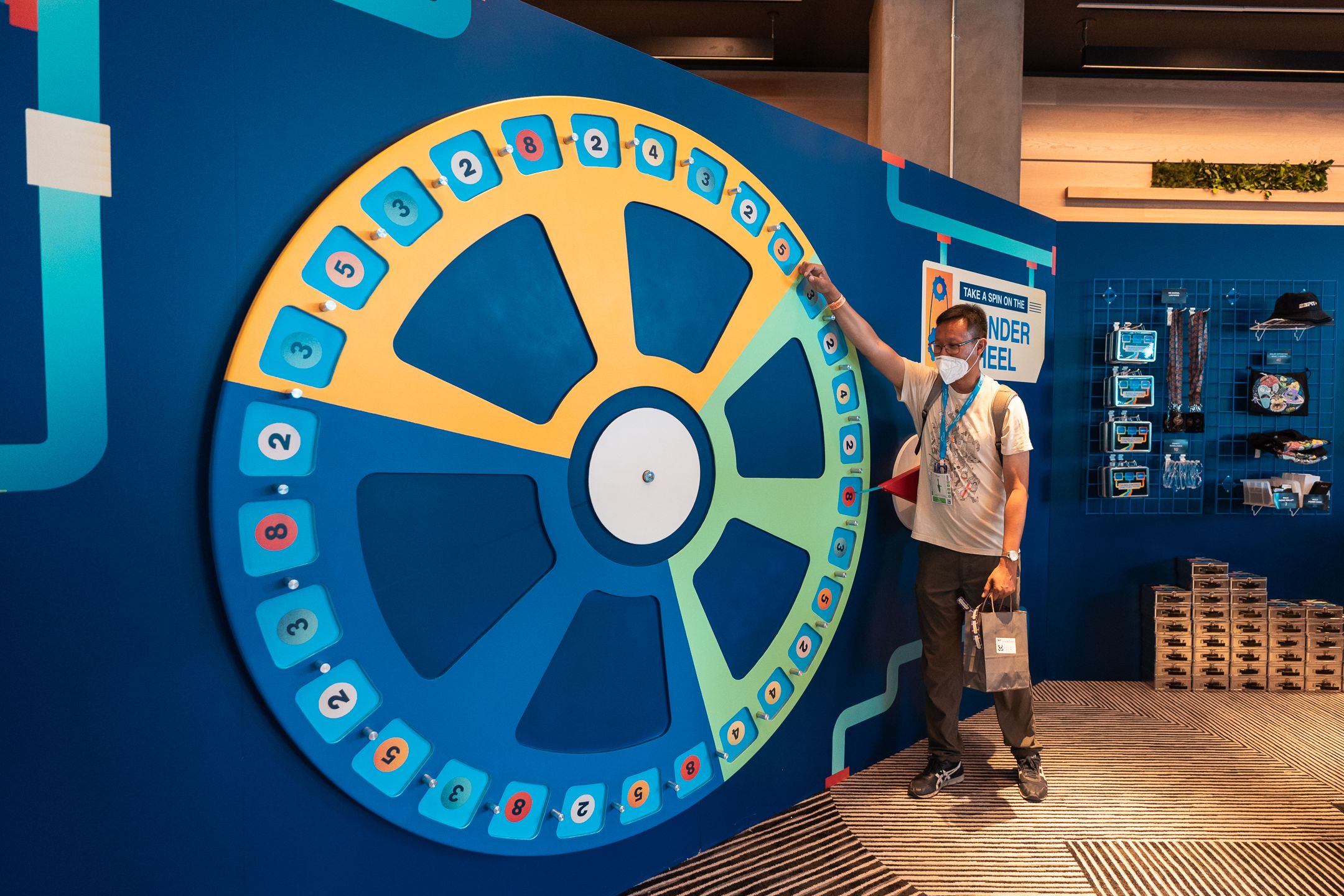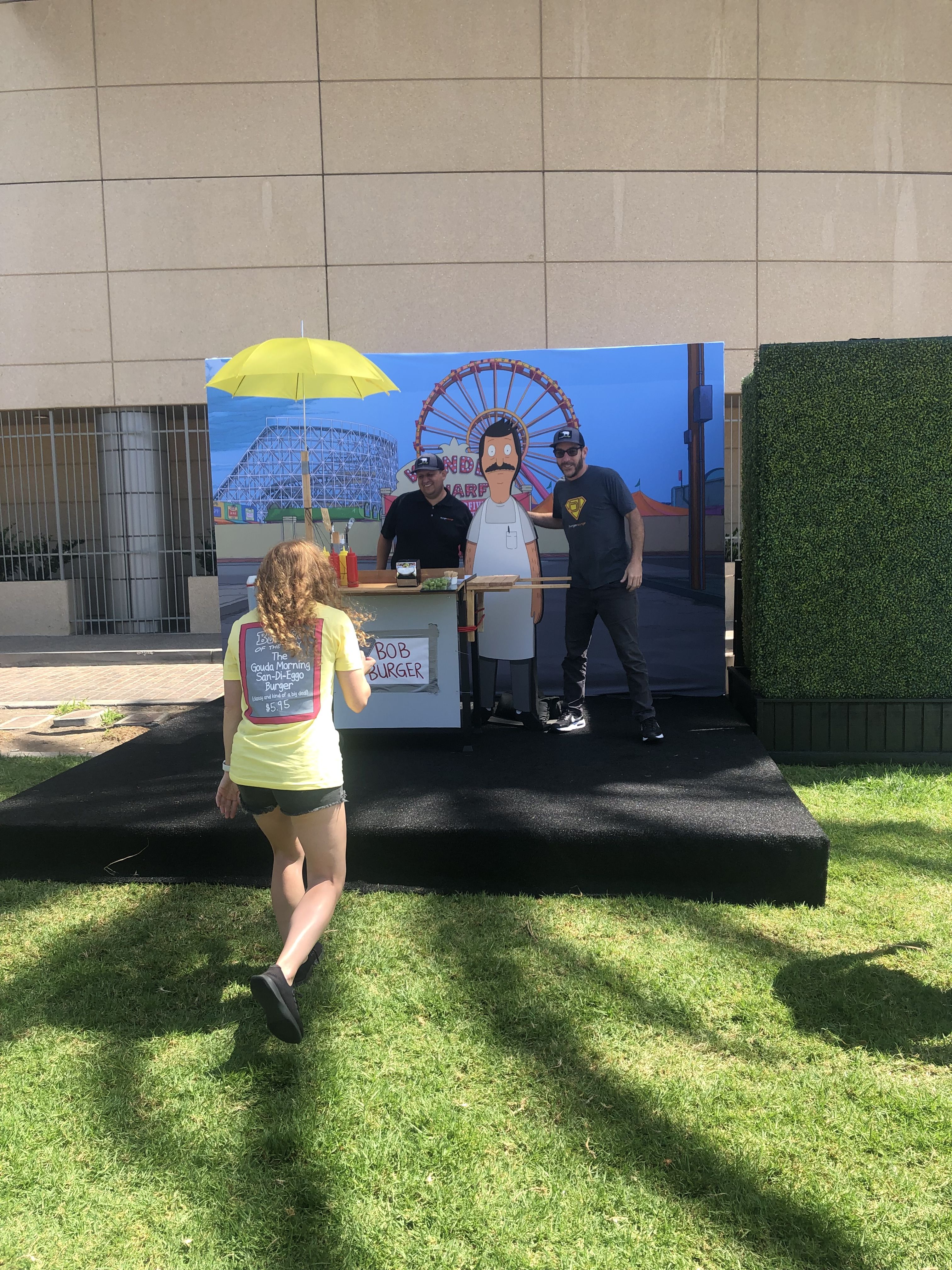 Fox's hit animated series "Bob's Burgers" is known for the catchy "Burger of the Day" puns written on the restaurant's chalkboard menu in each episode. So when we participated in "The Bob's Burgers Movie" experience, it came as no surprise that brand ambassadors were donning yellow t-shirts that read: The Gouda Morning San-Di-Eggo. Nice.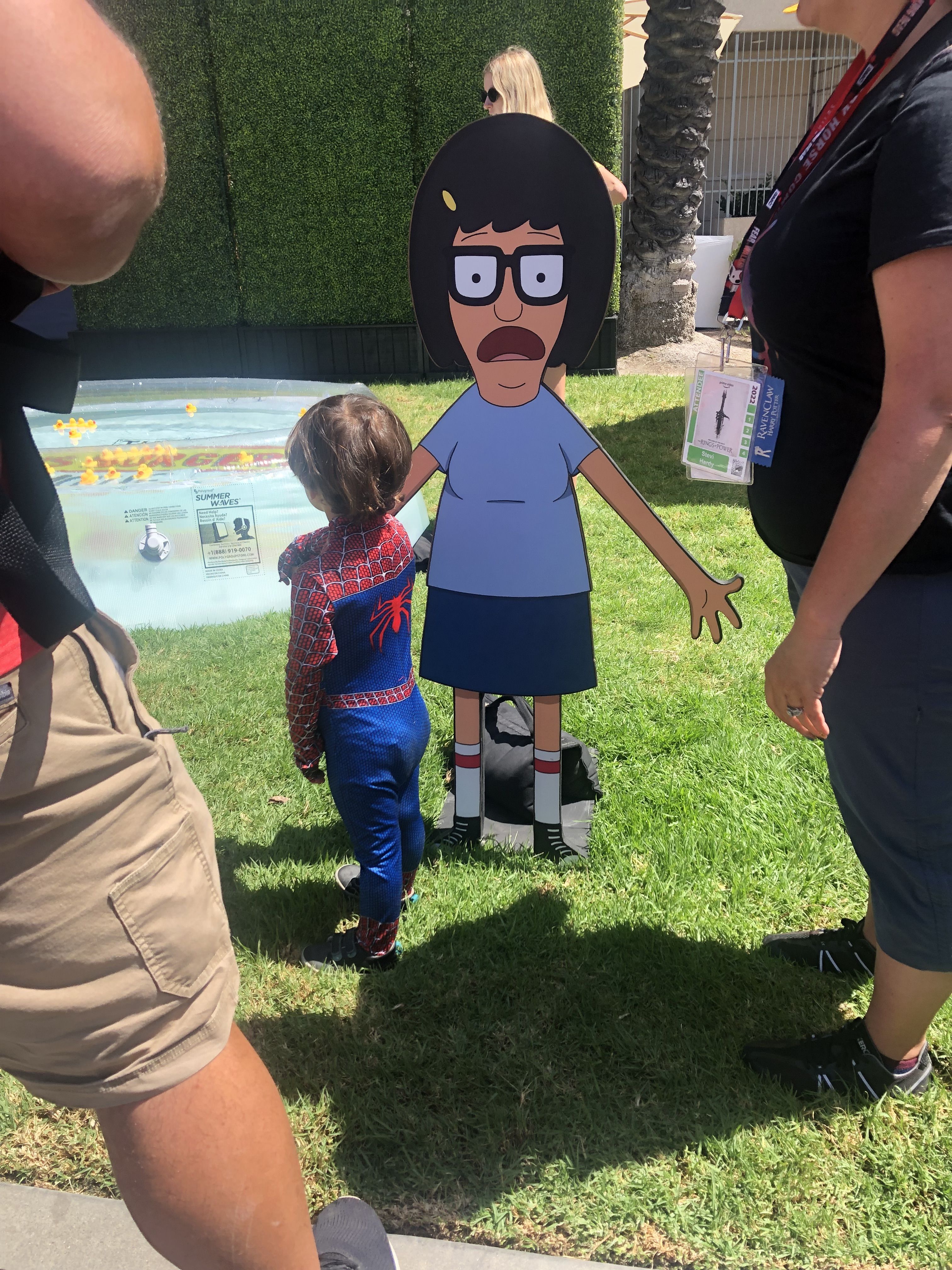 The family-friendly footprint included two central photo ops depicting scenes from the new movie. One featured a backdrop of the restaurant, a few construction zone props and a 3D image that made it appear as if we were falling into a sinkhole, while the other included a backdrop of the wharf from the film and series, a prop-filled food cart and a wooden cutout of Bob himself.
There was also a Lucky Ducks fishing game played beside a kiddie pool that proved to be popular and included prizes. But the most talked-about aspect of the activation was the daily "Patty Hour" during which throngs of consumers lined up to snag a "Comic-Con you believe it's a free Bob's Burgers burger" and, provided there was enough space, enjoyed the meal at on-site picnic tables nestled under branded umbrellas. As you might imagine, the lines for free food were considerable. We also hear a "Bob's Burger's" food truck made its way around the Hilton San Diego Bayfront area, just across from the convention center.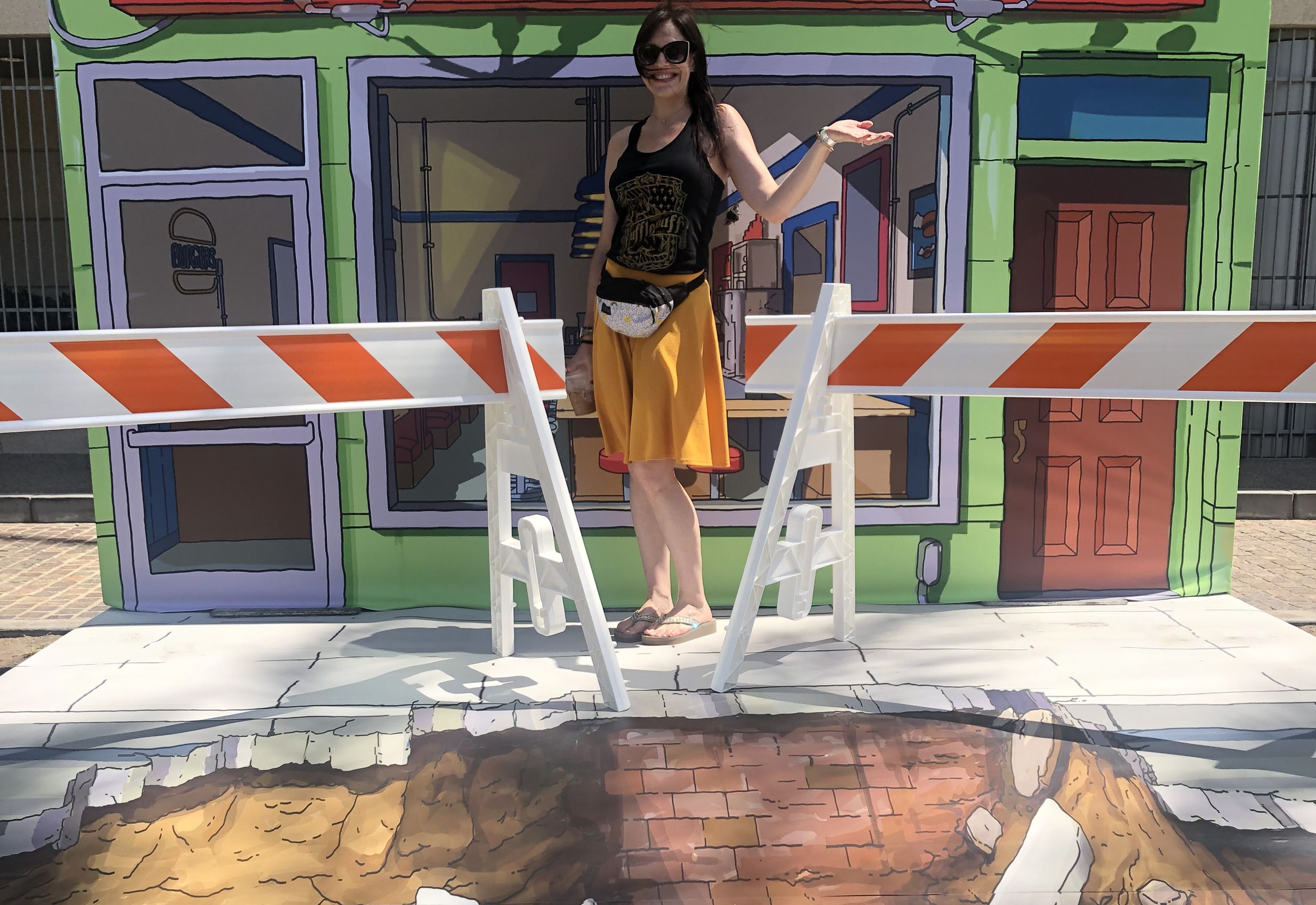 FX has taken over a sprawling outdoor property across from the Hilton Bayfront since 2014 to promote its wide array of content, and this year was no exception. The #FXSDCC experience encompassed a 100,000-square-foot walkable labyrinth that brought popular FX series to life under one "roof."
Upon entering the experience, participants, including yours truly, were encouraged to navigate the eerie garden environment at their own pace, and met countless photo moments, delights and frights along the way, from walking trees to the "dolls" from "American Horror Stories" (who will forever haunt our dreams). To us, it genuinely felt like a garden maze (one staffer told us they got temporarily lost the morning of opening day) and included plenty of surprise and delight moments, encounters with strange characters and audio piped in to enhance the creepy factor. Exclusive giveaways, like a "You're a Doll" compact mirror, were also part of the mix.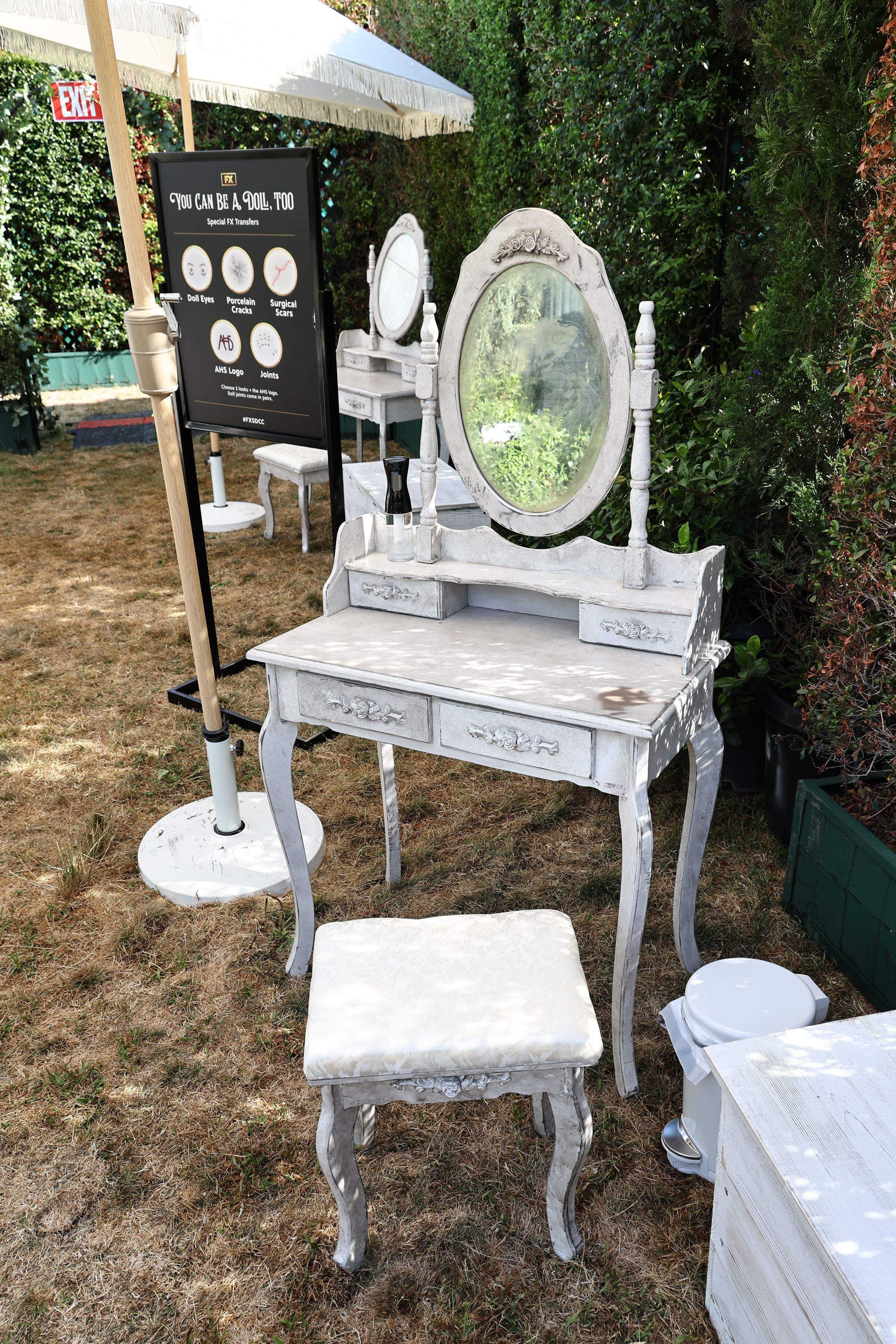 "The concept is that the garden has come to life. You never really know what to expect, so it offers that sense of discovery that fans really enjoy," Kenya Hardaway, svp-integrated promotions, multi-platform marketing, at FX Networks, told us on-site. "We want to have an opportunity for the fans to get as close to their favorite shows as possible. And this kind of [activation] allows them to do that. It's what we strive for."
Among a variety of touchpoints were stations where makeup artists from "AHS" recreated the porcelain doll look for registered participants, in addition to the real-life roaming dolls who used their rigid gestures to beckon us to a lavish banquet table… filled with rotting food; a photo op with a leaf-covered "Mayans M.C."-inspired motorcycle; a sound sculpture featuring a blend of 3D printing tech and avant-garde industrial elements used to showcase the network's range of sci-fi and horror content; a "Little Demon Den" where FX hosted an experiential screening event; and kiosks featuring an identity quiz used to create personalized fan profiles with series recommendations.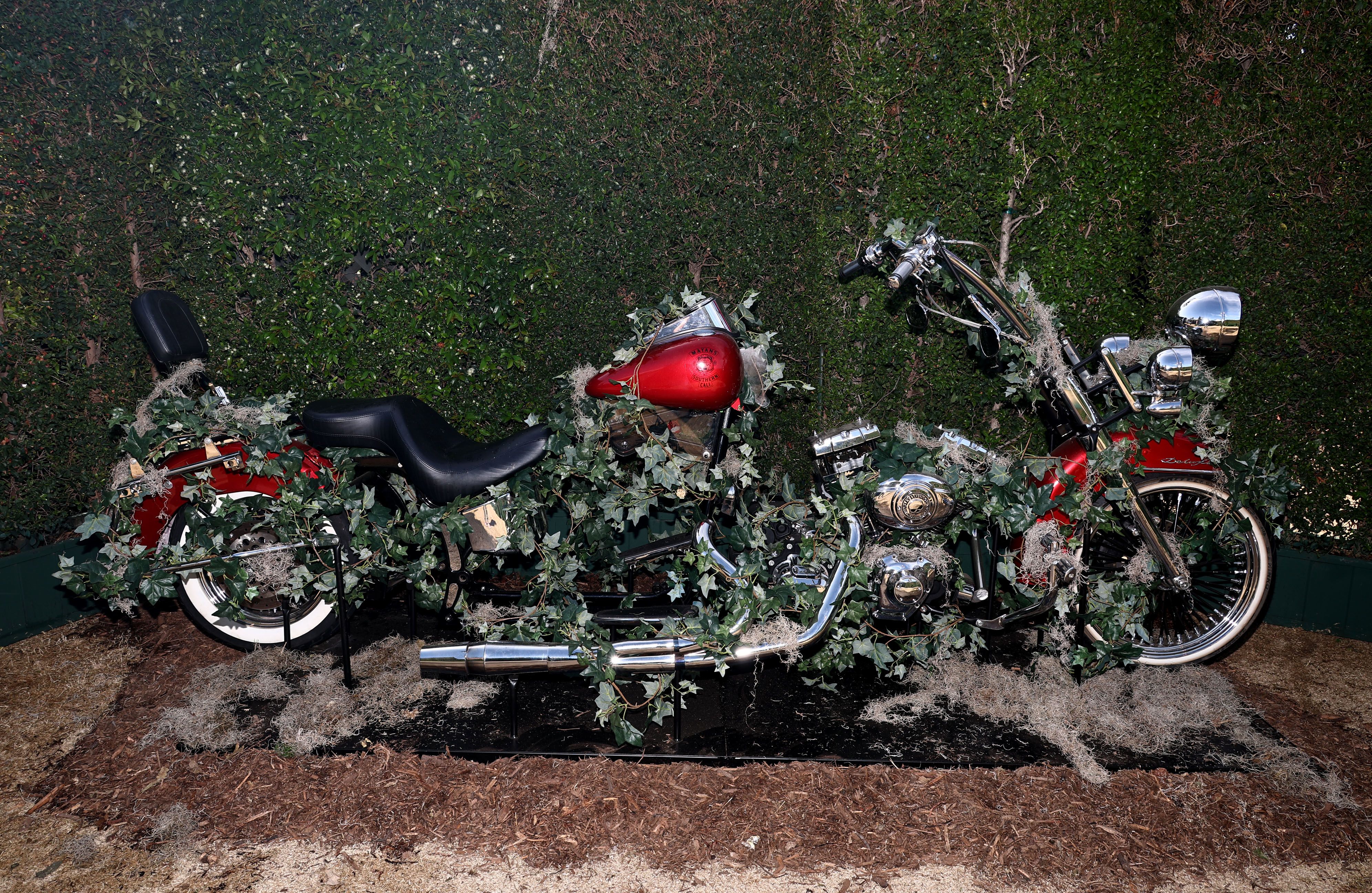 Then there was Nadja's San Diego, the aforementioned vampire night club, which served as a replica set from the fourth season of "What We Do in the Shadows." Before entering, we chatted with humorous "bouncers" and scanned a QR code to ensure we later received a 360-degree video asset—then went inside and shook what our mama gave us. Worth noting: Air conditioning in Nadja's gave attendees a welcome, if brief, break from the heat.
On the way out of the experience, we had a chance to snag custom-embroidered swag, like bucket hats, and spin a roulette wheel to win a bottle of "Little Demon Garlic Hot Sauce." (Agency: Creative Riff)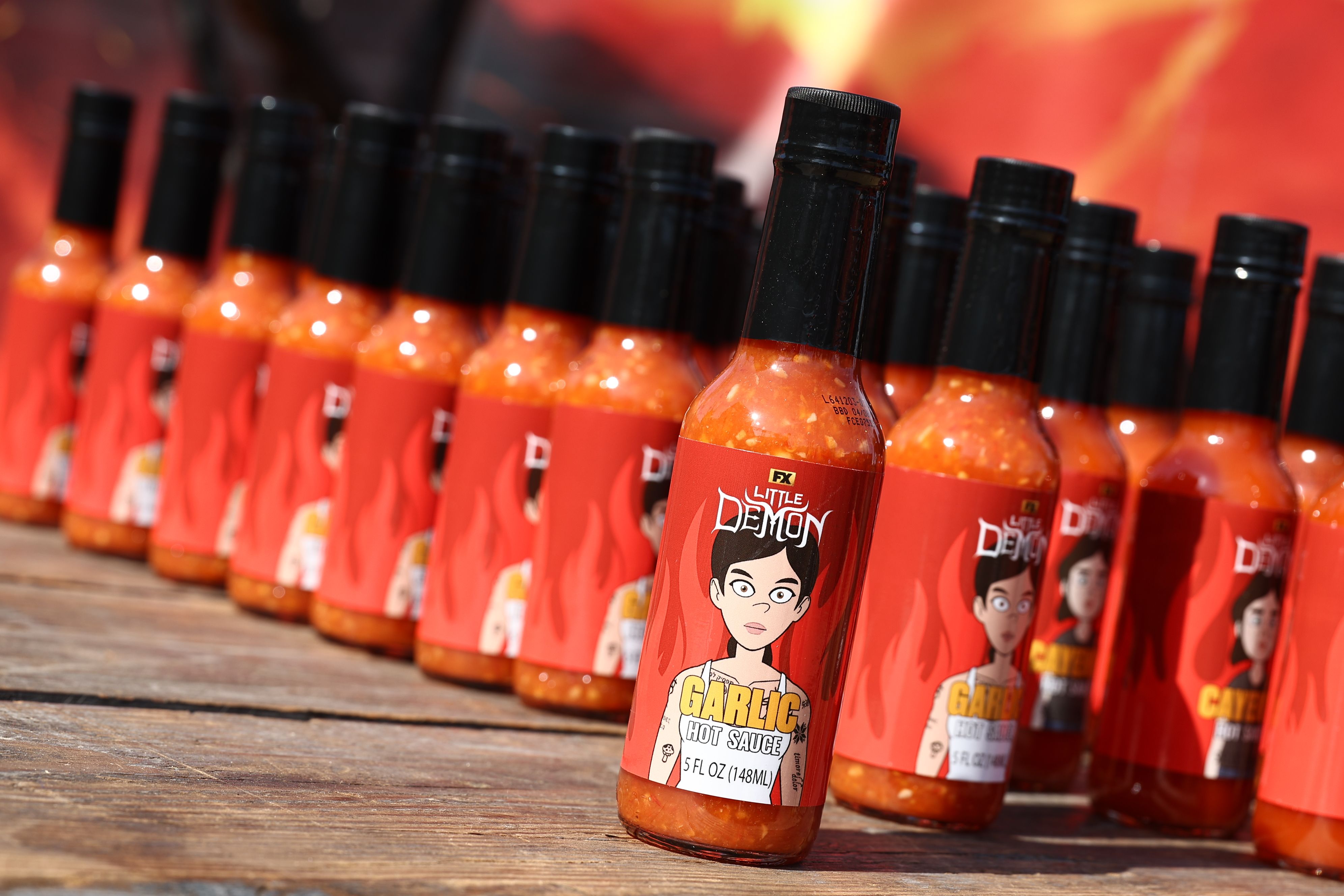 Read the full #FXSDCC case study here.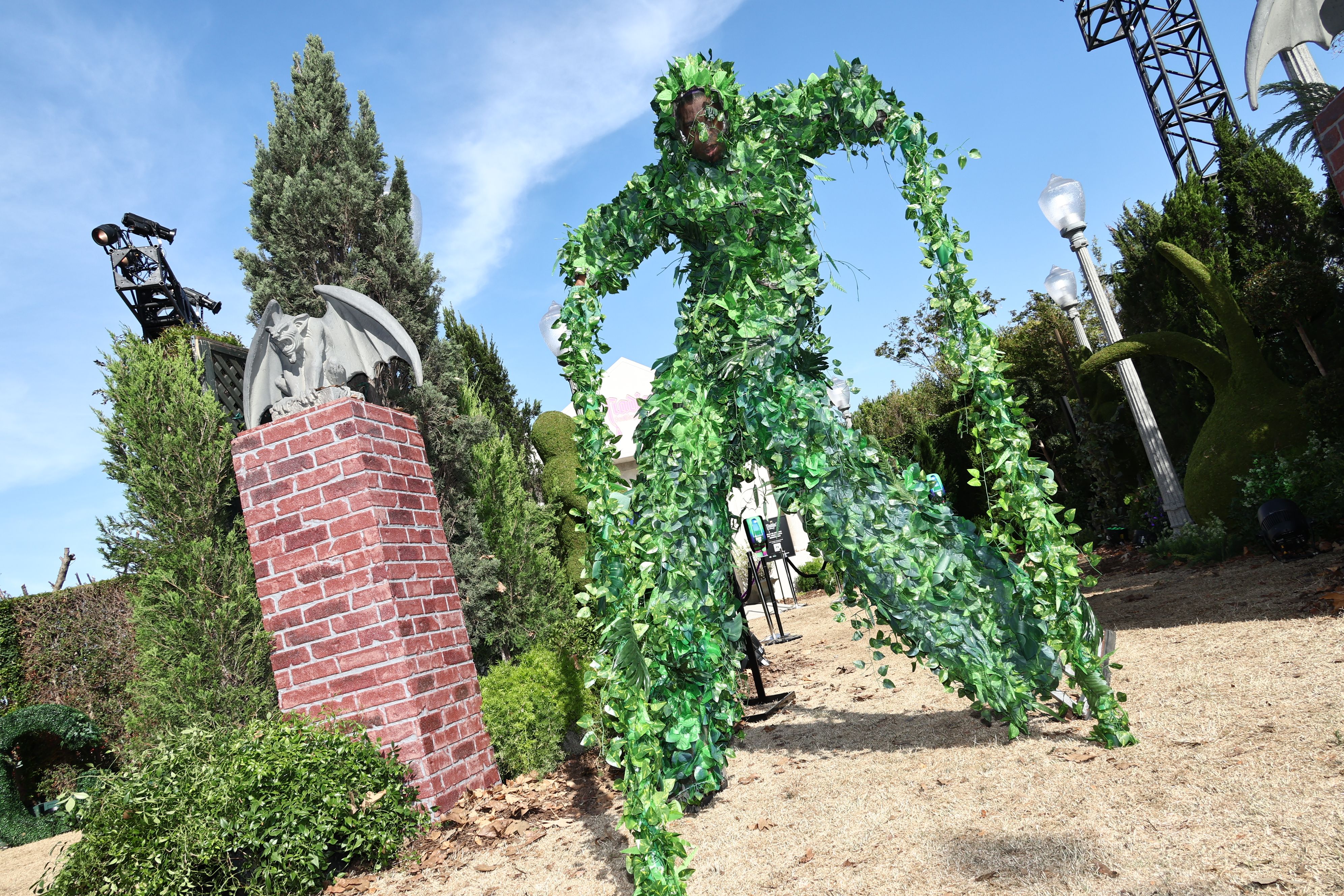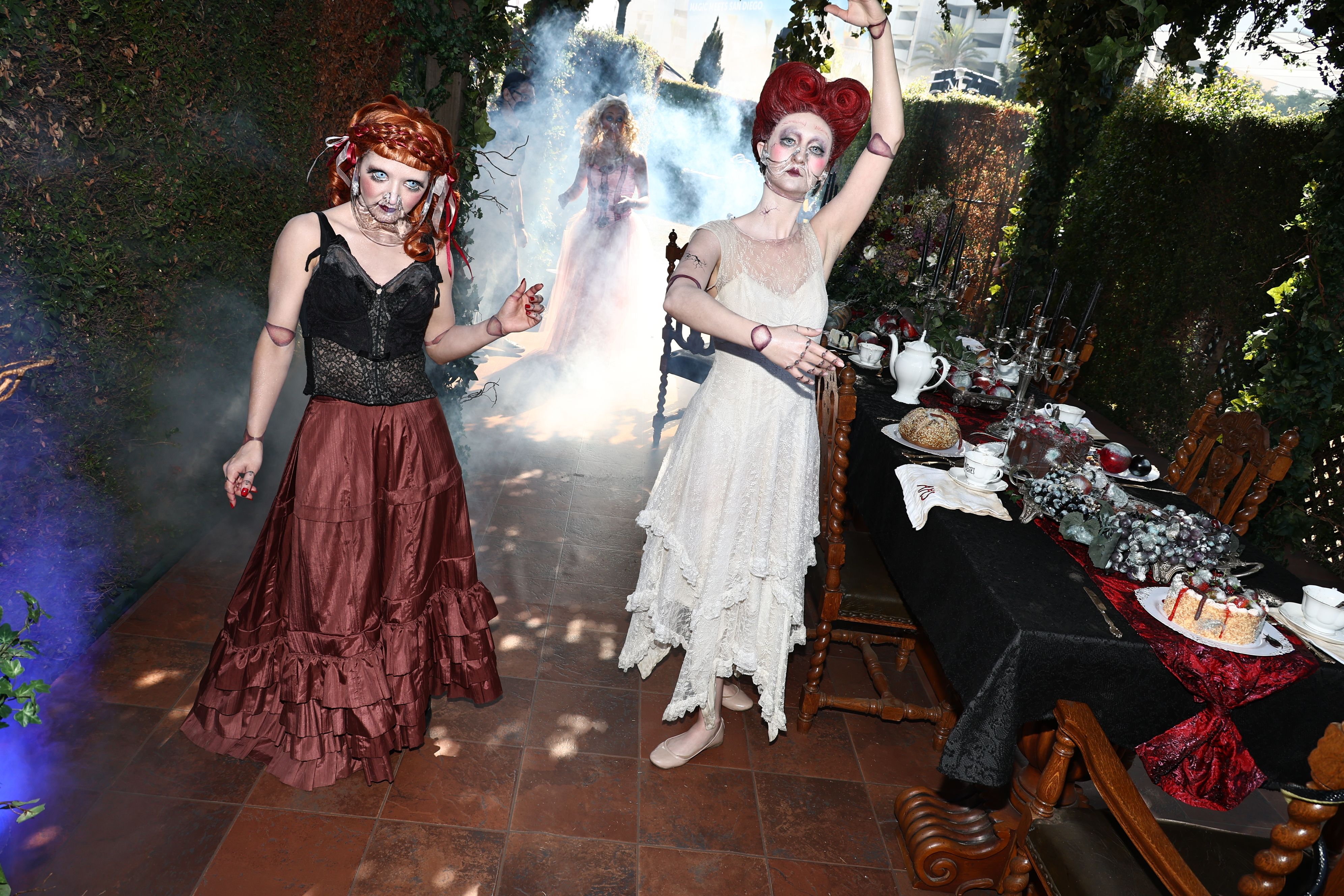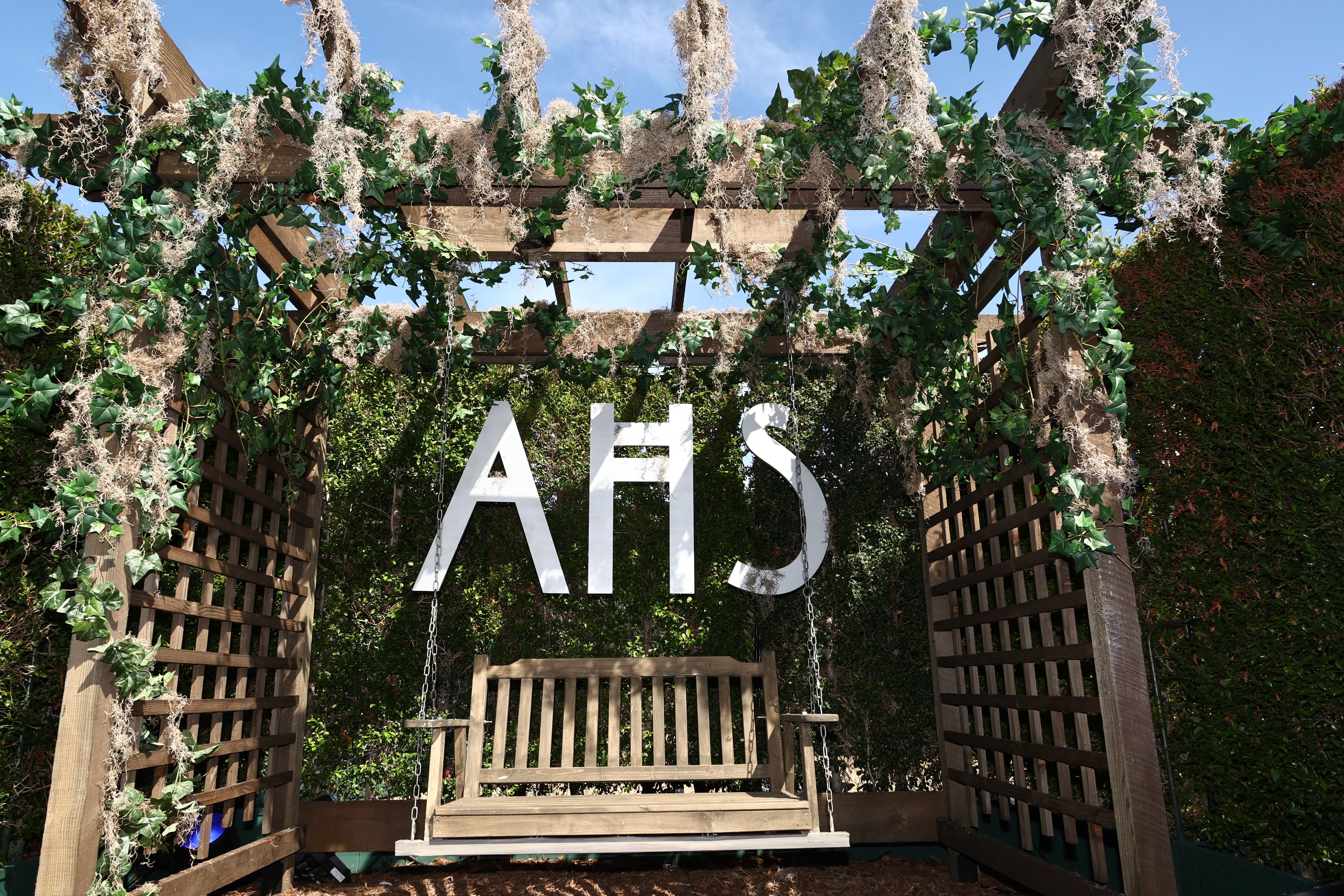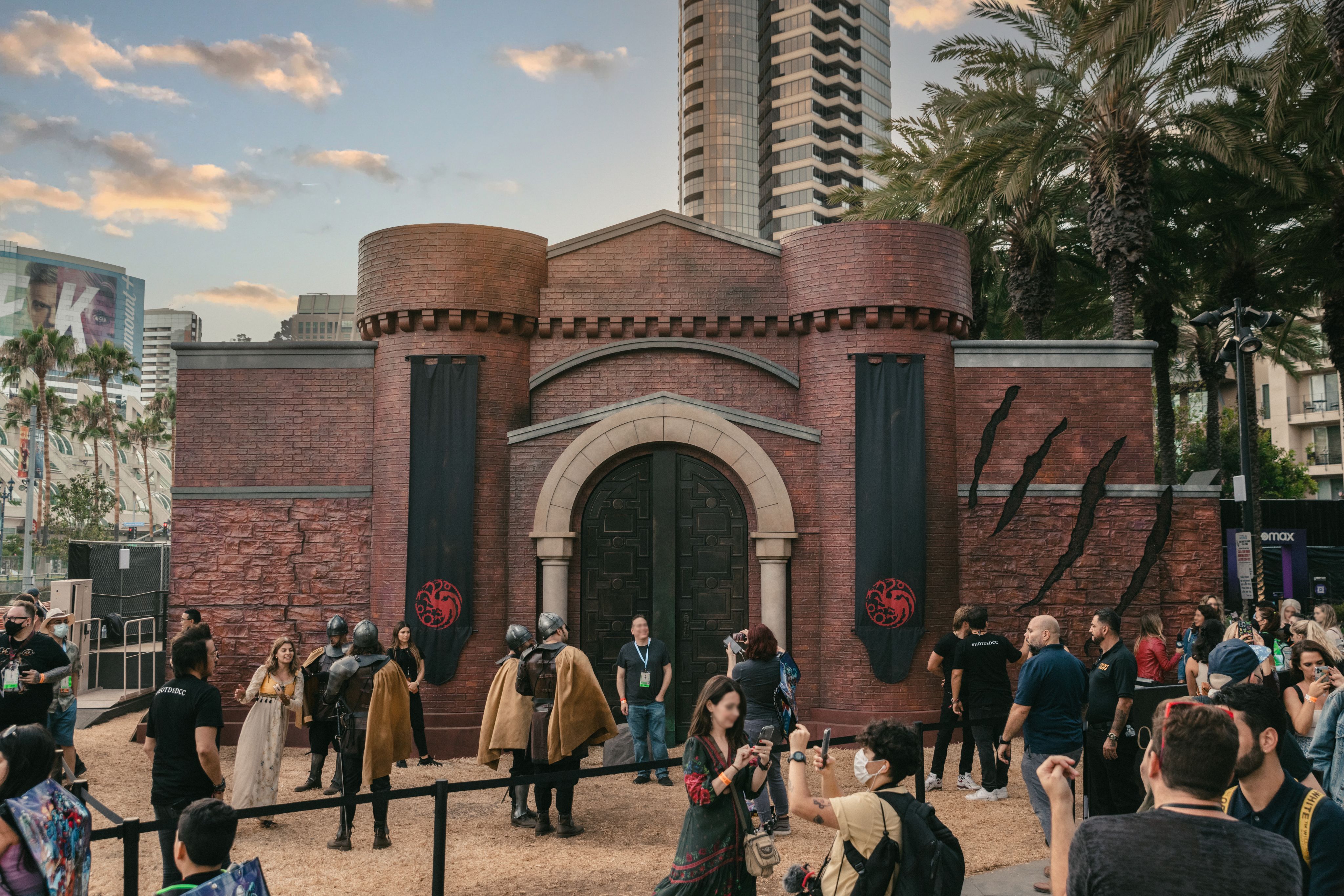 HBO touted its much-hyped "Game of Thrones" prequel, "House of the Dragon," with a beautifully fabricated castle, a multisensory dragon-hatching ceremony, a companion app and a lively outdoor marketplace set in the show's time period. This one pretty much smoked the competition. And the lines to get in wrapped around the block.
As we entered the marketplace, actors were on-site in period costumes selling goods like spices and fruit, and interacting with one another and attendees, remarking on things like the exotic colors they were wearing (our shade of orange was of interest) and what strange objects they were pointing at each other (mobile devices). Meanwhile, the sound of what we can only assume were dragons could be heard all along the castle's exterior.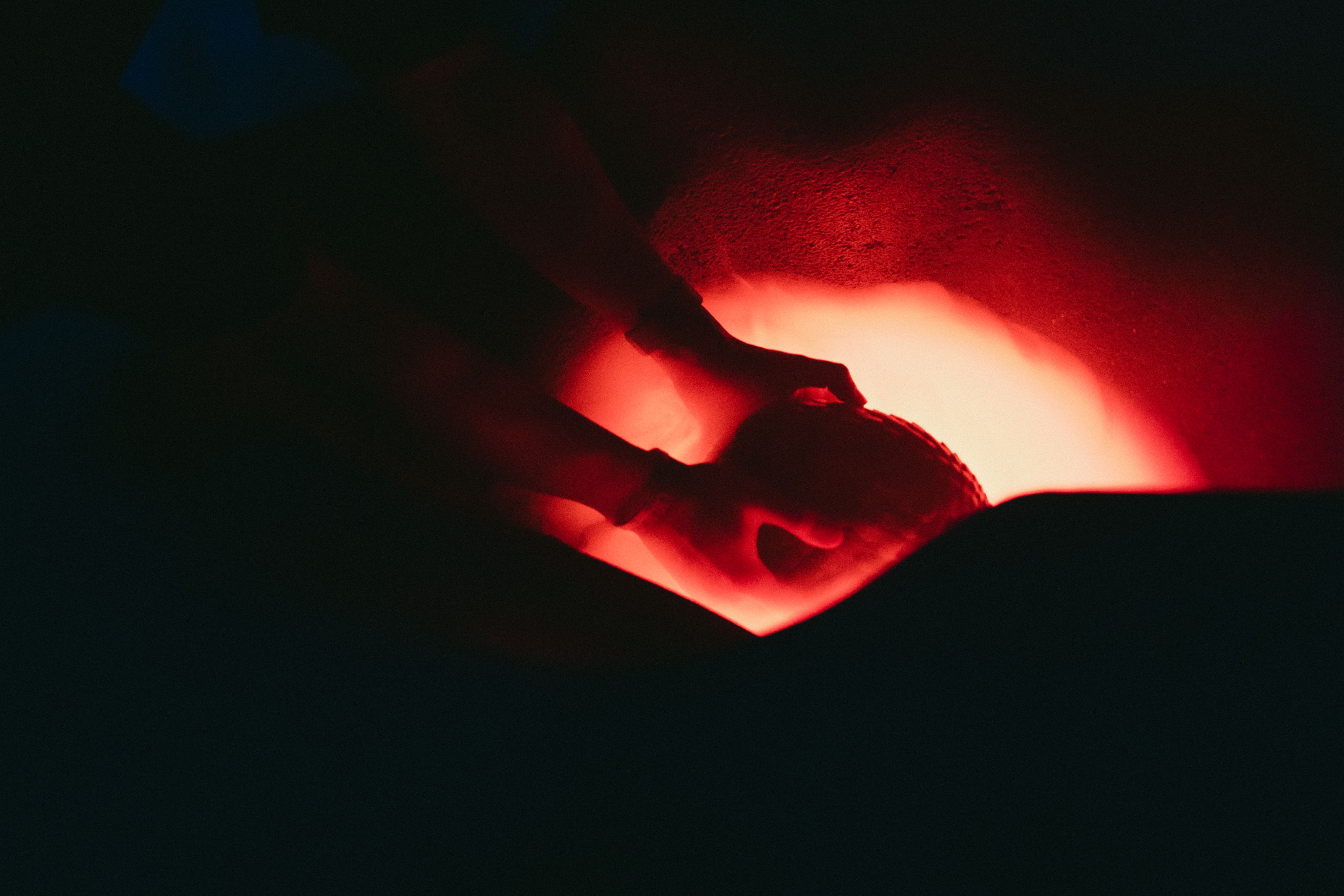 Then, the castle doors opened and we entered the "The Dragon's Den," prepared to walk in a Targaryen's footsteps. It was dark and foreboding inside, with wall-mounted candles and an eerie red glow serving as the light sources. Before the journey began, our guide fervently impressed upon us what a privilege it was to participate in a ceremonial dragon-hatching experience, and asked that we demonstrate our bravery and worthiness of bonding with a dragon along the way. This included selecting a heavy, scaly dragon egg from an altar featuring faux flames and complete with smoke effects, observing a candle-lit dragon skull installation and completing the ritual by placing our egg in a pit of flames to be hatched.
Before the experience ended, we snagged a legitimately cool "HOTD" hologram pin premium, and, naturally posed for a photo on the Iron Throne surrounded by lifelike flame effects. Dracarys. (Agency: Giant Spoon)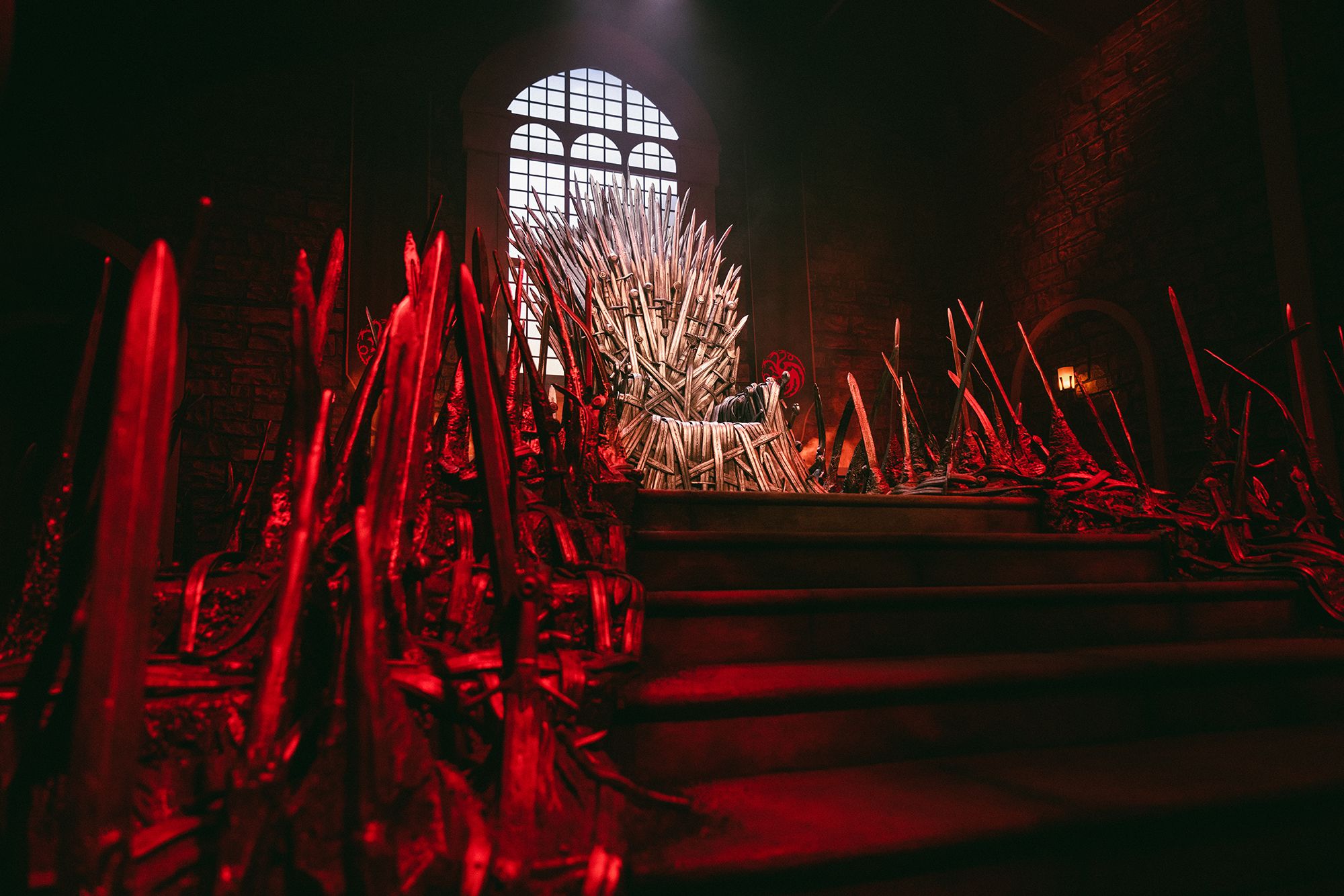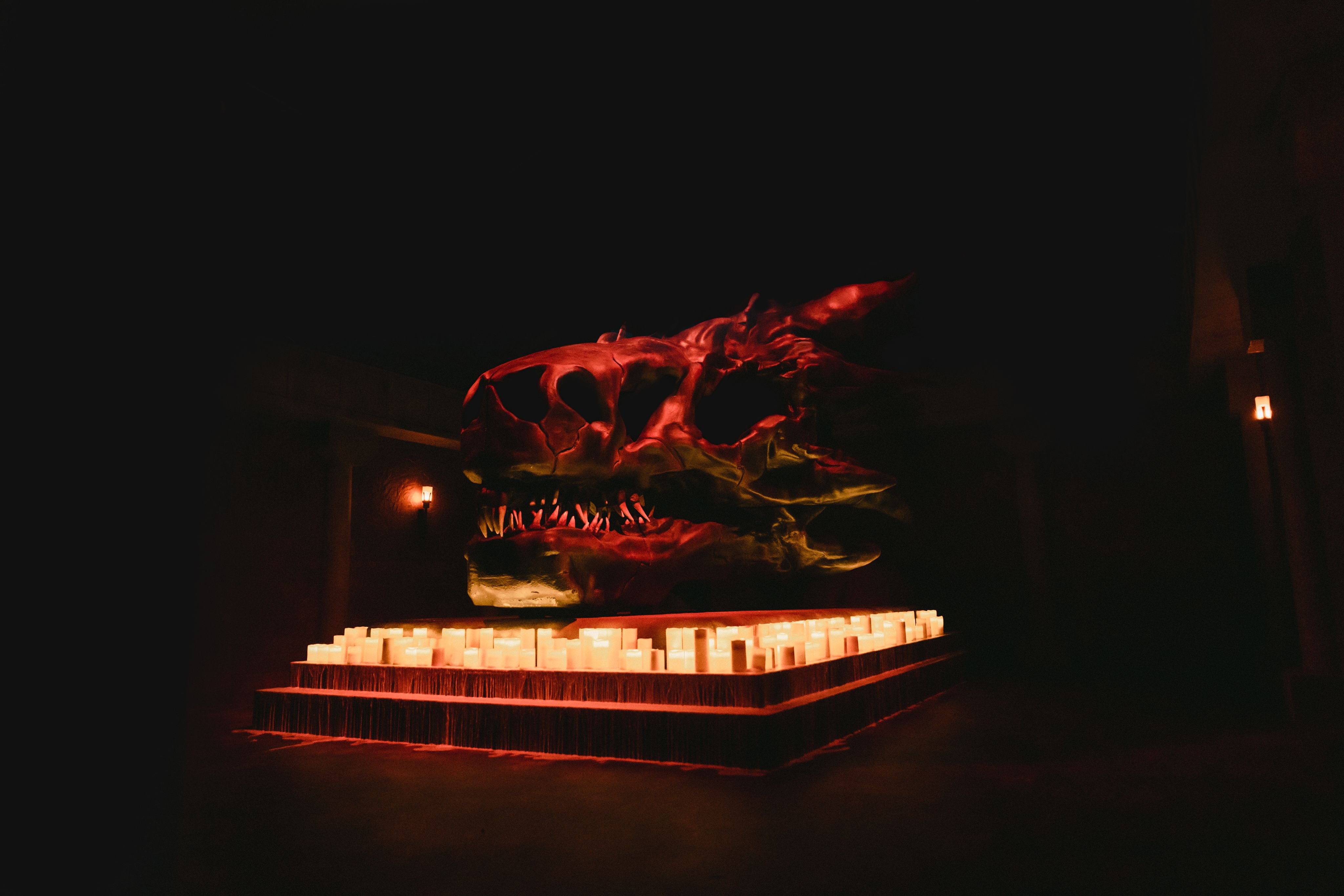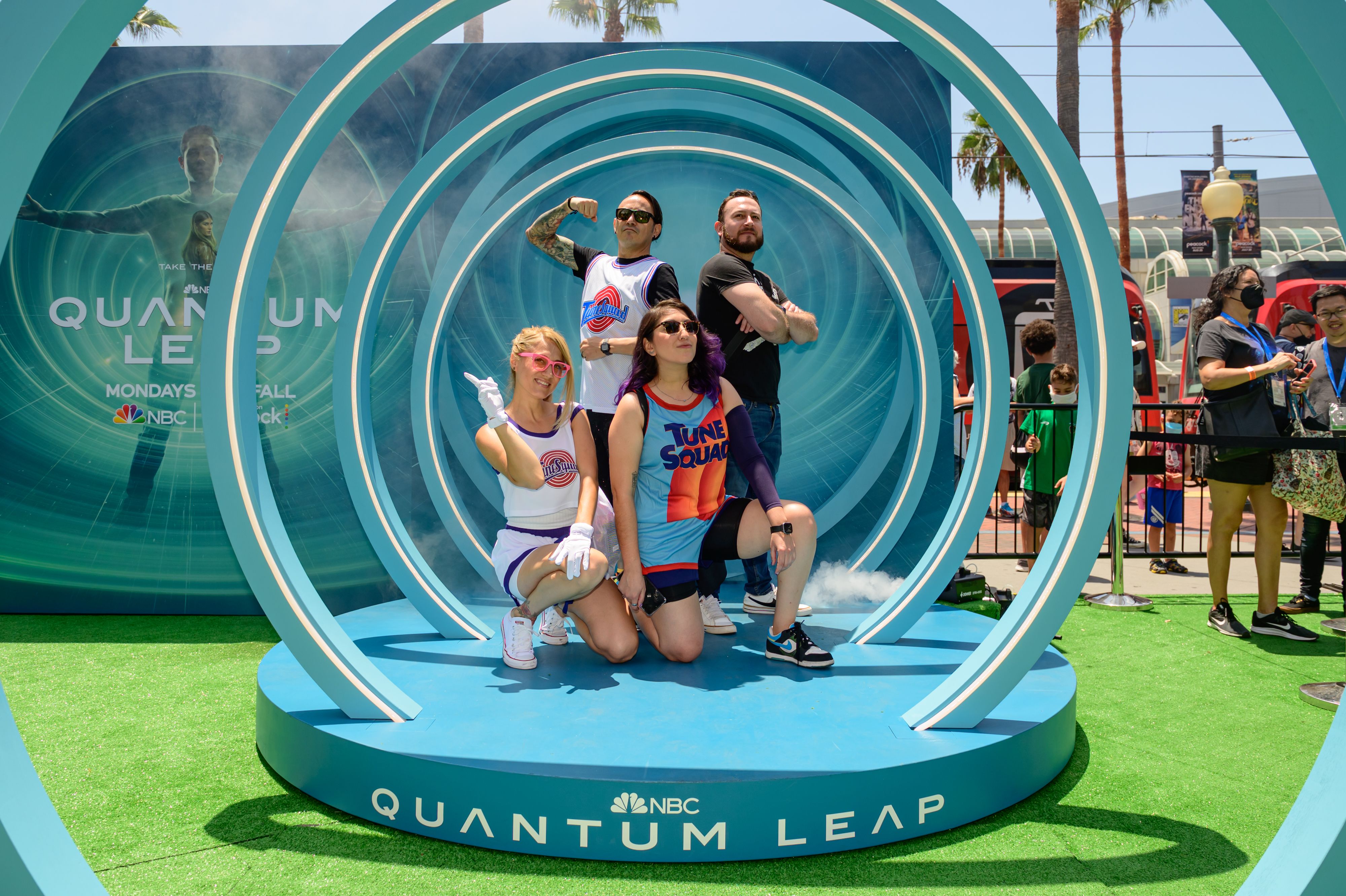 The first-ever NBCU Corner highlighted new and popular content on NBC, Peacock, SyFy and USA Network with a vast playground of photo ops, where the brand told us an open footprint and light-hearted touchpoints were aimed at easing attendees back into live experiences. The activation was home to a steady stream of fans looking for a place to take a quick breather and engage in playful photo moments, like posing in an oversized version of the Good Guys doll box from "Chucky 2" or next to a woolly mammoth skull installation touting "La Brea." Exclusive surprise giveaways were also distributed throughout the weekend. (Agency: Hudson Gray)
Photo credit: David Yeh/Peacock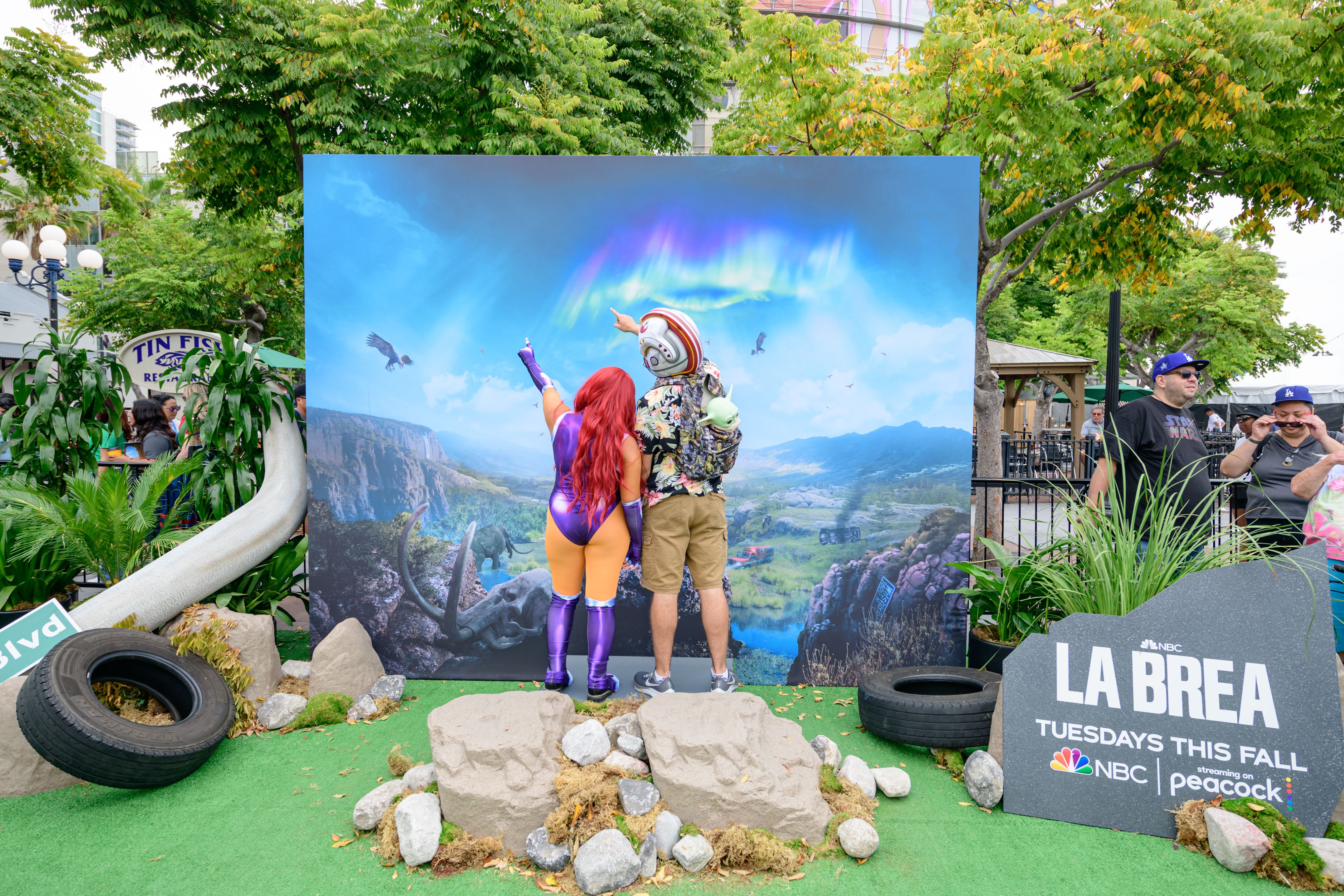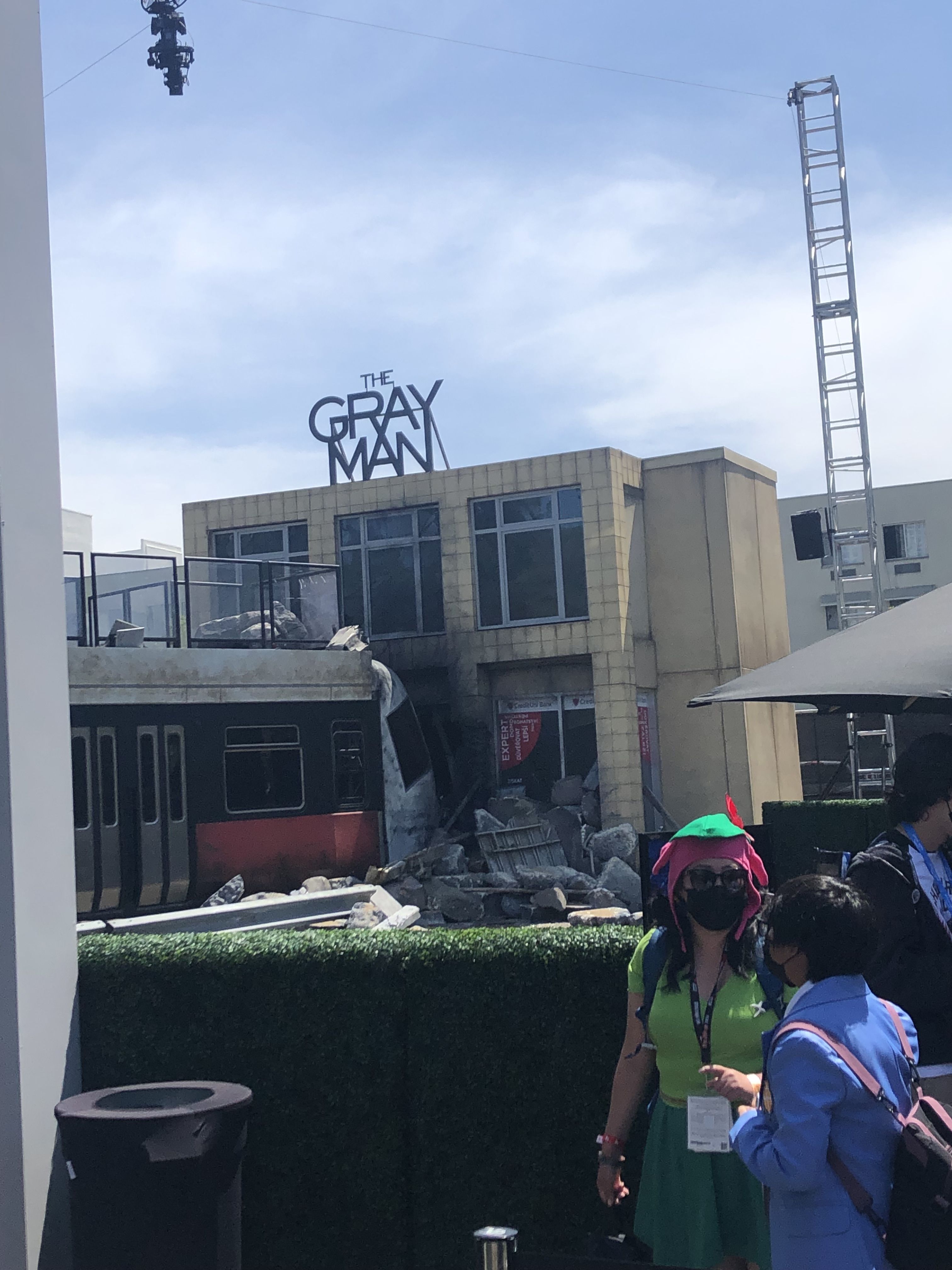 Things got physical during Netflix's "Training Program," an interactive experience that allowed attendees to mimic a sequence from the network's latest action thriller, "The Gray Man." And let us tell you, it was a legitimate endurance test that Peloton had not prepared us for.
The centerpiece of the activation was a real-life, repurposed subway car that had "crashed," complete with the intermittent appearance of billowing smoke. It was at the edge of the car that the two-person mission began. As a narrator counted down and sirens wailed, we were challenged to race through the subway and complete a series of training modules (like figuring out which levers to pull to advance to another car) to prove our spy-worthy skills. Upon exiting the installation, we received branded medallions for the keeping and were encouraged to keep them safe before moving on to the final module, a speed test that took place on the subway's rooftop. There, we hustled toward a locked briefcase, at which point, medallions handy, we cracked the code by placing one of them in the correct location, just in the nick of time.
Netflix filmed the entire final module and mixed it with real scenes from the movie for those who opted in to receive a video, offering Con-goers their very own action hero keepsake. And as a parting token, brand ambassadors offered to snap pics of participants in front of a film-
inspired backdrop with their own devices. Then it was back to being a boring civilian. (Agency: VTProDesign)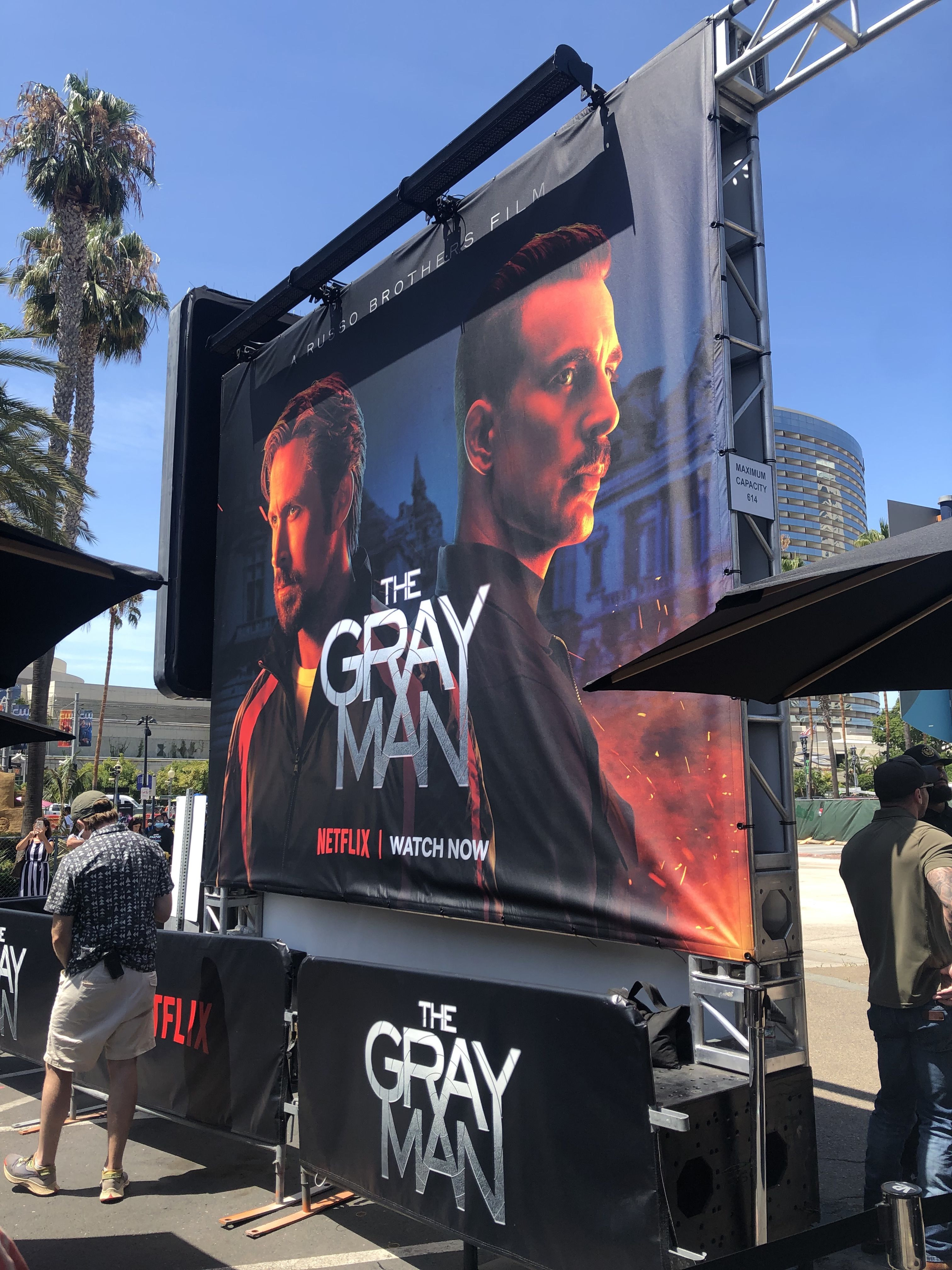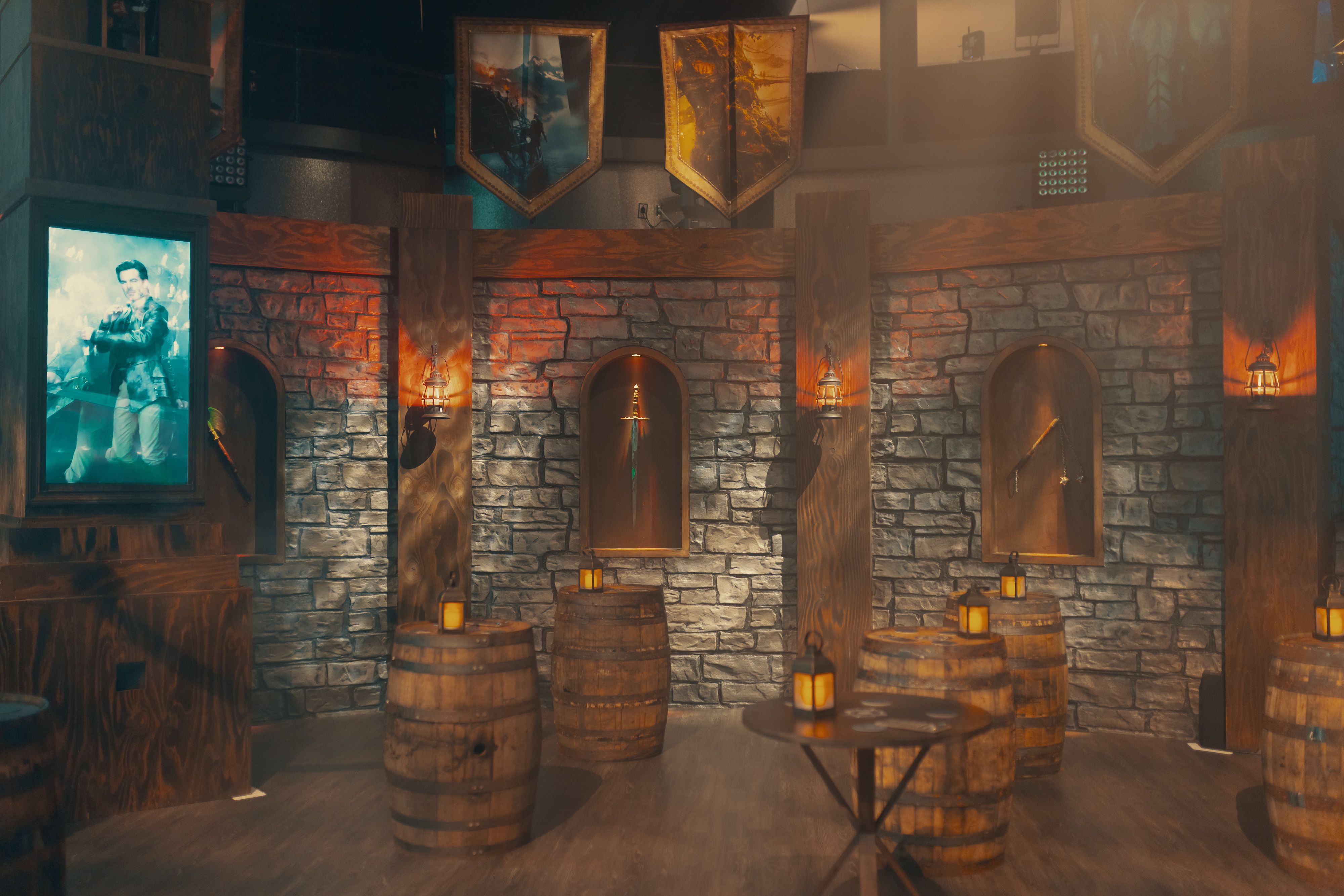 Although it was slightly off the beaten path, it didn't take long for lines to form around the "Dungeons & Dragons: Honor Among Thieves" Tavern, which was home to a 20-minute multisensory experience that provided a rare peek at the forthcoming film from Paramount Pictures. Inside, attendees like ourselves explored the immersive medieval-inspired tavern environment that was packed with installations and props, caught looping clips of key characters from the movie on various screens and sipped glowing green mugs of alcoholic Dragon Brew, which was a refreshing Moscow mule-like beverage (alcohol-free versions were also available). Actors even led the room in comedic group cheers.
The highlight, though, was the grand finale to the activation, an a/v experience during which a dragon monster roared, breathed smoke and seemed to break free from the screen. A sequence of fog, lighting and audio effects made for some seriously high production value.
But wait, there's more. We were among the lucky few chosen to participate in a secret VIP "D&D" experience above the tavern that took place after each wave of attendees passed through the main activation. In a small group of about 10, we took seats around a semicircular table and encountered an otherworldly character standing at the center of it beside an altar. In the nearly pitch-dark room, glowing red symbols and a single spotlight on this sorceress of sorts provided the only illumination.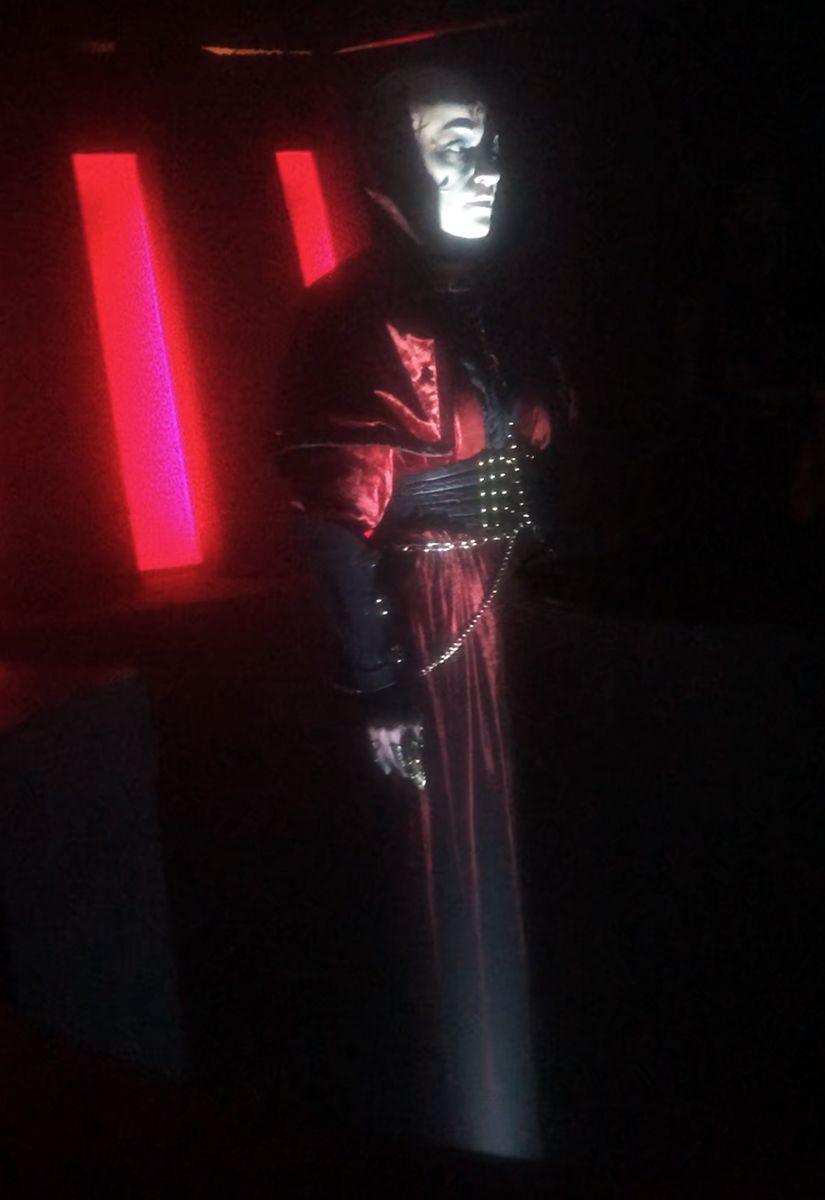 One attendee made a few jokes, and was quickly shut down with a verbal warning by our mistress of ceremonies, but mostly we sat in eerie silence until she conducted a formal speech about her mission, enhanced by a/v effects. Next, she circled the table to welcome each participant into an elite society and made it official by "tattooing" each of us with a mysterious symbol—all but one of us… the jokester from the beginning. The man, deemed a "non-believer," dramatically choked as the sorceress cast her spell, and he died at the table (clearly, an actor planted by the brand). Upon parting, we were asked to spread the good word. Worth considering: At an event like SDCC, where superfans will do just about anything to get closer to the content they're passionate about—not to mention exclusive bragging rights—this activation delivered. (Agency: NVE)
When Comic-Con wrapped and we found ourselves back on the East Coast, we had sore feet, great memories and something of a newfound love for mythical beings.
Blame it on the Dragon Brew.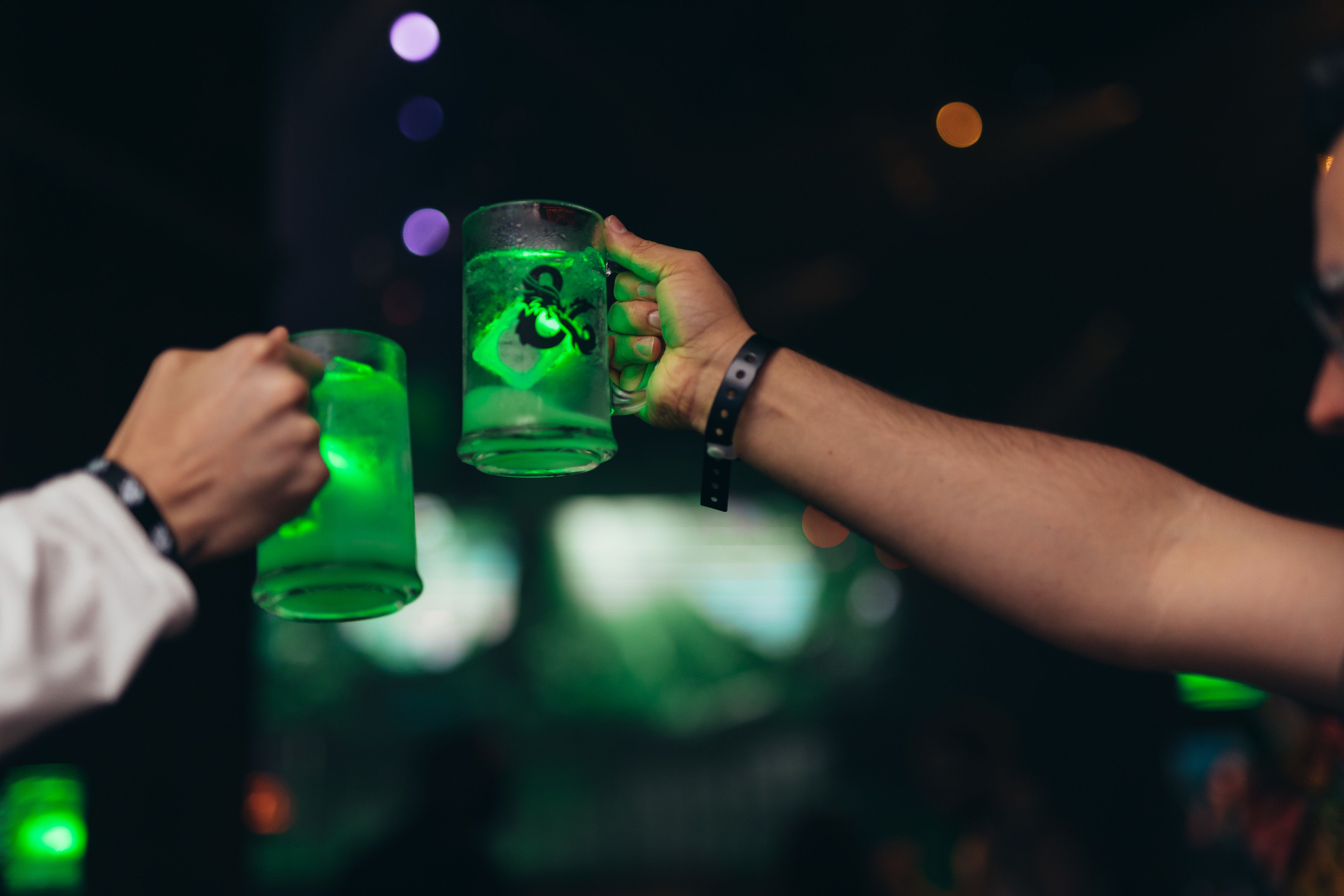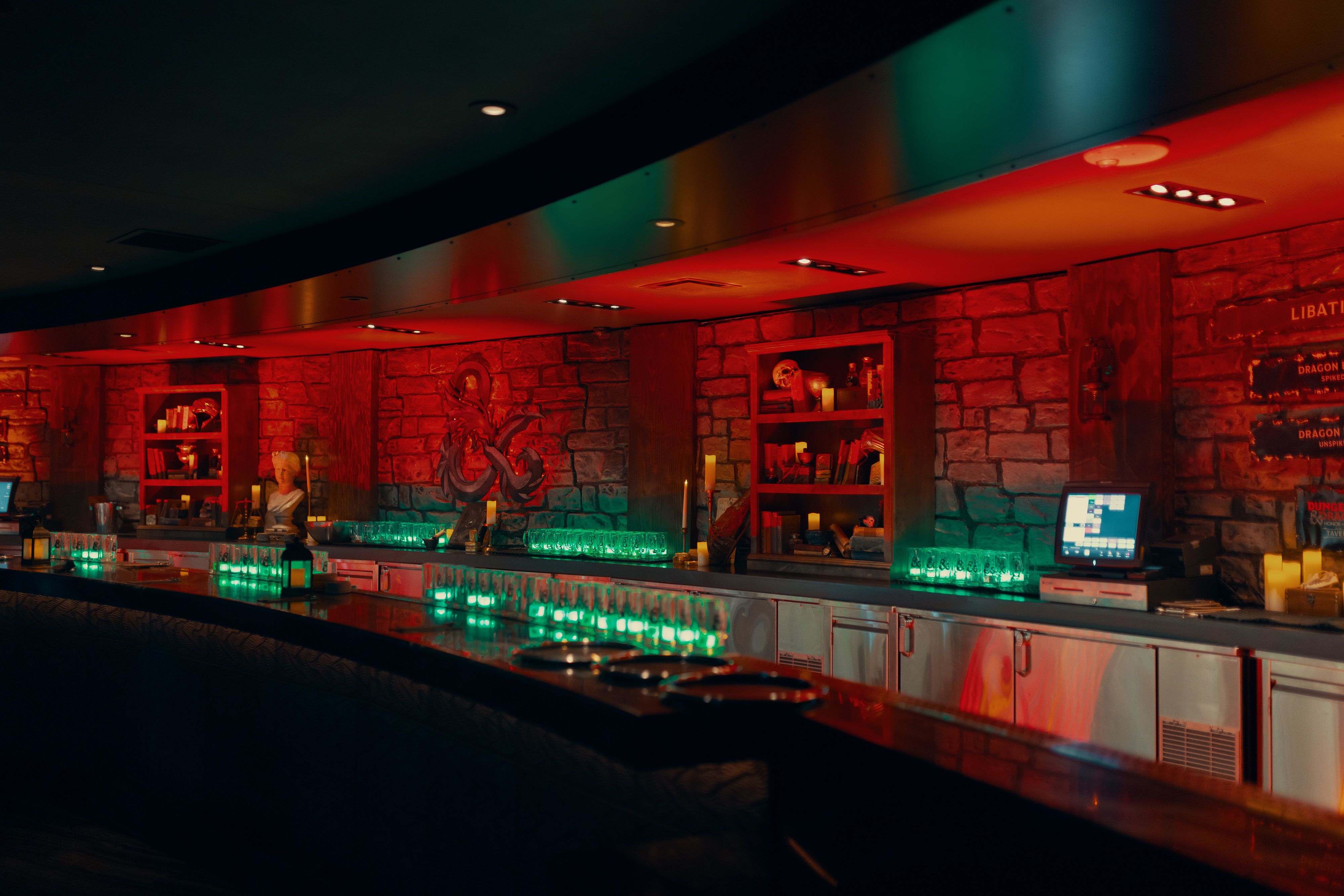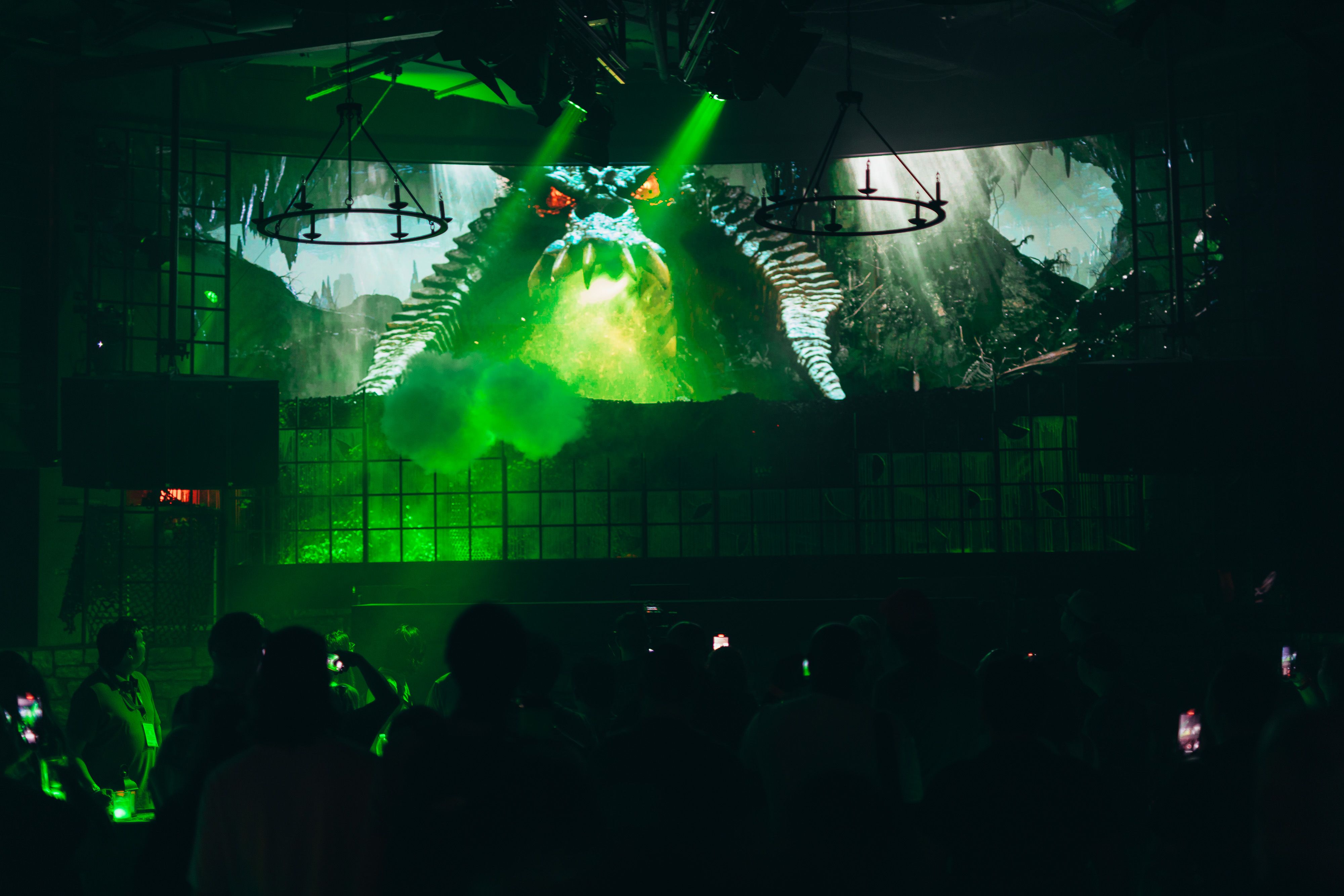 ON THE GROUND AT SDCC 2022
ON THE GROUND AT SDCC 2022