SXSW attendees expect to walk thousands of steps a day in Austin (our daily record was 14,000, or about seven miles), making exhaustion a key pain point for brands to alleviate. This year, we aimed to weed out spaces that were glorified charging stations in favor of those that delivered a clear message and layers of engagement. From plant music, to globally sourced candies, to holographic photo ops, here's what we uncovered.
---
SXSW 2023 Activations:
---
THE BLOCK PARTY PRESENTED BY EDELMAN IMPACT
Edelman built a literal block party in the JW Marriott, March 10-14, with wooden cubes painted in pink, blue and green patterns dispersed around a salon made up of white walls with black square grid lines. The global communications firm encouraged attendees to explore its interactive lounge to discover how meaningful actions create impact, block by block, and help realize a more equitable and sustainable future, under the Edelman Impact global strategy.
They could move and stack the large cubes around the space, and each featured actionable strategies on their sides, such as "provide volunteer opportunities to employees" or "align business strategy with the Sustainable Development Goals (SDGs)." One solid wood wall with an attached wire grid rack featured clothespin-hung branded plantable cards (biodegradable eco-paper embedded with seeds) that participants could take with them—"Plant me. Water me. Sun me"—as a sustainable action. TV screens built into the wall shared data points on the gender pay gap, carbon emissions and more.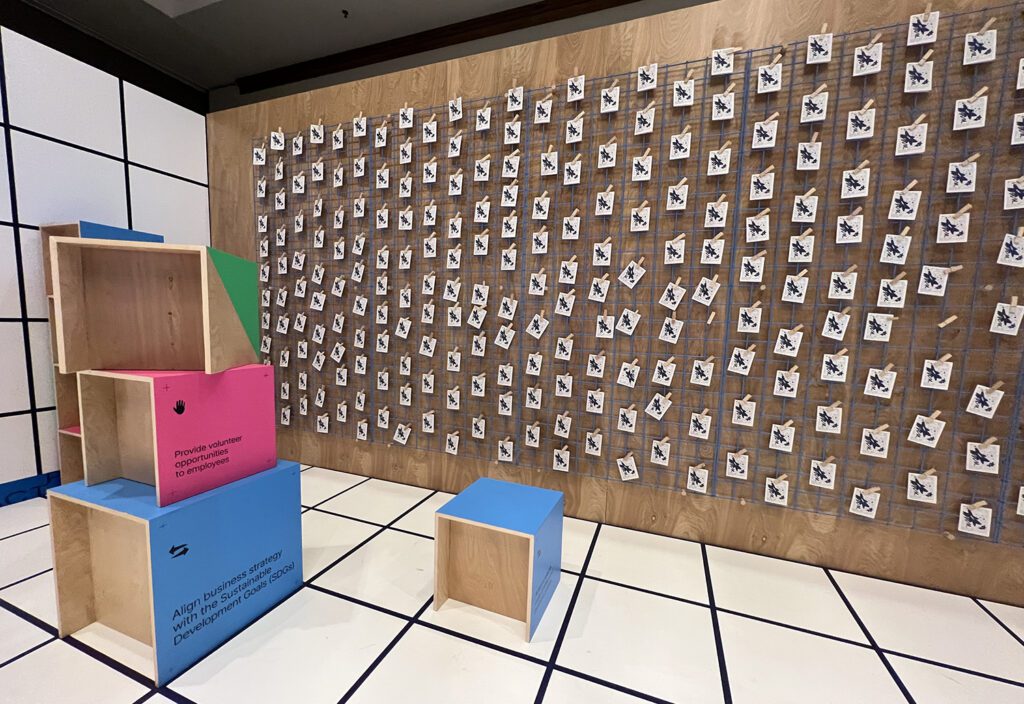 PLANT MUSIC LOUNGE BY PLANTWAVE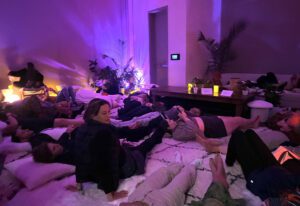 Tucked away in a small convention center breakout room from March 10-16, the Plant Music Lounge offered a meditative, peaceful reprieve from the city. Its defining feature was, of course, plant music, "intended to heighten connection with nature, leaving you feeling relaxed, connected and inspired," according to signage placed outside the room.
What exactly is plant music? We're told that a particular device, dubbed PlantWave, connects to the leaves of a plant via electrodes, and turns its biorhythms into music by measuring the micro-fluctuations of water moving through the plant. Through a sonification process, the device graphs those fluctuations as a wave and matches it to pitch messages to create melodies. The end result is a "sonic window" into plant life.
And if ever there was a clearer call to action for attendees to relax and unwind, it was certainly the large pile of shoes stacked outside the door (a requirement to enter). Inside, the dimly lit room was stuffed to the brim with comfy couches, pillows, fluffy shag carpets and stools. A device played soothing tracks while attendees sat—or reclined—largely in silence.
VELOCITY GLOBAL OASIS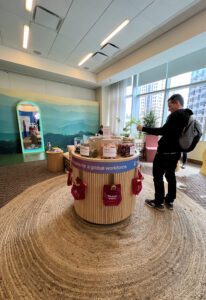 Our favorite experiential lounge at SXSW, the Velocity Global Oasis at the JW Marriott, open March 10-14, was designed as a warm, welcoming setting for attendees to sit with a coffee and interact with its various stations. Coming into the room, attendees first spotted a world map on the wall asking them to drop a pin on the countries leading the workplace revolution. European countries took the top spots on the "Work with the World" map, with the name presented in white neon lights.
Continuing the global theme, a circular wooden candy bar in the center of the room was stocked with international treats, "Global snacks for a global workforce." Each sweet item—including Unicorn Strawberry Hard Candy, Kopiko Coffee Candy and Vero PicaMelon Watermelon Candy—was separated into clear tubs with informative labels outlining its country and origins. Small hot pink branded plastic bags hanging on hooks around the candy bar were available for attendees to stuff with candies.
Lastly, the "Future of Work" infinity mirror, positioned in front of a huge blue-toned art backdrop of a mountain range, offered attendees a cool photo op, with "The world is yours" text in the center and bright blue lighting that reflected infinitely around the subject.
RECHARGE ON VERIZON
Verizon set up a lounge space at the Hilton Austin Downtown, March 12-14, to give attendees a chance to unwind, charge their phones and enjoy a selection of beverages. The familiar Verizon red checkmark logo stood tall and illuminated as the centerpiece of a floor-to-ceiling wall of greenery accented with steaks of bright white light. The Recharge on Verizon space also featured gaming on the Razer Edge 5G handset and a unique tech experience in which participants could turn themselves into a hologram.
Using the Proto Epic, a life-size holographic communications platform, attendees could step in front of a large white backdrop where a camera would capture their movements. In real time, their image would be "beamed" over to a giant white box with a screen on the front, giving the depth of a 3D container (think: a life-size Barbie box where the participant appears as the doll inside).
VIMEO
The video experience platform hosted two Studio Vimeo experiential lounge spaces at the JW Marriott, March 10-14. The first was housed in a hallway on the hotel's third floor that passersby could visit on their way to a session or networking meetup to grab a lemonade or just sit on the couches and chat. A Vimeo-branded colorblock archway welcomed marketers, filmmakers and creators into the space, which also included a photo op on a black-carpeted platform with a backdrop made up of Vimeo's "V" logo and "Staff Pick" circles strung together and hung from a truss. Brand reps were on hand to share information about Vimeo's services, and attendees could step into one of two video booths, equipped with lights and laptops, to create and share content and try product demos.
The Studio Vimeo experience extended to a separate blue-lit lounge space just across the hall. The large room, dark enough to be a movie theater, featured a circular couch, tables and ottomans for attendees to relax on, and several TV screens mounted by the walls played short films handpicked by Vimeo staff, celebrating 15 years of Staff Picks.