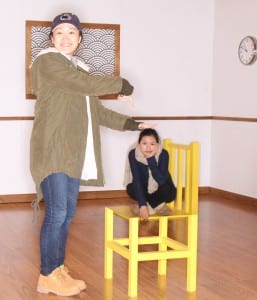 To promote season two of its popular "Brain Games" series, National Geographic Channel on Jan. 9 activated an illusions gallery in New York City's Grand Central Terminal that had busy commuters appearing to levitate, walk on ceilings, shrink in size and even lose their heads. The gallery also traveled to Los Angeles (Jan. 3 to 4) and Tysons Corner, VA (Jan. 11).
"We found a fun and unique way to bring 'Brain Games' to life and keep the buzz and anticipation going for season two," Lynda Chen, director of consumer marketing at National Geographic Channel, told Buzz. "Continuing to reach new viewers is a constant goal of the network and this show gives us great opportunities to get that larger audience in a way that people could actually play brain games themselves."
The 40-foot by 40-foot gallery consisted of four rooms, one for each illusion, in an open, inviting format that replicated the set of the show. Brand ambassadors wearing t-shirts with logic puzzles on the front and the answers on the back encouraged passersby to participate in the experiences. One room featured a "small person in chair" illusion that shrinks visitors down to a fraction of their actual size. A second illusion had people standing on the ceiling of a living room. In a third illusion guests seemed to levitate beside a NatGeo logo and a final experience had their head sitting on a table detached from their body. Flat screen tvs embedded into the end caps of the four walls displayed photos of the participants and "Brain Games" content played on additional screens.
To generate additional buzz and start conversations about the show, participants could email photos and share them on Facebook and Twitter. Agency: Awestruck Marketing Group, New York City.