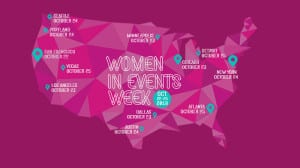 From the East Coast to the West Coast to the Midwest, Northwest and Southeast, the Women in Events program officially went nationwide this year, engaging nearly 1,000 women in 12 markets, Oct. 22-25. Women in Events Week offered Airbnb networking excursions, educational seminars, trend-watch workshops, networking meetups, supper clubs and much more.
Networking meetups took place in Detroit, Minneapolis, Seattle, Portland, Las Vegas, Los Angeles, Dallas and Austin. Half-day workshops took place in Chicago and Atlanta, and full-day programs anchored the week in San Francisco and New York City.
---
More Women in Events Coverage:
---
Women in San Francisco kicked off their day with a "hidden stairways" hike, a tea tasting and making session and a photo-taking workshop. Women in New York City took part in power yoga, sneaker designing and a behind-the-scenes tour of The Metropolitan Museum of Art. Each city featured candid power panels featuring this year's Women in Events honorees, as well as a trend-watch presentation by EM editors, a career-boosting talk by Wendy Sachs, author of "Fearless and Free," and an exploration of marketing to women—without exploitation—by Katie Martell, author of "Rabble Rousers: How Transformative Voices Change Apathy to Action." After wrapping the day with a mixer and sponsor activations, hosted by presenting sponsor Sparks, women in each city moved on to supper clubs for a full night of conversations, networking and, of course, delicious dinners.
In Chicago and Atlanta, women came together for a half-day program with a drill-down of top trends and an intimate fireside chat with two leading brand-side marketers—Monique Harrison, head of brand experience marketing at Mercedes-Benz, in Atlanta, and Amie Milano, executive producer at World of Whirlpool, in Chicago. Each closed with wine and small bites, music and lively conversation.
There were many more moments and connections made that we couldn't possibly capture in words, and so we bring you this photo tour of highlights from Women in Events Week. Until next year, ladies and gents… Cheers.
Women in Events Week 2018:
This story appeared in the December 2018 issue