Pavlov shares her thoughts on what's working in today's experiential marketing landscape—and what's on its way out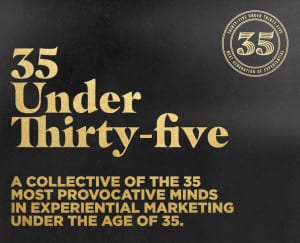 Among the inductees into our inaugural 35 Under 35 list, a program that honors the brightest young minds in experiential marketing, is Diana Pavlov, senior director-global entertainment marketing at Marriott International. In this extended version of our chat with her on the future of the industry for this special report, Pavlov reveals her thoughts on what's working in experiential and what's not, and how she and her teams find inspiration.
Pavlov has been curating experiences for family and friends from a young age, a passion that inspired her to pursue a hospitality degree as an undergraduate. While in college she began planning corporate events for hospitality company Gerber Group, and after a few years she was recruited by South Beach-based nightlife conglomerate Opium Group. There she got her feet wet in the entertainment space through booking talent and aligning cultural partnerships. Next, she was recruited by Marriott International, originally to manage a music program at Renaissance Hotels, where she was able to combine her knowledge of hospitality, events and music. Since then, her role has expanded to cover 10 brands across Marriott International.
---
You Might Also Like:
---
Event Marketer: Why do you love experiential?
Diana Pavlov: I like to think of my role and those of my industry peers as experience architects. If we're successful, our events leave our guests with everlasting memories and emotional connections. We also foster communities. Whether it's social media or in real life, I think it's special. I don't know anything that's more meaningful than that. I love being part of it.
EM: Where do you find your inspiration?
DP: I love to go to events when I have time. I have the luxury of traveling quite a bit for work. I'm not a believer—and I don't allow my team to think this way—that you just check into your event and check out and call it a day. Go see and smell, be it through the lens of an event or a concert, or through the culture of that market. I think we are such a global society. Everything is truly a melting pot. So, what's relevant in Turkey might be in the future relevant in New York City and vice versa.
I like finding those cultural nuances and just people watching. I love going to an event and not necessarily getting all involved, but watching how people engage with certain experiences and each other. Do they walk away smiling? Do they walk away with a confused face? I also like to challenge my agencies and my team members to come up with new trends or exploring new trends, reading outlets like [Event Marketer], seeing what resonates and what doesn't. The beauty of my role is that I work across different brands, so what might resonate for Moxy Hotels will not resonate for Renaissance Hotels. It keeps it interesting.
EM: Where is experiential headed?
DP: I see more brands investing in in-house experiential services. I was the first of my kind at Marriott and now there's quite a few of me in differentiated experiential roles. I see brands investing in strategists, producers… and I see these roles having a seat at the table early on in product and campaign development—which I think is really critical, because we talk to the consumer, we know what they engage with. We're in this new generation of experiential marketing that takes into consideration cultural context, content development and positioning our efforts around long-term business goals. I also see an opportunity to leverage tech in more meaningful ways, to collaborate with the influencer and talent community, and personalize experiences.
EM: What's your favorite part of the experiential industry?
DP: The reality is that consumers are too informed and have low attention spans and, frankly, traditional marketing is no longer enough. They turn to engaging, immersive-centric experiences that take them on emotional journeys that inform their brand decisions and loyalty. Seventy-two percent of millennials prefer to buy tickets to a show versus merch at a show of their favorite artist. That is such a statement of what we're doing and proof in the pudding if we do it right we really do influence brand decisions and loyalty.
EM: What's the most exciting tool or tactic you're seeing in events and experiences?
DP: I see more of an opportunity to leverage smart AR and VR. I think the challenge is that it's not yet all that affordable. Leveraging this technology in a meaningful way that allows you to do more with an experience versus set design and concerts. I also think there's a lot more cross-pollination we can do with like-minded brands versus the pay-to-play sponsorship and partnerships. Nobody's doing them anymore, and if they are, they are rarely successful—just slapping a logo on a bus is no longer going to do the trick.
EM: If you could change anything about the industry, what would it be?
DP: The influencer world. I joke that I'm going to lose a lot of friends with this comment, because I have a ton of friends in the space and colleagues in the influencer space. I just think the glossy celeb endorsements and the influencer-led efforts, the way we see them today, are no longer [working]. I think the consumer is able to see the inauthenticity there because of the way we're having to hashtag "ad," hashtag "promoter" or "partner." But I think it's the way we curate it. How do we partner with them on content; how do we partner with them in more dynamic ways. Like product development, for example. Can they actually be a part of the conversation as we're designing new things in our respective spaces? Mentorship programs is something we're dabbling in.
EM: What would be your dream event to work on?
DP: One that has a healthy budget. I'm kidding. We all say that—it's so heart wrenching. You plan something for months and months on end with so much budget and so much time and so many hours lost and then it lasts for three hours. So, finding ways for events to have a longer shelf life, like leveraging tours, which we're dabbling with at the moment. Brands like Refinery29 and event properties like the Museum of Ice Cream, and so on, are taking the events on tour. You can invest X number of dollars into the framework and the strategy and the assets, and then you can go hit different markets and different consumers. And I think that the longevity that it allows for versus the one-and-done is a brilliant thing.