More than 15,000 event professionals gathered at IMEX 2023, Oct. 17-19, at the Mandalay Bay Convention Center in Las Vegas, breaking attendance records and signaling that the business of events is in full-on growth mode. But how do you impress pros who do events for a living? EM was on-site to report on the exhibits that felt more like activations and attractions than business as usual.
---
More Trade Show Trends:
---
The Art of Meetings by Visit Seattle
Located off the show floor and by the entrance, this experience explored the destination through an artistic lens. One side of the wall presented Seattle's top attractions as museum masterpieces while the other invited attendees on an auditory journey through the city's vibrant soundscape, with headphones connected to posters representing the sounds they'd encounter. Copies of posters made for unique and lasting giveaways.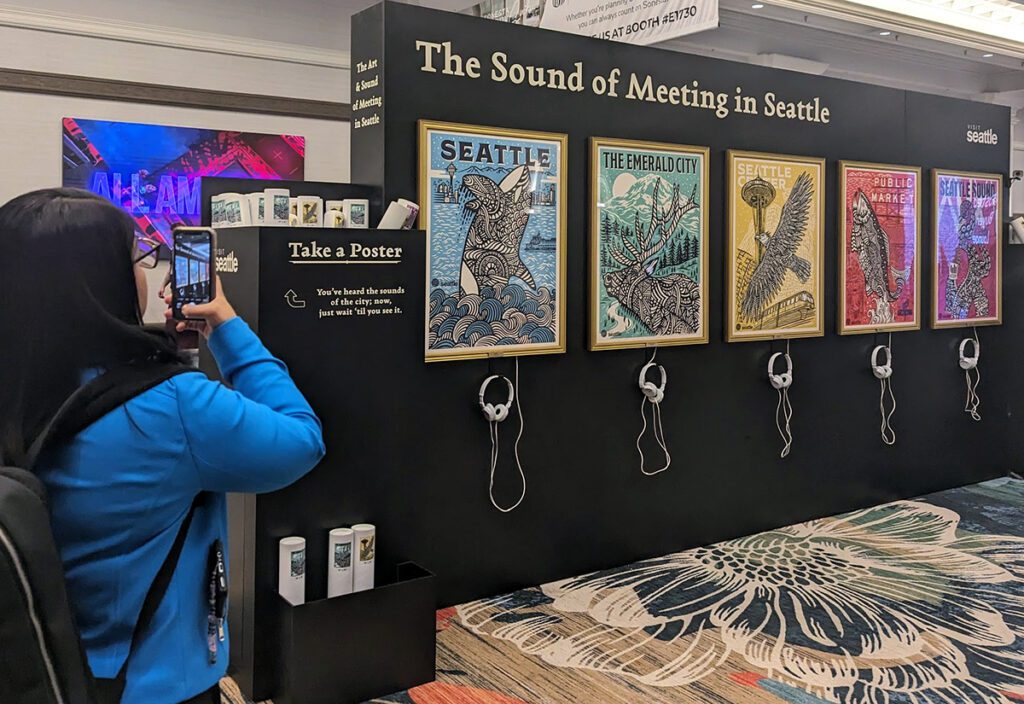 Scale and Speed at MGM Resorts
With F1 roaring into Las Vegas in less than a month, it was only fitting that a custom race track be part of the activation by MGM Resorts, whose properties on the Las Vegas Strip will offer front-row seats to the action. In the booth, attendees could also get their adrenaline pumping by answering questions on the tablets and advancing their cars to the finish line, as well as fly over the Bellagio fountains and other iconic venues thanks to a 17-foot by 25-foot video wall that towered over the show floor.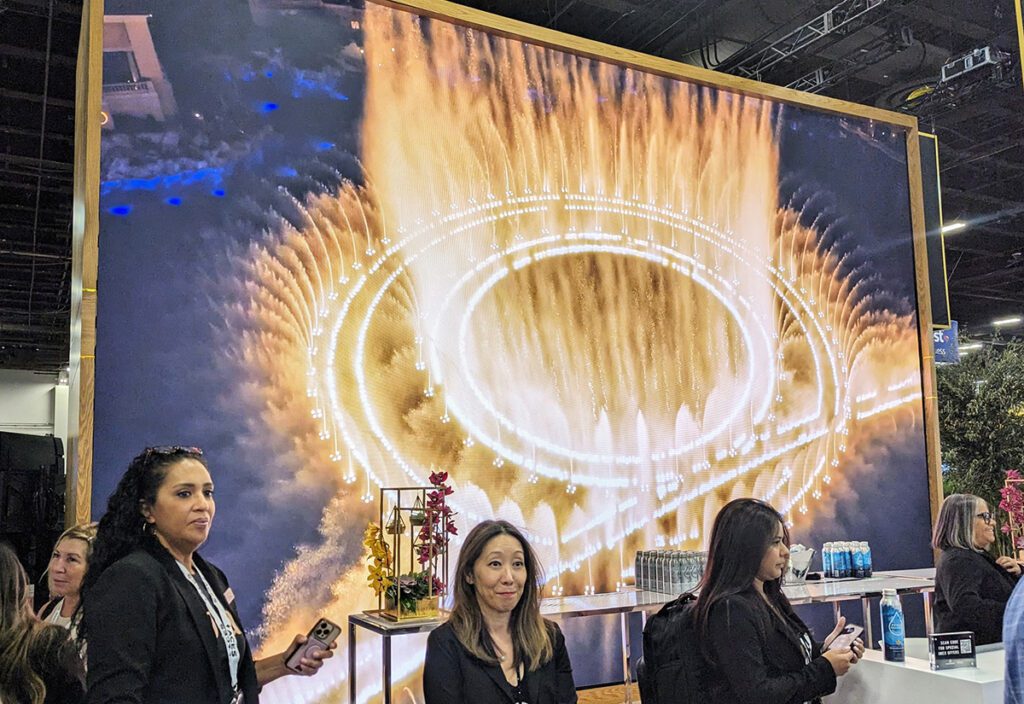 Orlando Thrills
Visit Orlando invited attendees to get their photos taken in a custom-built rollercoaster car, with the wind blowing in their hair for that "true Orlando feel." The easily sharable photos and videos from this roaming photo booth were a hit with the meeting planners looking for the next exciting destination for their event.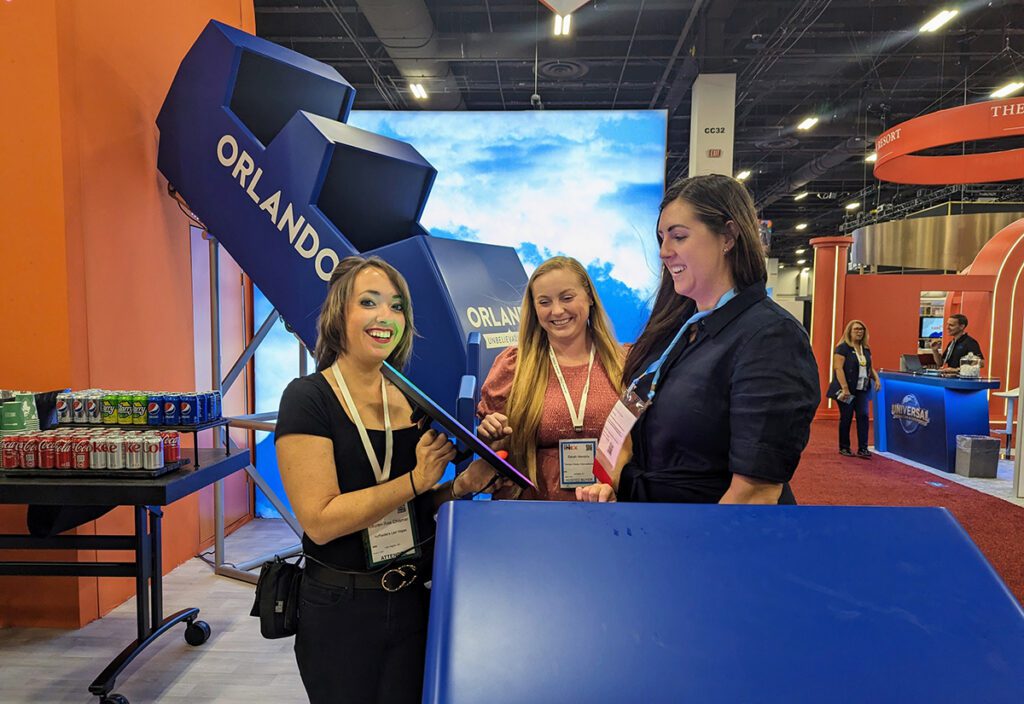 Bloomscape at MGME and Marble LDN
A wall-sized mural was a work-in-progress at the booth by event management companies MGME and Marble LDN that have recently formed a partnership. Led by the artist David Maldonado, this vibrant activation celebrated the splendor of nature and invited attendees to participate by adding their bold, vivid strokes to the evolving piece of art, making for an engaging collaborative creation and a striking visual landmark.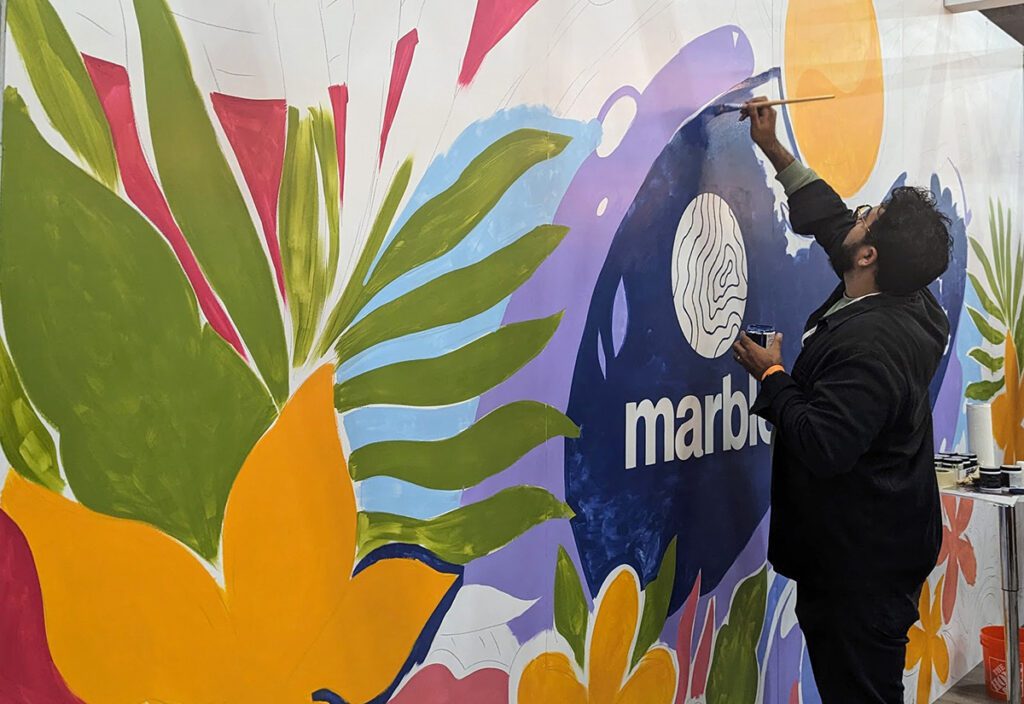 Break Free: Continuing the Journey by Encore
Escaping conventional thinking to design more impactful and inclusive events rooted in humanistic experience was the thought process behind this multi-faceted, thought-provoking activation. Attendees could get inspired in a theater-style immersive experience, dive deeper into event solutions at the fireside chats, and share their vision of belonging on a marker board. A hologram display, where attendees could instantly become their own hologram, offered a glimpse of next-level celebrity engagement and product demos that are both cost-effective and futuristic.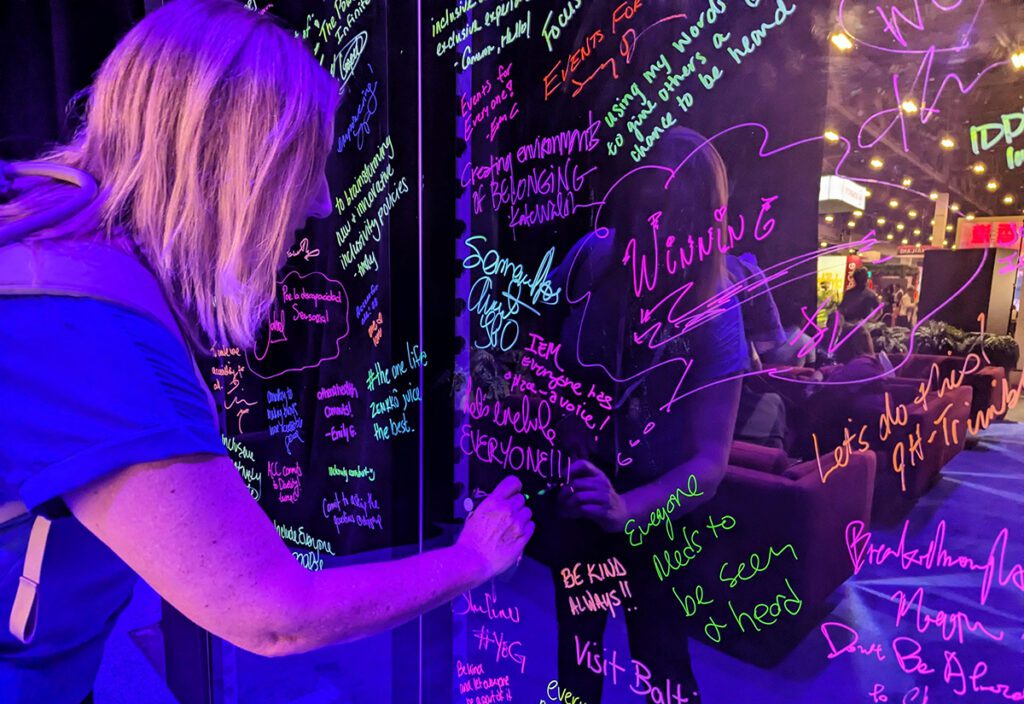 Special Mention
NewMedia Events photo booth, a mirror box with a kinetic ceiling, was a free-standing activation in the hallway, but the amount of engagement and love it received would rival a sprawling show floor exhibit.