From the creators of EventTech, the industry's largest learning lab on event technology and live events, we bring you EventTech 411, our monthly roundup of new and cutting-edge event technologies. In this installation, we look at three products that are taking social sharing and aerial devices to new heights.
1. #Hashtag Mini Instagram Printer
Branded photo engagements are nothing new, but the ability to print high quality photos on-site in less than a minute—while also extending a brand's social reach—is a fresh concept cooked up by the photo experience pros at #Hashtag. The Mini not only amplifies social reach and creates a tangible souvenir for attendees, but tracks event hashtags and produces real-time feedback on their impact. Here are the details:
Who: #Hashtag
What: A portable printer kiosk that allows consumers to print free photos from Instagram and Twitter directly from the device.
How it Works: This one lets event attendees do the work. Using a smartphone, guests take a photo, then share it to Instagram or Twitter using the brand's specific event hashtag. The photo can then be selected from a continuously updated gallery of thumbnail pictures available on the printer's touchscreen. It is then printed with the brand's pre-selected template and branding.
Product Features:
• Can be wrapped in branded imagery, making it easy for event organizers to change photo templates and artwork to fit their needs
• Can be set to randomly select kiosk users to win prizes, offering a quick surprise and delight element
• Connects to WiFi, 3G and 4G LTE networks
• Analytics follow the event hashtag and provide real-time feedback on the impact made
• Allows for the use of multiple hashtags
• Prints 300 photos from a single cartridge and roll of paper
• Can be rented annually, monthly or for a single event
Cost: Approximately £950 (or about $1,385) per event
Who's Using it: Moet & Chandon used the printer at its Moet Academy pop-up event, while Google used the device at it's London-based "Illusions" party in December.
More Information: www.hashtag.co.uk
2. Airstage AirOrbs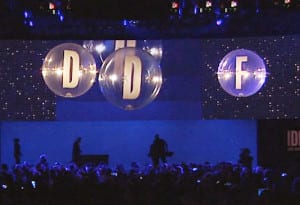 Most airborne objects used indoors pose a potential safety hazard to event attendees (we're looking at you, drones). AirOrbs, on the other hand, are virtually risk-free thanks to their lightweight materials and patented soft propellers. The devices are used to create aerial choreography in a variety of settings, offering event marketers a unique, customizable way to engage attendees.
Who: Airstage
What: Helium-based, radio controlled airborne devices used as floating billboards or to create aerial show performances at events.
How it Works: AirOrbs combine motion capture optical tracking and computer controlled autonomous flight systems to function like drones without the risk of injury. They can be piloted manually or pre-programmed with other AirOrbs to create aerial choreography. Customization options include adding interior lighting, imprinting brand messages onto the orbs and adding lightweight objects like company logos or product models to the inside of the transparent orbs.
Product Features:
• Can be piloted manually or pre-programmed
• No safety netting required
• Comprised of lightweight materials and patented soft propellers
• Can be fashioned into a variety of shapes
• Fueled by helium, which is 10 times lighter than air, non-toxic and non-flammable
Fun Fact: Future AirOrb models are slated to include a projection mapping feature.
Cost: Varies depending on customization, and size and scope of the aerial performance.
A ballpark estimate:
• AirOrb and pilot: approximately €5,000 (or about $5,577) per day
• Construction for custom-made AirOrbs: €15,000 – €50,000 (or about $16,700-$55,700)
• Choreographed AirOrbs (minimum 3, maximum 10 AirOrbs) including optical tracking system and computer programming: €100,000 – €500,000 (or about $111,500-$557,500)
Who's Using it: Intel used AirOrbs at its 2015 Developers Forum. Radio City Music Hall has also used the devices during its annual Christmas Spectacular performances.
More Information: http://airstage.de/?lang=en
3. Air Graffiti Dallas Digital Graffiti Wall
The Digital Graffiti Wall is not new to experiential, but its latest features are. New for 2016 is a sharing kiosk that allows the final image to be shared via social media with a branded hashtag and customized message.
Who: Air Graffiti Dallas
What: A virtual graffiti wall that allows consumers to personalize and share an enlarged high-definition photograph using digital spray paint and customizable backgrounds.
How it Works: "Shoot, paint, print, share." The company's slogan pretty much sums it up. The brand's professional photographers take a picture of up to 10 people at a time then allow the group to personalize an eight-foot tall by 10-foot wide version of the image on a virtual graffiti wall. Participants can mix and match digital spray paint, digital photo props and branded digital stencils and stamps before sharing the final image via email or social media. At the end of the experience, each person gets a "lab quality" 4×6 printout.
Product Features:
• Offers branded digital stencils, stamps and customizable backgrounds
• Final image can be printed, emailed, texted or shared on social media with a branded hashtag and customized message with data capture
• Color, width of spray, shading and special effects are customizable
• Infrared light-enabled spray cans means no safety concerns or odors
• Digital spray paint can also be used on physical objects like cars or buildings
Cost: Ranges from $1,250 for two hours to $2,250 for five hours
Who's Using it: Absolut incorporated an Air Graffiti Dallas Digital Graffiti Wall into its #AbsolutNights event. Mary Kay also used the product at a summer event at its corporate offices.
More Information: http://www.airgraffitidallas.com
Watch Air Graffiti Dallas' virtual graffiti wall in action: