Comfort fare was named a Top 10 food trend in the 17th annual What's Hot Culinary Forecast earlier this year, and brands have since activated tours that offer warm, savory samples and a healthy dose of engagement. From pasta to pesto, check out some recent comfort food campaigns that cooked up appetizing results on the road.
---
More Sampling Strategies:
---
BARILLA
Barilla worked to bring a taste of Italy to U.S. consumers over the summer with the launch of a limited-edition Summer Pesto Collection, which included items like a basil leaf-inspired inflatable snack tray for the pool, and activations at five foodie festivals. The campaign kicked off at the Westchester Food & Wine Festival in Valhalla, NY, then hit other culinary hot spots, where the brand's Creamy Genovese Pesto and Rustic Basil Pesto products were available for sampling on pasta and pizza.
Beyond the bites, festivalgoers who stopped by Barilla's footprint could play a cart game and exchange some info to enter a raffle for a shot at winning swag, and interact with a Summer Ingredients Wall where they could select a door and win the prize behind it. All told, the tour delivered 3,803 pieces of swag, 4,970 recipe cards, 13,547 pasta samples, 12,704 pizza samples and 12,550 jars of pesto. Delizioso! Agency: 9Rooftops.
RAO'S HOMEMADE
After popping up a well-received experiential marketplace in New York City last year, Rao's Homemade headed to Chicago this time around with The Saucery tasting experience, inspired by its Italian "farm-to-jar" brand story. The program included the launch, and sampling, of three new sauces and two new soups, plus two limited-edition, luxury sauce jar handbags, which were exactly what they sound like and priced at $1,000 each.
Attendees also encountered custom merchandise, sauce jars with personalized labels, photo ops (like a giant sauce jar installation), sauce-inspired cocktails like the Olive Oil Martini, and a 15-percent price discount on products purchased on-site.
The company additionally secured a partnership with actress, cookbook author and brand fan Kristin Cavallari, who helped host the grand opening of The Saucery and talked about the inspiration behind her new dish, Baked Penne, made with Rao's Caramelized Onion sauce, which attendees could sample at the pop-up. And for Rao's Homemade fans that couldn't make it to the activation, the brand's virtual Saucery offered a 360-degree replica. Agency: Dera Lee Productions.
View this post on Instagram
ZENB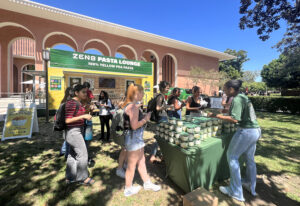 The plant-based food movement is stronger than ever, but many consumers are still skeptical about the category, especially when it comes to replacing traditional comfort food with plant-based options. So ZENB, which makes pasta out of 100-percent yellow peas, rolled out a nationwide Pasta Lounge Tour, anchored by a custom-built mobile kitchen, that hit the road with a mission to help attendees at events like the New York City Wine & Food Festival "Eat Like it Matters." From August to October, ZENB hit markets including Chicago, Denver, Los Angeles, Dallas, Austin and New York, among others, with a variety of products to sample and a brand story to tell about crafting nutritious foods that don't "compromise on taste or texture."
"The American consumer is becoming more and more conscientious about the food they put in their mouths, and in the past, it was these very traditional vegan or vegetarian kind of meals that they were like, 'I'm not sure what it is, but I'm going to eat it because it's better for me,'" says Hugo Perez, chief brand storyteller at ZENB. "Now what the American consumer is saying is, 'Make my comfort foods, and foods that I know, better for me.'"
The Pasta Lounge was equipped with a fully functional prep kitchen that served up piping-hot dishes of ZENB Spaghetti, with a fresh batch whipped up every 30 minutes to ensure quality in taste and temperature. Full-size ZENB products were also available for purchase at select events.
Ultimately, the brand stopped by 38 events in four states, dished out 29,000 cooked samples and interacted with nearly 300,000 attendees. Peas of cake. (Stay tuned for a full case study on the ZENB Pasta Lounge Tour.)
RED BARON
When it comes to earning the attention of college students, the frozen pizza aisle is a battle ground. So to boost brand awareness, Red Baron hit up The Ohio State University in Columbus on Aug. 21 during Buck-I-Frenzy Welcome Week to engage students as they moved back on campus for the semester. Turning plenty of heads, the Schwan's-owned brand planted a Red Baron Freezer Aisle installation—a full-size, five-door freezer stocked with its pizzas—adjacent to the football stadium tunnel, where all freshmen would pass the spectacle to enter a school assembly.
Students were invited to cool off by sticking their heads inside the freezer, snap a photo on the back of the installation alongside a graphic of the brand's "Share Something Awesome" slogan, grab swag and walk away with a Fully Loaded Hand Tossed Red Baron frozen pizza. The activation resulted in 5,000 pizzas distributed, 2,000 pieces of brand swag (think: hats, pizza cutters and magnets) given away and 25,000 impressions. Agencies: City Eventions; Mediahub.
View this post on Instagram
DAIYA FOODS
File this one under event programs you don't see every day: The Slice Club, an X-rated, plant-based pizza pop-up from Daiya Foods. Who knew veggies were so scandalous?
The pop-up program was based on a statistic that showed 85 percent of people are curious about trying new plant-based foods, but one in 10 are too "anxious", "scared" or "self-conscious" to make it a reality. Enter: Daiya's judgement-free sampling event at New York City's iconic Two Boots pizzeria, where attendees were invited to explore their "dietary quirks and kinks, and reach plant-based pizza pleasure."
The pop-up generated a three-block-long line before Daiya even opened the doors to the Slice Club, and ultimately served more than 500 New Yorkers, with an assist from "Slice Consultant" and food influencer Nasim Lahbichi. The program also included an accompanying "sexy playlist" on Spotify to get "plant-based-curious" foodies in the mood. Oh, my. Agency: Manifest.
Photo credit: Garrett Bruce