After two virtual seasons, New York Fashion Week (NYFW) made a stylish return to an in-person format. The high-profile show, which ran Sept. 8-12, showcased 90-plus designers and, per usual, inspired a flurry of experiential activity. But it wasn't quite business as usual. NYFW typically draws 230,000 people to the city, but amid the pandemic, the size of the show was cut in half, and runway events were limited to 150-200 attendees, with proof of vaccination required. The setup, however, paved the way for a democratized approach. Consumers had access to more Fashion Week events and sponsor activations than ever before as the historically closed-door affair took a turn down a more inclusive runway. Now, slip into some of your finest couture and join us for a tour of NYFW's most buzzed-about brand experiences.
---
More Fashion Week Strategies:
---
AFTERPAY
As presenting sponsor of NYFW: The Shows, Afterpay, a "buy now, pay later" payments service, hosted a full calendar of consumer-centric experiences. The brand kicked things off with a two-day activation in Times Square. Bringing its DROPSHOP platform into the real world, Afterpay released two limited-edition drops in partnership with JD Sports and Crocs. The activation integrated Snap's AR technology, allowing attendees to "try on" items and tap to buy directly from their phone. Afterpay and Snap also teamed up on a widespread AR experience that took iconic New York objects and illuminated them in Afterpay's signature Pantone color, Bondi Mint. Objects were scattered around key locations in Manhattan, each baring a Snapcode that unlocked an immersive AR 3D map in Snapchat that revealed the DROPSHOP location, along with other exclusive activation locations.
There was also the two-level, pop-up House of Afterpay located in NYC's Meatpacking District offering shoppable products, panel discussions and styling sessions, including retail partner events. The house was also the setting for the brand's shop-a-thon featuring more than 20 brands. During the event, those that used Afterpay for their in-store purchase of $100 or more at participating shops received $25 off their purchase, a free tote, hand-painted by NYC artist Queen Andrea, and a pedicab ride to their favorite store. A "see-now-buy-now" show featuring local businesses debuting their first-ever NYFW presentations was also part of the House of Afterpay experience.
And then there was Afterpay Quarter, a block party featuring  dj sets, a treat truck, limited-edition tote bags, café seating, shoppable merch—and a roller rink.
REVOLVE
Revolve delivered a multi-room fashion experience dubbed Revolve Gallery at the House of Afterpay that included an immersive, multi-brand exhibition and a real-time shopping component. Within the museum-like, 17,000-square-foot space, each brand transformed its designated room to reflect the vision and inspiration for the brand's collection, designed exclusively for Revolve. Attendees, who were required to sign up for a time slot to participate, experienced photo ops and inspirational content at every turn. Among touchpoints: Charlotte Tilbury Beauty's megawatt camera installation that offered consumers a red-carpet moment; For Love & Lemons' disco environment; LPA's Sicilian-inspired footprint, complete with outdoor tables and lemon trees; and Ronny Kobo's mirrored maze.
Check out the journey to the REVOLVE Gallery:

YSL BEAUTY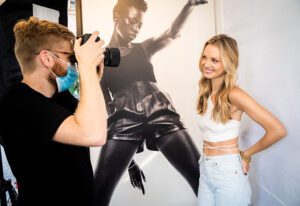 Another brand offering the red-carpet treatment to the public was YSL Beauty, which, in time for NYFW, launched its NU collection of minimalist skincare products. Targeting Gen Z, the luxury beauty brand highlighted the new line with a consumer-centric activation that gave attendees their 15 minutes of fame. Upon entering the pop-up footprint, consumers first received a fanny pack filled with samples, then consulted with a NU brand ambassador to determine their perfect Bare Look Tint shade, and had it applied. Next, they could participate in their very own photo shoot surrounded by oversized campaign imagery. Their photos were immediately available for social sharing. To boot, attendees could pose for a GIF and dance along to tracks spun live by DJ Va$hti. For those not interested in participating in the full activation, a robust street sampling program was also in play (stay tuned for a full YSL Beauty NWFW case study.)
"We always work to remain modern and remain with the times and the trends," says Alexandria Ivanoff, director-integrated communications at YSL Beauty. "And there was something about this launch that we thought, if we can, we've got to make it happen in real life. So it was such an exciting moment to be able to create something catered to the younger generation, especially as a brand that has so much historic value and has been around for so long. It was important for us to find that niche." Agency: Industria Creative, New York City.
DIOR
It was hard to miss Dior's pop-up at Gansevoort Plaza, with its elegant floral décor and, the focal point of the custom-designed structure, a massive perfume bottle installation celebrating the launch of Miss Dior Eau de Parfum (check out a timelapse of the build). Inside, that same air of sophistication persisted with highly-stylized design elements and a floor-to-ceiling video wall. There were also immersive makeup and perfume experiences, an infinity flower field mirror room for photo ops, a Dior café serving matcha and red beet lattes, a custom bouquet-making station and a photo moment with a Bentley featuring flowers overflowing from the trunk with editorial-style photographs available for all attendees. The five-day NYFW edition of the Miss Dior experience and exhibit was part of a worldwide campaign, with pop-ups also produced in Paris, Tokyo and Düseldorf, Germany. Agencies: AGENC, Los Angeles (creative, production); Bednark Studio, Brooklyn, NY (fabrication).
Photo credit: Scott Clark Photo for AGENC
KATE SPADE
New York is Kate Spade's hometown, so to celebrate its year-long "love letter" to the city, the brand built an urban apple orchard (the Big Apple… you get it) in the Meatpacking District. The pop-up made its debut with a celeb-studded breakfast, during which attendees explored the greenery-filled orchard and its charming décor. Regular consumers could also stop by to participate in a photo op and pick a bushel of apples, all sourced from orchards across the state of New York. The luxury retailer ultimately donated the apples and trees to Materials for the Arts, a "New York-based organization whose mission is to collect unused materials for upcycling purposes, keep them out of landfills and give them to thousands of nonprofits and public schools for creative reuse projects." Nice.