Reddit's future-forward b-to-b-to-c event campaign attracts brand partners with a strategy steeped in discovery and connection that lets its communities do the talking
Every second, an average of two people ask Reddit communities for a recommendation, and receive an average of seven personalized responses in return. Therein lies the brand's point of difference: While other social networks are letting algorithms run the show, the power of Reddit lies in the autonomy, and anonymity, of its users. And with connection and discovery propelling the platform, there are armies of them. Reddit is home to more than 100,000 culturally savvy subreddit communities that rally around shared interests and passions, making it a place where just about anyone can "find their people."
Last year, that notion prompted the launch of a "Find Your People" television and OOH consumer campaign (R/GA handled). But the tagline, which spoke to the core of what distinguishes Reddit, was too good for a one-and-done program. So when the company embarked on a mission to introduce itself to prospective brand partners, that mantra led the charge—all the way to the global stage at the Cannes Lions International Festival of Creativity and CES. All Reddit had to do was convince marketing and advertising's biggest players that tapping into its self-selecting audience could be their greatest weapon.
Using community as its North Star, Reddit and experiential agency partner Giant Spoon took on the preeminent events to illustrate to potential partners how redditors influence and inspire, and how their brands could leverage the untapped power of finding their people. The 2022 Cannes sponsorship served as the first touchpoint of what would ultimately become a multichannel, b-to-b-to-c Find Your People campaign anchored by an experiential strategy that transformed the brand's digital product into a living, breathing representation of the platform, and the people that power it.
---
More from 'Find Your People':
---
"CES and Cannes offer really valuable opportunities to connect with our peers and clients, and this is especially true for an event like CES, which always sets the tone for the year ahead, and Cannes being the midway point of the year," says Caroline Absher, head of event marketing and industry marketing programs at Reddit. "These tentpoles are also gathering places where our industry can come together to find out what's new and what's next, and it's where we can bring to life Reddit's amazing communities and showcase the immense value for marketers and brands alike."
As a Cannes first-timer, Reddit could have focused on the tactical aspects of its sponsorship experience, dubbed the "Explorers Club," before tackling anything else. But that's not how the company rolls, whether it's the first time activating at an event or the hundredth.
"Reddit always comes to us with a really comprehensive set of goals that range from the necessarily tactical to the deeply theoretical, and that's what makes the programs so rich," says Monica Herman, vp, group creative director at Giant Spoon. "We always start with the latter. We know we're going to get to the logistics, but we start with a deep dive into that core messaging, and through that, we establish a conceptual hierarchy that becomes the basis for everything we do. And that's key."
Reddit may operate on a "Karma" points system, but its marketing strategies are never left up to fate. That may explain how the brand ultimately smashed its campaign KPIs—and earned this year's Grand Ex award. Now, settle in as we take you on a journey through the touchpoints and tactics that earned Find Your People an "upvote" across the board.
MANIFESTING THE PLATFORM
For the unacquainted, Reddit's diverse array of users, communities and conversations might feel like the Wild, Wild West. So the brand leveraged its presence at Cannes to guide the creatives in attendance through the ins and outs of the culture-forward platform, the unique storytelling and collaboration opportunities it offers and, naturally, how to find their brand's people.
Attendees were lured to Reddit's footprint with the help of mini suitcase installations sprinkled along the boulevard, pointing them toward the activation. Then, upon arrival at the Reddit Explorers Club, they were greeted by a towering installation of suitcases, as well as a giant, real-time "Comments from Cannes" billboard featuring a series of thought-provoking statements that passersby could vote on by pressing a button on either an up or down arrow—a tangible taste of how users interact on Reddit.
Inside the two-story, lodge-inspired space, Reddit's multifaceted "community of communities"—and strategies for engaging them—were placed front and center. Visitors navigated the experience with the help of dedicated Explorer Guides as they ventured through the physical manifestation of the platform and partook in consumer-style engagements that served as ad solutions in disguise.
Located on the ground level of the Explorers Club were the Den of Discovery and Cartography Corner, both designed to provide marketers and advertisers with an understanding of the brand, and inroads to discovering, and authentically communicating, with the right Reddit communities. The Den encompassed a museum-like treasure trove of Reddit artifacts and data points, all playing into the brand's irreverent persona and propensity to forecast trends. Think: A photo-worthy installation dedicated to the famed, flame-engulfed "This Is Fine" meme, and a wall of bananas signifying the "banana for scale" internet phenomenon that got its start on Reddit.
CONTEXTUALIZING CONVERSATIONS
Cartography Corner demonstrated a critical selling point: That redditors engage with one another around text content, and how with contextual targeting, brands can position themselves at the center of the audiences (and conversations) they want to reach. A product demo of Reddit's keyword targeting capabilities, for instance, which identify the phrases that matter most in specific conversations on Reddit, was on tap.
"Whether it's getting advice or discovering new products, people come to Reddit to be informed," says Absher. "So we had custom maps that visualized the Reddit landscape. We had an interactive search station that identified users, conversations and communities. And brands really learned to understand how to position themselves in these conversations."
Additional highlights included a 30-level "Attackronyms" video game housed in a retro arcade cabinet that tested attendees' knowledge of Reddit's most popular acronyms, like ELI5 (Explain Like I'm 5) and AMA (Ask Me Anything); a thought-bubble photo moment that celebrated the "shower thoughts" subreddit; and a wall installation showcasing purpose-led campaigns born on the platform, like the March for Science, created in 2017, which is now a global movement.
Following attendees' exploration of the platform on the ground floor, Reddit aimed to keep the momentum going and open up more opportunities for building brand relationships. A second-story observation deck served as the ideal setting for partnership programming, live podcast recordings, sales meetings and networking moments. The experience ultimately scored an "upvote" average of 93 percent from all surveyed attendees. Cue the slow clap.
---

"What makes Reddit so special is our communities. It's the conversations and redditors that make up the platform. So we always want to make sure that we're leading experiences through that lens. We want to make sure that our communities are front and center, our users are front and center, and we're doing it justice for them. Reddit is such a unique place—we want to stay true to what makes Reddit, Reddit."
—Caroline Absher, Head of Event Marketing and Industry Marketing Programs, Reddit
---
A PROOF OF CONCEPT
Seven months after Reddit made its Cannes debut, the brand headed to Vegas for the world's biggest technology trade show to illustrate how redditors are consistently at the forefront of major cultural movements and trends—and how marketers can use that to their advantage. Widely viewed as an industry barometer for the year ahead, CES was the perfect setting to prove that Reddit, too, is adept at futurecasting.
Over the years, redditors have been the vanguard of the latest trends in tech, often predicting the next big thing within subreddits like r/bitcoin (established in 2010). And at a bleeding-edge tech show, highlighting that asset as one of Reddit's competitive advantages was a no-brainer.
In true Reddit fashion, the brand went off the beaten path during CES, bypassing the chaos of the show floor and planting its flag at the Wynn Las Vegas for two days. With its typical tongue-in-cheek flair, the company invited attendees to the Reddit Future Tellers "house of clairvoyance," a vibrant space divided into four interactive stations.
"We showcased community through a technology and innovation lens and brought the future-facing conversations that influence and shape tomorrow's perspective and trends to the forefront," says Absher. "Our goal was to help brands connect with and find their early advocates and adopters."
The first touchpoint was a Time Portals timeline exhibit illustrating how concepts that are now mainstream emerged from early incubation in Reddit communities, accompanied by corresponding proof points of when the topics hit the mainstream. A Prediction Challenge invited attendees to test their futurecasting skills against redditors, with the option to upvote or downvote a statement and find out in real time if the Reddit community agreed.
At the center of the house of clairvoyance was a glowing, orange "crystal ball" digital installation bearing "Find Your Future-Forward People on Reddit" messaging, a touchpoint crafted to underscore "conversation success stories" and the beta testing that happens on Reddit. Attendees interacted with the orb by pressing topic-specific buttons that summoned
comments and threads from relevant subreddits and presented predictions around the future of everything from gaming to transportation to Web3.
In a similar vein, over at the Communi-tea Bar, attendees could grab a hot mug (no single-use plastic was used at the event) and read "communi-tea leaves" on a series of tablets that focused on vertical-specific, future-forward conversations. They also snagged branded, biodegradable tea packets with labels that showcased posts from various subreddits.
Finally, tying the experience and messaging together, brand ambassadors mimicked psychic readings by providing attendees with Reddit Archetype cards that conveyed different redditor personas—another opportunity for brands to find their people. Among them: The Fool, focused on memes and humor; The Innovator, interested in inventions and programming; and The Enchanter, passionate about fashion and magic.
Speaking of magic—75 percent of surveyed attendees reported an increased intent to spend with Reddit in 2023 as a result of their CES experience.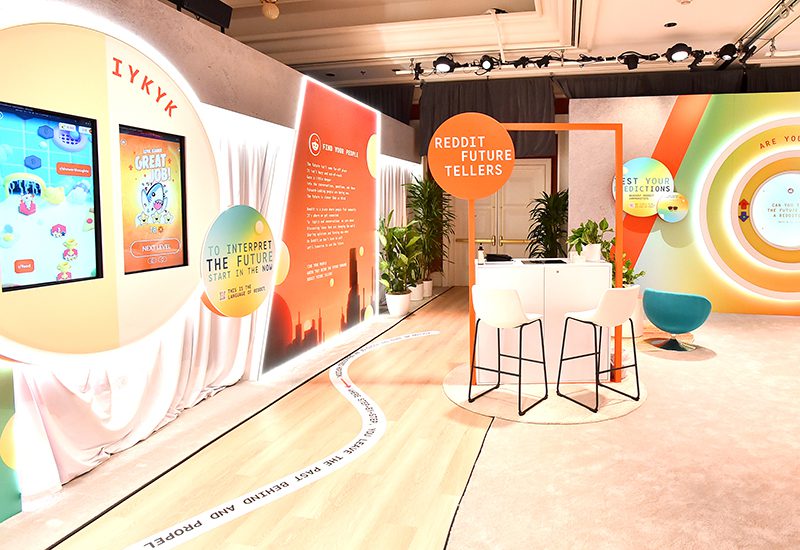 THE TECHNOLOGY BALANCING ACT
With community and connection as its foundation, Find Your People was a decidedly human campaign. But as a digital platform looking to demonstrate its positioning as a trailblazer, Reddit also needed to incorporate technology into its event strategy. The challenge was balancing the two.
"We know advertisers are consumers, too. We all like to have fun. We all like to be spoken to like humans," says Herman. "But we also needed to communicate that Reddit is at the forefront of what's happening in tech. So [it's about] finding that balance between something that's impressive and something that's approachable. And doing it in a way that invites the person on the ground, in person, to participate. It's not a passive viewing of a screen; it's an active experience of a brand."
Tech also helped support Reddit's commitment to sustainability, a top organizational priority. The brand used QR codes, for instance, instead of paper handouts, throughout the event. (Fun fact: The subreddit r/ZeroWaste has 1 million members with dozens of conversation threads around the desire for companies to eliminate swag or transition to more sustainable options.)
NEXT UP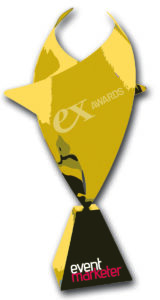 Reddit's commitment to sustainable practices is being reinforced this year with a brand-new partnership launched on June 1 with purpose-led marketing company Givsly. The "Karma Kash" initiative utilizes Givsly's Good Marketing platform to provide Reddit's clients with the choice to opt out of receiving physical swag at events and meetings, and reallocate that budget to a nonprofit of their choosing.
Reddit also made a triumphant return to Cannes this year, where it debuted a "Reddit Recommends" campaign and activation strategy supported by all-new research. Absher says the brand aimed to take the audience "a click deeper on Reddit's community landscape, diving into the opportunity for brands to be present, and take part in, the discussion where recommendations are given—and purchase decisions are made."
As far as future experiential campaigns are concerned, Reddit may find new ways to engage attendees around its value proposition, but its core community-centric approach is here to stay.
"What makes Reddit so special is our communities. It's the conversations and redditors that make up the platform," says Absher. "So we always want to make sure that we're leading experiences through that lens. We want to make sure that our communities are front and center, our users are front and center, and we're doing it justice for them. Reddit is such a unique place—we want to stay true to what makes Reddit, Reddit."
Reddiquette at its finest.
This story appeared in the Summer 2023 issue