The marketing technology conference of the year kicked off day two bright and early at 6:30 for ambitious attendees who took on the optional 5k Wake Up Run around some of Sin City's top destinations. Then it was over to breakfast, where attendees munched on bacon and eggs, networked with fellow industry insiders and checked out the latest in live event technology and social media from a broad range of sponsors and exhibitors.
Content for the day launched with the tech gurus at GoPro and agency Pen&Public, whose opening session centered on how the brand is living in the "space just shy of impossible," and why it prioritizes the development of true technological firsts as part of its event strategy and culture. For the first time at EventTech, the session could be viewed live in learning lab 1, while attendees who couldn't snag seats could enjoy a live-stream of the session in the remaining four labs.
"There have been so many advancements in technology," says Liam Smith, ceo at Pen&Public. "It has changed the question from 'can we?' to 'how will we?' Technology has also amplified our reach. It externalizes moments and gives brands longevity with these experiences. Lastly, technology acts as a conduit for the brand. GoPro is about capturing life's moments and we were able to use technology to recreate those moments."
The remainder of the morning's sessions, held in EventTech's amphitheater-style campus, transported attendees to the future of event technology with 30-minute, rapid-fire sessions. Among them: tech trends to bet on in 2018, next-gen AR, balancing beacons and consumer privacy and an introduction to data visualizations inspired by Intel's Mobile World Congress activation.
At noon, it was time for the power networking lunch, where attendees had a chance to dish about the day's sessions, "Klik" with new colleagues (a smart networking tool powered by wearables) and reconnect with old friends. Then it was back to the live learning labs at 1:45, with sessions on group gamification, mixed reality, Instagram as a customer service platform, the social media habits of Gen Z and Gen Alpha, and many more. One standout: a social media for events lab presented by Switch (@switchstl_presents) done entirely on Instagram.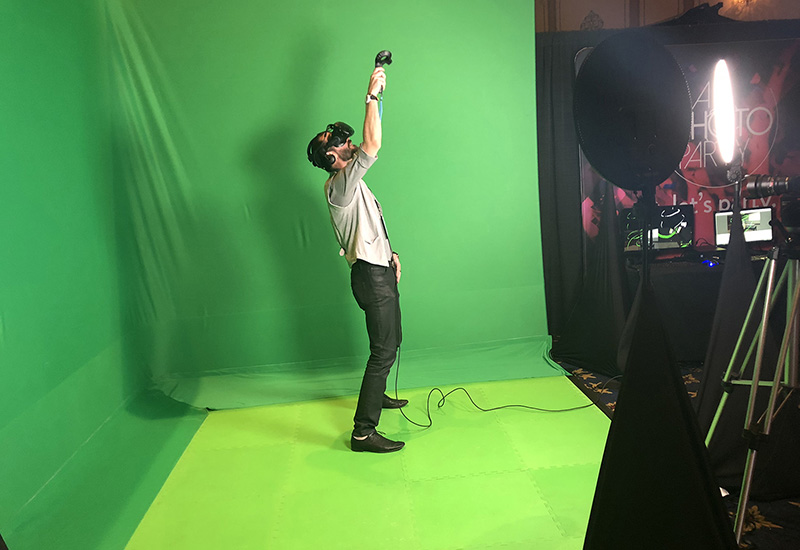 By 5:30, attendees were ready to get loose at happy hour. After sipping on wine and beer and munching on platters of fruit and cheese, the reception wrapped with EventTech's first-ever silent disco dance-off, sponsored by HUSHconcerts. No doubt inspired by EM vice president Dan Hanover's signature hula hoop move, attendees shook what their mama gave them for a chance to win $100 in Paris casino chips and it was—wait for it—legendary.
Later in the evening, attendees interested in getting an extra dose of networking headed to Carmine's for some family-style Italian fare. Those left standing made it over to the infamous Piano Bar at Napoleon's at The Paris for more drinks and plenty of tunes to sing along to.
With so much action on the show floor, we couldn't capture it all in one post, so we've curated a list of quotes, tweets and insights from the learning labs below. And if you haven't already, check out our Instagram and Twitter feeds for all the action from the show. Our final EventTech 2017 recap drops tomorrow.
---
"Successful communities have five things [in common]: a branded reason for being, brand ambassadors, an editorial calendar, purposeful technology and events. Events bring the community together, which is important, otherwise the community will go to tumbleweeds." —Brent Turner, svp at Cramer
"Using AI, we can learn which speakers are more engaging, gauge the attendees' emotion, engagement, the number of people entering a trade booth per minute, the number exiting per minute, people conversing at a trade booth, and conversation duration."—Sarah Sebastian, creative director, Rose Gold Collective
Bringing the Physical Into the Digital:
"Don't be afraid to have people break a sweat. Know your audience. People love getting active in the sponsorship area."—Alan Hughes, ceo at NEXT/NOW
"There's great potential here. There's a beacon that works for everything… just make sure that, one, you're doing it right, and two, that consumers are aware of what you're doing… People don't like the idea that that a company knows so much about them."—Brad Harris, vp-digital at Fusion
"Yes, technically, millennials and Gen Z are on Facebook. But you wouldn't know it, as they aren't using it as much as other generations. Millennials and Gen Z are hard to find on Facebook and, more importantly, don't want to be found."—Josh Kell, vp-digital and brand marketing at Switch
"Eighty-one percent of event professionals agree integrating data from attendees' digital and physical footprints is extremely/very important. However, only 20 percent are extremely/very effective at integration."—Mike Hughes, director of research at the Event Marketing Institute 
Hyper Personalization: How Cisco Uses Real-Time Data to Enhance Events:
"The idea is that you no longer have a digital marketing initiative with events sitting out there at the kids' table. We've seen that when we are able to pull and unify silos and create a unified, holistic profile for each attendee, we can develop insights that lead to ROI. It sounds like it is obvious, but it is not. It's a fresh approach that makes marketing sharper."—Scott Kellner, vp-marketing at George P. Jonson 
Using Instagram as a Customer Service Platform:
"We never shy away from the negative. If someone has a bad experience with our product, we'll never ignore those [interactions]. And that goes a long way in showing how much pride we have in our brand and that we do care about every single interaction."—Bridgette Clare, education and engagement team lead at Vega 
Some key Gen Z statistics:
•Gen Z's are eclipsing millennials as the largest, most coveted consumer group
•The oldest among them are rising college seniors; the youngest are just entering high school
•They make up 25% of population
•They influence 93% of family spending
•They account for $44 billion in direct spending
•They'll make up 40% of all U.S. consumers by 2020
—Henry Lichtblau, head of business operations at Riddle & Bloom
Five Rules for Marrying Technology and Storytelling:
1. Don't hinder… enhance. "Like any good story, you want to get rid of the stuff that doesn't matter."
2. Support your message. "What's the point of the story if there's no moral or ending to it?"
3. Personalize the story. "With any good story, you want to see yourself in it."
4. Make it shareable. "Stories are meant to be shared so we want to integrate technologies in a way that share the story."
5. Create emotion. "Any good story has got to move you. It's got to evoke emotion in you if you're going to connect with it."
—Jennifer Kauf, vp-strategy at FIRST and Adam Suellentrop, vp-experiential at FIRST
Why brands should use personal infographic makers:
•Creates personalized engagement for attendees
•Delivers important qualifying information for companies
•Creates a lasting and visual story about the attendee, for the attendee
•That provides follow up that is highly targeted
—Steve Mapes, svp-strategy at ImpactXM
"You want your AR and VR to be based on an emotional moment. You really want to connect with people with a story. It can't just be showing a feature. It has to be something that's memorable. And it needs to be true to the brand."—Kurt Sabin, Account Director, Imagination 
"A lot of policies at the venues are still trying to keep up with the event technologies, so we're always pushing boundaries and doing things that we're not supposed to do."—Dan Preiss, Senior Director, Global Experiential Marketing, Dell
"Pick purposeful platforms. Don't just choose the most trendy or cool technology out there. Aim to directly tie the activations to the overall strategy or theme of the event and make that intentional."—Stephanie Lallas, Producer, AgencyEA 
"I think sometimes we create games that are so intellectually based that sometimes they've lost their inherent nature of just being fun."—Craig Millon, EVP, Jack Morton Worldwide
See also:
• Live From EventTech 2017: What You Missed on Day One
• Live From EvenTech 2017: What You Missed on Day Three
• Winners Announced: The 2017 Experience Design & Technology Awards