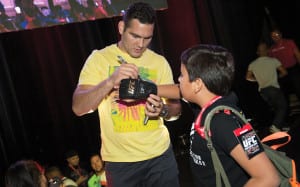 What happens in Vegas stays in Vegas—unless you're the Ultimate Fighting Championship.
The mixed martial arts brand did anything but keep quiet in Sin City from July 7-12 during International Fight Week, which serves as the Super Bowl of UFC events. Attracting tens of thousands of fans from across the globe, the notoriously bold brand stepped up its experiential game this year with a tech takeover of epic proportions—right in its hometown.
From hotels located on the farthest outskirts of the city to the heart of the Strip, UFC wired Las Vegas for International Fight Week from top to bottom with one of the biggest experiential tech nets ever dropped by a single brand. Aiming to provide fans with unprecedented brand connectivity and unrivaled access to the talent, UFC and handling tech partner Thuzi created an event platform that served as the foundation of the Vegas takeover: the UFC Access Pass.
The Access Pass functioned as a digital key to the city—and the brand—for Fight Week attendees. By signing up via Facebook, Twitter or email just once, fans gained access to pool parties, clubs, talent weigh-ins and meet-and-greets, along with a whole host of perks including free drinks, discounted meals and VIP access to various venues.
The result was a wired city experience where fans could simply tap their credentials, which included interchangeable RFID-enabled badges and wristbands, as well as QR codes, to participate in activations, earn UFC Rewards points, instantly share their experiences on social media and rub shoulders with their favorite UFC stars.
"When fans think of what sports group gives them the most bang for their attention, I want it to be the UFC," says Jessica Roosli, vp-global brand marketing fan experience. "So I'm going to make it super easy, totally free for you to do it. I want you to share everything you're doing. I want you to talk about how much fun you're having here in what you're doing.
"Then, secondarily, I want to give you something for being a fan—and it's not just ease of sharing your photos. I want to give you a front-of-line pass to get into a club in Vegas. I want to give you cheap beer at the Irish pub. I want to give you free access into some of the big restaurants that are really hard to get into. And what do you need to do to get that? Sign up for the Access Pass."
Providing fans with that level of access, however, was no small feat. So how did the UFC pull off something of this magnitude? With the help of a slew of tech tools all linked together in real-time under the Microsoft Azure Cloud, which allowed the brand to monitor fan interactions throughout the entire city. To boot, UFC and its participating sponsors were able to monitor activations from anywhere in the world on their personal mobile devices.
The takeover required hundreds of devices including laptops, tablets, touch screens, mobile devices, RFID readers, QR scanners, wireless network repeaters, DSLR cameras, video recorders, wearable RFID tech, punching machines that measured force, kiosks with phone home capabilities and even drones to capture unique footage of the event.
This massive dose of technology allowed for scalability, meaning more fans could participate in more of the brand's customized activations than ever before. Case in point, anywhere from 30 to 40 talent meet-and-greets took place simultaneously all over Las Vegas, giving fans plenty of chances to get up close and personal with current UFC fighters, the Octagon Girls and Hall of Fame legends.
"The magic in what we did was also being able to create a throughput. If you don't have the automation, it's very difficult to get people through the system," says Scott Blackburn, ceo at Thuzi. "The process was all automated to move masses through."
The result was a process that allowed fans to spend ample time with the talent without taking away from the authenticity of the interaction. What's more, content from these activations was instantly branded UFC and shared to the fan's social networks via the Access Pass so that friends and followers could immediately participate in the experience digitally.
To foster further social sharing, UFC also created the Social Command Center, located at the heart of its fan expo. There, consumers could view event photos from around Vegas, which were combined with Instagram and Twitter content that used specific International Fight Week hashtags. Fans could also join their favorite fighter's virtual team on social by simply tapping their badge or wristband.
With hundreds of devices deployed and thousands of fan interactions captured, UFC's tech takeover bred robust data. Real-time metrics revealed which activation points and engagements attendees participated in. Time statistics indicated when fans earned rewards points or otherwise engaged with the brand during a specified period. Content statistics illustrated where and how many times attendees posted to social media. Traffic flow could be tracked at each activation point. And metrics showed how shared content was amplified.
After all of the metrics were analyzed, the numbers spoke for themselves. Nearly 15,000 people utilized the Access Pass, 14,340 downloaded the event app and 20,000 attended the fan expo. Meanwhile, unique Facebook, Twitter and email impressions totaled more than 1.6 million.
The data capture, however, was "icing on the cake," says Roosli. "For me, data capture is a sideline. That's not what I'm doing this for. What I'm doing this for is added value for the fans… International Fight Week is that moment in time when the fans know it's all about them. The UFC is going to give back to the fans that week in a way that is unheard of any other time of the year."
And give back, it did. With a blanket of technology paving the way, International Fight Week fans were able to quickly and easily interact with UFC while participating in authentic engagements that connected them with their heroes.
We'd call that a total knockout.
See also:
• EM All Access: Inside UFC's RFID-Driven Sin City Takeover
This story appeared in the December 2015 issue