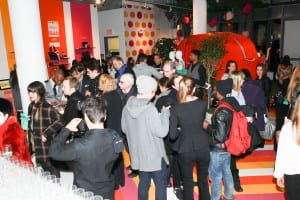 Kipling, the handbag and accessories collection that takes its name and inspiration from author Rudyard Kipling and his "Jungle Book" monkey character, on November 12 launched a three-day pop-up store in New York City to drive awareness of its new monogrammed products and the whimsical spirit behind the brand. Additional December activations will take place in Honolulu and Miami, where Kipling enjoys a strong retail presence.
"We didn't want to do a press event or an influencer event or a pop-up shop, we wanted to do all of that," Kathy Hines, vp-marketing at Kipling, told Buzz. The three-day experience also served as a social media and product seeding campaign that brought the brand experience to life through a series of interactive activations. "The whole experience was a digital moment because it was set up to enable and incent sharing. It was a digital experience that Kipling brought to the physical world," she added.
Outside, the door to the Sixth Avenue space was re-fashioned in Kipling's signature crinkle nylon fabric. Television screens facing the street live streamed digital activity coming from inside the venue on #MyKiplingBag. An eight-foot by 10-foot inflatable handbag greeted consumers as they entered the fully branded space. Picnic tables sitting on Astroturf held bags monogrammed with words like "nails" and "art" that encouraged attendees to engage in activities such as doing their nails or painting pictures. At a make-up station, they could choose bags monogrammed with "sunkissed," "glowy," "vampy" or other adjectives to inspire a complimentary make-up application.
Two areas called Walls of Inspiration had attendees post the most interesting item in their handbag and give their bag a name. At an Instagram booth attendees could share how they use their Kipling bag, including everything from hailing a cab to twerking, downtowning, schlepping and brunching. Attendees also could view the entire line-up of bags in a full onsite showroom and order them from iPads and touchscreen computers.
A comedian wandered around the room engaging with attendees as they had their bags monogrammed and a classical string quartet that played fun, modern music added to the element of whimsy that the brand was trying to convey. Agency: MRY, New York City.