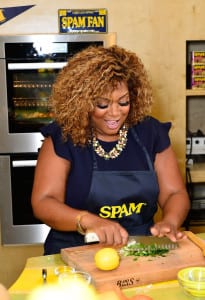 SPAM has hit the road with legendary Food Network Chef Sunny Anderson to show consumers new, creative and high-end ways to use its classic canned meat product. As part of the coast-to-coast SPAMERICAN Food Truck Tour rolled out by Hormel Foods, Anderson and the food truck are traveling across the country to events in 12 U.S. cities over 12 weeks and partnering with a different local chef at each stop along the way to present a SPAM-inspired dish. The tour began on April 15 in Los Angeles, and wraps on July 15 in Chicago.
At each stop consumers enjoy a signature recipe from Anderson—a coconut SPAM spear with spicy pineapple chutney—alongside creations from local chef partners, all while getting a taste of the brand's history, versatility, cultural impact and personality through experiences such as branded art crafted by local artists, musical performances with instruments made out of recycled SPAM cans and a brand history wall.
Aside from sampling, consumers can take part in a photo activation tied to the brand's Twitter or Instagram pages using the hashtag #SPAMCAN. At the end of the tour, a winner will be selected at random to receive a free trip to the 2016 SPAM Jam Festival in Waikiki.
"One of the great things about SPAM is the versatility it provides and its ability to be paired with numerous taste preferences," says Jennifer Nolander, product manager at SPAM. "For this reason, we're not only interested to talk to longtime SPAM consumers and fans, but also to approach SPAM 'newbies' and give them new ways to use the products." Agency: Match Marketing Group, Boulder, CO.