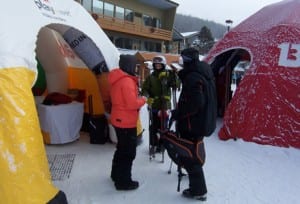 Kodak has aligned with Burton Snowboards in a partnership that includes sponsorship of the Burton Super Demo Tour, a 10-stop tour during which snowboarders can test ride Burton hardgoods on snow for free. They also can try out Kodak's Burton Edition PLAYSPORT Video Camera, a rugged, durable camera that features an orange pixilated design resembling the Burton Custom 154 Snowboard, one of Burton's most popular products.
At the Kodak tent, which resembles an igloo, fans can talk to product specialists, then strap on the camera and head for the slopes. Afterwards, they can purchase the camera's memory card in order to take their videos home with them and sign a release to permit Kodak to use the content for user-generated viral buzz. Fans can also have a souvenir photo taken against a green-screen backdrop in the Photo Zone by Kodak Event Imaging Solutions.
"The snowboarding fan base really knows their stuff," Krista Gleason, worldwide p.r. manager at Kodak, told Buzz. "This product is engineered for these fans and their feedback is really important. They will test it out and take it to the extreme. Having that one-on-one with the consumer is extremely important to our company."
The tour launched Dec. 31 in Winter Park, CO, and ends on March 20 in Killington, VT.