It was a once-in-a-lifetime opportunity—to coordinate guest check-in for Pope Francis' processional through Central Park. The stakes would high, the Secret Service would be watching and there would be more than 80,000 anxious attendees to organize.
Working in tandem with New York City Mayor Bill de Blasio's administration, New York City-based startup Splash took the challenge head-on,  helping to execute one of the most high-profile events of the decade with just over a month to prepare.
When the big day arrived, the groups worked side-by-side from 8:15 a.m. to 6 p.m. with hundreds of NYPD officers, the TSA and 125 volunteers to move the masses through the check-in process safely and securely. Secret Service agents and other technical, professional and administrative personnel were also on hand to ensure a smooth procedure.
And while not every prestigious event will have the pontiff at its core, any high-profile affair requires event marketers to have their crowd control skills down to a science. Here, five tips on how to manage the mob at a large-scale event.
1. Let Technology Lead the Way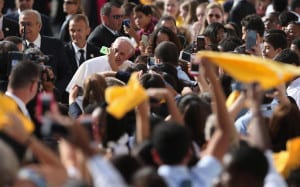 A mobile check-in app kept things organized and efficient. The night before the processional, the app was downloaded onto 100 iPads wrapped in durable protective cases that the team would use to keep things moving the following day. Each ticket to the processional, whether it was printed or in digital format, had to be scanned individually—a process that was sped up exponentially thanks to the unique QR code found on each ticket. From there, volunteers held the iPad above the code and the app instantly verified the ticket's authenticity.
2. Over-Organize
On the morning of the processional, "soft check-in" volunteers were stationed one block away from real check-in points. The tactic served as a pre-ticket audit to ensure all attendees were entering their assigned zone and were prepared to have their ticket scanned when they arrived at their designated locations.
3. Keep Attendees Informed
At major public events—especially one with more than 80,000 attendees—people feel more at ease when they are kept abreast of what to expect next. Attendees were kept in the loop on estimated wait times, deadlines, traffic flow and other scenarios to eliminate uncertainty, which often leads to irritation.
4. Communication is Key
The team used a network of handheld radios to keep in touch across all of its checkpoints along the west side of Central Park, from 59th to 72nd Street. When unanticipated changes had to be made to the check-in process, radio communication kept everyone on the same page, and ultimately calmed crowds.
5. Don't Turn Into a Robot
Even as tensions ran high and on-the-fly decisions had to be made, attendees were treated with a positive attitude and respect. When the wait time seems endless for anxious spectators, offer words of encouragement and patiently redirect confused attendees to their designated locations—and remember that a simple smile goes a long way.
Gallery: Pope Francis' processional through Central Park