Recognizing the Best Use of Design and Technology in Experiential Marketing
From Chief Inspiration Officer to Creative Technologist to… Wizard of Light Bulb Moments, job titles across the event marketing industry have evolved to better represent the kind of tech savvy and innovative thinking required for this fast-moving industry.
For many years we produced our Event Technology Awards and Event Design Awards as separate programs, but as you CIOs and Wizards know—and as the case studies you are about to read will show—technology and design are no longer individual sports.
So for the first time, we've combined our two fastest-growing award programs into one—the new Experience Design & Technology Awards honoring the best practitioners of event technolgy and experience design. Hundreds of entries were received this year across 20 categories, and after a two-week judging, top honors were awarded at a gala event at EventTech at The Paris in Las Vegas last month.
From mobile vehicle engineering feats to experiential entrances to sleek exhibitory to the best uses of event technologies, inspiration awaits in this next-generation look book. Congratulations to all of this year's winners.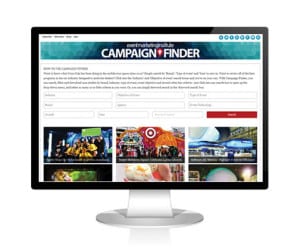 Subscribe to Campaign Finder, the world's first experiential marketing case study search engine, and get access to the world's first experiential marketing case study search engine. Campaign Finder gives you unlimited access to a growing database of more than 1,000 award winners and best-in-class case studies for your brainstorming session, CMO pitch, team meeting and more. Search, filter and download case studies by brand, category of business, type of event, event objective and other key criteria.
LEARN MORE
This story appeared in the December 2016 issue