For more than a decade, Event Marketer has been recognizing the best event and exhibit environments among this industry's top experience designers and innovators. Hundreds of shops, agencies and brands from around the world submitted their best work across a dozen categories last fall, but only the 36 programs you're about to see earned top honors.
With access to so many industry-leading programs right at our fingertips, we couldn't help but see some common threads among the groundbreaking programs this industry is churning out. We pored over all of the entries and then distilled them down to a few recurring themes that, we think, will lead the way in 2015. Check out our preview of the five event design trends impacting the experience landscape this year. And in the coverage below, our complete report on the winners of the 2014 Event Design Awards.  –Jessica Heasley
Related stories:
A Look At The "Industrial Cool" Trend
Five Event Design Trends For 2015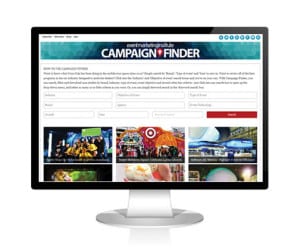 Subscribe to Campaign Finder, the world's first experiential marketing case study search engine, and get access to the world's first experiential marketing case study search engine. Campaign Finder gives you unlimited access to a growing database of more than 1,000 award winners and best-in-class case studies for your brainstorming session, CMO pitch, team meeting and more. Search, filter and download case studies by brand, category of business, type of event, event objective and other key criteria.
This story appeared in the Feb/March 2015 issue