In this monthly series, EM brings you tips and tricks from pros and experts who've been eating social media marketing for breakfast. So eat up, and check us out on Twitter @eventmarketer and Facebook.com/eventmarketer for more.
LOLCat. Scumbag Steve. Success Kid. Grumpy Cat. Internet memes are ubiquitous, and (except for porn) the most popular type of content on the internet. Any bad photo might become a meme, if the Redditors take enough interest in it. And any awesome story has the seed of a meme inside it. So what is a meme exactly? And how does it differ from, say, a viral video?
According to the experts at Cheezburger (home of the original LOLCat), "An Internet meme is a piece of content or an idea that's passed from person to person, changing and evolving along the way." So, superimposing the smug face of a toddler (see Success Kid) on a different backdrop and posting it to Instagram? Meme. Ripping off Psy's Gangnam Style with your college fraternity and posting the video to YouTube? Meme. Posting or emailing the original video of that kid still high on laughing gas from the dentist? Not a meme, because it's not a variation or parody of the original. You with us?
Memes can't be manufactured, but for enterprising brands, the quest to create one can provide the same impact as a popular viral video. Just ask Old Spice about its Man Your Man Could Smell Like (a top meme), or this month's tipster: Dos Equis. Heineken's premier Mexican beer brand's uber-spokesman The Most Interesting Man (or MIM) is almost more well known than the beer he drinks, when he drinks beer. So EM sat down with Gwendolyn Boyce, brand director for Dos Equis at Heineken USA, and picked her brain about how her brand went about making itself its very own meme, and how you can do the same. We don't always keep our tongue in cheek, but when we do we always choose to tell you how to do it, too.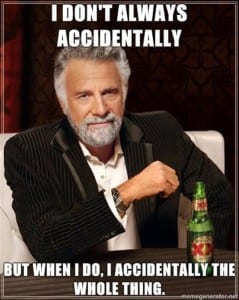 Foundation helps. The MIM is about six years old (we know he looks older—that's because he's allowed himself to grizzle gracefully), and when Dos Equis set out to transition him from television spots to internet stardom, it helped that he already had a following and some notoriety for his exploits, so start there. Build a character or a message you can run with ahead of time. Put in the time and the effort long before you try to reach meme status. Legends aren't born overnight, so play the long game. Remember: when he plays the long game, the game waits until he's ready to continue.
Know who you are and what your customers want from you. Now this sounds trite, but it's not. What's your brand's tone? Are you stoic, silly, serious or sock puppets? Will your fans join in the fun, if you offer it to them? What will you offer them? Boyce says that the MIM was designed to encourage consumers to "Stay thirsty for life" and build their own legends. Can your brand offer something as exciting? Then offer it up. Remember: If he had any insecurities, he would share them to help alleviate yours.
Experiment. Dos Equis realized that the legend lines of the MIM were popular, not just because they were funny, but because they were aspirational, so Boyce went ahead and pushed it further. She opened up the copywriting to the fans. The brand runs contests on Facebook asking fans to submit their best legend lines and the one that wins the tournament-style voting bracket wins sweet cred like a credited cover image on the brand's Facebook page, or in one case, a billboard in the writer's hometown. (The line was, "His French never needs pardoning.")
Co-create. When the brand realized it wasn't sure how to get involved in Instagram, but knew it wanted to, Dos Equis went ahead and found leading Instagrammers and enlisted them to take background shots and product photographs to use with the Legend lines and inspire other legendary photos from consumers. Remember: Even his vacation Polaroids print in 3D.
Think 360. Social and internet marketing doesn't happen in a vacuum. Every activation in every medium must inform and be informed by every other one. If a meme is what you're after, consider how you will leverage all of the different mediums and touch points, both live and online, that could become fodder for a meme-able moment. Remember: You don't always have to think strategically, but if you do, you win.