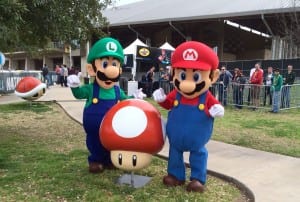 We suspect many a dream came true March 7 to 9 at South by Southwest Interactive, where Pennzoil and Nintendo teamed up on a real-life Mario Kart experience designed to introduce consumers to the iconic video game's 8th iteration for Wii U and to Pennzoil's new Platinum Full Synthetic Motor Oils with PurePlus Technology. Pennzoil was the official Motor Oil & Auto Fuel sponsor of the Interactive festival, and Mario Kart 8 is due to be released May 30.
Located on a custom-built track at the Palmer Event Center, the karting activation, which was free for SXSW Interactive & Gaming attendees, leveraged RFID technology to mimic actual aspects of the game. For instance, to gain a competitive edge, participants could "collect" five Pennzoil Complete Protection icons by driving over them, triggering speed boosts, just like in the game. And—just like in the game—there were icons like Turtles, which caused the driver's kart to reduce speed. A JumboTron captured the action in real-time, and as drivers passed certain areas of the track, the image showing each driver's point of view on the screen flipped upside down, just as Mario and his friends "defy gravity" in Mario Kart 8.
The branded promoted the hashtag #motoroilreimagined and captured the action on the event microsite, motoroilreimagined.com. Each participant walked away with their own digital video link to their Mario Karting Reimagined experience, offering a helmet camera view of their track laps and personal Complete Protection score.
"We wanted the non-automotive consumer in particular to see our partnership with Mario Kart and think 'I would never expect this from a motor oil, and maybe I should pay attention to this new product,'" says Chris Hayek, global brand manager at Pennzoil. "It was a great partnership in terms of how our two brands worked together and created an event that allowed us both to get our messages out there and really tell a story." Agencies: MediaCom ESP, New York City (partnerships); JWT Atlanta (creative); Coyne PR, Parsippany, NJ (planning).