How the truck manufacturer transformed a 420,000-square-foot surface into one of the world's largest screens
Truck manufacturer Freightliner proved that the world really is a stage by turning the iconic Hoover Dam into a colossal projection screen to debut its Inspiration Truck to approximately 200 media members and other influencers.
Using projection mapping technology, the brand set the dam's 420,000-square-foot surface ablaze with 60 projectors which, at 26,000 watts each, produced 1.17 million lumens (equivalent to the light output of 1,400 60-watt light bulbs) and shattered the Guinness World Record for highest light output projection. Not impressed yet? Consider this: the size of the dam's usable surface is the equivalent of 87 average-size IMAX screens or about nine football fields, excluding the end zones. I mean, dam.
As a means of promoting its Inspiration Truck, a new, fully autonomous driving tractor-trailer—and the first ever licensed to drive on public roads—Freightliner used the dam to display an audiovisual presentation that highlighted the history of the company and its milestones. The exhibition culminated with the debut of the actual vehicle, which made a dramatic drive onto the Hoover Dam from the mountains above.
"The Hoover Dam is a wonderful example of ingenuity, but also emphasizes the role of trucks within the U.S. economy," says David Giroux, director-corporate communications and marketing at Freightliner's parent company Daimler Trucks North America. "We were hoping to exhibit technology leadership in a highly visible event format that highlighted our dedication to customer value in terms of safety, efficiency and connectivity."
The marketing feat was conceptualized and executed in just six months. Less than two months after the event, Freightliner had earned more than 400 million impressions in traditional media alone. Agencies: Creative Technology, Singapore (projection); OSK Marketing & Communications, New York City.
*This article was originally published in 2015 and is updated periodically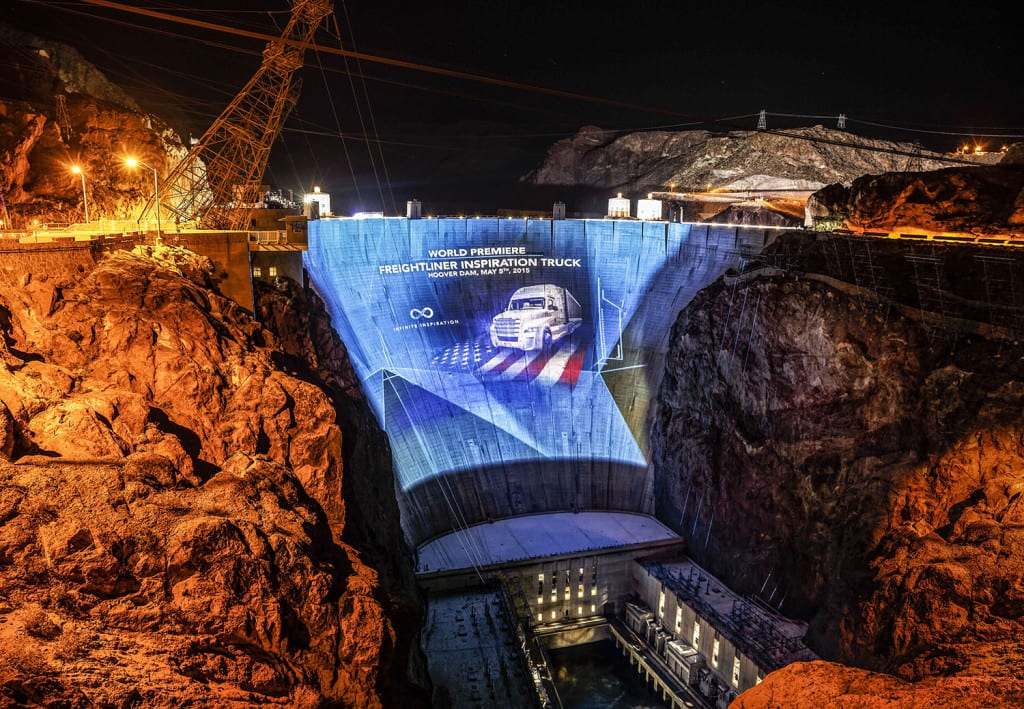 See also: